Electro-optics briefs
Jul 1st, 2007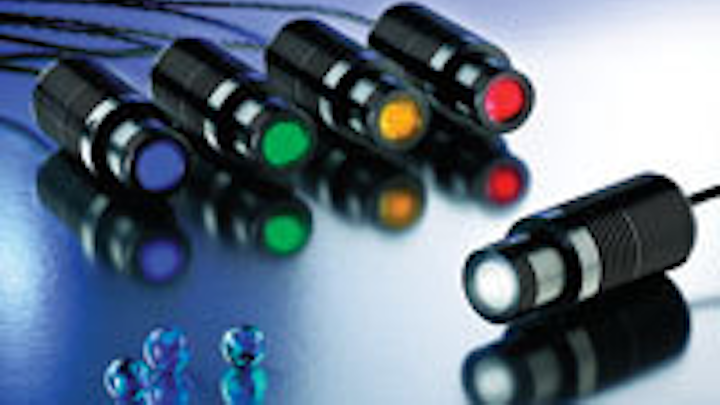 Northrop Grumman awards LaBarge $2 million for electro-optical military aircraft defense system
LaBarge Inc. in St. Louis won $2 million in contracts from Northrop Grumman Corp. to continue to produce electronic equipment for the AN/AAQ-24(V) Nemesis directional infrared countermeasure (DIRCM) system. The AN/AAQ-24(V) Nemesis system is designed to protect military aircraft from modern infrared-guided missiles. The AAQ-24(V) Nemesis is a modular system of mix-and-match components to protect a wide range of large and small fixed-wing aircraft and helicopters. Production at LaBarge's Tulsa, Okla., facility is to begin in September and continue through March 2008. LaBarge Inc. is a broad-based provider of electronics to technology-driven companies. For more information contact the LaBarge online at www.labarge.com.
StockerYale introduces LED spot projectors
StockerYale LED spot projectors are high-intensity LED spotlights to replace conventional halogen point sources as well as fiber-optic illumination solutions. Compact and lightweight in design, these illuminators offer long lifetimes and low power consumption when compared to traditional light sources. Available in a wide range of wavelengths including red, blue, green, amber, and broadband white, the LED spot projectors provide light at divergence angles of 10 or 25 degrees. The optional fiber-coupled configurations enable users to bring light to their desired target using industry standard fiber components. These products offer the high-intensity illumination required in many machine vision, microscopy, and biomedical applications. For more information contact StockerYale online at www.stockeryale.com.
Imperx adds GenCAM and GigE vision compliance to Lynx camera family
Imperx Inc. in Boca Raton, Fla., is announcing that its Lynx family of Gigabit Ethernet cameras is compliant with the GenCAM and GigE Vision interface standards. The GigE Vision compatibility allows the cameras to connect seamlessly with a wide variety of image processing hardware and software over the network while the GenCAM compatibility ensures that those systems can access the unique features of the Lynx camera family. The ratified GigE Vision and GenCAM standards are the result of an industry-wide effort to simplify the use of cameras in machine vision applications. The GigE Vision protocol facilitates connection to the camera for discovery, image transport, and other basic functions. The GenCAM protocol sits atop GigE Vision and calls for the camera to provide an XML-based description of its features and control structure to the vision system. GenCAM also defines a common applications programming interface (API) that developers can write to. The result is an ability to create applications software that can use any GigE Vision- and GenCAM-compliant camera as though it were generic, while retaining access to the camera's unique features. At the same time, the camera can be used with any compatible vision system without needing additional driver development. For more information contact Imperx online at www.imperx.com.
Raytheon selects BAE Systems' hyperspectral technology for shared reconnaissance pod target-cueing system
BAE Systems has been named sensor subcontractor for Raytheon Technical Services Company's Shared Reconnaissance Pod (SHARP) Target Cueing System demonstration. Under a $2.3 million contract with Raytheon, BAE Systems will use its Spectral Infrared Imaging Technology Testbed (SPIRITT) high-altitude hyperspectral technology to automatically detect, classify, and identify camouflaged and concealed targets based on their spectral signature. Hyperspectral imaging extracts unique spectral data from hundreds of visible to infrared wavelengths to detect objects based on their material composition. "BAE Systems' sensor technology will demonstrate a significant increase in capability to the SHARP system," says Paul Markwardt, vice president of Identification and Surveillance for BAE Systems in Greenlawn. "It will demonstrate the potential for Navy pilots to identify targets in real time in daytime, at night, and in bad weather, improving their safety and effectiveness." SHARP will provide a high-resolution, digital tactical air reconnaissance capability with advanced day/night and all-weather capability. It will be demonstrated on an F/A-18E/F aircraft in the first application of hyperspectral technology on a tactical fighter.
Miniaturized thermal IR technology enhances tactical UAV capabilities
Cedip Infrared Systems in Croissy-Beaubourg, France, will begin delivering miniaturized thermal infrared cameras this year to the European Aeronautic Defence and Space Company (EADS) N.V, for incorporation into their Tracker unmanned aerial vehicle (UAV). The design of the Tracker UAV system (known in France under the name DRAC) is expected significantly to improve reconnaissance capabilities for civil and military authorities. The user-friendly system, which can be prepared for operation in a matter of minutes, operates under extreme operational conditions. Tracker is a tactical drone with hand-launchability for missions at close range. The system meets the highest performance requirements even under complex operational conditions. The Tracker UAV system, developed by EADS, delivers state-of-the-art over-the-hill reconnaissance and surveillance, close-range attack success analysis and remote location, identification, classification, and tracking of targets. Each system comprises two airborne vehicles, TV-operated from the ground, one of them carrying a novel miniaturized thermal-IR camera developed by Cedip. For more information contact Cedip Infrared online at www.cedip-infrared.com.