Electro-optics Briefs
Mar 1st, 2008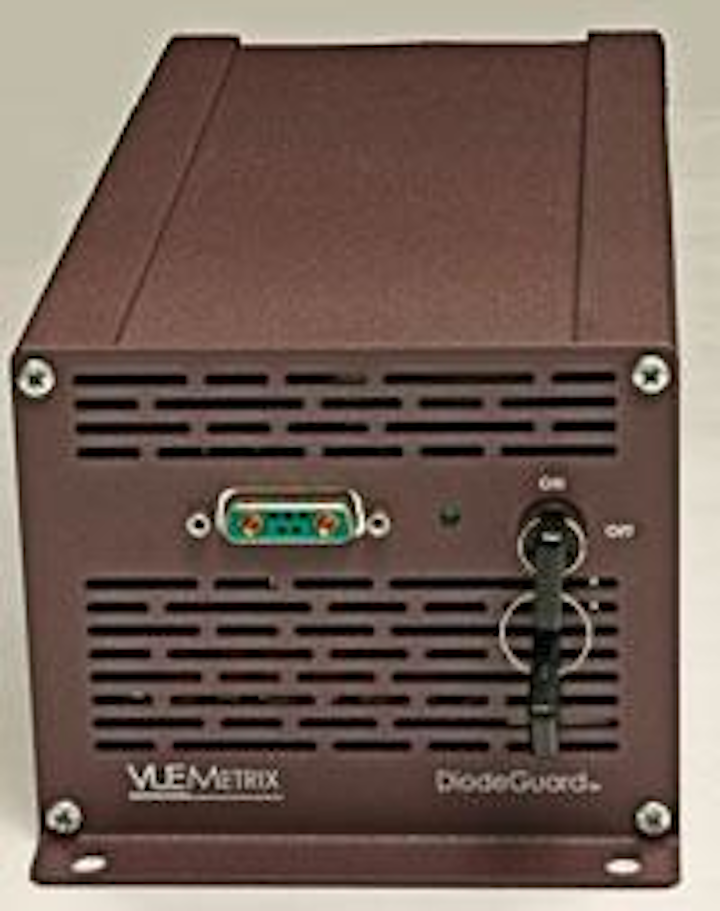 VueMetrix delivers laser diode controller for high-power fiber lasers
VueMetrix Inc. in Sunnyvale, Calif., is offering the high-power, low-noise Vue-MV-40 laser diode controller for applications that use 15 to 20 discrete diodes operated in series including fiber lasers and amplifiers, materials processing, and medical systems. The latest addition to the Vue Series of laser diode controllers includes DiodeGuard, VueMetrix's proprietary laser diode protection circuitry. The Vue-MV-40 is available in 40 volts, 10 amps and 27 volts, 15 amps configurations. The Vue-MV-40 incorporates diode and user safety features plus temperature and fault monitoring for laser system control. In addition it comes standard with WinVue user-interface software. Based on the VueMetrix platform design, the Vue-MV-40 offers user-settable power, current, and operating temperature limits. It can be operated via RS-232, USB, or analog inputs in either CW or pulsed mode. The Vue-MV-40 is available in both embeddable OEM and stand-alone configurations. For more information, visit VueMetrix online at www.vuemetrix.com.
DILAS offers conduction-cooled fiber-coupled laser modules for military applications
DILAS in Mainz, Germany, is introducing conduction-cooled, fiber-coupled diode laser modules for military, aerospace, medical, materials-processing, and pumping applications that demand high-power, stable sources with high beam quality. DILAS introduced the laser modules at the Photonics West trade show in San Jose, Calif. DILAS's 1550-nanometer laser diode modules are based on single- and multi-bar configurations. Modules in the range of 1550 nanometers come with 400-micron, NA 0.22, SMA fibers that deliver 5 to 30 watts output, depending on the number of diode bars integrated into the module. For more information, visit DILAS online at www.DILAS.com.
Axsys to provide infrared imaging lenses for Army CROWS program
Axsys Technologies Inc. in Rocky Hill, Conn., won a $21.9 million order from BAE Systems in Lexington, Mass., to produce dual-field-of-view infrared imaging lenses as part of the U.S. Army's Common Remotely Operated Weapon Station (CROWS) program. The contract allows for additional quantities to be ordered at BAE's option over the coming five years. If all options are maximally exercised, the contract value could total $87 million, company officials say. Axsys designs high-performance surveillance cameras, imaging systems, and related motion-control technologies for aerospace, defense, and high-performance commercial applications. For more information, visit Axsys online at www.axsys.com.