On-board processing, acoustic modems, advanced batteries highlight SAIC tsunami-warning buoys
SAN DIEGO–Science Applications International Corp. (SAIC) in San Diego is delivering tsunami-detection buoys to the People's Republic of China.
May 1st, 2009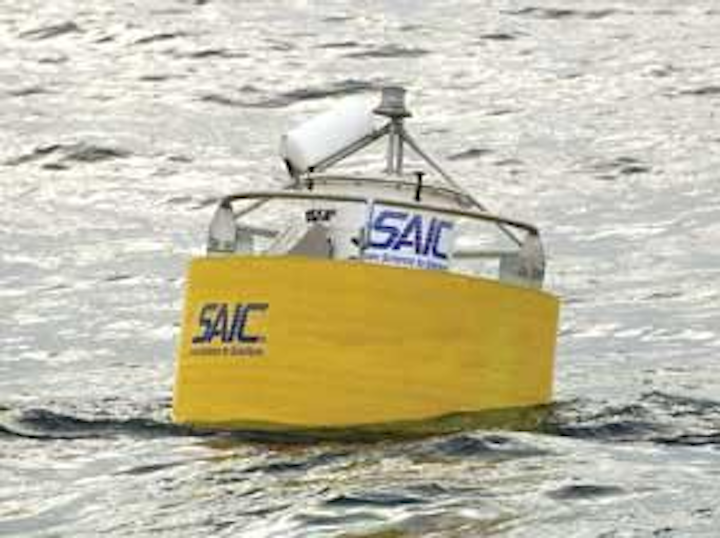 By Courtney E. Howard
SAN DIEGO–Science Applications International Corp. (SAIC) in San Diego is delivering tsunami-detection buoys to the People's Republic of China. These ocean-based tsunami buoys are multi-hazard warning and mitigation systems that use advanced electronics and sensors to provide quick warning information in the event of potentially catastrophic tidal waves.
SAIC won a contract from the People's Republic of China State Oceanographic Agency to produce and deliver two SAIC Tsunami Buoy (STB) systems. The STB is a commercial version of the Deep-ocean Assessment and Reporting of Tsunami (DART II) detection buoy that SAIC engineers created for the U.S. National Oceanic and Atmospheric Administration (NOAA). The commercial version was developed to make SAIC Tsunami Buoys available to foreign governments who need a tsunami warning system compatible with the NOAA Tsunami Warning System, with the goal of enabling a global, end-to-end, integrated threat notification system.
The STB system combines three subsystems: a surface communications buoy, a buoy mooring, and a bottom pressure recorder (BPR). The surface buoy takes advantage of global positioning system and satellite communications (GPS/Iridium SATCOM) technology, acoustic modems, on-board processing, and batteries with a theoretical life of more than two years. The BPR encompasses a paroscientific pressure sensor, on-board processing, an acoustic modem, and batteries with a theoretical life of greater than four years.
The bottom pressure recorder's sea floor pressure sensor, sensitive to less than 1 millimeter in 6,000 meters, detects earthquakes and sea-level changes. A tsunami detection algorithm automatically sets off an on-demand, tsunami warning center (TWC) trigger.
Acoustic communications transmits the pressure data to the surface buoy which, in turn, relays the data by satellite communications to the Chinese Oceanographic Environmental Forecast Center for analysis. The data, delivered less than five minutes after the triggered event, enables real-time assessments of such threats as tsunamis, seismic events, and underwater mudslides. The tsunami detection buoys are typically located far enough out to sea, in roughly 12,000 to 18,000 feet of seawater, to provide one to two hours of notice, says a representative.
The STB systems will form the basis of China's tsunami warning system network in the South China Sea, continuously sending data to the Chinese Tsunami Warning Center in Beijing, says a representative. The NOAA has deployed buoys off the East and West Coasts of the United States and parts of the Western Pacific Ocean near U.S. territories, according to SAIC officials.
"This effort is another demonstration of SAIC's commitment to work with those of the global community threatened by tsunamis, providing access to reliable and technologically sound tsunami assessment systems," says Tom Baybrook, SAIC senior vice president and business unit general manager. "We look forward to future opportunities to support the goal of a global integrated tsunami warning network."
For more information, visit SAIC online at www.saic.com.