Defense prime contractors rely on core abilities as they zero-in on homeland security market
Leaders of major U.S. defense prime contractors say they see electronics applications for the homeland security market as a natural outgrowth of their core businesses, and say they see much potential for growth.
Nov 1st, 2002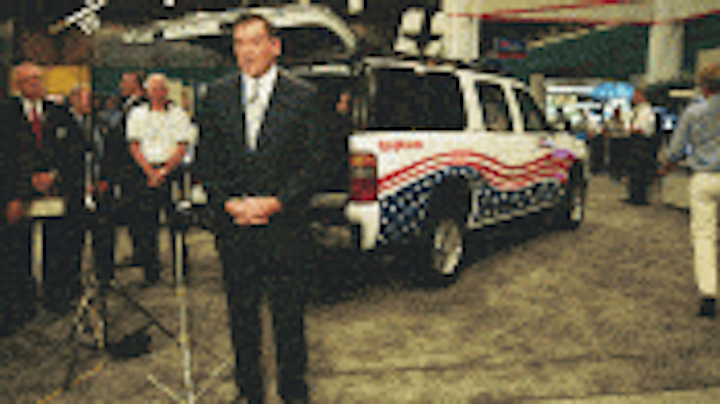 by John McHale
Leaders of major U.S. defense prime contractors say they see electronics applications for the homeland security market as a natural outgrowth of their core businesses, and say they see much potential for growth.
The initial proposed budget for a future U.S. Department of Homeland Security is approximately $37.5 billion, of which anywhere from $3 to $5 billion would go toward electronics, says Hugo Poza, vice president of homeland security at Raytheon in Lexington, Mass.
Creation of the Homeland Security Department is still under consideration in Congress.
Most homeland security technology will come from the defense sector because of its inherent military utility; in fact, in many cases the military is already using it. "Technology for defense will drive the market; it's just a matter of the DOD allowing the technology to be used in some cases," Poza says
null
Leaders at the prime contractors also say they expect the Homeland Security Department budget to increase steadily to around $50 billion in five years and maybe plateau there, but remain steady. However, another terrorist attack would probably mean a larger budget, experts predict.
The $3 to $5 billion per year electronics content of the homeland security budget is about right, says Steve Carrier, vice president of business development and strategic planning at Northrop Grumman Information Technology in Herndon, Va. After the government dishes out the basic personnel needs to the 170,000 people working for the 22 different agencies, that is about all that would be left for technology procurement, he explains.
"I believe the defense primes have the opportunity to drive and shape the market," says John Stammreich, vice president of homeland security at Boeing in Seal Beach, Calif. Many people thought a homeland security market never would really happen despite all the attention heaped on the formation of the Office of Homeland Security last year, Stammreich continues. However, the homeland security market is for real and it is here to stay, he adds.
Homeland security funding will start out on the federal level, but by necessity will filter down to state and local agencies that really need the money, predicts Scott Ryan director of Homeland Security for BAE systems in Arlington, Va.
Private-sector demand for security also represents a huge potential market, ranging anywhere from $90 to $100 billion a year, Stammreich says. Much of it would involve information security in response to anticipated government requirements for companies to certify and insure their essential financial data, he says.
"The private sector will follow the lead of the federal government and protect its assets as well as possible," Poza says. "That means network protection, perimeter protection, and protection of disbursed assets like oil platforms scattered throughout the world. I'm unable to say with precision at this point how big it will become."
Also, there is talk of creating a type of guaranteed supply chain for domestic companies that do a lot of international business, Stammreich says. Companies such as Boeing would be required to make sure every container they ship is thoroughly tested for chemical, biological, and other threats before shipping. They would have a certified process to assign each product an electronic ID that lets them move through customs quickly, Stammreich says.
The homeland security market overseas also has a lot of potential, Stammreich says. For example government officials in England are forming their own Ministry of Homeland Defense. Large European prime contractors, meanwhile, have vice presidents of homeland security, he adds.
"The funny thing is many people are talking about the potential cost of homeland security, but the reality is you can't afford not to do it," says Northrop Grumman's Carrier.
Adapting current technology
The proposed Homeland Security Department would focus on four main areas:
border and transportation security;
emergency preparedness and response;
chemical, biological, radiological, and nuclear countermeasures; and
information analysis and infrastructure protection.
Officials at the defense prime contractors say they have technology now that is applicable to all four areas; it is just a matter of adapting it for use in this market, Stammreich says. Still, there has been talk of creating a research and development agency for the Homeland Security Department, called the Security Advanced Research Projects Agency, or SARPA, Stammreich says.
Most of the technology being used is COTS, or commercial-off-the-shelf technology, a concept that defense contractors know well, BAE Systems's Ryan says. Any technology development for the first few years will probably come out of the Defense Advanced Research Projects Agency (DARPA) in Arlington, Va., or from the other government and military laboratories, he says.
Most homeland security spending now goes toward standard supplies and training, but not much toward the immediate fielding of new technology; the exception being the Transportation Security Agency (TSA), which is getting money to upgrade security technology at airports and on airplanes, says Art Johnson, senior vice president of corporate strategic development at Lockheed Martin Corp. in Bethesda, Md. The challenge is how to use existing dollars for homeland security now to get today's technology into the field, Johnson says.
"The key will be what industry and government do with the money, Raytheon's Poza says. "This is too damn important to be wasting money. The agencies must be provided with what they need now."
The challenge will be in designing new systems around current technology so it can be used in homeland security applications, says Jim Wrightson, vice president of strategic planning at Lockheed Martin. For example, in border security there are no major new inventions; it will just be a matter of taking current technology and creating systems to manage the technology in use, he says.
"We are primarily a systems integrator for the government," Lockheed Martin's Johnson says." "We have the expertise and experience in working with large government integration contracts that enables us to hit the ground running in homeland security."
Security experts cannot simply develop a piece of technology to thwart one threat; the key is to develop a system that integrates these different pieces to combat several different threats, officials say. This is where companies like Lockheed Martin come in, Wrightson says.
Dual-purpose technology will be the way things are done in homeland security, Carrier says. "We don't have to create a system from scratch, just take what exists today and adapt it for use in homeland security," he says.
All the attention and focus homeland security is receiving is also creating a rush among many smaller suppliers of electronic components to adapt their core products or technology to homeland security applications.
"Small companies are coming out of the woodwork to get involved in homeland security," Poza says. "We get about a half dozen calls a day from companies looking to get involved. I know airport security directors who want change their numbers because of all the solicitations they're getting.
"My intention at Raytheon for homeland security is to deliver solutions to our customers that have the best combination possible, which may include our products and somebody else's products," Poza says.
Available technology
To make the most of the potential $5 billion annual federal budget for homeland security, experts must conduct research and strategic planning to see which technologies are best suited to public safety, says Larry Rhue, vice president of strategic planning and business development for General Dynamics C4I Systems in Taunton, Mass. General Dynamics officials are concentrating on support for first responders and border security, he adds.
General Dynamics engineers are targeting their communications and network security products for first responder applications such as the U.S. Coast Guard, Rhue says. They are also looking at adapting technology they originally designed for military applications such as a line of their rugged computers, he adds.
For border security General Dynamics officials are capitalizing on their expertise in vehicle electronics for the military, Rhue says. For example they are looking at adapting their robotics technology for use in border patrols, he adds.
Officials at Boeing have jumped full bore into homeland security with the formation of their Security and Safety organization under their Commercial Airplanes business, Stammreich says. The group's immediate focus will be to help customers implement the recommendations of the U.S. Department of Transportation Rapid Response Team on Aircraft Security. The majority of Boeing's homeland security products come out of the company's Integrated Defense Systems division.
Boeing engineers also recently put a broadband connection in most of the government's executive fleet of planes to enhance communications in case of an emergency such as 9/11, Stammreich says.
"We are also doing a lot of physical security," Stammreich says. Engineers at Boeing Autometric in Springfield, Va., recently designed a Visual Security Operations Console for the Denver airport's park and ride operation, he adds.
Lockheed was already involved in the electronics upgrade of the Coast Guard fleet called Deep Water, Johnson says. This summer Coast Guard officials awarded the Integrated Coast Guard Systems (ICGS) a contract to upgrade the agency's deepwater ships, aircraft, command and control, and logistics systems. ICGS is a co-equal partnership of Northrop Grumman and Lockheed Martin.
"We feel the most vulnerable area for the country may be in cyber security," says Northrop Grumman's Carrier. The networks and databases of many local, state, and federal agencies are open to attack as are many power grids throughout the country, he explains.
Northrop Grumman IT provides information technology to the U.S. Department of Defense and is a top-tier integrator of large-scale information systems for customers such as the Internal Revenue Service, U.S. Department of Justice, and the Federal Aviation Administration.
The attacks of September 11, 2001, showed the need for improved communications between police, firefighters, and other emergency response personnel, Carrier says. Improved data management and enterprise architectures are also necessary to prevent known terrorists from enrolling in flight schools in the U.S., he adds. The technology is there to create shared databases between these agencies it just needs to be applied, Carrier says.
Information security, border security, and first responders are the areas where Raytheon is concentrating for homeland security, Poza says. Raytheon already offers a product for information security called Genesis, Poza says. Genesis quickly searches, harvests, and indexes complex information from the archives of public and proprietary sources. Raytheon also has a first responder command and control vehicle already in use by local law enforcement, Poza says.
Raytheon is also currently in the running to provide security for the entire 2004 Olympic games in Athens, Greece, Poza says.
BAE Systems engineers have also developed a first responder vehicle with experts at the Naval Air Systems Command. Integrators at the Harris Corp. RF Communications division in Rochester, N.Y., also have a communications vehicle available for first responders.
BAE designers are also in the chemical/biological arena with their Joint Chemical Agent Detector, which provides rapid threat analysis and alerts, to allow the earliest possible activation of disaster preparedness procedures whether the hazard is chemical vapors or biological pathogens.