Army researchers asking industry for ways to speed sensor-fusion intelligence to warfighters
ABERDEEN PROVING GROUND, Md., 27 Feb. 2015. U.S. Army researchers are reaching out to industry for new ways to speed actionable intelligence to the field commanders and warfighters on the front-lines who need it most.
Feb 27th, 2015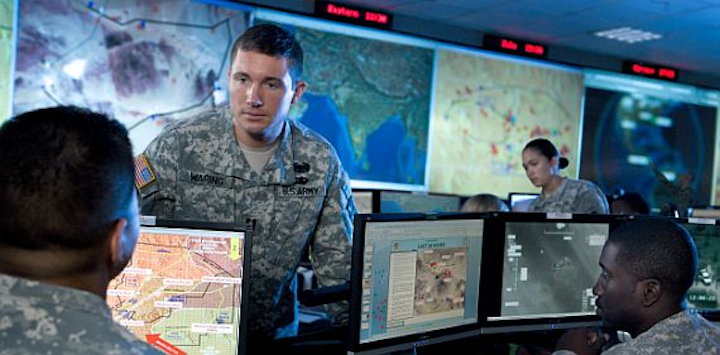 ABERDEEN PROVING GROUND, Md., 27 Feb. 2015. U.S. Army researchers are reaching out to industry for new ways to speed actionable intelligence to the field commanders and warfighters on the front-lines who need it most.
To do this, researchers are asking industry for ideas on creating a common electronic architecture for performing multi-modal fusion within signal processors, on the payload of sensor platforms, on maneuvering vehicles, and at fixed site locations.
Officials of the Army Communications-Electronics Research, Development and Engineering Center at Aberdeen Proving Ground, Md., have issued a request for information (W56KGU-15-R-A025) for the Multi-modal Signal and Fusion Processor project.
This initiative seeks new ideas for a common architecture that can fuse information from several different kinds of battlefield sensors. This common architecture for sensor fusion, furthermore, could function within signal processors, on sensor payloads, on maneuvering vehicles and aircraft, and at fixed-site locations.
The goal is to create new capabilities for military sensor processing exploitation & dissemination (PED) to speed crucial intelligence information to the fighting forces on the battlefield that need it most.
Related: DARPA pushes forward with navigation sensor fusion initiative to reduce dependence on GPS
Over the last decade, combat operations focused on short-term reactive PED with evolutionary improvements only for immediate capabilities. This approach, however, represents a critical flaw in producing actionable intelligence in a timely manner, Army researchers say.
The future for combat forces confronting terrorists and traditional military foes will require the ability to process sensor data gathered from land, air, and space to generate intelligence and combat information for commanders in any environment and in all phases of land operations.
The ultimate goal is to process all collected information, make it accessible and discoverable through a standards-based data management framework, and reduce the processing and exploitation time between sensor and analyst.
The Army today has multi-sensor aircraft and land vehicles that collect multi-modal information like imagery, video, audio, and various forms of radar data. Applying multi-modal fusion to this data could produce tips, cross-cues, filtering, object extraction, tags, fire requests, and alerts, researchers say.
While multi-modal fusion of sensor data occurs today at fixed-site locations, Army researchers are trying to find ways to perform multi-modal fusion the sensor platforms and on platforms close to those who need the resulting actionable intelligence.
Related: Air Force kicks off sensor-fusion program to help UAVs sense and avoid other aircraft in shared airspace
The Army is seeking PED applications that accelerate intelligence gathering and dissemination to improve commander situational awareness. This could be done with real-time algorithms located directly on the sensor platform that can process, correlate, and reduce multi-intelligence data for immediate situational awareness.
From industry, Army researchers want ideas for new, existing, and enhancements of capabilities to achieve platform-agnostic onboard real-time cueing, cross-cueing, and tipping; pro-active real-time alerting; fusion algorithms for target detection and tracking; open common modular sensor-fusion systems; multi-level security; receiving and transmitting multi-modal data over Ethernet, Wi-Fi, satellite, radio and other military communication channels; and distributed multi-modal fusion.
Industry ideas submitted should address size, weight, power, and cooling; cross-domain secure communications; threat protection; low-bandwidth and disconnected communications; virtualization, provisioning, and orchestration; testing and evaluation in a virtual simulation environment; and existing Army enterprise integration.
Companies interested should email 10-page responses no later than 6 April 2015 to usarmy.apg.cerdec.mbx.i2wd-tcil-industry-day@mail.mil, with Multi-modal Signal and Fusion Processor RFI in the subject line.
Phone questions or concerns to the Army's Myong Parker at 443-861-4638. More information is online at https://www.fbo.gov/notices/e0126cad991f4cc673e9bb623ce791ce.