Extreme-environment data recorders for aerospace and defense introduced by Pentek
UPPER SADDLE RIVER, N.J., 13 March 2014. Pentek Inc. in Upper Saddle River, N.J., is introducing a line of extreme-environment data recorders for aerospace and defense applications in the field.
Mar 13th, 2014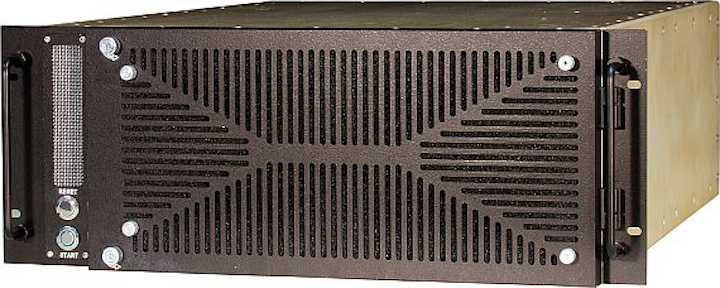 UPPER SADDLE RIVER, N.J., 13 March 2014. Pentek Inc. in Upper Saddle River, N.J., is introducing a line of extreme-environment data recorders for aerospace and defense applications in the field.
The Talon RTX Rackmount series rugged data storage devices are designed to provide a combination of high performance and large storage capacity in a military-specified rackmount chassis. The RTX Rackmount series provides to 30 terabytes of solid-state data storage with aggregate recording rates as fast as 5 gigabytes per second.
The RTX Rackmount series has a chassis designed in collaboration with Nova Integration Solutions in Saint Cloud, Fla. A major innovation for the RTX Rackmount systems is the QuickPac canister that allows operators to quickly remove and replace storage drives in the field.
Each QuickPac canister holds eight solid-state drives, providing as much as 7.68 terabytes of storage space. As many as four QuickPac canisters can be installed in a Talon RTX Rackmount chassis, providing more than 30 terabytes of total storage.
Related: Rugged portable data recorder for military and aerospace applications introduced by Pentek
Secured by four thumbscrews, full QuickPac canisters can be swapped out in the field with little down time. QuickPac canisters can be transported to the lab, via Pentek transport cases, for offload or analysis, using one of Pentek's Talon offload or playback systems.
The RTX Rackmount chassis uses heavy-duty wrought aluminum extrusions to provide torsional strength. Extrusions are partially overlapped for electromagnetic compatibility (EMC). The chassis is 4U in height, with a depth of 22 inches. A loaded chassis weighs as little as 45 pounds. A floating inner chassis isolates critical system components from high vibration and shock per MIL-STD-810.
Each RTX Rackmount recorder includes a high-powered forced-air-cooling system where cool air comes from the front of the system through the QuickPac canisters and forced out the back. The fans are controlled via software to allow maximum air flow levels or quiet operation for lower cooling levels.
EMI filters are on the front and rear of the chassis to protect the surrounding environment from radiated emissions. A removable front panel filter protects the system against dust and sand.
Related: Serial FPDP rugged data recorders for aircraft, ships, and vehicles introduced by Pentek
The Talon RTX Rackmount recorders include a 600-Watt, 85-to-264-volt, 47-to-400-Hz AC power supply with an inline EMI filter via an isolated chassis compartment. The 400 Hz rating allows eRTX Rackmount recorder to operate in aircraft and other environments with 400 Hz generators. For applications that require DC power, 24- and 28-volt DC power supplies are available to replace the AC power supply.
RTX Rackmount recorders are designed with modular rear I/O panels, allowing systems to be custom tailored to the user's I/O connector requirements. Options for signal I/O include standard SMA bulkhead connectors and military style 38999 connectors. Additional customization is easily supported by the modular architecture.
All Talon RTX Rackmount recorders are built on a Windows 7 Professional workstation with an Intel Core I7 processor and provide graphical user interface and application programmer's interface to control the system.
Systems are supported with Pentek's SystemFlow software for system control and turn-key operation. The software provides a GUI with point-and-click configuration management and can store custom configurations for single-click setup. The software also includes a virtual oscilloscope and signal analyzer to monitor signals before, during, and after data collection.
For more information contact Pentek online at www.pentek.com, or Nova Integration Solutions at www.novaintegration.com.