Air Force moving forward on project to increase the power of laser weapons for tactical aircraft
KIRTLAND AIR FORCE BASE, N.M. – U.S. Air Force aerial warfare experts are launching a new effort to increase the power and efficiency of laser weapons to make them suitable for next-generation tactical aircraft.
Jan 15th, 2019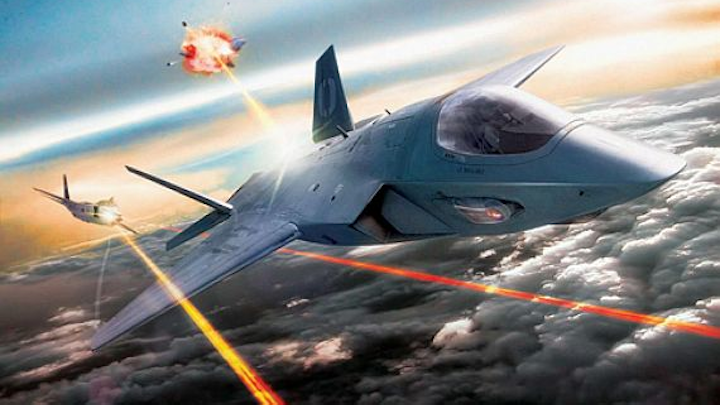 KIRTLAND AIR FORCE BASE, N.M. – U.S. Air Force aerial warfare experts are launching a new effort to increase the power and efficiency of laser weapons to make them suitable for next-generation tactical aircraft.
Officials of the Air Force Research Laboratory Directed Energy Directorate at Kirtland Air Force Base, N.M., issued a broad agency announcement Friday (FA9451-19-S-0001) for the Compact High Energy Laser Subsystem Engineering Assessment (CHELSEA) project.
CHELSEA seeks to identify the most promising technologies for significant increases in power over previous efforts to develop an airborne laser weapon for tactical aircraft.
Specifically, CHELSEA seeks to identify technologies that offer significant increases in power of prototypes developed in the Air Force Self-protect High Energy Laser Demonstrator (SHiELD) project and its laser subsystem called Laser Advancements for Next Generation Compact Environments (LANCE).
Related: Lockheed Aculight developing prototype high-power laser weapons to help defend tactical aircraft
Air Force researchers say they will use CHELSEA data to help design and build by 2024 a Technology Readiness Level-5 laser prototype of a compact, ruggedized, high-energy laser subsystem suitable for tactical aircraft able to fly at near the speed of sound.
Past efforts in integrating high-energy lasers aboard aircraft have yielded large dedicated platforms which lacked tactical utility and presented significant problems of sustainment, Air Force officials explain. Recent advances in laser amplifier technology, however, enable laser weapon systems for operational tactical aircraft.
The SHiELD project of 2016 sought to develop and assess a high-energy laser for use against enemy aircraft, missiles, and other airborne threats. The Northrop Grumman Corp. Aerospace Systems segment in Redondo Beach, Calif., seeks to demonstrate beam-control technology to protect current and future fighter aircraft with directed-energy systems using a laser housed in a pod attached to a fighter-sized aircraft.
In 2017 the Lockheed Martin Corp. Aculight segment in Bothell, Wash., starting working on state-of-the-art laser technologies to assess the operational utility of a laser weapon small enough to fit on tactical aircraft like jet fighters as part of the SHiELD's LANCE project.
Related: Lockheed Martin, Boeing, and General Atomics eye laser weapons to counter enemy ballistic missiles
In that project, Aculight seeks to demonstrate a ruggedized high-power laser subsystem for flight testing on the Northrop Grumman SHiELD pod attached to a fighter-sized aircraft in efforts to minimize beam quality degradation under the stressing flight conditions of high performance tactical aircraft.
Aculight is quantifying the performance a airborne defensive laser system for laser output power, electrical-to-optical efficiency, power stability, beam jitter, and power in the bucket. The laser must be able to withstand the G loads and vibration of tactical aircraft maneuvers, and must be ready for flight demonstrations by 2021.
Now the CHELSEA project seeks to bring SHiELD and LANCE to a whole new level. It seeks to scale laser power by 2024 as a possible drop-in replacement for the SHiELD LANCE laser subsystem, or as part of a new prototype laser system for airborne applications. CHELSEA data also may help guide government technology investment decisions beyond 2024.
Related: Laser weapons show their stuff in real-world conditions
CHELSEA seeks to answer two questions: what levels of laser performance can be demonstrated by 2024 within the current SHiELD constraints; and what interface modifications are necessary to reach anticipated Air Force performance levels?
Companies interested should send responses by post or courier no later than 26 Feb. 2019 to AFRL Det 8/RVKDL, ATTN: Ms. Kim Armstrong, 3550 Aberdeen Avenue, Kirtland AFB, NM 87117-5773.
For technical questions or concerns contact Kevin Hewlett by email at kevin.hewett@us.af.mil, or by phone at 505-853-2684. For contracting questions or concerns contact Kim Armstrong by email at kim.armstrong.3@us.af.mil.
More information is online at https://www.fbo.gov/spg/USAF/AFMC/AFRLPLDED/FA9451-19-S-0001/listing.html.
Ready to make a purchase? Search the Military & Aerospace Electronics Buyer's Guide for companies, new products, press releases, and videos