Data acquisition power monitor for commercial and military aviation introduced by Curtiss-Wright
ASHBURN, Va. – The Aerospace Instrumentation business unit of the Curtiss-Wright Corp. Defense Solutions division in Ashburn, Va., is introducing the AXN/ADC/408 three-phase data acquisition unit (DAU) power monitor module for commercial and military aviation.
Nov 8th, 2018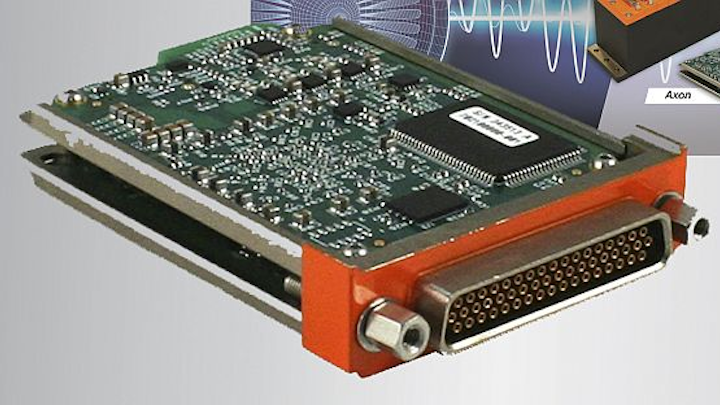 As aircraft design shifts from constant to variable-frequency electrical power requirements, flight test instrumentation engineers increasingly need power monitoring able to collect data from generators that output power at up to 1 kHz.
What's more, variable frequencydata acquisition must be able to capture unexpected fluctuations in power frequency. Data transfers over the AXN/ADC/408 backplane at rates as fast as 800 megabits per second.
The rugged AXN/ADC/408 is designed to monitor transients while supporting ISO 12384 data capture rates. The module detects the presence ofpower transients based on pre-set voltage, current, and frequency threshold parameters.
Related: Curtiss-Wright boosts data acquisition and flight test with TTC acquisition
After detecting a transient, the module can output the raw data at speeds fast enough to plot any detected transients. The AXN/ADC/408 transmits Ethernet packet streams over each of its six input channels, with raw data sampled at 450 kilosamples per second.
Input signals are captured at data bandwidths rated to 120 KHz. The device can packetize raw captured data into standard formats that include iNET-X, IENA, TmNS, Ch10, and DARv3. The module also down-filters data bandwidth with a built-in digital filter, prior to processing by the math engine.
For more information contactwww.curtisswrightds.com.
Ready to make a purchase? Search the Military & Aerospace Electronics Buyer's Guide for companies, new products, press releases, and videos