Find a need and fill it with COTS
"Find a need and fill it," is the motto of the Kaiser Sand and Gravel Co. of Oakland, Calif. That's what Pixim Inc., across the San Francisco Bay in Mountain View, Calif., is doing, using what has to be the essence of commercial off-the-shelf (COTS) technology, and creating new markets in the process.
Sep 1st, 2003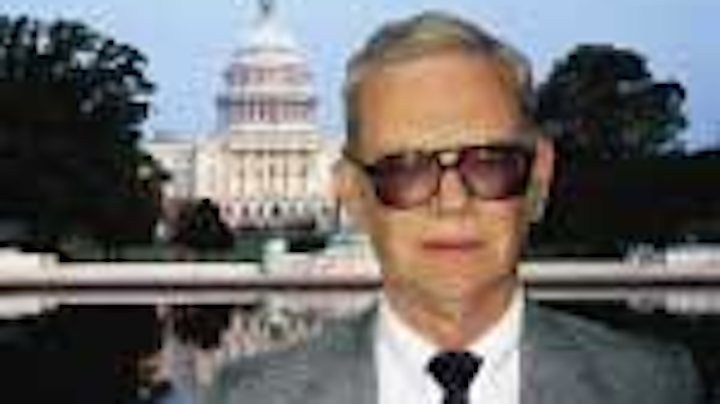 By John Rhea
WASHINGTON — "Find a need and fill it," is the motto of the Kaiser Sand and Gravel Co. of Oakland, Calif.
That's what Pixim Inc., across the San Francisco Bay in Mountain View, Calif., is doing, using what has to be the essence of commercial off-the-shelf (COTS) technology, and creating new markets in the process.
The need in this case was for better closed circuit TV (CCTV) cameras to provide high resolution under a variety of lighting conditions for security and law-enforcement applications.
The solution was to develop two chips, one to focus on image capture and one for image processing and camera interface. By placing an analog-to-digital converter inside each pixel in an array, according to the company, each pixel can act as its own camera optimized for the proper amount of light.
This kind of performance was becoming increasingly important even before the terrorist attack of Sept. 11, 2001, and has reached the point of criticality today. The worldwide CCTV camera market was estimated at more than $3 billion in that year and is projected to grow 15 percent annually for the foreseeable future.
What makes this a COTS story is the conception of Pixim as a chip-design and software shop — in effect a "fabless" middleman between the chipmakers and the systems manufacturers.
This is where the money is. In the golden era of Silicon Valley, back in the 1970s, wafer fabrication represented such a high percentage of chip costs that the headhunters' top priority was the process engineers.
There was even a slang term for this situation: it was called the "cook book" approach to wafer fabrication. When the process engineers were lured away to new companies, a common occurrence in those days, they brought their recipes with them.
That dog won't hunt today. Wafer fabrication has been automated and rationalized to the point where chips are commodity products. Pixim officials have farmed out their company's wafer fab — using 0.18-micron technology on a plastic ball grid array — to the foundry of Taiwan Semiconductor Manufacturing Corp. in the Hsin Chu industrial park just outside Taipei.
I was there once in 1981, when the Taiwanese high-tech companies were getting the place started, and the engineers I met made no secret of their desire to compete head to head with Silicon Valley.
They followed the Silicon Valley model meticulously. Just as Silicon Valley is what it is because of Stanford University in Palo Alto, the adjacent national technical university of Taiwan anchors the Hsin Chu industrial park.
That model is still operative in Silicon Valley, by the way, despite the recent rash of dot.com failures. Pixim's technology was originally developed by Abbas el Gamal, a professor of electrical engineering at Stanford, and his graduate assistant, David Yang, during the mid-1990s. Gamal is also now chairman of Pixim, and the company has filed 72 patent applications for his work.
Moreover, there is still money available in Silicon Valley. On the strength of Gamal's inventions, Pixim raised $36 million in venture funding from Mohr Davidow Ventures, Mayfield, and Mitsubishi International Corp. Pixim is still privately held, but that situation is likely to change.
And just as the rest of the world is going digital, so is the CCTV business. Lee Hirsch, senior marketing director at Pixim, estimates that digital transmission of video images represents 5 to 10 percent of the camera market and is expected to quadruple over the next three to four years.
Simpler also means cheaper. Robert Siegel, executive vice president of Pixim and a veteran of microprocessor and semiconductor memory pioneer Intel Corp. in Santa Clara, claims he can get the price of cameras down by 5 to 10 percent. There are fewer components, so they're easier to build, he says.
"We were targeting the security market prior to 9-11," Siegel notes, and the idea was to compete with charged-coupled devices (CCDs) in what he calls real-life lighting conditions. In practice, this means 14 to 16 bits per pixel vs. 8 to 10 bits per scene for CCDs. Since this performance is measured on a logarithmic scale, that represents a 100-fold improvement.
The progressive nature of the Pixim process — demonstrated at rates as fast as 10,000 frames per second in the laboratory — enables for the creation of high-quality video still shots for surveillance and identification purposes. This also could power a range of biometric security devices, including facial- and retinal-recognition systems.
The resulting "smart cameras" would provide digital video archiving and searching capabilities and advanced networked systems. The idea is to transform CCTV from a passive observation platform to an active notification system.
With what amounts to a one-size-fits-all technology, the company is aiming at a wide range of commercial and consumer markets. In health care, for example, the idea is to improve medical image quality and diagnostic value. The same idea can apply to industrial and manufacturing automation.
In the consumer category, company planners are looking at commercial movie making and such imaging applications as automobile sensors capable of tracking a highway's center line and monitoring lane changes, and home sensors for fire and burglary protection.
At this stage, nobody at the company has been paying much attention to the military market, Siegel concedes. The components are, after all, housed in plastic packages. This need not be an insurmountable barrier, however, since most military CCTV applications would be in relatively benign environments. Nor do Pixim leaders plan to get into the licensing business, Siegel adds.
The new product line, known as the Digital Pixel System 200, was unveiled in February, and Siegel expects to begin shipments this month. These aim at a worldwide market, so they must be able to accommodate the NTSC format used in the United States and the PAL format used in Europe and elsewhere.
There's no question after 9-11 that the need is there. Once this digital technology has been credibly demonstrated, it will likely spread to other firms. Intel saw the need early on.