Spacecraft systems integrators struggle with increasing complexity of rad-hard computers
Engineers at the European Space Agency in Noordwijk, the Netherlands, launched a spacecraft to Mars on June 2, set to deliver a planetary rover named Beagle 2 on Christmas Day.
Oct 1st, 2003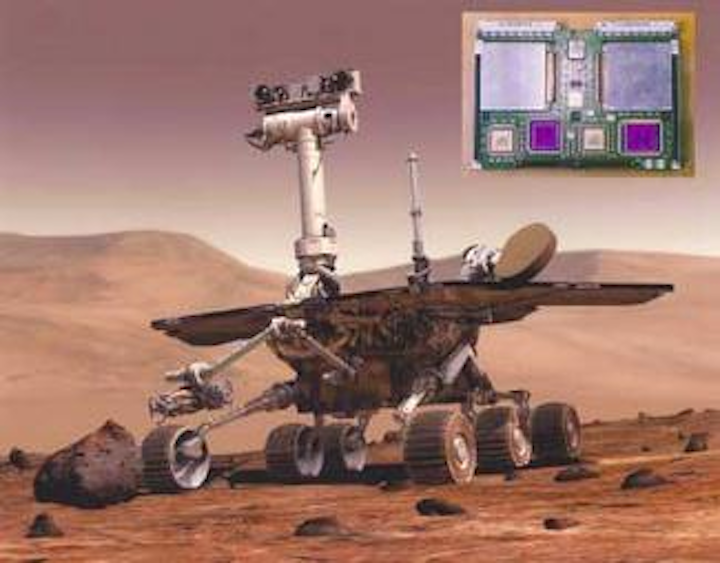 By Ben Ames
DARMSTADT, Germany — Engineers at the European Space Agency in Noordwijk, the Netherlands, launched a spacecraft to Mars on June 2, set to deliver a planetary rover named Beagle 2 on Christmas Day.
But when mission control workers in Darmstadt, Germany tried to test the onboard computers three weeks later, they found errors in the onboard memory and electric connections.
null
Neither problem is fatal, but both highlight the dangers of running computers in space — radiation, temperature, and vibration can doom the best-planned mission. With Mars at its closest approach to Earth in 60,000 years, many missions are scheduled, and by January, seven Earth spacecraft will be spinning in Mars's orbit — assuming their computers can survive the trip through space.
"High-energy particles in the higher radiation belts are horrible; they wreak havoc on electronics," says Vic Scuderi, manager of space programs for the space systems and electronics division at BAE Systems in Manassas, Va. "They flip bits from zero to one, and can even slam through the electronics and cause a short circuit that causes the electronics to die."
BAE engineers build the RAD6000 single-board computers used by the U.S. National Aeronautics and Space Administration (NASA) in two spacecraft currently speeding toward Mars.
Each spacecraft holds a rover destined to drive around the Martian surface in search of ice, carbon, and other signs of life. Their goals are similar to NASA's 1997 Pathfinder mission that placed the Sojourner Rover on the planet.
The new rovers — named Spirit and Opportunity — are designed to travel much further than their predecessor. If all goes well, they will scramble over 1,000 yards of rocky Martian terrain during their 12-week lifespan — each going 10 times further than Sojourner. For more information, see http://mars.jpl.nasa.gov/mer/.
And yet designers at NASA's Jet Propulsion Lab (JPL) in Pasadena, Calif. have used nearly identical computers and code as the Pathfinder mission, in an effort to reduce development time and cost.
Each computer will steer its spacecraft today, and navigate its rover tomorrow. That reduces the weight and complexity of equipment aboard, but it raises another challenge. JPL engineers will have to broadcast a software upgrade to the distant spaceships sometime in November, when the spacecraft will be tens of millions of miles from Earth.
That is because interplanetary rocket navigation and Martian science projects are such different operations.
"As they add more and more things to the science side, they require more and more memory, so that pushes out some things from the operational side," says Emil Devries, field applications engineer at Green Hills Software in Santa Barbara, Calif. JPL designers used development kits from Green Hills to compile their proprietary software applications.
The mid-mission software upgrade will be especially tough because of the low data transmission rate, says Mike Connors, also a Green Hills field applications engineer.
Then the computers will autonom-ously run memory scrubbing and health monitoring programs, so the new applications can work even if space radiation has degraded the memory. JPL planners say they hope the upgrade will help them avoid the software errors that doomed their last missions, the Mars Climate Orbiter and Mars Polar Lander. Both spacecraft were lost in 1999 as they approached Martian orbits.
They chose the RAD6000, a 32-bit RISC (reduced instruction set computer), with 20 million instructions per second processing power.
JPL designers have ordered about 50 of these computers over the past five years, he says. In addition to Spirit and Opportunity, they are using four of them today on the SIRTF (Space Infrared Telescope Facility), which launched on Aug. 25 — two for navigation and data handling, and two for data processing and sensors. Those redundant chips also act as backup computers, since the telescope's lifetime is at least 10 years. See http://sirtf.caltech.edu/ for more information.
But that standard is about to change, as BAE launches the RAD750, a new generation of space-ready microprocessor.
When the first RAD750s roll off the new line at the end of 2004, they will be improved from 0.5-micron to 0.15-micron format, will run at 300 million instructions per second, and will be rated at the megarad level of radiation shielding.