Electro-optics Brief
Premiere Electronics Ltd. in Hoddesdon, England, is introducing an armored dome rugged camera for surveillance and homeland security applications.
Apr 1st, 2009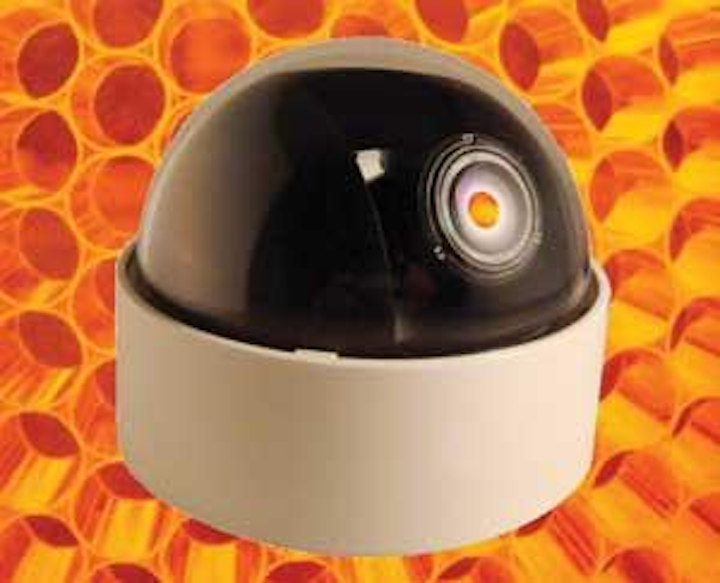 Premiere Electronics offers rugged camera electro-optical sensor for surveillance applications
Premiere Electronics Ltd. in Hoddesdon, England, is introducing an armored dome rugged camera for surveillance and homeland security applications. The electro-optical sensor uses the 53S85HN-IRVF 1/3-inch CCD high-resolution color board camera to provide 540TV lines of video, RS232 interface, and on-screen control. These electro-optical sensors also offer standard composite video or digital ITU-601 outputs, providing a powerful solution for video applications. The unit uses an interlaced sensor that provides sensitivity down to 0.0125lux F1.2 B/W and 0.0014Lux sensitivity x32 B/W. A built-in RS485 interface allows remote control and set-up of the camera assisted by on-screen display. Synchronization is internal or line locked allowing a master camera control. The varifocal lens 3.6~9.0 millimeters gives flexibility in defining areas of interest. For more information, visit Premiere Electronics online at www.premierelect.co.uk.
null
Northrop Grumman cryocooler improves data collection in future astrophysics missions
Engineers at the Northrop Grumman Corp. Space Technology segment in Redondo Beach, Calif. (formerly TRW), developed cryocooler technology to improve data collection in astrophysics missions such as the International X-ray Observatory (IXO). Cryocoolers are used to reduce thermal noise in space-borne sensors. A hybrid pulse tube Joule-Thomson cryocooler provides cooling to 4.4 Kelvin. "This achievement is significant for future space science programs because it enables advanced sensors to collect data at wavelengths and with higher accuracy, extending the range of scientific opportunities," says Mark Folkman, director of sensors and phenomenology for Northrop Grumman Aerospace Systems. "Cooling sensors to this level reduces thermal noise in the detectors and associated electronics, allowing the sensors to operate with more sensitivity and efficiency." Northrop Grumman's cryocooler consists of a three-stage pulse tube cooler that uses high-pressure helium gas. This multi-stage approach enables efficient cooling of optics and system components and also makes it possible for another cooling element of the hardware to operate between 4K and low 50mK temperatures. Cooling to low cryogenic temperatures enables x-ray, infrared, microwave and gamma-ray sensors to provide more and better astronomical data.
Barco to supply avionics displays to Honeywell
Barco in Kortrijk, Belgium, will supply custom-built avionics displays to Honeywell Inc. for installation on the Dassault Falcon 900 business aircraft. The contract is part of an upgrade program that will equip the Falcon 900 jets with an advanced Honeywell Primus 2000XP flight deck. "The Barco DU-875 displays will provide Falcon 900 operators with increased situational awareness, efficiency, and safety," says Yves Vanhauwaert, general manager avionics at Barco. "They will bring extensive growth capabilities for future avionics functionalities." For more, visit Barco at barco.com.
null
Opnext introduces red laser diode for mobile electronics
Opnext Inc. in Eatontown, N.J., announced at the Photonics West trade show the HL6388MG laser diode for high-brightness, miniature display applications such as wearable computers and mobile electronic devices. The diode has strong color reproducibility and can be built into next-generation miniature display systems, including those in wearable computers, desktop computers, mobile phones, and other mobile equipment. For more information, visit Opnext online at www.opnext.com.