Contract manufacturing: there when you need it
The nation's prime defense contractors often find themselves with too many orders to handle with in-house expertise. That's where electronics contract manufacturing comes in.
Jan 1st, 2017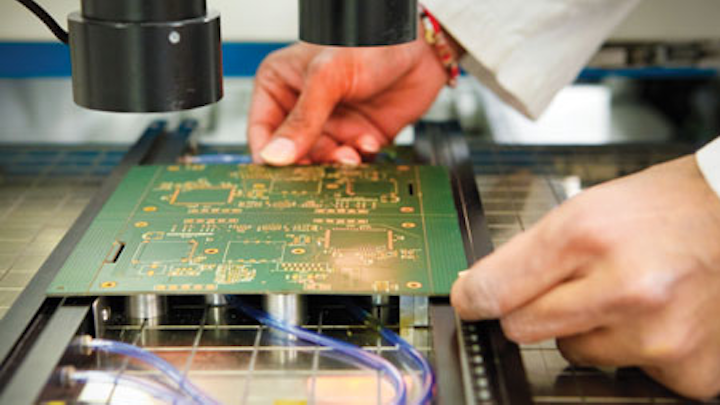 The nation's prime defense contractors often find themselves with too many orders to handle with in-house expertise. That's where electronics contract manufacturing comes in.
BY J.R. Wilson
With the rapid expansion of high-tech military equipment and componentry, thousands of small specialty manufacturers have come into being, with the initial big boost during with the Space Race of the 1960s.
That decade also marked the start of an acquisition and merger cycle that saw the majority of those companies - large and small - joined to become 20th Century defense industry giants, such as McDonnell and Douglas, Northrop and Grumman, Lockheed and Martin, as well as those whose names did not continue, as with the McDonnell Douglas acquisition of Hughes Helicopters about a decade before McDonnell Douglas itself vanished into Boeing.
Contract manufacturers often take charge of jobs that involve all levels: research, design, manufacturing, and test.
Throughout that period - and with even greater frequency since the turn of the century - contract manufacturing of military electronics grew into a major industry in its own right. Working primarily for systems integrators, contract manufacturers typically focus on specific areas, such as machining; mechanical and electrical assemblies; power systems; lasers; optics; sensors; robotics; vehicular controls; RF systems; satellite instrumentation; environmental stress screening; G-force testing; and electronic circuit card assembly.
"In the last 10 years, if you look at industry consolidation, that tends to support systems integration, which intuitively should mean more contract manufacturing," says Matt Turpin, CEO of contract manufacturer Zentech Manufacturing Inc. in Windsor Mill, Md. "Given the peaks and troughs of the mil-aero business, any company that tried to stay vertically integrated would probably die. Given the rate of technology change, vertical integration would not, in general, be able to keep up."
The role of industry consolidation
This is the primary reason that big systems integrators like Lockheed Martin, Northrop Grumman, and L-3 rely on best-in-breed contract manufacturing," Turpin says. "The economics don't really support them trying to do it all in-house. If you try to bring in that capability for just your stuff, you can't even out the troughs in mil-aero the way an independent contract manufacturer can."
Contract manufacturing of military electronics is significantly different from the model in use in many other industries, where the contract manufacturer produces complete products under the contractor's brand.
In the military market, the contract manufacturer may produce unique components designed by the contractor or provide its own designs, developments, prototyping and modeling, assemblies, fabrication, tooling, manufacturing, qualification testing, procurement, and logistics services to meet the contractor's requirements.
Representative of that is Jabil Circuit Inc. in St. Petersburg, Fla. With $18 billion in annual revenues, Jabil is the third largest contract manufacturer in the world - behind Taiwan's Hon Hai Precision Industry (Foxconn) and Singapore's Flextronics International Ltd.
Milwaukee Electronics is a regional contract manufacturer focused on providing North American engineering and manufacturing services, from design support to SMT PCB assembly through box build.
Trailing closely behind Jabil in size are U.S. contract manufacturers Sanmina Corp. in San Jose, Calif.; Benchmark Electronics Inc. in Angleton, Texas; and Plexus Corp. in Neenah, Wis.
Jabil promotes its second largest division, Defense and Aerospace, as providing a skilled workforce for aerospace and defense manufacturing, design, and supply chain management for high-mix, low- to medium-volume products and electronic and mechanical solutions to complement original equipment manufacturers' core competencies and reduce program costs.
"Systems integrators are still doing a lot of work in-house, but are outsourcing more each year, although the increase is not that great," says Mike Matthes, president of the Jabil Aerospace and Defense division.
Demonstrating value
"We have to provide a value proposition to show it is more advantageous to outsource electronics manufacturing than to keep it in-house, which allows them to focus more on their strategic plans and not worry about the actual manufacturing," Matthes says. "Jabil is moving into a new capability - aerospace machining - and entering into agreements to provide that to defense and civilian companies." Contract manufacturers also have to grow their capabilities to retain that value, he points out.
"We do electronic manufacturing and systems integration, but not the machining portion," Matthes continues. "At Jabil Green Point, our largest division, we do machining, mostly in China, but not for aerospace. It's not an easy capability to master and we're working with our customers to develop and launch that. Some of that will be based in the U.S., other parts in Asia. Military contracting would have to be done in the U.S., including a new facility. Almost everything we have at this time is commercial aerospace, but we will be working toward that."
Contract manufacturers have workforces with deep levels of expertise to handle today's complex manufacturing jobs.
Jabil's high volume of non-military contract manufacturing is fairly common among the larger contract manufacturers, much of it for overseas customers, although many of the smaller companies have focused their efforts tightly on items in demand by U.S. military contractors. While the vast majority of such contracts are with industry, some contract manufacturers do have direct contracts with the military services and the U.S. Department of Defense (DOD).
"It's a combination," says Zentech's Turpin. "We have two divisions, one with a long history of direct contracts, primarily with the Navy. The other does fewer direct contacts, but in the last five years contracts with the Army at Aberdeen Proving Ground and a blanket purchase agreement with the Navy have increased. But most are with industry," he says.
"For us, the U.S. government - and certainly DOD - are huge customers with lots of opportunity, predominantly subcontract work for primes, especially as we come out of sequestration, where defense dollars really did shrink a lot," adds Jabil's Matthes. "As we move forward under the new administration, there certainly are possibilities for increased defense spending."
Prime defense contractors are reluctant to surrender their manufacturing capabilities to contract manufacturers.
"The primes have their own manufacturing and to move it out they would have to cut jobs and close factories, which is never palatable for anyone," Matthes says. "And moving jobs and changing the labor landscape is never popular, even if the work remains in the U.S. It does become popular when the benefits outweigh concerns, so our job is to show where that value is."
Industry diversity
U.S. military electronics contract manufacturers come in all sizes, representing the full gamut of needs from systems prime contractors and, to a lesser extent, the military services themselves. By focusing their efforts and investments in specialty technologies and workers, they can make themselves too valuable to the defense industry at large to be taken in-house by individual companies.
Representatives of that diversity include: NEO Tech in Chatsworth, Calif., with a focus on advanced IP protections systems, anti-counterfeit protection, and upgrading or replacing out-of-date legacy systems for its aerospace and defense customers.
"The obsolescence of electronic components is a serious challenge in the aerospace and defense markets. Many of the ICs designed into systems have shorter life cycles than the end products in these markets," according to a company document. "NEO Tech has implemented a supply- chain design for the industry that can support long product life cycles. NEO Tech Obsolescence Mitigation helps customers through the obsolescence process so disruption to ongoing programs is mitigated."
Many contract manufacturers also are prime contractors themselves, typically on smaller systems for the military services.
One such is Sparton Corp. in De Leon Springs, Fla., which focuses on specialized technologies like embedded systems, RF, lasers, optics, sensors, and robotics for uses as varied as undersea warfare to cockpit controls to satellite communications, as well as aerospace and military printed circuit board assemblies.
Sypris Electronics in Tampa, Fla., a division of Sypris Solutions in Louisville, Ky., offers complete electronic manufacturing services (EMS) from circuit card assemblies to complex box builds and systems integration. Their approach is based on a Lean/Six Sigma, continuous improvement culture cultivated through internal investments.
TeligentEMS LLC in Havana, Fla., another ITAR and ISO 9001 registered contract manufacturer, offers product manufacturing services in a wide range of technologies, including unattended ground sensors, GPS tracking devices, spread spectrum transceivers, and handheld communication devices. The company promotes its capabilities in "technically complex defense projects, combined with strong configuration management capabilities and organizational flexibility."
Specializing in electronic, electro-mechanical, and electro-optical equipment, the engineering group at TRICOR Systems Inc. in Elgin, Ill., develops complete packages for their customers, from concept to operating manuals. That has included a broad array of products, under contract and for sale directly by TRICOR, from extremely complex to simple test equipment, hardware and software simulators, illuminator systems, and airborne black boxes.
Steady work flow
Commercial and non-military government contracts provide the ability to "even-out the troughs" as defense spending changes from year to year and administration to administration. Homeland security, for example, has grown significantly as a market in which contract manufacturers can find customers and is expected to continue to grow for the foreseeable future. That also applies - primarily in the U.S. - to investments in cyber-related hardware and chem/bio-detection equipment. Globally, industry experts say there has been a stated focus on improving commercial air fleets.
The resulting increased demand for contract manufacturers has led not only to growing competition but also to closer industry oversight.
Jabil Circuit experts are helping train a new generation of technicians to take on tomorrow's demanding manufacturing jobs.
"For existing EMS companies, if there is more demand for military equipment, most U.S.-built, there will be an uptick of military assembly work in the U.S., but it also is likely to incentivize people to get into the market, either through acquisitions or expansion," says Zentech's Turpin. "To an outsider looking in, military electronics may seem pretty simple, but hiring and maintaining a skilled workforce, and maintaining a balance through the peaks and troughs is a different story."
About three years ago, industry standards group IPC - Association Connecting Electronics Industries in Bannockburn, Ill., came up with a list of trusted sources. "Competition to receive that is brutal," Turpin says.
IPC describes its origin and purpose on its website: "IPC Validation Services was created to answer a recognized need identified in an industry survey - 75 percent of responding engineers and executive management from OEMs, EMS providers, and industry suppliers viewed a supplier qualification program as vital to their business. For EMS providers and industry suppliers, IPC Validation Services provides the opportunity to become part of a network of trusted sources that industry will look to first and foremost when evaluating existing and potential business partners.
"Participating EMS providers and supplier companies will be audited by IPC Validation Services - the authoritative, objective source for quality conformance and data reporting - to earn certification through the Qualified Products List (QPL) and Qualified Manufacturers List (QML) programs. Once certification is achieved, EMS companies and industry suppliers earn the right to a high level of visibility throughout the industry," the IPC description reads.
Disruptive technologies
Industry leaders largely agree that coming disruptive technologies, including further advances in miniaturization and evolution of the Internet of Things, also will change the world of electronics contract manufacturing.
"There are many disruptive technologies being developed right now, but nobody knows which ones will actually displace an existing technology in a way that is efficient and effective in meeting military SWaP [size, weight and power] requirements or commercial requirements for quality. Everything active will be disrupted by such things as nanotech, nanostructures, new fabrication techniques other than 3D printing - which itself is changing so fast, making prototyping faster and less expensive, for example," Zentech's Turpin says.
Zentech Manufacturing maintains close times with major U.S. and international defense contractors for complex electronic subsystems design and test.
"Quantum computing is another that will change everything in the future, if and when they get it nailed down - how manufacturing and product development are done," Turpin continues. "As relates to EMS companies, all that further underscores and exacerbates the issues surrounding capital investment. These technologies are not cheap and it doesn't make sense for a prime to invest in such technologies with only relatively small production requirements."
As more new and disruptive technologies come out, it will be incumbent on the primes to determine which EMS companies have the right people and equipment to build their products and properly use those technologies. Those in charge of contracting complex, high-reliability, military and aerospace assemblies will have to place even more emphasis on who is building those components by fully understanding the problems, challenges, and risks involved.
"If you use the wrong electronics contract manufacturer, no matter how good they may be, if they don't have the right people or equipment, you could end up killing your own business," Turpin warns.
Jabil's Matthes agrees, but does not believe such new developments constitute an immediate concern for military electronics contract manufacturing.
"I see disruptive technologies that will take hold, but not in the short term," Turpin says. "When you have a force out there fighting, if you are going to change the equipment they are using, you will have to do a lot of testing before making that move, which could take years. It could be a long time before it finds its way into the field to any large extent," he predicts.
"So in the next few years, I don't think disruptive tech will be a big changer; it will be more policy, funding, and outsourcing strategies from the primes," Turpin says. "The big technology trends are going to make their way in, but will require a lot of time to mature and meet pretty stringent reliability and operating requirements. So while those will slowly become part of it, they will be slower to adoption than on the commercial side."
Manufacturing technicians like these at Zentech often are long-term employees valued for their deep levels of experience.
Government and industry policies
For the military, then, technology changes will not be as important to contract manufacturing as new government policies, especially given the anticipated changes of the new Trump Administration. That also applies to changes in how the military does business, moving more toward autonomous systems, major improvements in battery technology, and overall energy requirements and technologies, with the commercial sector leading the way. Continuing advances in materials science also will shape that future.
Regardless of how quickly new technologies and new demands on contract manufacturing develop, they are on the horizon and primes and contract manufacturers will have to prepare themselves for them.
"Wherever there is change, there is opportunity; it just depends on how well you are positioned to take advantage of it, especially in areas in which you are investing," says Jabil's Matthes. "The trick is to invest in the right technologies at the right time." Jabil's size will be an advantage that will enable company executives to make strategic decisions rather than betting the company. "The more resources you have, the easier it is to fund that type of research and development.
"We are a Fortune 150 company, about $18 billion in annual revenue and 180,000 employees worldwide," Matthes says. "That can be an advantage in having a breadth of resources and capabilities, but it can be a disadvantage if a customer fears we're so large, their work might get lost. But divisionalizing our business units and keeping each customer with its own business unit manager makes the connection much more intimate and gives the feel of a smaller, more nimble company."
For the next decade, Zentech's Turpin sees a future depending on increased investment in manufacturing technologies for the military electronics market, in the U.S. and abroad.
"I would love to say increased profitability will mark the decade, but I say that tongue-in-cheek due to the continuing peaks and troughs in mil-aero. Nevertheless, the promise of increased military spending should be good for business," Turpin says. "Other changes for contract manufacturing to stay in business, especially on the mil-aero side, will mean more new investments in capital equipment. When new technology comes out, you need equipment to work it and inspect it in order to compete."
While all military electronics contract manufacturing must be done by U.S. companies at plants in the United States, successful competition for customers - primarily commercial - around the world is important to the ability of contract manufacturers to maintain a steady level of business and invest in the appropriate technologies and expertise.
Contract manufacturers like Zentech often must maintain large factory capacities to handle rush jobs and large orders.
Domestic manufacturing
In one of the first efforts to support advanced domestic manufacturing technologies, the U.S. Congress approved the Revitalize American Manufacturing and Innovation (RAMI) Act in 2014. It was designed to use federal and private matching funds to create an initial network of as many as 15 institutes around the country, pursuing areas of greatest interest to industry.
The resulting National Network for Manufacturing Innovation, renamed Manufacturing USA in 2016, established nine institutes in its first years of operation, with another six planned for 2017. The long-term goal is for as many as 45 public-private partnerships, each with its own technology focus area, but working toward a common goal, to secure America's technological future through manufacturing innovation, education, and collaboration.
Seen as a major boost for prime and contract manufacturers, the Manufacturing USA network is operated by the inter-agency Advanced Manufacturing National Program Office (AMNPO), headquartered in the National Institute of Standards and Technology at the Department of Commerce. The office is staffed by representatives from federal agencies with manufacturing-related missions, as well as fellows from manufacturing companies and universities, all working with DOD, NASA, the National Science Foundation, and the departments of Energy, Education, and Agriculture.
As it has grown and adjusted to continuing rapid changes in technologies, manufacturing processes, and market demand, but the organization says it has not changed its overarching mission:
"to convene and enable industry-led, private-public partnerships focused on manufacturing innovation and engaging U.S. universities; and
"to design and implement an integrated whole-of-government advanced manufacturing initiative to facilitate collaboration and information sharing across federal agencies.
"By coordinating federal resources and programs, the AMNPO enhances technology transfer in U.S. manufacturing industries and helps companies overcome technical obstacles to scale up new technologies and products."
Turpin describes it as the best effort to date to help contract manufacturers, primes, and the military maintain the nation's technological lead.
Manufacturing goals
"At a macro level, the U.S. does a lot of things extremely well, but one thing it has not done well is have a national manufacturing strategy. Other countries have a very defined national strategy to embrace, enhance, and grow advanced manufacturing in their nations," Turpin explains.
"The IPC was very active in lobbying Congress to set up the RAMI Act. The advanced manufacturing centers being created throughout the country to focus on building up the next generation of manufacturing in the U.S. should help the military and commercial worlds."
In a strategic plan for Manufac-turing USA issued in February 2016, Commerce Secretary Penny Pritzker noted that manufacturing "innovation is the lifeblood of our economy, supporting one-third of our economic growth," from the largest defense and commercial companies to the smallest contract manufacturers and suppliers. "Having a cutting-edge manufacturing sector that remains a step ahead of the global competition is not simply nice to have, it is a 'must have' for our country to thrive, now and in the future," she wrote. "In today's advanced manufacturing industries - those that make the highest-value goods, pay the highest wages, and export all over the world - product and process innovation are two sides of the same coin. Inventing, designing, making, and improving happen in concert, which requires a collaborative environment that brings together researchers and companies throughout the supply chain.
"America has all the essential ingredients to form innovation ecosystems, including universities and government labs that excel at basic science and technology research, top-flight original equipment manufacturers, capable suppliers, enterprising start-ups, and a new generation of workers," Pritzker wrote. "The NNMI Program assembles our diverse competitive assets - the people, organizations, and resources - necessary for the United States to stay at the head of the pack in the global race to out-innovate - and out-produce - the competition... [laying] the foundation for American manufacturing competitiveness for generations to come."
---
COMPANY INFO
Benchmark Electronics Inc.
Angleton, Texas
www.bench.com
Flextronics International Ltd.
Singapore
www.flextronics.com
Hon Hai Precision Industry Co. Ltd.
New Taipei, Taiwan
www.foxconn.com
Jabil Circuit Inc.
St. Petersburg, Fla.
www.jabil.com
NEO Tech
Chatsworth, Calif.
www.neotech.com
Plexus Corp.
Neenah, Wis.
www.plexus.com
Sanmina Corp.
San Jose, Calif.
www.sanmina.com
Sparton Corp.
De Leon Springs, Fla.
http://sparton.com
Sypris Electronics
Tampa, Fla.
www.sypriselectronics.com
TeligentEMS LLC
Havana, Fla.
www.teligentems.com
TRICOR Systems Inc.
Elgin, Ill.
www.tricor-systems.com
Zentech Manufacturing Inc.
Windsor Mill, Md.
www.zentech.com