Northrop Grumman upgrades Marine TAOM with COTS
Engineers at Northrop Grumman's Navigation Systems division in Agoura Hills, Calif., are upgrading the workstation electronics for the U.S. Marine Corps AN/TYQ-23 Tactical Air Operations Module
Dec 1st, 2001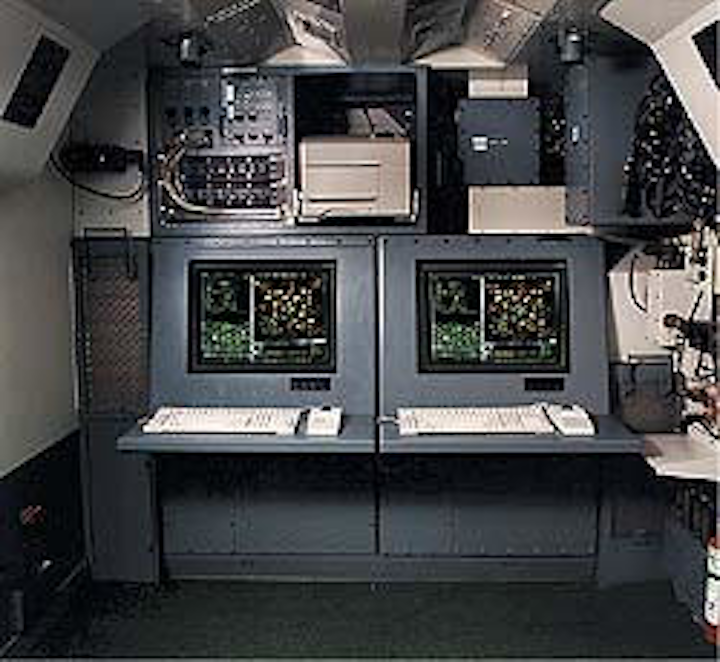 By John McHale
Agoura Hills, Calif. — Engineers at Northrop Grumman's Navigation Systems division in Agoura Hills, Calif., are upgrading the workstation electronics for the U.S. Marine Corps AN/TYQ-23 Tactical Air Operations Module (TAOM) with commercial-off-the-shelf (COTS) hardware and software.
The TAOM is a highly automated, mobile command-and-control system providing surveillance, identification, threat evaluation, weapons coordination and control, electronic warfare, airspace management, and communications capabilities.

The TAOM Version 4 configuration implements COTS-based workstations that replace the previously used full-mil-spec operator consoles, providing increased performance and reduced supportability costs, Northrop Grumman officials claim.

The COTS equipment replaces electronics "that date back to the 1979-1983 timeframe," says Vahe Hacopian, program manager for the TAOM at Northrop Grumman.
The new electronics improve performance by about 10 to one, says John Tracy a member of the system and engineering staff working on the TAOM at Northrop Grumman. The cost of the new electronics is also considerably less than the original equipment installed some 20 years ago, he adds.
There are two 1980s minicomputers in the shelter with the two Sun workstations, Tracy says. Northrop Grumman engineers designed a modern software engine for the new computers and created a mechanism for integrating the old programs from the older computers, he explains.
New workstation software supports the UNIX-based Defense Information Infrastructure Common Operating Environment (DII COE) and Ada programming code.
Tracy and his team also moved the custom console on the old workstation display and moved it to the Sun machine in a windows-type environment, he says. "It has a Windows look and feel with the original console clarity."
The workstations use Sun Microsystems hardware and run on Sun's Solaris operating system, says Phil Dugandzic, program manager for business development at Northrop Grumman Navigation Systems. Themis Computer in Fremont, Calif., ruggedized the devices, he adds.
The Sun machines use the VME form factor in a rugged chassis, Tracy says. VME while being very reliable also provides an easy upgrade path, he adds.
Northrop Grumman is also working closely with the Marine Corps to manage obsolescence issues and provide a seamless upgrade path for the future of the TAOM, Dugandzic says.
"We also added an Ethernet LAN," Dugandzic says. This will enable additional workstations to be placed outside the TAOM shelter, he adds.
In addition to the new COTS-based workstations Version 4 includes a new voice control hardware, windowed software, COTS mass memory peripherals from Z Microsystems in San Diego, upgraded Tactical Air Operations Center Interface Units that provide fully automated radar target tracking at the radar head, and implementation of TADIL-J (Link 16) messages. New workstation software supports the UNIX-based Defense Information Infrastructure Common Operating Environment (DII COE) and Ada programming code.
To date, the system now provides improved radar interface, radar tracking, and air tasking order processing. The enhanced system also provides TADIL J communications, operator display, mass storage management, voice communications control, and system management. These are all implemented in modern, object-oriented, Ada software segments, Northrop Grumman officials say.
Northrop Grumman uses a prototyping life cycle development process, which assesses critical, evolving, and new requirements and then folds them into the continuing development process, Northrop Grumman officials say.
Northrop Grumman engineers performed studies to implement a number of emerging operational needs and technology advances including Joint Range Extension, Cooperative Engagement Capability, enhanced TBM capability and radio upgrades. The company continues to produce both high mobility [HMMWV] and transportable [transit case] packaging of upgraded AN/TYQ-23 primary elements, Northrop Grumman officials say.
The TYQ-23 systems are real world proven in real combat operations, operations supporting joint, coalition, air, land, and naval forces. They are deployed and operational with U.S. forces in Korea, Japan, Germany, Italy, and Kuwait. The systems continue to support other air operations control efforts such as those in the Bosnia theater and the Air Force's Control and Reporting Element in Kuwait. The TYQ-23 systems have also proven themselves in exercises in Malaysia, Thailand, Norway, and The Netherlands, Northrop Grumman officials say.
Historically, the Marine Corps and the U.S. Air Force jointly developed the TAOM program with an initial 137 units, of which 95 were for the Air Force. Additional unsheltered systems provided support at the Air Force software support center and the operator and maintenance training organizations, Northrop Grumman officials say. All deliveries were completed by the summer of 1995. Since then, upgrades and retrofits provided the fielded equipment with a continuous series of planned improvements, company officials say.