Peregrine Semiconductor to develop single-chip GPS receiver for Air Force
An experimental U.S. Air Force single-chip Global Positioning System (GPS) receiver with anti-jam capability is using communications integrated circuit technology from Peregrine Semiconductor in San Diego, Calif.
Oct 1st, 2001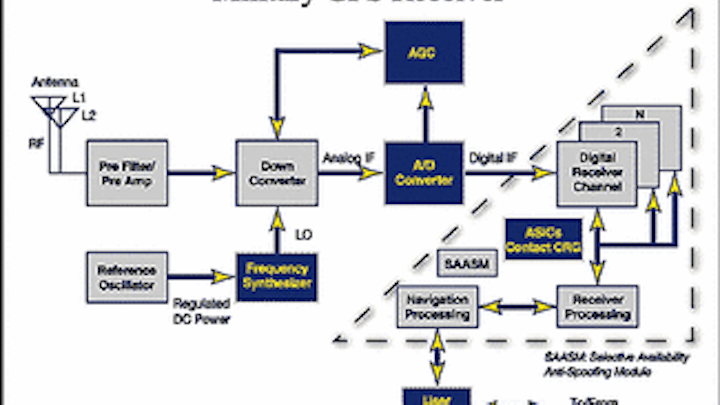 By John McHale
KIRTLAND AFB, N.M. — An experimental U.S. Air Force single-chip Global Positioning System (GPS) receiver with anti-jam capability is using communications integrated circuit technology from Peregrine Semiconductor in San Diego, Calif.
Developing the single-chip GPS receiver were researchers in the Space Vehicles Directorate of the Air Force Research Laboratory (AFRL) at Kirtland Air Force Base in Albuquerque, N.M.
The effort "represents a crucial next step in the development of miniaturized high-performance RF mixed-signal electronics for space navigation and communication," says Scott Tyson, technical advisor of the AFRL's Space Electronics and Protection Technology Branch at Kirtland.
Peregrine's work with the AFRL is the first part of a three-year Small Business Innovative Research contract, says Chuck Tabbert, space and defense products marketing director at Peregrine Semiconductor.
"The AFRL's selection of Silicon-on-Sapphire will only add to the growing acceptance of this process as a leading technology for the space and defense applications," says Dr. Stav Prodromou, president and chief executive officer of Peregrine. "UTSi [Ultra Thin Silicon] allows us to integrate advanced communications functions and complex digital on the same device making it ideal for RF communications devices."
Right now GPS devices are very easy to jam and leaders of the Federal Aviation Administration (FAA) are planning to have aircraft navigate and land via GPS technology; Giving GPS anti-jam capability is becoming important to more than just the military, says Ron Reedy, chief technical officer and founder of Peregrine. This is where Peregrine's technology comes in, he adds.
Peregrine's silicon-on-sapphire (SOS) process creates highly linear devices — those with a high dynamic range between very large and very small signals — which lend themselves to anti-jamming applications, Reedy says. It is Peregrine's fully depleted complementary metal oxide semiconductor (CMOS) process and SOS substrate that enable the company's engineers to design very linear mixers, the part of a GPS receiver that first handles incoming signals, he explains.
Normally when jamming signals hit a receiver's mixer, it mixes the jam right in with the other GPS signals. This makes it nearly impossible to differentiate between a jamming signal and a normal signal, Reedy says. And there is no way to unmix it, he adds.
Very linear mixers enable a minimum of the jamming signal to get in, leaving the final filtering to digital signal processing, Reedy explains.
Peregrine's UTSi CMOS process technology uses a synthetic sapphire substrate that is a pure insulator, rather than semiconductor. Peregrine engineers take the original SOS substrate, thin it, and remove the crystalline properties, Reedy explains.
SOS is a radiation-hardened substrate but has many yield problems that have made it expensive, he continues. The thin film enables small and fast transistors, Reedy claims.
Contrary to prior skepticism, the devices also retain the original SOS inherent radiation resistance, Reedy claims. Peregrine devices using the UTSi process have a yield rate of about 95 percent, he adds.
As a result, they provide strong radio frequency performance, and easily surpass the rad-hard requirements for reliable operation in commercial satellites, Peregrine officials claim.
The devices are immune to single-event latch-up (SEL), offer total-dose radiation tolerance of 100 kilorads or 300 kilorads depending on the application, and have a single-event upset (SEU) rate of about one upset per thousand devices every 15 years, Reedy says.
Peregrine supplies standard phase locked loops, or PLLs, and other communications components to the rad-hard market today with many of their commercial products being migrated to rad-hard versions as the market demands. They also offer foundry design services to select customers in the space and defense market.
For more information on Peregrine Semiconductor contact Chuck Tabbert by phone at 321-951-4524, by fax at 321-951-7972, by e-mail at ctabbert@peregrine-semi.com, or on the World Wide Web at http://www.peregrine-semi.com.