Honeywell to replace ring laser gyros to keep Navy AN/WSN-7 shipboard navigation functioning
MECHANICSBURG, Pa., 11 March 2016. Navigation and guidance specialists at Honeywell International Inc. Aerospace segment in Minneapolis are building three configurations of ring laser gyros for the U.S. Navy's AN/WSN-7(V) maritime navigation system.
Mar 11th, 2016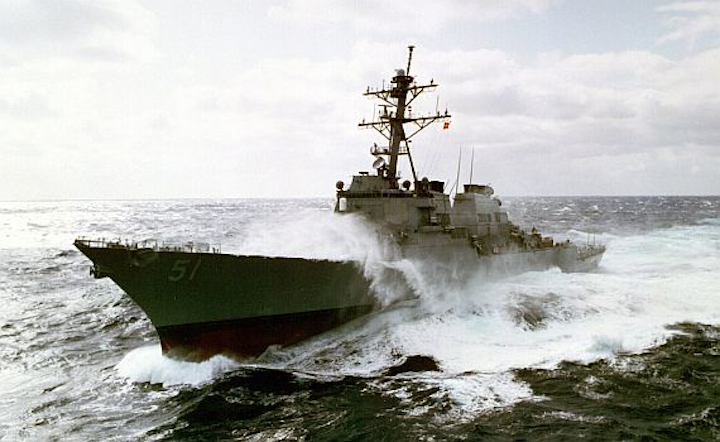 MECHANICSBURG, Pa., 11 March 2016.Navigation and guidance specialists at Honeywell International Inc. Aerospace segment in Minneapolis are building three configurations of ring laser gyros for the U.S. Navy's AN/WSN-7(V) maritime navigation system.
Officials of the Land and Maritime segment of the U.S. Defense Logistics Agency in Mechanicsburg, Pa., announced a 3-year $38.9 million contract to Honeywell Aerospace this week to produce the gyros, which will be spares for navigation systems aboard Navy surface warships and submarines.
The AN/WSN-7 is a self-contained, ring laser gyro inertial navigation system that senses ship motions, computes the ship's precise position, velocity, attitude, heading, and rates in digital and analog formats, and forwards the data to other vital ship systems. It has been designed as a replacement for spinning-mass gyro navigation equipment aboard Navy warships.
The AN/WSN-7 from the Northrop Grumman Corp. Sperry Marine segment in Charlottesville, Va., integrates the AN/WSN-7 as a more reliable strapdown ring-laser gyro-based replacement for the old WSN-2 navigation system. The AN/WSN-7 offers accuracy of 1 nautical mile deviation over 24 hours.
The AN/WSN-7 passive shipboard navigation system calculates and indicates ship's position, attitude, heading and velocity in relation to the earth's rotation. It senses motion, gravity, and Earth rotation, and receives externally supplied GPS updates and ship's speed through the water.
Related: Laser navigation for unmanned aircraft in RF- and GPS-denied areas developed by ADSYS
The standard shipboard configuration consists of two independent cabinets for redundancy and survivability. It is not be susceptible to jamming or detection by enemy forces.
A ring laser gyro uses two counter-propagating laser beams operating on different frequencies with the difference dependent on rotation rate. Measurement of this difference provides the rotation angle or rotation rate about the device's sensitive axis.
Compared with older spinning-mass gyro navigation systems, ring laser gyros can be built much smaller, do not resist changes in direction, are frictionless, have low power consumption, and feature almost no moving parts to enhance reliability while still providing adequate accuracy.
Navy shipboard navigation experts are ordering new ring laser gyros to keep the AN/WSN-7 navigation system operational for as long as possible while they develop a modern replacement for the system.
Last November the Naval Sea Systems Command in Washington awarded a $19.8 million contract to Northrop Grumman Sperry Marine to develop the Inertial Navigation Systems Replacement (INS-R) Inertial Sensor Module (ISM), which is intended as an eventual replacement for the AN/WSN-7.
The INS-R ISM project is to design a new inertial sensor module to enable surface vessels to navigate accurately without GPS satellite navigation, as well as provide mission critical ship positioning, velocity, and altitude data to shipboard sensors, combat systems, guns, and missile systems.
Related: DARPA approaches industry for new kinds of underwater navigation for undersea drones and submarines
Last November's contract calls for Sperry Marine to provide engineering development models, pre-production units, low-rate initial production, and two years of full-rate production. Compared with the AN/WSN-7, the INS-R ISM will provide improved real-time navigation for Navy surface warships, and enable future technology growth.
An INS-R ship set will consist of two dual-redundant navigator units -- one in the aft section of the ship and one in a forward section -- that will operate independently of one other for survivability.
Northrop Grumman engineers will use an open-systems architecture for the system using a modular design, standards-based interfaces, and widely supported consensus-based standards to facilitate future technology insertion and technology refresh, Navy officials say.
On the ring laser gyro contract announced this week, Honeywell will do the work in Minnesota, and should be finished by March 2021. For more information contact Honeywell Aerospace online at paste link here, or the Defense Logistics Agency Land and Maritime at www.dla.mil/LandandMaritime.