Lockheed Martin to upgrade electro-optical imaging systems for Navy submarine fleet
WASHINGTON, 15 Jan. 2014. Submarine combat systems experts at Lockheed Martin Corp. will make another in a planned schedule of system upgrades to a U.S. Navy electro-optical surveillance system designed for several classes of Navy submarines.
Jan 15th, 2014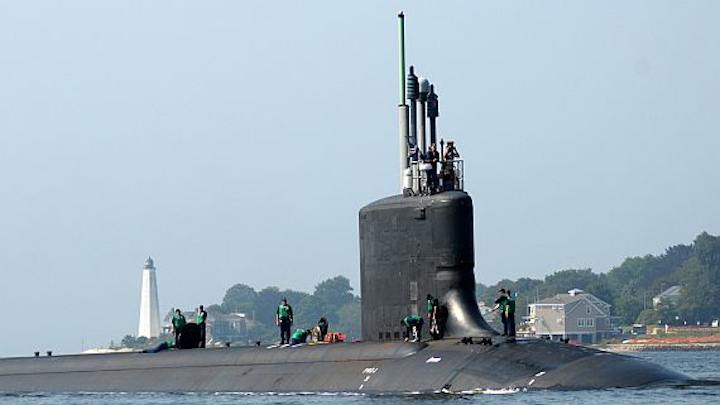 WASHINGTON, 15 Jan. 2014.Submarine combat systems experts at Lockheed Martin Corp. will make another in a planned schedule of system upgrades to a U.S. Navy electro-optical surveillance system designed for several classes of Navy submarines.
Officials of the Naval Sea Systems Command (NAVSEA) in Washington late Tuesday awarded an $8.9 million contract to the Lockheed Martin Mission Systems and Training segment in Manassas, Va., for technical insertion 14 (TI-14) to the AN/BVY-1 Integrated Submarine Imaging Systems (ISIS).
ISIS provides mission critical, all-weather, visual, and electronic search, digital image management, indication, warning, and platform architecture interface capabilities for Los Angeles-, Ohio-, and Virginia-class submarines, Navy officials say.
Related: Navy demonstrates ability to launch surveillance UAVs stealthily from submerged submarines
ISIS is a back fit system to integrate all imaging capabilities on existing Navy submarine classes. It is part of the Navy's submarine Photonics Imaging System, a non-hull-penetrating replacement for existing optical periscopes. The Photonics Imaging System uses a wide portion of the electro-magnetic spectrum with advanced electro-optic/thermal imaging, and communications intercept/electronic warfare support (ES).
The ISIS program seeks to replace the optical light path of existing submarine periscopes with high-definition cameras and fiber optic digital imagery; use infrared cameras for image enhancements; provide active and passive range finding control; install image enhancement capabilities and analysis tools for real time and recorded imagery; provide image recording, storage, and recall capabilities; and provide the ability to transmit imagery off the submarine to other naval and joint forces.
In-Depth Engineering Corp. in Fairfax, Va., under subcontract to Lockheed Martin, serves as the software development lead for AN/BVY-1 ISIS.
Related: General Dynamics continues project to upgrade submarine electronics with COTS computers
Technical insertions describe planned technology upgrades on tactical control subsystems aboard U.S. fast-attack and guided-missile submarines that take place about every two years. Technical insertions are part of the Navy's open-architecture and an open-business model.
This approach seeks to install the latest technological innovations from the defense industry into key pieces of the submarine combat system. Technology upgrades are inserted in submarines as necessary and as available to enhance capability, take advantage of the latest technology, and mitigate the effects of component obsolescence.
ISIS revolutionizes Navy submarine surveillance capabilities by integrating digital video and still images from devices on a submarine's exterior and presenting real-time imagery and analysis on existing control room tactical displays.
Related: General Atomics to provide lithium ion batteries for special operations mini-submarines
ISIS provides digital image enhancement for data from a modern submarine's photonics mast. The photonics mast uses optical fiber to move imaging data from a raised mast aboard a submerged submarine through tiny openings in the submarine's hull to tactical displays around the interior of the vessel.
The photonics mast replaces or augments the traditional periscope aboard U.S. submarines. The photonics mast not only replaces the large opening in the submarine pressure hull necessary for the optics and hydraulics of a traditional periscope, but also can blend image data from several kinds of electro-optical sensors aboard the photonics mast, including visible-light and infrared cameras.
The ISIS system enables a submarine operator to manipulate a photonics mast with a joystick, while looking at digital video on a computer monitor, and share that video real-time with the submarine's combat team on various displays aboard the vessel.
Related: Submarine technology in the news with mini-submarine contracts and communications projects
On the contract announced Tuesday, Lockheed Martin will do the work in Johnstown, Pa.; Manassas, Va.; Northampton, Mass.; and Chantilly, Va., and should be finished by March 2017.
For more information contact Lockheed Martin Mission Systems and Training online at www.lockheedmartin.com/us/mst, or Naval Sea Systems Command at www.navsea.navy.mil.