General Dynamics to produce vehicle-mounted SIGINT vetronics and computing for battlefield surveillance
The Prophet system for RF surveillance offers a near-real-time picture of the battlespace through SIGINT sensors and high-performance computing.
Jul 10th, 2019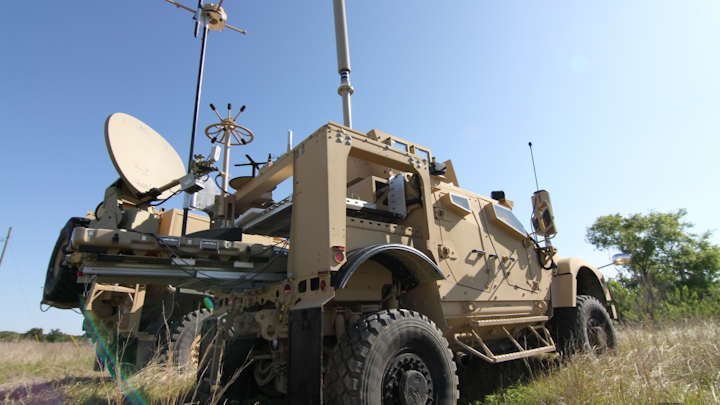 General Dynamics photo
ABERDEEN PROVING GROUND, Md. – Military signals intelligence (SIGINT) experts at General Dynamics Corp. will build combat vehicle SIGINT vetronics systems to detect, identify, locate, and deter a wide range of enemy signal emissions on the battlefield.
Officials of the U.S. Army Contracting Command at Aberdeen Proving Ground, Md., announced a $296.1 million contract to the General Dynamics Mission Systems segment in Scottsdale, Ariz., on Tuesday to produce the AN/MLQ-44B Prophet-Enhanced SIGINT vetronics systems.
The Prophet system offers a near-real-time picture of the battlespace through SIGINT sensors and high-performance computing. It is composed of electronic components that are vehicle-mounted or soldier-transportable.
The program is structured with the ability to incorporate new technologies as they become available. For example General Dynamics is using the RS112 1U rugged server from Crystal Group Inc. in Hiawatha, Iowa. In 2016 General Dynamics won an Army contract to upgrade 47 fielded AN/MLQ-44A Prophet-Enhanced SIGINT vetronics systems to the latest AN/MLQ-44B configuration.
Prophet is the Army division and armored cavalry regiment commander's principal SIGINT and electronic warfare (EW) system. It also enhances the tactical commander's capabilities in electronic intelligence battlespace visualization, target development, and force protection. Prophet offers electronic attack and navigation attack capability.
Related: Air Force asks industry's help to use digital signal processing for improving SIGINT and cyber intelligence
The Prophet system also provides near-real-time digital information to the Army division's common operating picture (COP), and is integrated with battlefield sensors such as the Joint Surveillance Target Attack Radar System (Joint STARS), the Guardrail Common Sensor, Artillery Counter Mortar/Battery radars, and Forward Area Air Defense Command and Control/FAADC2.
Prophet's primary mission is to map radio frequency (RF) emitters on the battlefield electronically from 20 MHz HF frequencies to 2000 MHz SHF frequencies.
Electronic mapping detects, identifies, locates, and tracks all RF emitters operating within range, and helps coordinate these RF signatures with other battlefield surveillance and reconnaissance systems.
Prophet helps protect Global Positioning System (GPS) satellite navigation, helps detect intrusion or false GPS signals, and helps attack the enemy's ability to use the GPS or other satellite navigation and timing systems. The system also can intercept, disrupt, or eavesdrop on enemy radio communications.
On this contract General Dynamics will do the work at locations to be determined with each order, and should be finished by June 2020. For more information contact General Dynamics Mission Systems online at www.gdmissionsystems.com, or the Army Contracting Command at Aberdeen Proving Ground at www.army.mil/acc.