Death, taxes, and 1553
The decades-old, 1-megabit-per-second MIL-STD 1553 databus is still the reliable choice in old and new systems, yet demands for faster throughput in the network-centric world is fueling new approaches to increase the speed of the mature technology.
Feb 1st, 2008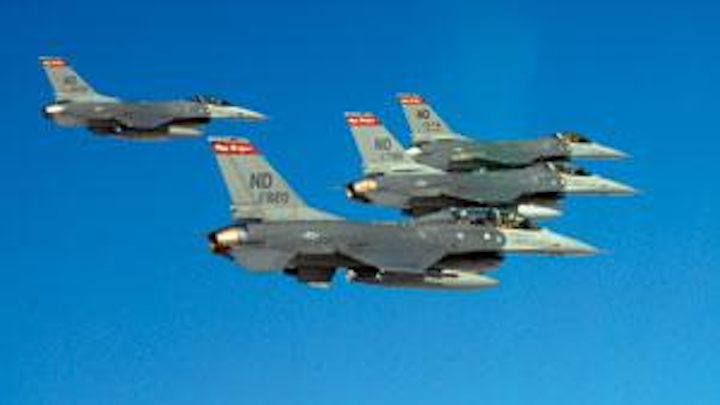 The decades-old, 1-megabit-per-second MIL-STD 1553 databus is still the reliable choice in old and new systems, yet demands for faster throughput in the network-centric world is fueling new approaches to increase the speed of the mature technology.
By John McHale
In what might be someday termed the golden age of high-tech obsolescence—when technologies and standards come and go faster and faster—one 30-plus-year old standard continues to thrive.
The MIL-STD 1553 databus, which was originally designed into military platforms during the 1970s, continues to find its way into the most advanced military and aerospace programs of the 21 century.
The first version of 1553 flew in 1973 on the U.S. Air Force F-16 Falcon jet fighter, followed by 1553a in 1978 on the U.S. Navy and Marine Corps F/A-18 Hornet jet fighter-bomber. The modern standard, 1553b, emerged in 1978.
Despite critics who claim it is too slow for today's network-centric environment it still represents a profitable market for many original equipment manufacturers (OEMs). The market is strong with 1553 continuing to be designed in on such applications as the F-35 Joint Strike Fighter, says Mike Hegarty, MIL-STD-1553 marketing manager for Data Device Corp. (DDC) in Bohemia, N.Y.
The 1553 also has one of the largest installed bases of any military network. Estimates place the number of aircraft worldwide with 1553 close to 30,000, and the total number of deployed 1553 terminals, including munitions, at close to 1 million.
Next-generation databuses such as Fibre Channel or Ethernet are being deployed on programs like the U.S. Air Force F-22, but one reason 1553 is still viable is that there is still no one universal solution, Hegarty says.
It is still ideal for box-to-box command and control applications. So many designers figure "why try to reinvent the wheel," Hegarty adds.
"1553 was here when I first started and that was 20 years ago," says Tony Jordan, director-standard products at Aeroflex in Colorado Springs, Colo. While Aeroflex may not be spending a lot of dollars in research and development for 1553, "It's still kind of a cash cow, you just throw a little hay on it now and then."
It has a strong legacy base and will most likely have a role in new space programs such as NASA's Crew Exploration Vehicle (CEV), Jordan says. It is a deterministic, reliable technology that may never die, he adds.
Aeroflex put out a low-power 3-volt MIL-STD-1553 transceiver based on Aeroflex's legacy 5-volt transceivers, the UT63M143 3-volt transceiver. "Customers have been requesting a drop-in compatible, industry-standard 3-volt transceiver to aid in their avionic and aerospace design for some time," Jordan says.
"It's really a dandy market," says Bill Schuh, vice president of sales and marketing for Ballard Technology in Everett, Wash. For such an old technology it has proven quite robust, he adds.
Ballard has seen quite a bit of growth in 1553 during the last year, especially in unmanned aerial vehicle applications, Schuh says. MIL-STD 1553 is well-suited for basic command-and-control functions, he continues.
Most 1553 solutions are also commercial off-the-shelf (COTS) solutions, Schuh says. Part of the original buzz behind COTS was quicker time to market for products, which has become crucial in today's environment, he notes.
Schuh says there is tremendous pressure within the defense industry to get products deployed in four- to six-month time frames as opposed to 12. That is part of what makes 1553 so popular—it is a reliable standard that is typically available off the shelf.
One of Ballard's COTS product lines, Avionics BusBoxes are small, lightweight, embedded computers with built-in avionics databus interfaces making them a viable solution for data recording. These boxes offer as many as four to eight hours of databus recording while at 100 percent bus capacity. They have as many as four different databuses, serial, and discrete I/O functions all in one interface box.
Companies such as Excalibur Systems in Elmont, N.Y., and National Hybrid in Bohemia, N.Y., have also carved out a profitable niche in the COTS 1553 market. Excalibur officials announced that their EXC-1553PCMCIA/EPII device is moving to the company's legacy product line to allow the new EXC-1553PCMCIA/P1 card to take its place under the multifunction 1553 single-channel category for PCMCIA-type cards. The EXC-1553PCMCIA/P1 card is compatible with the EPII card and can be upgraded to an EXC-1553PCMCIA/P2 card allowing two 1553 multifunction channels on one PCMCIA card.
National Hybrid developed an affordable, portable 1553 to USB interface. Its 1553/USB Pocket Pal is a redundant 1553 BC/MT/RT Terminal with 64K words of internal RAM. It interfaces to a 2.0 compliant USB port, making a laptop/notebook an autonomous 1553 Work Station. The device's small form factor—it weighs less than 7 oz., and is tiny enough to fit within a shirt pocket—enables the user to take this 1553 USB nearly anywhere, company officials say.
The technology is solid but improvements and tweaks can always be made to "make the customer's job as easy as possible," says Ben Daniel, general manager for the GE Fanuc Intelligent Platforms avionics business unit in Santa Barbara, Calif.
For example GE Fanuc is releasing a new ROHS-compliant two-channel 1553 PCI Express card that will enable customers to interface with any PCMCIA card on all three avionics databuses—MIL-STD 1553, ARINC, and AFDX, he adds.
The move to an Express Card was essential as it is replacing PCMCIA on many portable PCs and customers are complaining how they cannot find PCMCIA cards, Daniel says. The GE product is for portable analysis, logger, and such solutions.
Some say tweaks are not enough. In order to handle modern sensors and digital video, a high-speed 1553 solution or other alternative must be developed or designers are faced with having to rewire legacy aircraft—which unless it is part of a scheduled retrofit can be an enormously expensive solution.
This expense is one of the main reasons why 1553 is still standing and may be for more generations to come. The average airframe is 27 years old, including aircraft such as the B-52 long-range strategic bomber and C-130 utility turboprop.
High-speed 1553
With U.S. Air Force funding behind them, engineers at Edgewater Computer Systems Inc. (ECSI) in Ottawa are demonstrating high-speed 1553 on existing cabling.
Edgewater's Extended 1553 (E1553) avionics databus technology allows wideband data to flow over existing aircraft 1553 wiring and bus components without interruption or interference with other systems by maintaining the deterministic command-response nature of the legacy system. Since E1553 meets the Air Force's basic data-rate acceptability criteria while maintaining reliable operation and interoperability with MILSTD-1553B terminals and cable assemblies, it enables the creation of a separate network on the existing 1553 wiring infrastructure, which is most prevalent in military avionics platforms.
Implementing E1553 is analogous to upgrading your home computer's Internet access from a standard 1980s dial-up modem to DSL service—higher speed access without having to change out the phone cable, says Greg Fielding, vice president of marketing for Edgewater.
Airplanes, M-1 tanks, and naval applications all can benefit from the enhanced 1553 technology, he adds.
E1553 can achieve throughput rates of 200 megabits per second with an eye down the road toward possibly achieving 500 megabits per second, Fielding says.
Edgewater completed a flight test of its E1553 databus technology last summer in a U.S. Air Force F-16 at the Air National Guard (ANG) Air Force Reserve Command (AFRC) Test Center (AATC), in Tucson, Ariz., in conjunction with Hill Air Force Base, Ogden, Utah.
The primary purpose of the test was to demonstrate an increase in network capacity roughly 100 times the legacy throughput with no interference to the legacy 1553 system. This shows that there is a low-cost, highly robust method to substantially increase the capacity of the existing on-board network.
"It was absolutely vital to E1553 that we demonstrate its operation in a relevant environment," says Col. Bruce A. Litchfield, vice commander, Aeronautical Systems Center. "With a revolutionary technology like E1553, people have to see it work to believe it before planning to insert the technology in a platform like the F-15. Consequently, there's a certain amount of if you build it, they will come philosophy in a program like this. ECSI has demonstrated the basic operation of the core E1553 technology to address high-speed data transfer over the legacy 1553B infrastructure."
During the flight test, the ANG Block 30 F-16 performed typical mission flight and aircraft maneuvers including multiple-target tracking with radar and sensor systems and high-G turns. Extended 1553 operated concurrently with the legacy 1553 operation. There was no interference or impact to the legacy 1553 operations before, during, or after the flight test while high-speed video traffic was communicated bidirectionally across the E1553 network. Two flight-certified line replaceable units (LRUs) were equipped with E1553 network interface cards—a programmable display generator (CPDG) and a commercial central interface unit (CCIU), both provided by EFW—a provider of advanced storage-management systems, color multifunction displays, display processors, digital moving maps, and helmet-mounted cueing systems specifically for F-16 aircraft.
The flight test had three objectives: To evaluate impacts of aircraft bus/avionics noise in-flight, to evaluate non-interference between Extended 1553 and the legacy 1553B data bus, and to determine Extended 1553 data rates and error rates.
After sufficient planning and preparation, such as the development of mission scenarios that placed maximum loading on the legacy 1553 display bus and operations with the radar to create an aggressive operational environment, the flight test revealed the ability to stream a clear video display while simultaneously capturing data-bus performance metrics.
"There is a great deal of interest in this flight test program, from both industry and the Armed Services, because the technology had not previously flown in an operational aircraft," says Orlando Cortes, Air Force lead engineer for the E1553 Program. "Many people in the technical community were skeptical that the technology would survive in a flight environment. Two of the most important findings from the flight test program were that not only did it survive, it performed extremely well. Also, there was no anomalous behavior caused by cross-talk between the legacy and high-speed channels."
The flight test exposed the E1553 databus technology to a rugged and complex military avionics environment of a tactical aircraft in operation for the first time. However, E1553 has previously been demonstrated in a number of developmental and simulation environments including the C-130, F-16, and F-18.
Fielding declined to comment on the progress with the Air Force since the flight test last summer, but did say Edgewater is designing the high-capacity technology into a PMC card that would work with many different applications.
The U.S. Naval Air Systems Command (NAVAIR) at Patuxent River Naval Air Station, Md., and the U.S. Air Force Aeronautical Systems Division at Wright-Patterson Air Force Base, Ohio, have been pushing Edgewater in this endeavor.
"We need low risk, smooth insertion, and assurance that this technology is real," says Gerard Walles, science and technology lead for NAVAIR's F/A-18 Advanced Development Group. "We reviewed what the Air Force is doing and, to convince the program offices that this has those qualities, we undertook a demonstration on the ground at China Lake (Calif., Naval Air Warfare Weapons Center), using the F/A-18 Advanced Weapons Lab. We challenged the Edgewater company and the Air Force to prove to us that this technology has the qualities we are looking for.
"It was amazing to see this was done in such a short period of time," Walles says. "They were successful in demonstrating all the things we asked them to do. We had senior management from Naval aviation and the program offices fly out to China Lake to witness these tests. They asked how it could be done with such ease and were, you could say, shocked that we were able to transition this technology without affecting the software or having any impact on the hardware."
Air Force researchers plan additional tests on the Edgewater E-1553, with a B-2 stealth bomber sometime this year, following completion of system-level investigations by prime contractor Northrop Grumman. As this effort moves toward release of a new 1553-C, the Navy also is proceeding cautiously, noting there is more involved than just moving more data quickly over existing wiring.
Implementing the E1553 to meet military requirements meant not only using the existing platform wiring, but doing so with as little change in hardware and software as possible. For the Navy and Air Force, it is not only a question of cost but also of how long an aircraft will be out of service while the change is made. The Air Force alone is looking at substantial capability upgrades it wants to make on more than 4,000 existing aircraft that will still be in the fleet by 2020, about 85 percent of which have 1553-based networks.
HyPer-1553
DDC engineers are researching and developing a separate high-speed 1553 solution.
In December 2005, DDC and Boeing Phantom Works in St. Louis conducted a flight demonstration of the HyPer-1553 on a Boeing F-15E-1 Strike Eagle Advanced Technology Demonstrator aircraft. Image data moved at 40 megabits per second between a rugged 6U VME chassis in the aircraft's forward equipment bay and a modified Joint Direct Attack Munition (JDAM) mounted on a wing pylon.
The technology demonstration proved that this was a viable application for legacy platforms, says Mike Hegarty, DDC's MIL-STD-1553 marketing manager. There is an urgent need to find a way to increase 1553 performance without replacing the wiring, he notes.
HyPer-1553 technology uses existing MIL-STD-1553 bus infrastructure to move data at much higher rates than the 1 megabit-per-second rate conventional MIL-STD-1553 provides, DDC officials say.
This paves the way for avionics system upgrades in proven aircraft with much lower cost and significantly shorter aircraft down-time than would be required by other high-data options that would require new wiring, according to DDC. Since HyPer-1553 can operate in parallel with existing MIL-STD-1553 data traffic; upgrades can be done incrementally which also provides substantial cost savings.
DDC is still invested in the hyper-1553 technology but before it can become a product on the market, a source of funding with an application behind it is needed, Hegarty says.
Those transmissions moved over existing 1553 wiring in parallel with conventional traffic that normally utilizes the 1553. A second HyPer-1553, dedicated solely to the expanded data stream, was clocked at 80 and 120 megabits per second.
DDC pursued independent development of the HyPer-1553 while Edgewater was working with the Air Force but before what had been Edgewater proprietary intellectual property transferred to the U.S. government and was released—under ITAR restrictions—for use by other vendors.
"We met earlier this year with Boeing and DDC and have a commitment that they are not pursuing an alternate standard and are supportive of the MIL-STD and will pursue design solutions to meet that, although the HyPer-1553, as we understand it now, is not compliant and would not be accepted," says Will Urschel, chief architect at the Air Force Aeronautical Systems Division. "The United Kingdom government, U.S. Air Force, and NAVAIR have decided that, with this technology, we will not have multiple variants of the standard propagating through our fleets.
10-megabit applications
While efforts for very high-speed 1553 are well underway, there remains a small niche for 10-megabit 1553 applications.
The main application for this is in miniature munitions/store interface (MMSI) applications, says GE Fanuc's Daniel. MMSI moves data at 10 megabits per second with 1553-encoded signals, but over RS 485 transceivers, he adds.
The solution actually offers a less expensive architecture than regular 1-megabit 1553, while providing as much as 10 times the data throughput. This interface is for flight controls, actuators, electro-pneumatic controllers or similar applications of standard 1553 requiring higher data rates.
DDC has a PC104 10-megabit enhanced 1553 product that is based on a different physical layer—it cannot use existing 1553 wiring or connectors, Hegarty says. Unlike 1553, which is linear, MSSI is "point-to-point," he explains.
DO-254 compliance
There has been a big push lately within the Air Force in getting hardware designers to comply with the FAA DO-254 standard, says DDC's Hegarty. FAA regulations have started requiring DO-254 compliance for new military air transport and helicopter applications.
DO-254 was developed by the avionics industry to establish hardware deployment guidelines for developers, verification engineers, quality managers, installers, and users. Hardware design, safety features, and in-service experience are just a few of the items involved in DO-254 certification, and subcontractors are struggling with how to certify their systems to DO-254.
"DO-254 is not a test requirement but rather a design methodology" that hardware OEMs must prove through extensive documentation to the prime contractor or integrator, Hegarty says.
Companies must come up with a validation plan not only for their hardware designs but any software component as well in order to comply with FAA requirement DO-178B for software validation, he continues.
DDC helps customers achieve DO-254 certification for designs using the Enhanced Mini-ACE and Mini-ACE Mark 3 family of 1553 products.
---
Parvus selects DDC's new MIL-STD-1553 PC/104 Plus card for Navy aircraft upgrade program
Parvus in Salt Lake City selected the MIL-STD-1553 PC/104 Plus card from Data Device Corp. (DDC) in Bohemia, N.Y., for use in applications that require a MIL-STD-1553 interface.
The DDC PC/104 Plus card provides as many as four dual redundant MIL-STD-1553 channels, five user-programmable digital discrete I/Os, selectable external or internal time-tag clock, and an IRIG-B time synchronization input. The card has an intelligent hardware offload engine that dramatically reduces PCI bus and host CPU utilization, while storing 1553 Monitor data in a convenient and portable IRIG-106 Chapter 10 file format.
Parvus uses DDC's BU-65578C MIL-STD-1553 PC/104 Plus card in a U.S. Navy aircraft upgrade program and has also pre-qualified the card as an integration option for Parvus' DuraCOR 810 mission processor platform, which is being specified by prime contractors into a large number of U.S. military programs, Parvus officials say.
"We have selected DDC's PC/104 Plus cards for use in our embedded systems that require a MIL-STD-1553 databus," says Mike Southworth, Parvus Corp.'s marketing director.
The PC/104 Plus card uses DDC's new Extended Enhanced Mini-ACE (E²MA) Architecture. Our new E²MA Architecture is based on our field-proven, industry-standard, Enhanced Mini-ACE and adds many new capabilities while maintaining full software compatibility with previous generations of our products," says Mike Hegarty, DDC's MIL-STD-1553 marketing manager.
The architecture supports new standard features for each 1553 channel such as 2 MB RAM with parity per channel, 48-bit/1 micro-second time tag synchronized to an IRIG-B input, low CPU utilization, and built-in self test. Each 1553 channel can emulate a bus controller, remote terminal, or a bus monitor and also includes a combined RT/monitor that can monitor all 1553 communications on the bus, including the channel's own RT address.