Plastic ICs get hot in high-temp market
Military designers are demanding plastic integrated circuits that are able to operate in high-temperatures as they re-evaluate requirements and look to lower costs in new designs. Meanwhile, in extreme high-temperature aircraft engine applications, designers at Honeywell look to forge a niche with electronics that perform reliably at 225 degrees Celsius.
Jul 1st, 2001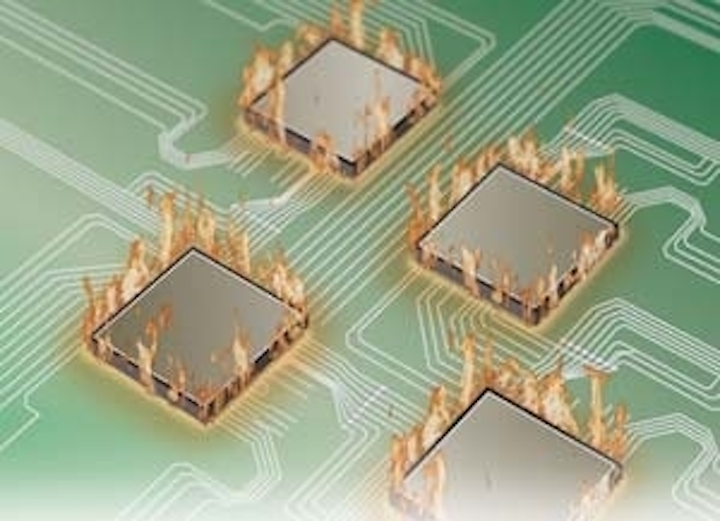 Military designers are demanding plastic integrated circuits that are able to operate in high-temperatures as they re-evaluate requirements and look to lower costs in new designs. Meanwhile, in extreme high-temperature aircraft engine applications, designers at Honeywell look to forge a niche with electronics that perform reliably at 225 degrees Celsius.
By John McHale
A funny thing happened since former U.S. Secretary of Defense William Perry announced his commercial-off-the-shelf (COTS) initiative in 1994. Military electronics designers found that high-temperature hermetic integrated circuits (ICs) built to military specifications are simply unnecessary for many applications such as aircraft cockpits.

Once they had room to maneuver, systems designers found they could relax temperature constraints and embrace COTS quickly by using plastic encapsulated parts rather than ceramics. They shifted temperature guidelines from the full-military temperature range of -55 to 125 degrees Celsius to the industrial temperature range of -40 to 85 degrees C.
As a result suppliers of plastic devices have seen that part of their business start to grow sharply over the last few years.
Granted, demand for high-temperature electronic parts is still small — "only about 5 percent of our business" — says John Bendekovic, director of worldwide sales for Actel in Sunnyvale, Calif. Only a few military-grade parts suppliers remain on the scene, and most chip fabs are producing plastic commercial parts for big-money markets such as telecommunications, he adds.
One of Actel's competitors, in fact, Altera in San Jose, Calif., does not even offer military temperature-range parts anymore, Bendekovic says. Nevertheless, many of Actel's military customers are starting to request plastic devices because of the lower cost and quicker time-to-market, Bendekovic says.
"Our plastic business is also growing," says Jon Ewald, director of marketing at QuickLogic in Sunnyvale, Calif. "Our military customers are going away from high-temp, military products toward those with an industrial temperature range of -40 to 85 C," he says.
This shift in nature of electronic parts manufacturing during the last seven to eight years is forcing many defense contractors to go through creative screening methods so they can qualify relatively inexpensive plastic parts for often-demanding military applications, Ewald says.
The shift to COTS, which in general has turned military electronics manufacturing on its ear, also is having a telling affect on high-temperature electronics systems design. In the past, these designers typically went with expensive mil-spec products. Today, however, they take it application by application and use inexpensive parts wherever possible, Ewald says.
This approach, Ewald agrees, saves money in the short term, but he warns it will end up being more expensive in the long run because the prime contractors have to spend time managing the short life cycles of commercial parts.
Plastic vs. ceramic
In the realm of high-temperature electronics, plastic parts differ from ceramic in that plastic parts are not hermetically sealed. This means that moisture can get inside the plastic package and damage the part, explains Howard Bogrow, marketing manager for aerospace and defense products at Xilinx in San Jose, Calif.
Hermetics are particularly important in space applications where moisture-induced parts failures are nearly impossible to replace. Ceramic, obviously, is the package of choice in those situations, Bogrow explains.
Plastic devices, on the other hand, are typically for applications that involve controlled environments such as ground stations, aircraft cockpits, or surface ship bridges, Bogrow says. However, ceramic parts are still necessary outside the aircraft, where extremely harsh conditions prevail, he says.
"We are still seeing missile and other unpressurized applications requiring the full military temperature range products," Ewald says. QuickLogic experts produce a line of plastic devices including their QL 4090 field programmable gate arrays (FPGAs) for military applications.
Most of Aeroflex UTMC's ceramic products have a top level of 125 degrees C, says Joseph Benedetto, standard product technical manager at Aeroflex UTMC in Colorado Springs, Colo. Designers take any applications involving hotter temperatures than that on a case-by-case basis, he adds. Aeroflex UTMC does not produce plastic devices, he says.
It is mostly only military applications that actually get as hot as 125 degrees C, Benedetto explains. Most space systems designers have also reduced their requirements to -20 to 80 or 100 degrees C, and only rarely go above 125 degrees C, he adds. An example is a satellite operating in a sun-synchronous orbit in which half the satellite always faces the sun, Benedetto explains.
Aeroflex UTMC engineers design a range of high-temperature, ceramic-packaged static random access memory (SRAM) products. They released a 3-volt low voltage differential signaling (LVDS) quad driver and receiver for space applications earlier this year. The device features cold sparing, which is necessary for redundant system architectures or subsystems electrically connected without power supplied, Aeroflex UTMC officials say.

Engineers at Space Electronics in San Diego are looking to release a memory device by the end of this year that will have an inexpensive plastic part encased in a ceramic package — which represents the company's well-known Rad-Pak shielding design — says Larry Longden, the Space Electronics director of product development. Space Electronics engineers will buy the commercial part, upscreen it, and package it in ceramics, he says.

Space Electronics, while not traditionally a producer of plastic designs, is going with the device because of the shrinking availability of ceramic ICs, company officials say.
The 125 C ceiling is as hot as Xilinx will certify its parts, Bogrow says. Xilinx experts provide plastic and ceramic versions of their military Virtex and VirtexE products, with Virtex 2 military versions coming later this year, Bogrow says.
"We sell a whole bunch of military plastic packages" mostly to avionics customers where the MIL-STD 883 requirement is not a necessity, Actel's Bendekovic says. While they are willing to forgo hermeticity, he continues, Actel's space customers are not. Therefore, all of Actel's space qualified parts are at least qualified MIL-STD 883, Bendekovic says. Actel will release 32A and 72A military plastic parts this month under the company's new SXA family of devices, he adds.
Actel also sells some products to oil companies for downhole drilling applications where temperatures typically run at 180 degrees C or hotter, Bendekovic says. Downhole drilling applications use sophisticated electronics that determine the size of an underground oil reservoir, he explains. Drilling friction generates heat and pressure that require robust parts, Bendekovic says.
Downhole electronics designers de-rate products for performance depending on how far past the 125 mark they go, says Kangsen Huey, high-rel program manager at Actel. Oil companies typically use pin-grid-array ceramic packages for downhole drilling for their robustness, he adds.
Testing
Actel performs two kinds of tests — highly accelerated stress testing (HAST), which covers full military temperature of -55 to 125, and hot temperature operating life (HTOL), which provides a fixed stability percentage of the operational life of the device and is for only MIL-STD 883 parts, Huey says.
Actel specialists test all company parts to the 125 degrees C military temperature range, and additionally qualify Actel's ceramic parts to MIL-STD 883 for hermeticity, he adds. Some companies, meanwhile, only do batch testing, Bendekovic says. In other words they judge all their products based on one test sample, he explains. This is usually a foot in the door for Actel on a sales call, Bendekovic says.
Plastic parts can also survive testing to hotter than 125 degrees C, QuickLogic's Ewald says. One of QuickLogic's customers recently took one of their plastic devices and ran it to about 180 degrees C, where the device lost performance but still retained basic functionality, Ewald claims.
Ceramic suppliers
The suppliers of standard ceramic substrates get packaging for their IC products from Kyocera and NTK in Japan, Aeroflex UTMC's Benedetto says. There have not been any domestic ceramic suppliers for many years, he adds. UTMC gets their substrates from NTK, Benedetto says.
Most packaging done with ceramic substrates is custom work, Benedetto says. However, "we've adapted a special heat sink package that has become available commercially" and are designing it into radiation-hardened applications, Benedetto says.
While Kyocera and NTK have traditionally produced custom designs they are starting to offer more open designs of pin grid arrays and other products, Ewald says.
---
Honeywell creates a niche within a niche market with electronics that can perform at 225 degrees C
Engineers at the Honeywell Space Systems Solid State Electronics Center (SSEC) in Plymouth, Minn., are forging a specialty area within the high-temperature market by designing electronics that can withstand an intense heat as high as 225 degrees Celsius for downhole drilling applications and for aircraft turbine engines such as the U.S. Air Force F-22 jet fighter.
Honeywell experts have created a line of high-temperature electronics, such as actuators and other smart sensors, that have an operational life of five years at 225 degrees C with mean time between failure rate of 300,000 hours, says Ben Gingerich, business development manager at Honeywell SSEC.
Honeywell officials have targeted four main markets for their extreme high-temperature products — turbine aircraft engines, downhole oil drilling, heavy diesel truck engines, and avionics, Gingerich says.
"Turbine engines used in aircraft and stationary power generation need [high-temperature] electronics to implement more modern control techniques and monitoring systems," states Honeywell SSEC applications engineer Jay Goetz in a general white paper entitled "High Temperature Electronics for Sensor Interface and Data Acquisition." Internal combustion engines need [high-temperature] electronics as engine compartments get hotter and control strategies are refined to meet reduced emissions standards."
Honeywell engineers are also working with the Boeing Co. in Seattle to place actuators in hot locations for different avionics programs, Gingerich adds.
Modern aircraft couple controls tightly, distribute engine controls, and operate electronics without airflow or heat sinking, Goetz states in his paper. These factors push the operating temperature constraints for electronics much higher than temperature constraints have been in the past.
"Standard, commercial-off-the-shelf [COTS] bulk silicon-processed semiconductors, however, are not able to handle the increased demands," he states. "They are designed for a service range of -55 degrees C to 70 degrees C for commercial, 85 degrees C for industrial, and 125 degrees C for the military. Use of these components beyond their intended range is not specified or recommended by their manufacturers.
"Commercial passive components are also usually limited in operating temperature," Goetz continues. "High-temperature designs will de-rate the component's power rating to prevent significant self-heating from damaging the part." The difficulty in creating a stable design also increases if the requirements contain a large amount of thermal cycling, he states.
"Some high-temperature users are willing to do extra work in characterizing standard components to find the most durable brands, but this is a costly venture, requiring burn-in equipment and test expertise," Goetz states. "The results are also not always repeatable, since the component manufacturer can make changes to the process as simple as doing a 'die shrinkage', which could degrade the temperature performance." The designer should beware that, unless statistically valid data is shown for high-temperature operation over time, that part may be the one that fails and takes out the whole system, he says.
Honeywell solves these problems by designing the products from the ground up on silicon-on-insulator, or SOI, material, Gingerich says. SOI helps eliminate junction areas in the die and reduce leakage in hot environments such as aircraft engines, Gingerich adds. Honeywell engineers also specifically design their devices to resist electromigration of metals at high temperatures, which can cause less-rugged parts to fail, he says.
Honeywell engineers use proprietary design and packaging techniques, then follow it up with extensive testing at 225 degrees C and hotter. The products are expensive and the market is small, Gingerich says, yet there are few alternatives for customers such as oil companies and aircraft engine makers, he adds.
While originally a custom effort, Honeywell's the high-temperature technology is part of a product line with about 13 or 14 standard offerings, Gingerich says. Honeywell officials recognize that they play a small part within a small market, but are starting to see growth and see potential for even more as their products come down in price and enter high-volume areas such as the automotive diesel market, he says.
The Honeywell sensor on the F-22 is a single-channel accelerometer, designed by Vibra-Metrics in Hamden, Conn., that measures velocity output in the aircraft's turbine engine. Pratt & Whitney in East Hartford, Conn., produces the F-22 engine.
For more information on Honeywell's line of high-temperature products contact the company on the World Wide Web at http://www.ssec.honeywell.com. For more information on Vibra-Metrics contact the company on the World Wide Web at http://www.vibrametrics.com — J.M.
---
Intersil releases radiation-hardened 2.5 volt voltage reference
PALM BAY, Fla. — Engineers at Intersil in Palm Bay, Fla., recently announced a radiation-hardened 2.5-volt voltage reference specifically designed for use in military and commercial communication satellite applications.
The IS-1009RH, Intersil's latest addition to its Star*Power family of radiation-hardened power management devices, delivers the accurate and stable voltage output necessary for high-resolution A-D and D-A converters, Intersil officials claim.
"Communications satellite electronics represent a 200 million dollar market," says Tom Marshall, product marketing manager for space products at Intersil. "The 2.5-volt voltage reference offers an off-the-shelf option for designers. The device is radiation tested and fully guaranteed, eliminating the need for designers to conduct their own costly up-screening and radiation testing."
Intersil engineers use proprietary design techniques to achieve stable performance over temperature and post-irradiation, company officials say. Dielectric isolation processing and vertical device architecture provide latch-up immunity and a reduced sensitivity to enhanced low dose rate effects, ensuring high reliability in harsh radiation environments. All parameters are tested and guaranteed to 300krad(Si) over the full military temperature range, Intersil officials say.
The device boasts 2 millivolts maximum accuracy and guarantees 10 millivolts maximum over the full military temperature range of -55 to +125 Celsius and the wide 400 micro amps to 10 micro amps operating current range, Intersil officials say. Using the adjustment pin to calibrate system errors does not affect temperature performance. The IS-1009RH is compatible with industry standard 1009 and 136 type voltage references.
The Star*Power product family includes radiation-hardened MOSFETs, radiation-hardened power management integrated circuits, and a radiation-hardened DC-DC converter portfolio. Intersil's Star*Power products enable satellite manufacturers to minimize part count, use distributed power design techniques to ensure the survivability of satellites in harsh radiation environments, Intersil officials claim. — J.M.
---
Who's Who in military high-temperature integrated circuits
Actel
Sunnyvale, Calif.
408-739-1010
http://www.actel.com

Aeroflex UTMC
Colorado Springs, Colo.
719-594-8000
http://www.utmc.com

BAE Systems
Manassas, Va.
703-367-2121
http://www.baesystems.com

Honeywell Space Systems
Plymouth, Minn.
800-323-8295
http://www.honeywell.com

Intersil
Palm Bay, Calif.
321-724-7143
http://www.intersil.com

Peregrine Semiconductor
San Diego, Calif.
858-455-0660
http://www.peregrine-semi.com

QuickLogic
Sunnyvale, Calif.
408-990-4000
http://www.quicklogic.com

Space Electronics
San Diego, Calif.
858-452-4167
http://www.spaceelectronics.com

Xilinx
San Jose Calif.
408-559-7778
http://www.xilinx.com