Airport authorities seek to electronically link ground vehicles in unprecedented ways
While most public attention relating to traffic control around airports has related to aircraft in the air, extensive efforts also seek dramatically to improve the handling of aircraft and surface traffic on the ground.
Oct 1st, 2001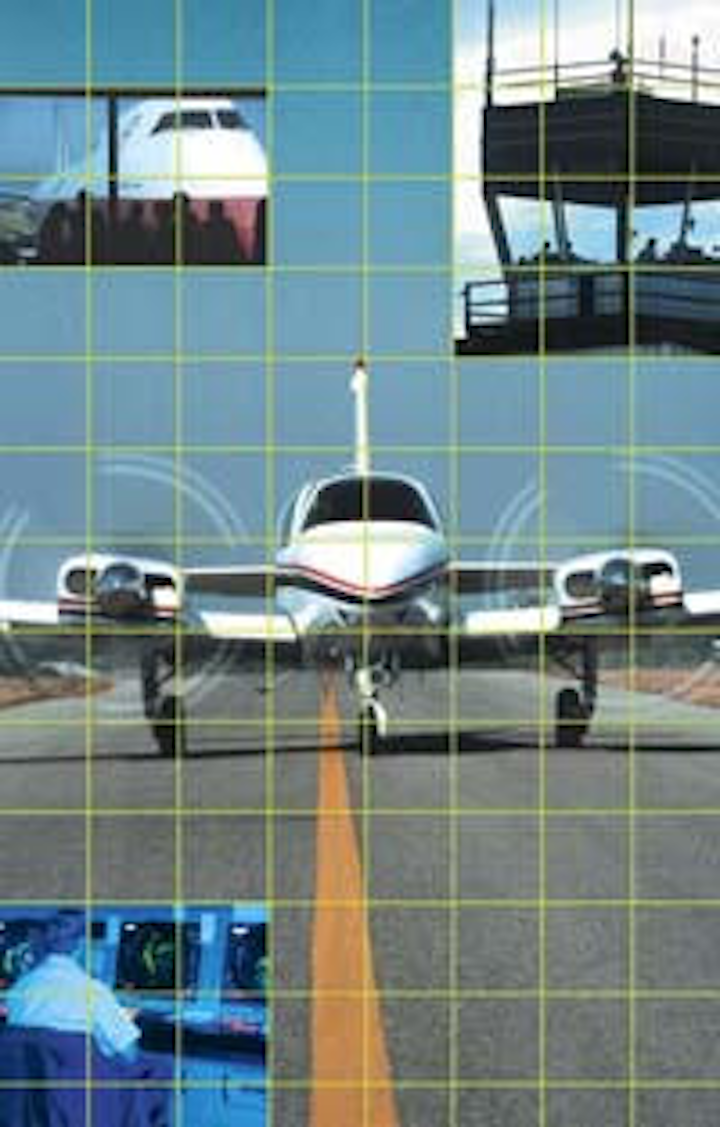 By J.R. Wilson
WASHINGTON — While most public attention relating to traffic control around airports has related to aircraft in the air, extensive efforts also seek dramatically to improve the handling of aircraft and surface traffic on the ground. Doing this not only would cut down on such problems as runway incursions, but would also improve the speed and efficiency of overall operations, airport experts say.
"On the airport surface-management side, we have a couple of programs working, one at Detroit and one at Atlanta," says Steve Zaidman, associate administrator for research and acquisitions at the U.S. Federal Aviation Administration (FAA) in Washington.

"We share information with local dispatchers," Zaidman says. "It's not really integrated into the controller network in the tower. We started with dispatchers and local controllers, to give them awareness of aircraft arrival times, where the aircraft are on the airport and letting them deal with gate management accordingly. This is part of our Free Flight program. Ultimately, we will expand the number of airports where we do this and, where it makes sense, integrate the tower controllers.

FAA researchers also are working to develop new runway-incursion technologies, Zaidman says. These include such things as improved signage, luminescent paint, and giving controllers oral and visual alarms to impending incursions. "We commissioned the first in San Francisco in June and will bring in a total of 36 through November 2002," he says.
That program is called the Airport Movement Area Safety System (AMASS), produced by Norden Systems, a business unit of the Northrop Grumman Corp. Electronic Sensors and Systems Sector in Baltimore. Zaidman says AMASS tries to tackle the difficult task of predicting when something bad is going to happen.
"It won't prevent every accident, but it will prevent some serous potential accidents — an airplane on a runway where it shouldn't be, for example. But it won't help if somebody decides to break a clearance on an active runway just as another plane starts a roll," he notes. "An outgrowth of that is planned for 30 other airports — ASDE-X (Airport Surface Detection Equipment-X [frequency] band). That's a combination of multilateration and radar. We think that has a lot of potential, especially multilateration. No one has ever used it before for a safety project."
A multilateration system uses a web of small sensors around the airport to eliminate blind spots. These sensors interact with aircraft transponders to determine position and identification. Surface-movement radar, meanwhile, uses traditional radar to locate and track aircraft. Fusing information from the two sensor systems provides controllers with reliable surface surveillance in all weather conditions and enables them to safely and efficiently guide aircraft on runways, taxiways, and in the especially congested gate areas, officials say.
The Advanced Surface Movement Radar (ASMR) element of ASDE-X, from the Raytheon Command, Control, Communication, and Information Systems segment in Marlborough, Mass., is a low-cost, solid-state, open-architecture design using off-the-shelf components and industry standards such as ANSI standard C++, X-windows, and UNIX software. Sophisticated clutter-rejection software in the radar data processor automatically adjusts to changing weather to maintain optimal performance in all weather conditions.
"Surface management is more of a planning tool to effectively optimize aircraft either getting to or from the runways to the gates," says Ed Stevens, Raytheon's program manager for the NASA-sponsored Air Traffic Management System Development and Integration (ATMSDI) effort. "It also differs in that we are trying to bring in the ramp towers as well as the TRACON (Terminal Radar Approach Control). A future concept is to get more collaboration between the AOC (Air Operations Center), ground, and pilots.
Raytheon is the overall program manager and integrator, Stevens says. Raytheon has teammates who have done prototype work before, and they are being asked to demonstrate the feasibility using NASA's Future Flight simulators at the NASA Ames Research Center in Mountain View, Calif. "We'll use that to look at human-in-the-loop issues and test algorithms," he says. "We haven't finalized the location for our field test, although it probably will be Memphis. We plan to do the initial simulations the end of this year and the beginning of 2002 and start deploying systems to field sites by the end of next year."
Aircraft are not the only ground-control concerns, however. The multilateration display also is designed to show inputs from a vehicle squitter tag called VeeLo, from Sensis Corp. in DeWitt, N.Y.), one of Raytheon's ASDE-X partners.
"A number of runway incursions involve an aircraft and a vehicle, so one way to reduce that is to track where vehicles are in the airport area," says Marc Viggiano, vice president for air traffic systems at Sensis. "There are a lot of vehicles out there — snow plows, deicing trucks, etc. It also increases efficiency by tracking them in the apron area, where you want to get a number of vehicles close to the aircraft — fuel trucks, catering, luggage carts, tugs — that need to be marshaled in the interest of time.
"Finding the location of surface vehicles is an important part of the overall solution, from both a safety and an efficiency aspect," Viggiano continues. "They would be automatically fused in with the other data, but you could decide whether you wanted to see them. An air traffic controller probably would not want to see vehicles in the gate area, for example, but would want to see them around taxiways. But a ramp controller very much would want to see what's going on in the apron area."
Situational awareness also is important for the operators and controllers of many surface vehicles, such as operators of fire rescue vehicles who need to know how to get to an incident quickly, or snowplow operators who need to cross an operating runway safely. For that reason, part of the surface movement control effort involves two-way location capability, so the same information is available to ramp and tower controllers, pilots, surface vehicle operators, and dispatchers.
At the same time, officials have human factors concerns about overloading the pilot with too much information. To avoid this, designers are working to create a system that can tailor information appropriately for each user. If done properly, it could actually reduce demands on some of those involved.
"One concept has been taxi route performance monitoring," Viggiano notes. "The idea is once a controller has issued a taxi clearance to an aircraft and that clearance is entered into the system, the system can automatically keep track of where that aircraft is, if you have the right sensors, and can alert the controller if the aircraft deviates from that cleared route. That allows the controller to turn his attention elsewhere and it lets you catch mistakes early on, before there is an incursion, rather than trying to take action at the last second."
He says there is no reason why that same information could not be sent to the cockpit in an unambiguous message.
But for any application, reliable, fast surveillance would be mandatory.
"We see the surface of the airport as one of the primary limitations of system capacity and a safety area that needs attention. It is a rich area for improving safety, capacity and efficiency, which seems to be shared by civil aviation authorities and airport authorities around the world. A lot of people recognize the airport is a limitation on system capacity and things can be done to improve that situation," Viggiano says.
"Compared to pouring concrete, these are very inexpensive. And the technology is really proportionate to the size of the airport you need to cover," he continues. "The bigger the airport, the more sensors you need. But at a busy airport, you could easily justify payback in less than 12 months. Just look at reduced taxi times alone, which is usually estimated at anywhere from $40 to $80 a minute, including fuel costs but not asset time costs. If you take one minute off taxi time of each aircraft at an airport with 500,000 operations a year [from Atlanta with close to 1 million operations a year to Las Vegas with 540,000], that far exceeds the cost of these types of systems."
Acquiring knowledge on the location and movement of surface vehicles is more than just an incursion concern, however. It also influences operations costs, efficiency, and, as Viggiano notes, ultimately even system capacity and on-time operations. In some cases, the same systems that provide feedback on those issues also can be used for security purposes, another issue of continuing concern to airport operators and their tenants.
One such effort is the 2.4 GHz wireless real-time locating system from WhereNet in Santa Clara, Calif. This system combines a locator tag with a vehicle communicator (VCOM) to send a wide range of data to a local area network. That can include not only position, but also current fuel level, whether the vehicle is running, and who is operating it. A special card-reader option also can prevent any unauthorized individual from using the vehicle.
It also can be used on non-powered (towed) equipment, such as baggage carts, to provide a location history. This could enable airlines to better allocate resources to those areas where demand is highest and to track cargo as it moves around the ramp. This includes creating a record of when it reached an aircraft. It also could be applied to special handling cargo, such as fresh flowers, to ensure they are not left standing in the sun or exposed to cold weather for more than a specified length of time.
"We're trying to offer the airlines and airports a variety of products to solve their problems, whether they are telemetry or location or usage or whatever," says Dan Pohly, program manager for the Avista Airport Visibility System from FMC Airport Systems in Ogden, Utah.
"We're strictly ground-support equipment — we don't track aircraft — but it would be easy enough to feed this data into the ground control towers, by equipment type or location," he says.
Pohly says such technology will be offered first as a factory option on new equipment, but eventually such a data communications capability probably will become standard on all equipment of the type produced by FMC and its competitors, he says.
"We also have set this up as a separate business unit, so we also can install this capability on any other manufacturer's equipment and work with a customer's entire fleet, whatever type it may be or the original manufacturer," he says.
Zaidman says the effort to bring complete situational awareness and control to everyone involved with anything that moves at an airport is a complex problem involving everything from new technologies in the cockpit — such as a moving map display for pilots — to updating the airport database and ensuring even temporary elements, such as the short-term closure of a runway for emergency repairs or snow removal, are included in real-time. And some also will require new FAA rule-making and aircraft certifications, which will take time.