Navy researchers consider arming future large unmanned submersible with anti-submarine weaponry
ARLINGTON, Va., 18 Nov. 2014. U.S. Navy researchers will brief industry this week on a plan to outfit a future large unmanned submersible with anti-submarine weapons. Briefings are this Friday, 21 Nov. 2014 in Arlington, Va.
Nov 18th, 2014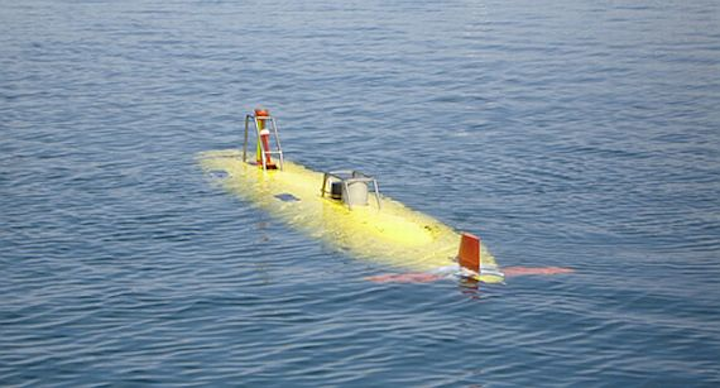 ARLINGTON, Va., 18 Nov. 2014. U.S. Navy researchers will brief industry this week on a plan to outfit a future large unmanned submersible with anti-submarine weapons. Briefings are this Friday, 21 Nov. 2014 in Arlington, Va.
Officials of the U.S. Office of Naval Research (ONR) in Arlington, Va., are sponsoring a plan to develop an anti-submarine warfare (ASW) mission package for the organization's future Large Displacement Unmanned Undersea Vehicle (LDUUV).
Friday's industry briefings are to unveil a plan to develop a working mission package for LDUUV underwater drones, integrate the mission package into a pre-selected surrogate LDUUV, and demonstrate the resulting ASW mission package during at-sea tests with relevant targets and in a relevant operating environment.
Related: Navy asks Metron for autonomy and control software for future large-displacement UUV
The program will pursue technology development in mission autonomy, situational awareness, and undersea sensors, with emphases on software-in-the-loop and hardware-in-the-loop simulations, other ASW mission package components. Navy researchers want to integrate all components into a candidate LDUUV large unmanned submersible for at-sea testing and analysis.
ONR's LDUUV project seeks to develop a large unmanned submarine able to operate in the open ocean and in coastal waters and harbors on missions lasting more than 70 days to gather intelligence, surveillance, and reconnaissance (ISR) information. The program is developing UUV autonomy and long-endurance propulsion systems for large UUVs.
The LDUUV also may evolve into a large UUV mothership that launches and recovers smaller surveillance UUVs when it reaches its mission areas.
Related: Navy to brief industry in October on project to build large long-endurance unmanned submarine
The future LDUUV must be able to avoid all vessels in its area of operations, including fishing boats. Development challenges include detecting and avoiding undersea stationary and moving obstacles, as well as path planning algorithms to minimize energy consumption while avoiding obstacles; detecting, locating, and identifying surface vessels; determining the intent of detected surface vessels; and detecting and avoiding all kinds of fishing nets and fishing gear, including mono-filament and twine nets which are difficult to detect. Once outside the specified areas, human operators may intervene over satellite links, if necessary.
On the LDUUV program Metron Inc. in Reston, Va., is developing experimental autonomy and mission planning software. Also working on autonomy and control for the future LDUUV is Hydroid Inc. in Pocasset, Mass. -- maker of the Remote Environmental Measuring Unit (REMUS) UUV.
Hydroid is using the same vehicle-control architecture for the LDUUV as the company uses in the REMUS UUV, which should make it easy to move software from one vehicle to the other.
Related: Long-endurance unmanned submarine development heats up with propulsion contract to General Atomics
Among the companies working on LDUUV power and propulsion technologies are Fuelcell Energy Inc. in Danbury, Conn.; Sierra Lobo Inc. in Fremont, Ohio; the Hamilton Sundstrand Corp. Sea Systems segment, in Windsor Locks, Conn.; General Atomics in San Diego; Lynntech Inc. in College Station, Texas; and NexTech Materials Ltd. in Lewis Center, Ohio.
Now Navy researchers are turning to ways of arming the LDUUV to defend itself and other U.S. and allied vessels from attack by hostile submarines. Companies interested in the LDUUV ASW mission package industry day briefings this Friday should register no later than the end of today, 18 Nov. 2014.
Briefings are at the secret level and no foreign participants are allowed. No laptop computers, cell phones, brief cases, or note taking will be allowed at the briefings.
Related: Progeny Systems to enhance and upgrade Navy anti-submarine warfare (ASW) planning system
To register email ONR's Bethany Miller at bethany.j.miller.ctr@navy.mil. Phone Miller with questions at 703-696-7701.
Industry day briefings on the proposed LDUUV ASW mission package will be from 8 a.m. to 2 p.m. this Friday, 21 Nov. 2014 at the Bobby Junker Executive Conference Center (formerly the MIC), One Liberty Center, Office of Naval Research (ONR), 875 N. Randolph St., 14th Floor, in Arlington, Va., 22203.
For program questions or concerns contact ONR's John Lisiewicz by email at john.lisiewicz@navy.mil, or by phone at 401-832-3056, or Tracey Fischer by email at tracey.a.fischer.ctr@navy.mil or by phone at 703-588-0476.
More information is online at https://www.fbo.gov/spg/DON/ONR/ONR/ONR-15-SN-0003/listing.html.