Navy asks Bell to build 29 new AH-1Z Viper attack helicopters and avionics for Marine Corps
PATUXENT RIVER NAS, Md. – Military helicopter designers at Bell Helicopter in Fort Worth, Texas, will build 29 new AH-1Z Viper attack helicopters and avionics for the U.S. Marine Corps under terms of a half-billion-dollar U.S. Navy order announced on Thursday.
Aug 24th, 2018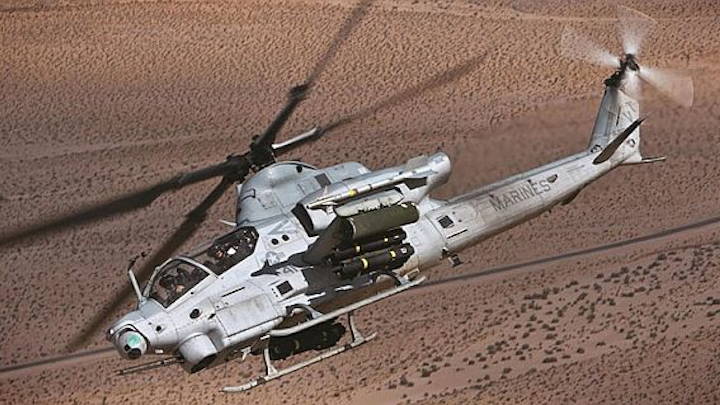 PATUXENT RIVER NAS, Md. – Military helicopter designers at Bell Helicopter in Fort Worth, Texas, will build 29 new AH-1Z Viper attack helicopters and avionics for the U.S. Marine Corps under terms of a half-billion-dollar U.S. Navy order announced on Thursday.
Officials of the Naval Air Systems Command announced a $509.8 million order to Bell Helicopter, a Textron Inc. company, to manufacture and deliver 29 Lot 15 production AH-1Z new-build aircraft in support of the Marine Corps H-1 upgrade program.
The order includes long-lead materials and components for an additional seven Lot 16 aircraft. Long-lead items involve system components that require the longest time to build, which could delay overall production of the attack helicopters if money isn't allocated for production early in the process.
The AH-1Z is a twin-engine attack helicopter based on the Bell AH-1W SuperCobra that features a four-blade rotor system, uprated transmission, and a new target-sighting system. It has upgraded avionics, weapons, and electro-optical sensors designed to find targets at long ranges and attack them with precision weapons.
The Marine Corps H-1 upgrades program is building new helicopters, as well as rebuilding legacy AH-1W SuperCobra attack helicopters and UH-1N Twin Huey utility helicopters, with state-of-the-art designs. The program seeks to upgrade AH-1Ws to AH-1Zs, and UH-1Ns to UH-1Ys.
Related: Lockheed Martin chalks up another order for Marine attack helicopter electro-optical avionics
The AH-1Z helicopter can carry a payload of 5,764 pounds, can fly as fast as 222 knots, has a range of 370 nautical miles, and can fly as high as 20,000 feet above sea level. The AH-1Z has a crew of two, carries a 20-millimeter Gatling gun, and can fire 70-millimeter Hydra rockets, AIM-9 Sidewinder air-to-air missiles, and AGM-114 Hellfire air-to-ground missiles.
The attack helicopter has integrated night vision goggle (NVG)-compatible glass cockpit, advanced electronic warfare self protection (EWSP suite, and ballistically hardened components to protect the aircraft from a broad range of enemy weapons.
It has high-resolution forward-looking infrared resolution that provides long-range detection, identification, and engagement capabilities.
The Northrop Grumman Corp. Mission Systems segment in Woodland Hills, Calif., has developed the integrated avionics systems for the AH-1Z. The systems include two mission computers and an automatic flight control system with four-axis stability control augmentation system. Each crew station has two 8-by-6-inch multifunction displays and one 4.2-by-4.2-inch dual-function display, based on active-matrix liquid-crystal color technology.
Related: Northrop Grumman to provide flight computers for Marine Corps helicopter upgrades
The displays come from the L-3 Technologies Ruggedized Command and Control Solutions segment in San Diego. GE Aviation Systems in Grand Rapids, Mich., provides the weapon stores control and data transfer system.
story continues below
Thales Avionics in Arlington, Va., provides the AH-1Z TopOwl helmet-mounted display system. It has integrated image intensifier and forward-looking infrared (FLIR) capability and provides transition from day to night use at the push of a button.
The Northrop Grumman Gen III FlightPro mission computers are the heart of the AH-1Z's integrated avionics system (IAS) that powers the helicopter's glass cockpit avionics.
The Gen III mission computer incorporates a ruggedized 6U VME PowerPC-based single board computer. Interfaces include Fast Ethernet, four serial ports, parallel I/O, and built-in-test. FlightPro has a standard partitioned real-time operating system called INTEGRITY-178 tuMP for multicore architectures from Green Hills Software in Santa Barbara, Calif., with ARINC 653 and POSIX support.
Related: Northrop Grumman reveals details of VME-based flight computers on Marine Corps combat helicopters
The mission computer's standard configuration also includes a quad channel 1553 mezzanine card, high-speed serial card, digital I/O module with eight channels of opto-coupled discrete inputs, eight channels of opto-coupled discrete outputs, and 16 channels of general-purpose bi-directional discretes that can be programmed individually as outputs or inputs.
The FlightPro mission computer is capable of Required Navigation Performance/Area Navigation (RNP/RNAV) in all flight regimes, including departure, en route, terminal, and non-precision approach using GPS as the sole navigation source.
The flight computers use 28-volt DC or 115-volt AC three-phase 400 Hz input power, measure 13.61 by 11.5 by 7.55 inches, and weigh 30.4 pounds. The computers have rated 3,200 hours mean time between failures.
The flight computer software is RTCA DO-178C compliant, has ARINC-653 partitioning for safety and security, and complies with the Modular Open Systems Architecture (MOSA) standard. The software is aligned with the Future Airborne Capability Environment (FACE) technical standard, has hardware-independent application software developed to MIL-STD-498, under MIL-STD-882C safety program environmental qualification.
Related: Lockheed Martin to design advanced helicopter turret electronics for AH-1Z targeting pod
Flight computer hardware is designed to MIL-STD-461D for electro-magnetic compatibility, and is tested to MIL-STD-462 and MIL-STD 810E. FlightPro is conduction cooled, and represents "Quiet Cockpit Technology," Northrop Grumman officials say.
Dual mission computers are the heart of Northrop Grumman's Integrated Avionics System (IAS) that powers the glass cockpits of the AH-1Z helicopter. The mission computers provide centralized control of the IAS and display situational awareness and health monitoring information.
Additionally, the IAS and mission computers can accommodate future system upgrades; rapid insertion of new technologies; and integration of other avionics, communications, and survivability equipment. Northrop Grumman also provides the operational flight program software that controls the IAS.
On this order Bell will do the work in Fort Worth and Amarillo, Texas, and should be finished by February 2021. For more information contact Bell Helicopter online at www.bellflight.com, or Naval Air Systems Command at www.navair.navy.mil.
Ready to make a purchase? Search the Military & Aerospace Electronics Buyer's Guide for companies, new products, press releases, and videos