Electro-optics briefs
May 1st, 2007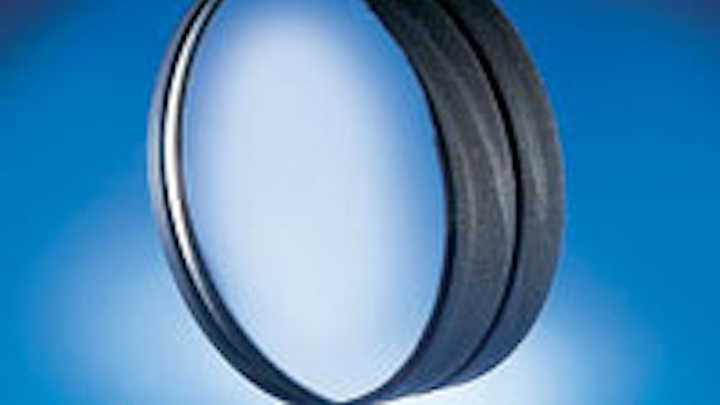 Edmund Optics introduces edge-blackened optics
Edmund Optics in Barrington, N.J., is introducing edge-blackened optics to increase contrast and reduce noise in imaging and electro-optical systems. The blackened edges prevent light from exiting a mounted optic, reflecting off the metal fixturing and being re-imaged through the optical assembly. "To avoid stray light and improve contrast, we always blacken the edges of the components in our TECHSPEC imaging lenses," explained Gregg Fales, optical product line manager at Edmund Optics. "An increasing number of customers blacken edges for assemblies in applications ranging from electronic inspection and semiconductor processing to flow cytometry and drug discovery. We knew this was a service we had to offer." Offering the edge-blackening as a standard option eliminates a labor-intensive step in integrating the optics into OEM assemblies. "Without the appropriate equipment and skilled opticians, it's quite a difficult and expensive process," Fales explains. The edges must be blackened while maintaining dimensional tolerances, clear aperture, and centration: all critical specifications for ensuring high quality optical assemblies and sub-assemblies. The blackening service is available off-the shelf for most of Edmund's TECHSPEC VIS 0-degree Achromatic Lenses. It is also available to all transmissive components through the company's Quik Mod program, which allows rapid turnaround of modified catalog components in small quantities. For more information contact Edmund Optics online at www.edmundoptics.com.
IRphotonics announces moldable glass for UV to mid-IR applications
IRphotonics, a supplier of mid-infrared materials in Montreal, has completed molding tests of its proprietary fluoride glass with optical industry leaders. The test results confirmed that IRphotonics's UVIR amorphous glass can be molded into optical components that include aspherical lenses, company officials say. IRphotonics's UVIR glass exhibits a broad transmission window ranging from UV to 8 microns that makes it a suitable material for defense and commercial applications that include thermal imaging and spectroscopy. The low refractive index of the UVIR glass combined with its exceptional transmission characteristics provides over 91 percent transmission from 350 nanometers to 5 microns and more than 80 percent transmission from 220 nanometers to 6.2 microns (3.6 mm thick window). The UVIR fluoride glass also exhibits unique physical characteristics that include a negative dn/dT (decrease of refractive index with rising temperature) and a thermal expansion coefficient that closely matches that of aluminum and stainless steel, company officials say. The UVIR glass amorphability proves useful for making large optical pieces. Moreover, different dopants can be incorporated in the UVIR glass to turn it into a broadband optical filter. For more information contact IRphotonics online at www.irphotonics.com.
Apollo introduces low-cost universal DVI controller for TFT LCDs
The D-SLIM from Apollo Display Technologies in Ronkonkoma, N.Y., is a digital-visual-interface (DVI) translator board that provides a solution for connecting TFT LCDs to standard video interfaces. The D-SLIM automatically converts DVI signals into TTL or LVDS signals for TFT LCDs. It can be user-configured for LCDs from 5 to 46 inches diagonal with 6-bit and 8-bit color depth and single-channel LVDS support. Designed for universal use, the D-SLIM can be user-configured for LCDs from all major OEMs. Function select switches on the board allow the user to configure the D-SLIM for most standard backlight inverter/LCD module combinations from VGA to WXGA resolution. The D-SLIM measures 5.5 millimeters high and is RoHS compliant. Operating temperature is 0 to 70 degrees Celsius. Board outline dimensions are approximately 3.1 by 3.9 by 0.3 inches. For more information contact Apollo Display Technologies online at www.apollodisplays.com.
Teledyne to acquire D.G. O'Brien, expand offerings for military applications
Teledyne Technologies Inc.'s subsidiary, Teledyne Instruments Inc., has entered into an agreement to acquire the assets of D.G. O'Brien Inc. (DGO). DGO, headquartered in Seabrook, N.H., is a manufacturer of electrical and fiber-optic interconnect systems, primarily for subsea military applications. Terms of the transaction were not disclosed, and the closing of the transaction is subject to various conditions. D.G. O'Brien designs and manufactures interconnect systems that transmit signals, data, and power in applications requiring extreme reliability. DGO's interconnect products typically bridge isolated environments which absolutely cannot intermingle or be breached, such as between the inside and outside of a submarine. DGO's connectors and feedthrough systems utilize proprietary glass-to-metal seal technology. DGO had sales of $26.2 million for its fiscal year ended September 2006. After the closing, the acquired business will operate under the name Teledyne D.G. O'Brien. Teledyne Technologies is a provider of electronic components, instruments, and communication products, systems engineering solutions, aerospace engines and components, and on-site gas and power-generation systems.
Sapphire and ruby balls are tiny, tough, and chemically inert
A line of precision miniature sapphire and ruby balls for use as check valve elements, bearings, spacers and other applications requiring a highly spherical, wear-resistant, and chemically inert ball are available from Meller Optics Inc. of Providence, R.I. Meller Sapphire and Ruby Balls come in 42 different inch and metric sizes from 0.1 millimeters to 1/2-inch diameter. and feature 0.000025-inch (AFBMA Grade 25 tolerance) per ball sphericity. Exhibiting Moh 9 hardness, they are ideally suited for use as check valve elements, bearings, and spacers in scientific and medical devices requiring a wear-resistant and chemically inert sphere. Impervious to common acids, alkalis, solvents, and bodily fluids, Meller Sapphire and Ruby Balls are fracture-resistant and the red ruby balls are easier to see than the clear sapphire, where high visibility is important. They have finishes of 20-10 scratch-dig or better and can be precision ground and polished into inexpensive plano-convex lenses if required. For more information contact Meller Optics online at www.melleroptics.com.
Corning introduces rugged, hermetic single-mode specialty fiber
Corning Inc. in Corning, N.Y., is introducing the Corning hermetic single-mode specialty fiber with improved fatigue resistance and high-usable strength for applications in fiber-optic sensors and towed arrays. The properties of the hermetic layer improve the fatigue performance of the fiber by five times compared with standard single-mode fiber while maintaining identical optical quality to Corning SMF-28 optical fiber, company officials say. Corning's specially designed hermetic layer provides a protective barrier to help shield the glass from exposure to hydrogen, water, and corrosive chemicals through a thin layer of amorphous carbon that is bonded directly to the glass surface of the optical fiber. This resistance to hydrogen permeation is critical for use in harsh environments such as in undersea deployments or down-hole oil wells. The new hermetic fiber is manufactured through Corning's patented outside vapor deposition (OVD) process, which yields unparalleled consistency in optical performance and high reliability. The batch-to-batch consistency, quality and reliability resulting from the OVD process enables Corning customers to optimize their operational costs. Hermetic single-mode specialty fiber is part of Corning's portfolio of differentiated specialty fiber products that generate high-value for customers. These products and capabilities include polarization control, rare earth-doped gain fibers, power delivery, bend-insensitive fibers, reduced-diameter fibers, band-gap fibers, harsh-environment/high-temperature fibers and innovative custom solutions. For more information contact Corning online at www.corning.com.