Industry wants unique part numbers for lead-free BGAs
The electronics industry is calling for unique part numbers to differentiate lead-free ball-grid-array (BGA) metallurgies that comply with the European Union's Restriction on Hazardous Substances (RoHS) directive.
Aug 1st, 2007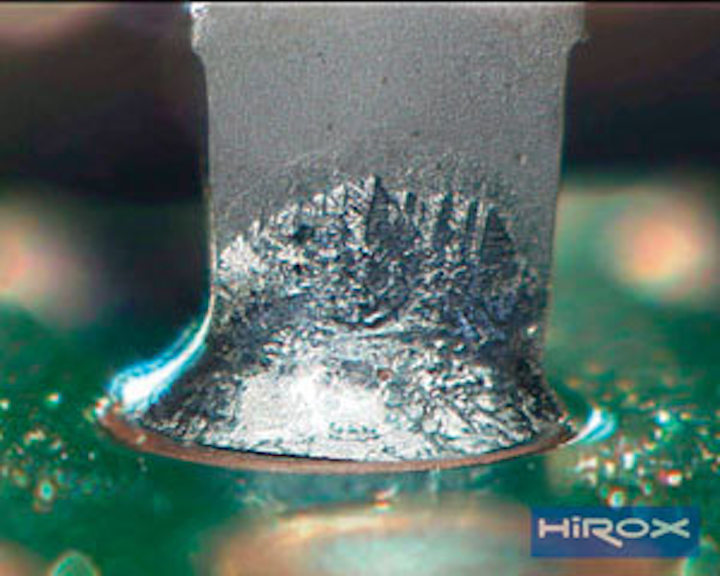 By Courtney E. Howard
HERNDON, Va. - The electronics industry is calling for unique part numbers to differentiate lead-free ball-grid-array (BGA) metallurgies that comply with the European Union's Restriction on Hazardous Substances (RoHS) directive.
A majority of original-equipment-manufacturer (OEM) and electronics-manufacturing-services (EMS) members of the International Electronics Manufacturing Initiative (iNEMI) strongly support unique part numbers for BGA components to differentiate lead-free ball metallurgies other than Sn-Ag-Cu (SAC) 305 or SAC 405. Sn-Ag-Cu is a mixture of tin, silver, and copper.
The lead-free metallurgies other than SAC 305 or SAC 405 would include low-silver, added dopants such as nickel, and other SAC (or non-SAC) alloy compositions. The iNEMI group is an industry-led consortium in Herndon, Va.
"While variations in alloy metallurgy may improve mechanical shock performance, they can also impact the manufacturing process in a number of ways," according to an iNEMI statement. "Since these changes can affect form, fit, and function of the device, they should be documented by the issuance of a part change notice (PCN) and should be associated with a change in manufacturing part number (MPN). In this way, the manufacturing assembly process can be properly controlled and optimized prior to actual assembly to ensure repeatable and reliable attachment of the BGA to the next higher assembly and to help minimize ship holds due to unknown parts."
Experts say more needs to be known about SAC 305 and SAC 405 before these substances can be used safely and reliably. "The proliferation of solder-ball metallurgies only makes it more difficult to close the remaining knowledge gaps for lead-free conversion of mission-critical applications," says Mike Davisson, RoHS technical program manager for Agilent Technologies in location.
"Reliability experts are still working to fully understand the long-life performance of SAC 305/405 and have limited data on some of the alternate ball formulations," Davisson says. "A change in metallurgy without the ability to track the change through MPNs will only make lead-free conversion more difficult and could delay the process."
Solder-ball metallurgies will continue to change as the industry learns more about the performance of lead-free technologies, says Jim McElroy, chief executive officer of iNEMI. "The use of these different compositions will most likely require changes in reflow profiles and corresponding adjustments to the assembly process," he says.
"The lower-silver compositions have a higher melting point than SAC 305/405 alloys, which moves the melting range higher," McElroy continues. "Based on assembly process margins (especially for large complex boards), low-silver compositions could also impact the MSL [moisture sensitivity level] rating. In order to maintain reliable assembly processes, manufacturers must know the metallurgical characteristics of the components they are using and be able to differentiate parts."
Jon Heard, director of technology commodity management at Alcatel-Lucent in Paris, admits that this method could add complexity and cost to the vendor's supply chain. "When a change affects form, fit and/or function, we know of no other foolproof method to ensure predictable sourcing, manufacturing, and field deployment of electronics hardware. Alternate ball metallurgies that have different characteristics in assembly and mechanical performance clearly warrant separate part numbers."
Courtney Ryan, senior vice president of supply chain at contract manufacturer Jabil Circuit Inc. in St. Petersburg, Fla., says she agrees. "We are convinced that the only practical way to accomplish this requirement is through separate part numbers that can clearly identify RoHS compliance and manufacturing process compatibility."
Among the iNEMI members supporting this position are 3M in St. Paul, Minn.; Agilent Technologies Inc. in Santa Clara, Calif.; Alcatel-Lucent in Paris; Analogic in Peabody, Mass.; Celestica Inc. in Toronto; Delphi Electronics & Safety in Kokomo, Ind.; Huawei Technologies Co. Ltd. in Shenzhen, China; Intel Corp. in Santa Clara, Calif.; Jabil Circuit; Microsoft Corp. in Redmond, Wash.; Micro Systems Engineering Inc. in Lake Oswego, Ore.; Plexus Corp. in St. Paul, Minn.; Sanmina-SCI Corp. in San Jose, Calif.; Solectron Corp. in Milpitas, Calif.; and Tyco Electronics Corp. in Berwyn, Pa.
For additional information, visit iNEMI online at www.iNEMI.org.