Aerospace and defense applications drive connector and cabling innovation
Growing demands for high-throughput, ruggedness, and small size and weight are making their mark on modern interconnect and cabling designs.
May 1st, 2018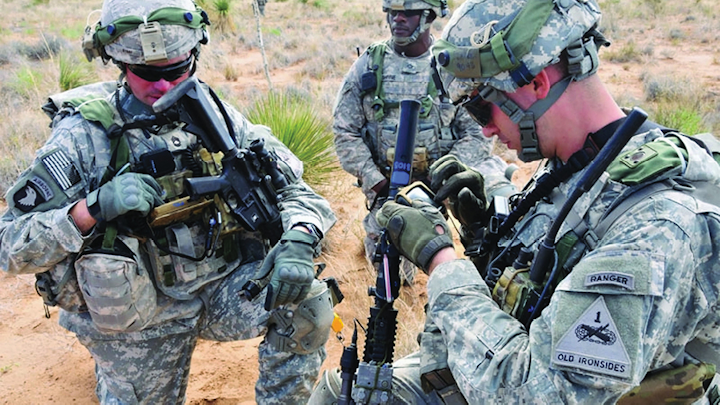 Growing demands for high-throughput, ruggedness, and small size and weight are making their mark on modern interconnect and cabling designs.
Modern applications across aerospace and defense require advanced interconnect and cabling technologies capable of meeting the demands of power-hungry devices and data-heavy workloads in harsh environments.
Connector and cable firms are innovating to meet the demands of deployed warfighters.
Connector and cabling product engineers are transferring and enhancing technologies employed in the enterprise and the automotive sector to meet the needs of military and aerospace systems, which are trending toward ever more compact, high-throughput, and rugged designs.
Compact and capable
"Commercial aerospace and defense applications continually drive technical advancements and are pushing new product options and performance requirements," says Matt McAlonis, global engineering leader of the TE Connectivity aerospace, defense, and marine business unit in Lancaster, Pa.
Vehicle and system designs are shrinking in size and weight across virtually all aerospace and defense applications, prompting the increased density of modern connectors and cables.
"Functional density should be optimized in connectors and cables, and size, weight, and power (SWaP) should always be optimized in new designs," McAlonis says, describing the current "rule of thumb" for new mil/aero products. "These connectivity products are expected to provide increased performance and enable connectivity in new applications."
Requests are growing for cables to data standards such as Gigabit Ethernet using smaller conductors than described in the American National Standards Institute/Telecommunications Industry Association (ANSI/TIA) 568 C.2 standard, says Robert Moore, senior principal engineer at TE Connectivity.
In applications with cable run lengths as short as 10 meters, for example, systems designers ask for 28 (AWG) to accommodate size and weight limitations, as compared to standard 24 or 26 AWG constructions. In commercial aerospace, break strength and longevity in vibration environments place limitations on what designers specify. "They will not use smaller than 26 AWG conductors," Moore says.
TE Connectivity MULTIGIG RT3
Low weight and high EMI
"In weight-critical designs and those that require long-distance, high-speed data transfer, fiber-optics technology can provide significant reductions in space and weight compared to copper-based connectivity solutions," says TE Connectivity's McAlonis.
Fiber optics is becoming more and more desirable in mil/aero applications, says Mark Hearn, product manager at MilesTek Corp. in Lewisville, Texas. Fiber-optic technologies are a popular choice for reasons that include protection from electromagnetic interference (EMI).
"Mission-critical signals are increasingly in need of greater EMI protection," says Mike Savage, director of product management at ITT Cannon in Irvine, Calif. "As the rate and frequency of signals continue to increase, the likelihood of interference or crosstalk also increases, creating the potential for data breaches, inaccurate mission intelligence, and even possible loss of life.
Immunity to electromagnetic interference and radio-frequency interference (EMI/RFI) and electromagnetic pulse (EMP) is a major consideration in theaters of war as well as fiber's high-bandwidth handling capabilities, which far exceed any copper-based solution. "Its flexibility, small size, and light weight make it a perfect choice when designing new aerospace and military communications systems," says MilesTek's Hearn. "Also, fiber is a true future-proof technology since it can handle terabits of throughput even over a single core."
Concerns over cost and strength kept some engineers from opting for fiber optics in the past. Yet, Hearn stresses the durability of modern fiber-optic designs, noting that MilesTek "offers crush-proof tactical fiber cables that you could drive a vehicle over without causing damage to the cable. And, although previously a big cost concern, the optical transceivers used in fiber-based systems continue to decline in price, making fiber optics an even more attractive choice for newer designs."
MiniMRP, where MRP stands for modular rack principle, is a new ARINC standard, ARINC 836A, that includes fiber optics, small electronic packaging, and new connectivity options. MiniMRP can help modular avionics designers reduce weight and package size, and increases design flexibility over existing architectures.
"MiniMRP avionics is the next generation of integrated circuits (ICs), putting ever-increasing computing power into 40 percent smaller packages at lower costs," says TE Connectivity officials. "The ability to interconnect small-form-factor (SFF) electronic devices, either directly or over a network, enables distributed systems that replace traditional centralized systems. With MiniMRP avionics, the big box in the avionics bay can be replaced with many small boxes distributed throughout the aircraft, helping meet SWaP-reduction requirements."
Systems designers are building systems with distributed architectures in mind and now have electronic packing options in addition to the ARINC 600 legacy systems, says TE Connectivity's McAlonis. "Fiber-optic technologies are one of the hottest areas as industry demands are requiring and adopting this technology."
TE Connectivity MiniMRP offerings
Automotive influence
The hottest innovation is Ethernet over single pair, TE Connectivity's Moore says. "New developments for 100BaseT1 and 1000BaseT1 that have been worked on for the automotive market are finding interest in the aerospace community. These new standards can reduce the size and weight of the cable; because of the use of a single pair, 100BaseT quadraxial cables or traditional four-pair cables are no longer required. We are working with standards committees to translate the requirements the automotive concerns have established into constructions that meet the environmental and safety demands of the aerospace community."
ITT Cannon's MKJ Clip Lock taps technology originally designed for the automotive industry to fulfill a need for reliable, cost-efficient, mini-circular connectors capable of delivering high performance in aerospace and defense applications.
"Today's aerospace and defense contractors are increasingly challenged to meet the ongoing demand for lighter, high-reliability interconnects for a wide range of applications, from commercial aircraft avionics and cabin systems to missiles and ordnance used by a modern military," ITT Cannon officials say. The quick-connect clip lock feature was intended for automotive installations but is well suited to soldier-worn systems given that it is easy to use and install, is field repairable, and offers multiple keying options to prevent miss-mating.
Industry continues to focus on soldier-worn system innovation to meet increased data demands in the field, while also reducing the physical burden of heavy, cumbersome equipment on warfighters in the field.
Soldier systems
"The trend toward smaller-sized connectors continues to influence soldier-worn defense technology," ITT Cannon's Savage says. "Today's warfighters need lighter, smaller interconnects that push data transfer rates, reduce overall weight, and enable quicker decision making.
"Soldier-worn equipment and devices will continue evolving, driving the need for further changes in electronic connectivity," Savage says. "Some examples of what the future may hold include: augmented and virtual reality (AR/VR) devices, smaller and more advanced military-grade radios and tablets, and helmets embedded with smart goggles, eye movement monitors, and advanced imaging technology.
Today, we're focused on enabling emerging high-speed protocols and designing interconnect solutions that are lighter and faster with increased bandwidth, keeping soldiers connected and allowing them to make quicker decisions."
Three expected requirements for connectivity in soldier systems are coming together in a way that experts say will continue influencing the connector market in the foreseeable future, explains Wayde King, product manager at ITT Cannon. "The first is the increasing demand for high-speed data, signal, and power to help soldiers remain connected, no matter the environment. The second is demand for connectors that can withstand water ingress or water submersion. This requirement has become increasingly important when designing interconnects for soldiers who are often exposed to uncertain terrain and harsh environments. And third is increasing demand for soldier-worn connector solutions with EMI shielding."
Modern cables and connectors must meet a variety of environmental demands.
Designing connectors and cabling for harsh military environments is nothing new for many of today's suppliers. "Our design and engineering processes continue to keep pace with the needs of today's military," says ITT Cannon's Savage. "We advanced our existing Nemesis product technology knowing that soldiers needed something ultra-lightweight, incredibly durable, and highly reliable for extreme conditions and harsh environments." The new Nemesis II CBA is one of the first in the industry to be tested for water submersion to 20-plus meters, or roughly 65 feet of water, King adds.
ITT Cannon engineers designed the company's Nemesis II CBA miniature circular connector, with high-speed, quick termination to transmit power, signal, and data in a small, robust package. "It includes three innovative features: propriety sealing for water submersion to 20-plus meters (65.6 feet); Cannon Breakaway functionality to enable soldiers to disconnect and reconnect quickly when their cables and equipment become snagged, significantly reducing risk of injury and minimizing equipment damage; and spring-loaded Pogo contacts that enable 10,000-plus mating cycles (connection/disconnection) and superior durability."
The company's Rock-in-Lock (RIL) lightweight receptacle connector, roughly the size of a flash drive, is worn on a soldier's helmet or attached to field-use tablets to provide improved signal integrity and faster data transfer times on everything from augmented-reality headsets to tactical combat radios, King says. RIL features key to soldier-worn applications include: a positive lock or latching mechanism to maintain signal integrity and secure connectivity in the harshest environments, and single-handed "quick connect" allowing soldiers to attach the interface without a thumbscrew or coupling tool – saving critical seconds and minutes when it matters most, he adds.
The Nemesis II CBA and RIL both are used by ITT Cannon's aerospace and defense customers, and are garnering interest from the first responder community. "Our goal is to continue to design interconnect solutions that improve mobility, lighten physical load, and equip our customers with state-of-the-art technologies that evolve their combat systems and help them get home more safely," Savage says.
Connecting Nett Warriors
TE Connectivity product engineers designed the company's O.C.H. micro circular connectors in accordance with standards specified by the U.S. Army's Nett Warrior program, which was developed to connect ground soldiers directly to the Army's tactical network. The program requires that communications equipment be smaller and lighter than currently fielded systems to help take extra weight off the backs of soldiers. It adheres to certain mechanical and performance standards, including MIL-STD-810G related to harsh environmental conditions.
"In today's world, dismounted soldiers in the field rely on instant communications to assure informational superiority on the battlefield, and our O.C.H. Micro Circular connectors are built to withstand the harsh conditions soldiers endure and provide that connection they can count on," says Steven McIntire, senior manager of TE Connectivity's aerospace, defense, and marine products.
TE's O.C.H. micro-circular connectors are now the second authorized source of Nett Warrior connectors, officials say. The new connectors are designed to meet the program's rigorous performance requirements, and feature breakaway coupling to enable the quick connection and single-action disconnection that battlefield conditions require, and a small, rugged package well suited to soldier-worn applications with a lightweight aluminum shell and thermoplastic inserts.
MilesTek Cat6 RJ45 Jam Nut
Data demands
"Sensors in new places are collecting data that can be used to provide greater intelligence to the users," TE's McAlonis says. Trends in the Internet of Things (IoT) and related capabilities have driven the innovation of many "smart" devices commonly used to share mission-critical information in aerospace and defense applications, including mobile platforms from warfighters to myriad vehicles in air, on land, and at sea. In some cases, he adds, high-speed signal protocols that specify connector signal impedance will limit the ability for further size reduction in high-speed copper cables and connectors."
The growing use of imaging and video for front-line warfighters also is pushing the bounds of cabling and connectors. "Many military and aerospace applications today require extensive use of imaging as well as high-speed data transfer that legacy connectors and cables cannot provide," MilesTek's Hearn says. "In many cases, customers have been requesting at least gigabit- and sometimes multigigabit-capable connectors and assemblies.
"We are seeing a trend toward the use of fiber-optic, ingress protection (IP)-rated copper Ethernet and high-frequency coaxial connectors," Hearn continues, which are "not necessarily multi-pin, high-density style connectors but higher-throughput and higher-frequency designs than previously used by the mil/aero industry. The driver for this is the industry's requirements for high-performance connectors that are faster, lighter, and capable of higher throughput compared to their predecessors."
Regardless of the application itself, "my advice to engineers designing systems today is to pay special attention to the connector selected with the cable," TE's Moore explains. "In the past, data rates and the data standards that were transmitted could withstand the unmatched cable/connector impedance changes. As data rates have increased significantly, using a matched impedance connector is critical to signal integrity."
Connected aircraft
Defense applications leverage advances in electronics technology and must offer secure and reliable data management. In commercial aerospace applications, safety and reliability is a given, says TE Connectivity's McAlonis, which provides aerospace-qualified sensor solutions and rugged connectivity products from the engines to the cockpit avionics and other electronics within the aircraft. Commercial aerospace and defense applications require reliable and rugged connectivity options that are optimized for high performance and SWaP, he says.
"Passengers desire an enhanced experience with the expectations of Internet, entertainment and social media connectivity, and TE's products are part of the systems which provide these features in a connected aircraft," McAlonis continues. "The expectation is that all this must be accomplished without compromise in connection speed or reliability."
The European Aviation Network (EAN) multinational initiative formed by Inmarsat and Deutsche Telekom in Pleinfeld, Germany, combines high-capacity satellite coverage from Inmarsat and a 4G LTE ground network from Deutsche Telekom to provide airline passengers traveling across Europe an in-flight broadband experience. The next-generation mobile satellite and ground network platform pairs a cellular network of 300 LTE towers with Ka-Band, Ku-Band, and S-Band satellites to supply Internet connectivity to aircraft at high data rates.
"European airspace is one of the busiest in the world and passenger volumes are expected to double in the next 15 years, with an increasing number of people wanting to stream videos or send e-mails at the same time while in the air," says Rolf Nafziger, senior vice president for international wholesale business at Deutsche Telekom. "A combined system that seamlessly integrates satellite connectivity with a complementary LTE-based network on the ground will create the much-needed additional capacity to meet demand now and in the future."
Engineers selected the GORE Microwave/RF Assemblies 7 Series from W. L. Gore & Associates Inc. in Newark, Del., to deliver continuous, high-quality signals for improved Wi-Fi Internet access on European short-haul flights. Chosen for installation in commercial aircraft, Gore's durable, vapor-sealed assemblies are engineered to prevent the ingress of water vapor, jet fuel, and harsh contaminants that naturally flow to the lowest point in the fuselage where the antenna is located. Shielding protects against EMI that can compromise signal integrity and reduce the quality of signal transmission.
"Passengers will benefit from this integrated approach by getting the speed that a ground network can deliver and the continual coverage that only a satellite can provide," officials say. "Data transmission between satellites, ground towers, and commercial aircraft must work seamlessly for this approach to be successful. Gore's vapor-sealed assemblies reliably connect the antenna located on the underside of the aircraft to the electronics within the aircraft, which in turn are communicating with the transceivers located on the ground."
Selection criteria
By Mark Hearn
The first consideration or question to ask is: In what environment and specific application will the connector/assembly be used? Determining environmental factors – such as shock, vibration, presence of chemical and liquid exposure – will lead you toward a connector/cable design that meets those specific requirements.
Another consideration is bandwidth and throughput requirements, both now and for the expected life of the platform the connectors/cables are being used in, considering potential future technology upgrades, etc. Some military communications platforms have a service life of 20 years or more.
One more thing to consider is the use of interconnects that are based on standards, with wide availability and limited servicing requirements.
---
Mark Hearn is a product manager at MilesTek Corp. in Lewisville, Texas
Environmental concerns
Industry continues to bring commercial innovations and enterprise-level capabilities to aerospace and defense environments through rugged designs engineered to perform under extreme shock, vibration, exposure, and other harsh conditions. Commercial connector product technology will typically lead the aerospace industry, McAlonis says, so TE Connectivity will enable ruggedized versions of commercial products for aerospace and defense applications.
"With today's systems and vehicles being exposed to high levels of heat, shock, vibration, and other factors, the need for rugged, sometimes IP-rated, connectors is a requirement for many," MilesTek's Hearn says. The company's series of Fiber ST connectors/assemblies feature "a twist-lock connection along with a reinforced, beefier, spring compared to standard ST fiber cables that will withstand major shocks and vibration that are often found in combat and field operations."
Other popular connector styles include screw-down M8, M12, and IP68-rated circular threaded RJ45 connectors and assemblies. "Some popular connector types our customers are specifying into their designs are fiber LC (multimode and single mode), Fiber MTP, multi-core styles, and IP67- and IP68-rated RJ45 copper assemblies for use in Ethernet systems," Hearn continues. "Also, there is still a need for coax, high-frequency RF connectors like 3.5- and 2.92-millimeter types, which are still used in many new designs.
Programs like the U.S. Army's Nett Warrior are driving the need for more durable, and yet lightweight connectors and cables.
"For applications involving ground-based vehicles and seagoing vessels, we are seeing the continuing trend toward fiber-optic interconnects and copper-based Gigabit Ethernet connectors and assemblies," Hearn says. "In aerospace applications, we are seeing a trend toward lighter cables with higher temperature ratings. In all these scenarios, we still see the requirement for low-smoke, zero-halogen cable jackets and secure connectors, with either threaded screw-on, such as M12; latching, like fiber LC connectors; or twist-style connectors, like fiber ST, for example."
Aerospace and defense applications and innovations today are so diverse, connector and cabling providers are continually expanding their product portfolios. "We have been adding to our product portfolio with products that are normally custom orders that can take weeks or months," Hearn says.
Connector and cable sizes continue to shrink to help lighten the warfighter's load in the field.
Embedded interconnectivity
In the evolution toward smaller packaging, increased functionality, and faster processing, the OpenVPX embedded computing standard in the VITA (VMEbus International Trade Association) is rapidly evolving as a standard architecture for next-generation critical embedded computing that enables gains in bandwidth and functionality for tomorrow's systems, TE officials say.
"TE is actively working alongside technology leaders within the embedded computing industry to develop interconnects that break barriers for tomorrow's systems [and] will enable increases in pro­cessing capability within smaller systems packaging," says Michael Walmsley, global product manager at TE Connectivity, which partners with companies like Curtiss-Wright to integrate advanced embedded computing connectors into current defense applications.
"Curtiss-Wright Defense Solutions is working closely with key partners like TE to enable the next generation of VPX using fabrics like PCIe Gen 4.0 and 100G-KR4 Ethernet," explains Lynn Bamford, senior vice president and general manager, defense solutions division at Curtiss-Wright. Coupling the latest interconnects and cables with "advanced high-speed module and system design rules will enable VPX system designers to deploy previously unreachable levels of performance in support of new applications and capabilities," she says.
Makers of advanced interconnect and cabling systems encourage aerospace and defense engineers to continue innovating without limitation. "Don't' limit yourselves to what's in our catalog," ITT Cannon's King recommends. "If you don't see what you're looking for, chances are, we can get it done for you."
"We're always focused on the evolving needs of the military and so are continuing to expand our portfolio to better serve its multi-domain strategy on land, air, sea, and space, with a particular focus on connectivity and the unique challenges of the future battlefield," ITT Cannon's Savage adds.
TE Connectivity regularly supports customers with new and innovative product options, McAlonis says. "If engineers are not finding what they need for their applications, [they should contact us] to help bring these new ideas to life."
Company List

Advanced Interconnections Corp.
West Warwick, R.I.
www.advanced.com

HIROSE Electric
Downers Grove, Ill.
www.hirose.com

Pasternack Enterprises
Irvine, Calif.
www.pasternack.com

AE Petsche Co.
Arlington, Texas
www.aepetsche.com

Huber+Suhner Inc.
Charlotte, N.C.
www.hubersuhner.com

PAVE Technology
Dayton, Ohio
www.pavetechnologyco.com

Aerospace Aviation 360
Pittsburgh, Pa.
www.aerospace-aviation360.com

IEH Corp.
Brooklyn, N.Y.
www.iehcorp.com

PIC Wire & Cable
Sussex, Wis.
www.picwire.com

AirBorn Inc.
Georgetown, Texas
www.airborn.com

Interstate Connecting Components
Lumberton, N.J.
www.connecticc.com

Positronic
Springfield, Mo.
www.connectpositronic.com

Amphenol
Wallingford, Conn.
www.amphenol.com

Ironwood Electronics
Eagan, Minn.
www.ironwoodelectronics.com

Powell Electronics
Swedesboro, N.J.
www.powell.com

Carlisle Interconnect Technologies
St. Augustine, Fla.
www.carlisleit.com

ITT Cannon
Irvine, Calif.
www.ittcannon.com

Reflex Photonics
Kirkland, Q.C.
www.reflexphotonics.com

Coaxial Components Corp (Coaxicom)
Stuart, Fla.
www.coaxicom.com

Kensington Electronics
Austin, Texas
www.keiconn.com

Schurter Inc.
Santa Rosa, Calif.
www.schurterinc.com

Data Bus Products
Manhasset, N.Y.
www.databusproducts.com

LEMO USA
Rohnert Park, Calif.
www.lemo.com

Smiths Interconnect
Stuart, Fla.
www.smiths.com

Delphi
Washington
www.delphi.com

March Electronics Inc.
Bohemia, N.Y.
www.marchelectronics.com

Southwest Microwave
Tempe, Ariz.
www.southwestmicrowave.com/interconnect

Diamond USA
North Billerica, Mass.
www.diausa.com

MilesTek
Denton, Texas
www.milestek.com

SV Microwave
West Palm Beach, Fla.
www.svmicrowave.com

Digi-Key Electronics
Thief River Falls, Minn.
www.digikey.com

Mill-Max
Oyster Bay, N.Y.
www.mill-max.com

TE Connectivity
Berwyn, Pa.
www.te.com
www.designsmarterfaster.com

Eaton
Camarillo, Calif.
www.eaton.com/interconnect

Molex
Lisle, Ill.
www.molex.com

Timbercon Inc.
Tualatin, Ore.
www.timbercon.com

Esterline
Bellevue, Wash.
www.esterline.com

ODU-USA
Camarillo, Calif.
www.odu-usa.com

TT Electronics
Perry, Ohio
www.ttelectronics.com

Fischer Connectors
Alpharetta, Ga.
www.fischerconnectors.com

OFS
Norcross, Ga.
www.ofsoptics.com

Winchester Interconnect
Norwalk, Conn.
www.winconn.com

Harwin Inc.
New Albany, Ind.
www.harwin.com

Omnetics Connector
Minneapolis
www.omnetics.com

WL Gore & Associates
Landenberg, Pa.
www.gore.com