Vanguard docking bay product to replace Jazz drives in Navy ships
Experts at the U.S. Space and Naval Warfare Systems Command Center (SPAWAR) are using a rugged docking bay device from Vanguard Rugged Storage in Colorado Springs, Colo., to replace Jazz drives
Nov 1st, 2001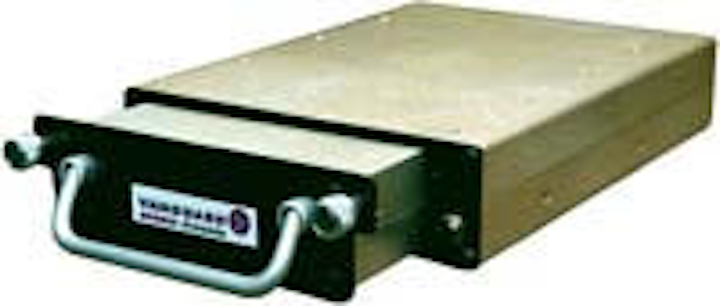 By John McHale
Little creek, Va. — Experts at the U.S. Space and Naval Warfare Systems Command Center (SPAWAR) at Little Creek, Va., are using a rugged docking bay device from Vanguard Rugged Storage in Colorado Springs, Colo., to replace Jazz drives in the IP-1747 portion of the WSN-7 inertial navigation system aboard Navy surface ships.
Vanguard officials would not comment on the specific class of ship or ships involved due to contractual reasons.
SPAWAR experts are installing a government-furnished hard drive into the Vanguard docking bay to replace Jazz removable hard drives, which have been failing in the field, and for installation in new systems, says Phil Loudin, president and chief executive officer at Vanguard Rugged Storage. Vanguard's docking bay products have been designed specifically for rugged computer systems.
"The devices will eventually be installed in all Navy surface ships and submarines," Loudin says.
Jazz drives are not inherently rugged, Loudin says. When these disks are removed in the field they can be contaminated through dust particles causing the heads on the drive to crash, Loudin says.
Vanguard's product is a removable drive carrier, which makes a big difference, Loudin says. Instead of removing the hard drive, the entire docking bay is removed, which protects the drive.
The devices are made with heavy-gauge, all-metal construction with .080-inch-thick steel end plates and heavy wall aluminum extrusions.
Vanguard's storage product has cooling fans for high-temperature applications, a heating element for cold temperature setup, an active temperature control circuit, RFI/EMI shielding, and a power switch with a safe-to-remove circuit. A desktop version is also available with integral power supply.
This was a custom design for SPAWAR based on a Vanguard standard product, Loudin says. However, this version all also will be available to other customers. "This is the nature of our business," he continues. "A customer looks at our standard products and says 'gee, this is just what I want, but ...'
For more information on Vanguard Rugged Storage contact Phil Loudin by phone at 303-412-2455, by e-mail at ploudin@vanguard-rugged.com, or on the World Wide Web at http://www.vanguard-rugged.com.