Navy Special Operations chooses Ultralife handheld radio battery chargers for a variety of military vehicles
Ultralife MRC-UVA battery charger lets warfighters use the same handheld radio inside the vehicle, while on foot, and in "jerk-and-run" scenarios.
Jun 20th, 2019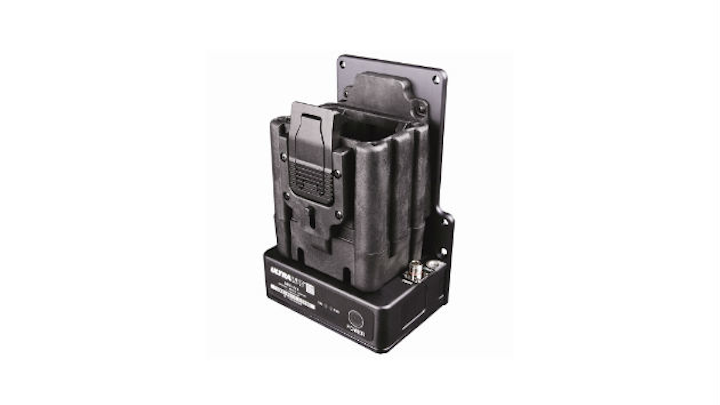 Ultralife Corp. photo
LAKEHURST, N.J. – U.S. Navy Special Forces experts needed universal vehicle adapter radio battery chargers for their Family of Special Operations Vehicles Ground Mobility Vehicle and Mine Resistant Ambush Protected platforms. They found their solution from Ultralife Corp. in Newark, N.Y.
Officials of the Naval Air Warfare Center Aircraft Division in Lakehurst, N.J., announced a $10 million five-year contract to Ultralife on Wednesday for the company's MRC-UVA-V1 Universal Vehicle Adapter, Hand-held Radio Charger.
The Ultralife MRC-UVA is a radio charging solution for vehicle communications that enables users to employ the same handheld radio while inside the vehicle, or outside on foot.
It is designed for "jerk-and-run" scenarios, and is compatible with many widely fielded handheld radios from Harris, Thales, and others, Ultralife officials say. The MRC-UVA features a universal charging pocket that accepts 16 radios, including variants.
The MRC-UVA weighs 25 pounds, operates in temperatures from -30 to 49 degrees Celsius, and accepts military handheld radios like the Thales AN/PRC-148 MBITR, Thales AN/PRC-148 JEM, AN/PRC-152 and all variants, and the Harris-Exelis Soldier Radio.
Related: Thales Defense & Security to supply military radio support equipment for AN/PRC-148
The MRC-UVA can be used in tactical or non-standard vehicles to provide radio mounting and charging. As an added safety feature, the MRC-UVA monitors the radio battery cell temperature to turn off charging if an over-temperature condition exists.
The unit measures 7.13 by 4.88 by 3.56 inches; accepts input voltage of 11 to 367 volts DC, with a maximum of 100 Watts; has 15,000 hours reliability per MIL-HDBK-217F; is compatible with the Glenair Mighty Mouse series DC input connector, and has power and charge status indicators.
The charger meets MIL-STD-1275 for military DC power; MIL-STD-810 for altitude, temperature, humidity, salt fog, sand and dust, shock, vibration, crash safety, and blowing rain; and MIL-STD-461 for electromagnetic interference and electromagnetic compatibility.
On this contract Ultralife will do the work in Newark, N.Y., and should be finished by June 2024. For more information contact Ultralife Corp. online at www.ultralifecorporation.com, or the Naval Air Warfare Center Aircraft Division-Lakehurst at www.navair.navy.mil/lakehurst.