Vista Controls board systems chosen for Army Mobile Gun System
Vista engineers will develop the first production units of three electronic subsystems aboard the Mobile Gun System ....
Feb 1st, 2003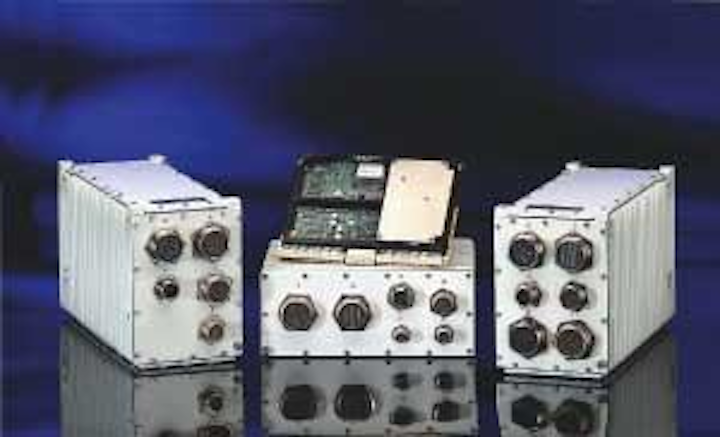 by John McHale
STERLING HEIGHTS, Mich. — Experts at General Dynamics Land Systems (GDLS) are using computer control systems from Vista Controls in Santa Clarita, Calif., for the U.S. Army's advanced Mobile Gun System (MGS).
Vista engineers will develop the first production units of three electronic subsystems aboard the Mobile Gun System — the 105 mm cannon autoloader controller, replenisher controller, and turret system electronic unit.
In addition to the electronics units, Vista wrote the application software, says Doug Patterson, director of marketing at Vista Controls. Most other companies will not do that, he adds. "We are providing the control algorithm and application code" that enables the ammunition to move through the gun system, Patterson explains.
null
The work on the Mobile Gun System is part of the Army's Brigade Combat Team's new Armored Vehicle, known as Stryker. The Mobile Gun System variant of Stryker consists of a 105 mm cannon mounted in a low-profile turret integrated into the Light Armored Vehicle-III chassis. The program plans to equip more than 200 Stryker Mobile Gun Systems over a five-year period.
The three electronic subsystems from Vista, a Curtiss Wright company, will provide automated loading and ammunition replenishing of the 105 mm cannon, Vista officials say.
The autoloader controller works in concert with the turret system electronics to control loading and unloading of the MGS main gun. The autoloader also works with the replenisher controller to move ammunition into position for the autoloader, company officials say.
Vista will provide an electronic I/O controller subsystem and enclosures. The replenisher and autoloader controllers have low-profile "clamshell" enclosure/chassis, power supply, power input filters, and an intelligent I/O control module.
This I/O module is part of all three programs, Vista officials say. It is based on the extended-temperature, conduction-cooled 6U VMEbus module with 166 MHz Pentium RISC microprocessor. The unit performs the autoloader algorithms and control laws through various closed-loop analog and digital I/O control elements and executes BIT (built-in-test).
The mezzanine-based I/O elements include multiple channels of A-D and D-A, RS-232/422 serial and a mix of low- and high-current 5-volt and 28-volt outputs. The turret system electronics comes 1/2 ATR short chassis that contains the intelligent I/O module and additional standard, IEEE 1101.2-compliant VMEbus I/O boards.
---
SGI provides the graphics for F-16 jet fighter training systems
by John McHale
AKRON, Ohio — Officials at Lockheed Martin Naval Electronics & Surveillance Systems bought SGI Onyx 3000 series graphics supercomputers for the next five F-16 pilot training systems for the U.S. Air Force.
The pilot training systems, part of the Air Force F-16 mission training center program, emulate the same multi-role functions that F-16 fighter aircraft perform in combat missions.
"These F-16 simulators with SGI Onyx 3000 visualization systems meet the needs of customers like the U.S. Air Force, who require a high-end image generator for photo-realistic, out-the-window visual scenes to support air-to-air and air-to-ground scenarios in a 360-degree environment," says Charles McCoy, Lockheed Martin F-16 mission training center program director.
The work will double the number of Air Force F-16 Mission Training Center (mission training center) simulators from five to 10, SGI officials say.
Each F-16 pilot training system simulates typical F-16 tactical formations and operations and can link through U.S. Air Force Air Combat Command's distributed mission training system with other simulator participants in simulators.
The SGI Onyx 3000 series visualization system generates photo-specific terrain, vegetation, and physical infrastructure, SGI officials say.