The cost of compliance: A RoHS retrospective
The mil and aerospace industry continues to grapple with lead-free challenges a year after the European Union restricts the use of hazardous substances.
Aug 1st, 2007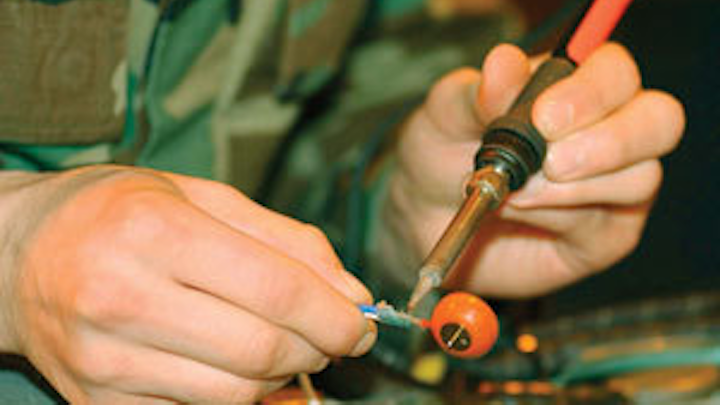 The mil and aerospace industry continues to grapple with lead-free challenges a year after the European Union restricts the use of hazardous substances.
By Courtney E. Howard
More than a year has passed since the European Union (EU) initiated its Restriction of Hazardous Substances (RoHS) in electrical and electronic equipment directive. RoHS continues to be problematic for military and aerospace systems integrators, and the technology companies that serve them.
No suitable replacement for lead-based solder has yet been uncovered. Today's lead-free solders are more likely to crack due to temperature fluctuations, require high melting temperatures that can cause thermal degradation and elevated failure rates in components, and can grow tin whiskers that can lead to short circuits and systems failure-each a severe detriment to mission-critical applications. The increasingly limited availability of leaded parts and materials, an absence of accurate and informative parts labeling, and counterfeit components further complicate matters in the mil-aero market.
"RoHS continues to negatively impact companies, such as Aitech, that serve the defense, aerospace, and space markets by hampering our ability to procure the leaded components our customers and the military markets need to produce reliable electronic subsystems," explains Doug Patterson, vice president of worldwide sales and marketing at Aitech Defense Systems Inc. in Chatsworth, Calif.
On average, Patterson estimates, AiTech engineers are receiving 10 Government-Industry Data Exchange Program (GIDEP) notifications per day from the GIDEP Operations Center in Corona, Calif., that certain leaded parts are on last-time-buy status and will become obsolete due to dwindling supply. Just three months ago, the company received five notices per day.
"Some higher-end integrated-circuit (IC) vendors are offering rare-earth tin alloys in an effort to stem tin-whisker growth," Patterson continues. "Most discrete component vendors are opting to discontinue entire leaded component product lines rather than maintain two processes. In some more notable instances, several of these discrete vendors are converting their fundamental foundry processes to pure tin and not changing the part numbers or informing their customers of the change."
Labeling liabilities
The ramifications of mislabeled and misrepresented electronics components and materials are many and especially costly in military and aerospace applications in production and in the field.
"This hazardous, unknown mix of leaded and pure-tin parts is causing havoc and runaway costs in the post-manufacturing processes of electronic subsystems, with component nonwetting during wave soldering," Patterson says. "Components are literally falling off circuit boards either during qualification testing or in deployment."
Aitech, a supplier of rugged computer systems, is feeling the effects of RoHS legislation. Patterson has seen an increase in unbudgeted capital equipment costs, receiving inspection time more than double, decreased first-time yield and increased rework, an increase in manufacturing lead times, and a move to 100 percent environmental stress screening (ESS) for military-qualified and rugged products.
"The effects, essentially increased costs and lower margins, are more far-reaching than just our company," Patterson says. "These higher costs, coupled with potentially lower reliability, could be a severe detriment to the defense and aerospace markets."
Instituting inspection
In an effort to thwart these problems, engineers at many technology companies are inspecting all incoming chip resistors, capacitors, and other components. In fact, at Aitech, 100 percent incoming inspection is now mandatory on most military-certified products and programs. The cost of doing so, in terms of time and money, can seem significant; yet, inserting incorrect parts in a workflow can be far more costly.
"Not catching the problems before the start of the manufacturing process drives up costs exponentially the further through the build cycle that one 'bad' component travels," Patterson explains. As an example, he cites a large foreign laptop manufacturer that incurred the cost of recalling several months of RoHS-compliant production when more than half its units failed in the field-at first power-up. "The cause? Solder joint failures due to mixed component alloys and improper solder process controls that did not account for mixed-metal technologies."
Military and aerospace applications are among the few remaining that repair, rather than throw away and replace, boxes and circuit cards. As a result, a RoHS-compliant, lead-free facility must deal with leaded and unleaded components and systems. "The prospect of mixed solders, pastes, and leads is revisited, even if your production manufacturing process is something different," warns Bryan Brady, vice president/director of Avnet's defense aerospace business unit in Phoenix. "The industry does not yet have enough data to fully understand the reliability impact of all of these potential variables on boards."
Counterfeit conundrum
"The high-reliability market, which includes military and aerospace, has been hit very hard, and in ways we are not always able to discern," admits Drew Hession-Kunz, vice president of business development for governmental and national accounts at Innov-X Systems Inc. in Woburn, Mass. "The things we do know are: lead-based electronics are getting harder to come by and that is driving up the cost of certain parts. Where there is money to be made, counterfeiters are likely to move in."
Counterfeit parts have become more commonplace, even in just the past six months, notes Patterson. The process of locating these parts drives increased procurement, manufacturing, inspection, and rework costs.
"When leaded parts are no longer available from legitimate sources, OEMs are going to the broker market where much of the excess leaded product has ended up," Brady acknowledges. "Caution is critical here. One must know the source." The ramifications and costs of not doing so can range from removing and repairing systems to products failing in use. "In some applications the ramifications may not be felt for years, as in the case of tin whiskers, and in many applications life and limb are at risk."
The community is more aware of these problems than ever, creating significant demand for screening and verifying parts, says Hession-Kunz. "Most users of electronics, from the component to the system level, are engaging in the 'trust but verify' strategy. Failures can lead to loss of customers, or in critical applications, much worse."
Overcoming obstacles
Increasingly, professionals serving the mission-critical military and aerospace market are dedicated to weeding out unsatisfactory parts such as pure-tin and counterfeit components, and ensuring they do not enter their production or product lines.
"Every company that sells something has a clear responsibility to create products that are what they say they are, and do what they say they do," says Hession-Kunz. "With outsourcing and the purchase of parts from overseas, from brokers, or from sources with limited traceability comes a responsibility on the part of the company to test, to screen, and to put in place a program to catch problems before they get out of hand."
Industry systems integrators, suppliers, and engineers need not test every resistor on a reel, but they should demand and check certificates of compliance or gain other written assurance that the parts are what they claim. Avnet's Brady sees this trend growing already. "We see customers studying the issues and attempting to identify what is in their systems, inventories, bill of materials, and so on."
Hession-Kunz also recommends setting in place a screening program. "Spot-check at incoming, at the point of assembly (before significant value is added), and occasionally at vendors (to alert them that they are being watched)," he suggests. "Screening is a great tool. There is no reason to wonder any more-these instruments fit in a holster, test almost anything in seconds, and can detect problems early in the process."
It's important to realize that even the most diligent cannot catch every error and eliminate all risk. "It can't be done," insists Hession-Kunz. "The market is in flux. Problems will arise, just like the Sun, and just about as often. Do try to get a handle on the risk areas, and work to mitigate them. Weigh the cost and time against the probability of problems. Put in place something simple and your staff will do it; and if it is good, they will catch the bulk of issues long before your customers do, and that is the goal."
"The EU's WEEE/RoHS artfully expedited, yet grossly inadequate, mandate to restrict lead was implemented well before the effects were fully understood and before any suitable replacement substance was identified," Patterson says. "These issues will continue to haunt our industry until a workable and cost-effective substitute is found for lead. Unless the world's governments step in and mandate that tin-lead components be available to the world's military, at least until solid, proven, and reliable alternatives are found, militaries the world over will find electronic subsystems failing at the worst possible times, putting people unnecessarily at risk and in harm's way."
null
---
RoHS and RoHS-like legislation
The RoHS Directive 2002/95/EC of the European Parliament and of the Council, which took effect last year, prohibits the sale of new electronic equipment containing substances considered to be hazardous, including lead, cadmium, mercury, hexavalent chromium, polybrominated biphenyls, and polybrominated diphenylethers in the European Union.
Closely linked with the RoHS directive is the EU Waste Electrical and Electronic Equipment (WEEE; Directive 2002/96/EC) policy, which calls for organizations to take responsibility for recovering and recycling products containing hazardous materials at the end of their useful lives. Much attention is paid to these European directives; yet, RoHS-like, environmental legislation with regard to producing and recycling electronics is a global trend.
U.S. states with regulations modeled after the EU RoHS directive either pending include: California, Colorado, Connecticut, Florida, Hawaii, Illinois, Indiana, Louisiana, Massachusetts, Michigan, Minnesota, Montana, North Carolina, Nebraska, New Hampshire, New Jersey, New Mexico, Nevada, New York, Ohio, Oregon, Rhode Island, South Carolina, Tennessee, Texas, Virginia, Vermont, Washington, and Wisconsin.
Internationally, Japan, a leading producer of electronic components and printed circuit boards, has instituted Green Procurement Practices (referred to as JPSSI) said to be more restrictive than RoHS. The Korea Ministry of Environment is setting restrictions consistent with the EU RoHS, with a compliance date of Jan. 1, 2008. China, Canada, Taiwan, and Australia have similar legislation in effect or pending.
---
Innov-X presents screening solutions during Military Technologies Conference
Attendees of the 2007 Military Technologies Conference in Boston learned to use x-ray fluorescence (XRF) technology to screen components, parts, cables, and printed circuit boards for leaded vs. non-leaded compliance. During the exhibition portion of the event, professionals from Innov-X Systems in Woburn, Mass., demonstrated the company's Alpha Series handheld XRF device.
Since the European Union's Restriction of Hazardous Substances (RoHS) directive came into effect last year, manufacturers of high-reliability systems have had to deal with an increase in counterfeit, mislabeled, unlabeled, and uncertified components. As a result, those responsible for building and maintaining electronics for military, aerospace, and medical use are screening incoming parts.
As many as 30 percent of products certified by suppliers as being RoHS-compliant fail during incoming inspection, says an Innov-X representative. XRF screening methods confirm suppliers' certifications and mitigate risk by identifying problems before they enter into the production process.
Innov-X handheld XRF analyzers provide results for as many as 25 hazardous elements, including lead, in one point-and-shoot test.
The Innov-X Alpha Series device's non-isotope design employs an x-ray tube-based system and an easy-to-read, rear-facing display. The handheld system works with an I-Paq PDA running RoHS-Star software that uses fundamental parameters, spectral matching, and/or empirically generated calibrations to provide the best analytical results for each sample.
Innov-X devices enable electronics screening, solder identification and sorting, and various nondestructive testing applications on solids, liquids, coatings, and powders. They test a wide array of samples, and can be used by non-technical operators. Software upgrades future-proof the unit to thwart obsolescence.
For more information, visit Innov-X Systems online at www.innovxsys.com.