Israeli air force F-15 simulator uses Silicon Graphics visual system
Surveillance Systems officials in Akron, Ohio, are hiring experts of Silicon Graphics Inc. (SGI) in Mountain View, Calif., to develop and install a turnkey visual system solution for the Israeli air force F-15 flight and system trainer
Oct 1st, 2000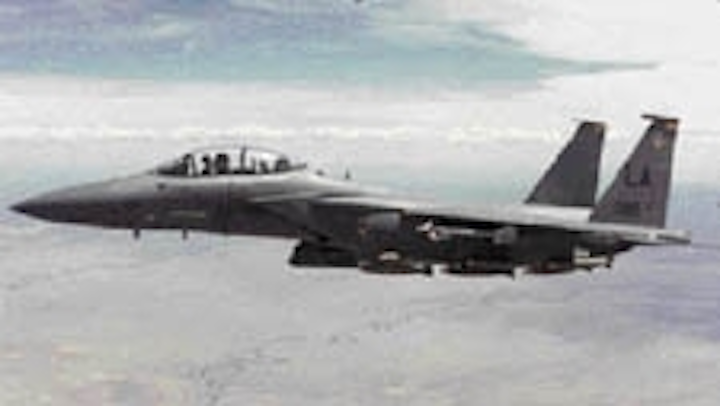 Components
Israeli air force F-15 simulator uses Silicon Graphics visual system
Lockheed Martin Naval Electronics & Surveillance Systems officials in Akron, Ohio, are hiring experts of Silicon Graphics Inc. (SGI) in Mountain View, Calif., to develop and install a turnkey visual system solution for the Israeli air force F-15 flight and system trainer.
"We selected SGI because of its reputation, qualifications, and long-term commitment to this business," says Don Pashke, F-15 FST program director at Lockheed Martin. "Based on our previous experience working with SGI on similar programs in the U.S., SGI has provided a world-class visual system technology and expertise while offering a low-risk and cost-effective solution."
The Israelis will be able to train in real time at "fast jet speeds" with the new F-15 visual system powered by the Silicon Graphics geo-specific and photo-specific virtual environment, company officials say.
They developed this environment using satellite-derived, photographic images of the region where pilots train. Current Israeli simulators support geo-typical databases that do not use photo-realistic imagery of an actual geographic region. The new F-15 simulator is scheduled to be ready for training in March 2001.
Under the contract, Silicon Graphics will be prime contractor for the turnkey visual system. Major partners will be SEOS Displays Ltd. and MultiGen-Paradigm in San Jose, Calif. The system will use the commercial off-the-shelf Silicon Graphics Onyx2 graphics computer with InfiniteReality3 graphics subsystem, MultiGen-Paradigm's Vega runtime software, and the SEOS PRODAS HiView display.
The Israeli Ministry of Defense awarded Lockheed Martin Naval Electronics & Surveillance Systems-Akron a contract to deliver the Flight and System Trainer (FST) for F-15 pilot training.
Lockheed Martin's F-15 FST will include two high-fidelity cockpits — the F-15I and F-15AUP — for training pilots in all aircraft operations. It will include a photo-specific database of Israel and a tactical environment that will be programmable from the instructor-operator station. Accompanying the tactical environment is a synthetic environment that simulates weather to inject even more realism into a mission.
Using the SGI image generator, the F-15 simulator can operate at full combat speeds, often at low altitude, while producing realistic high-resolution images, SGI officials say. — J.M.
For more information on SGI contact Gregory Slabodkin by phone at 301-595-2618, by e-mail at slabodkin@sgi.com, or on the World Wide Web at http://www.sgi.com.
---
Design and development tools
Navy moves Sun's networked appliance aboard Third Fleet flagship
U.S. Navy officials are using Sun Ray 1 enterprise appliances and Sun servers from Sun Microsystems Inc. of Palo Alto, Calif., in the Sea Based Battle Lab (SBBL) aboard the command ship USS Coronado, the flagship of the U.S. Third Fleet.
The Sun Ray system will address space, weight, power, cost, interoperability, and technology refresh issues and will add mobility to SSBL sessions.
The SSBL helps Navy officials evaluate new technology under real shipboard conditions. The Coronado has 27 Sun Ray 1 enterprise appliances onboard to deliver streaming video and audio on a flat panel display.
The Sun Ray and its "Hot Desk" architecture enables naval personnel to access their sessions from anywhere on the ship or within the SBBL with a smart card and the click of a mouse. It offers access to Windows NT and old applications by moving them into a network-based environment.
Unlike desktop computers that require an operating system and applications running locally on the desktop, the Sun Ray systems enable users instant access to the existing Solaris operating environment, Java technology, Windows NT, multimedia applications, and information resources from anywhere on the network. — J.K.
For more information about the Sun Ray enterprise appliance, please visit http://www.sun.com/sunray1/.
---
Test and measurement equipment
Boeing delivers next-generation B-52 test equipment
Engineers from The Boeing Co. delivered the first next-generation Off-Aircraft Pylon Tester (OAPT) for the B-52H jet bomber to the U.S. Air Force at Barksdale Air Force Base, La.
The "all-in-one," Pentium-based, menu-driven OAPT offers off-aircraft B-52H pylon testing, which enhances mission readiness by reducing required aircraft downtime, Boeing officials say. It will help maintenance personnel test the B-52H weapons pylons in about 75 percent less time than they previously required.
Experts from the Boeing Military Aerospace Support business in Wichita, Kan., developed and qualified the OAPT under the Conventional Enhancements Modernization program.
The system can verify the external conventional weapons carriage capability for a wide range of current B-52H weapons, including the GBU-31/32 Joint Direct Attack Munition, the AGM- 154 Joint Standoff Weapon, the Joint Air-to-Surface Standoff Missile, the Wind-Corrected Munitions Dispenser, the AGM-84 Harpoon, and the AGM-142 Have Nap.
It includes designed-in growth to include the entire B-52H weapon system, including the cruise missile pylon and the Common Strategic Rotary Launcher.
Boeing is producing 10 OAPT units, which will go to Barksdale Air Force Base, Minot Air Force Base, N.D.; and Edwards Air Force Base, Calif., over the next 10 months. — J.K.
For more information contact Boeing on the World Wide Web at http://www.boeing.com/.