Navy places order with Kratos for another 34 unmanned target drones to train against enemy cruise missiles
Kratos will build another 34 unmanned high-performance BQM-177A target drones to train aircraft and surface warship crews against enemy cruise missiles.
May 29th, 2019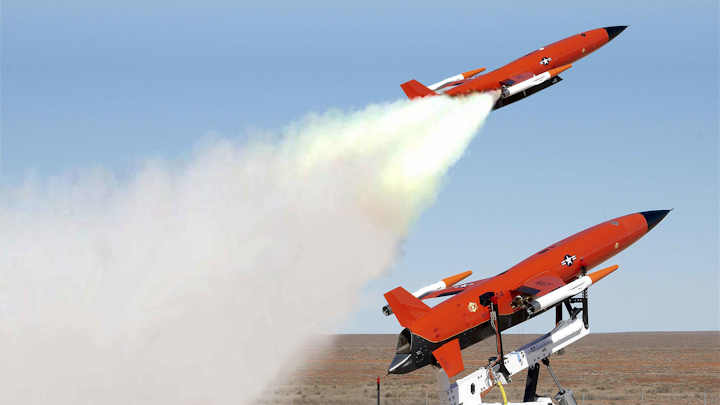 PATUXENT RIVER NAS, Md. – High-performance target drones experts at Kratos Defense & Security Solutions Inc. are continuing with low-rate initial production of a new subsonic aerial target designed to help Navy aircraft and surface warship crews learn to defeat enemy cruise missiles.
Officials of the U.S. Naval Air Systems Command at Patuxent River Naval Air Station, Md., announced a $25.4 million order Tuesday to the Kratos Unmanned Systems Division in Sacramento, Calif. (formerly Composite Engineering Inc.), for low-rate initial production (LRIP) of 34 lot 3 BQM-177A subsonic aerial targets.
The BQM-177A is the Navy's next-generation subsonic aerial target (SSAT), which is designed to mimic the behaviors and radar cross sections of dynamic, high-subsonic, sea-skimming anti-ship cruise missiles to help naval personnel practice air-to-air engagements.
In November 2016 Kratos Unmanned Systems officials announced they had achieved the final development program milestone for the BQM-177A target drone leading up to low-rate initial production. Last June Kratos began LRIP on the BQM-177A with a Navy order for 45 of the high-performance target drones.
The BQM-177A unmanned aerial vehicle (UAV) program is designed to meet the U.S. Navy's requirements for a new high fidelity target to replicate subsonic anti-cruise missile threats in direct support of fleet training and weapon system testing and evaluation.
Related: Northrop Grumman to build 15 GQM-163A Coyote supersonic sea skimming target drones for missile defense
Capable of speeds in excess of 0.95 Mach and a sea-skimming altitude as low as 10 feet above the surface of the water, the BQM-177A carries internal and external payloads including proximity scoring, identification friend or foe (IFF), passive and active RF augmentation, electronic countermeasures, infrared plume pods, chaff and flare dispensers, and towed targets.
The BQM-177A is based on the Kratos BQM-167X aircraft, a derivative of the U.S. Air Force BQM-167A Skeeter target. The BQM-177A introduces a new fuselage with area ruling, high-mounted wings, and an internally integrated MicroTurbo TR-60-5+ turbo jet engine for reduced transonic drag.
The BQM-177A will augment and later replace existing BQM-74E aerial targets, and will deliver longer range, lower cruise altitudes, and greater maneuverability than previous-generation target drones.
The BQM-177A is 17 feet long, has a 7 -foot wingspan, and weighs 620 pounds with fuel or payloads. It can fly at altitudes as low as 6.6 feet above the ground or water, and as high as 40,000 feet above sea level.
On this contract Kratos will do the work Sacramento, Calif., and should be finished by March 2021. For more information contact Kratos Unmanned Systems online at www.kratosusd.com, or Naval Air Systems Command at www.navair.navy.mil.