Northrop Grumman to integrate weapons and sensors payload delivery system for large unmanned submarines
System could enable large unmanned submarines to deploy sensors, weapons, or other unmanned underwater vehicles (UUVs) and small unmanned aircraft.
Jun 19th, 2019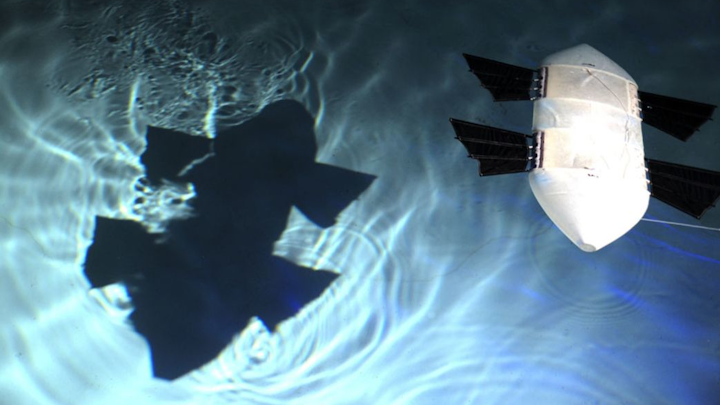 Navy photo
ARLINGTON, Va. – Undersea warfare experts at Northrop Grumman Corp. will build and test an advanced undersea payload delivery system for future extra-large unmanned underwater vehicles (XLUUVs) under terms of a $9.9 million order announced Tuesday.
Officials of the U.S. Defense Advanced Research Projects Agency (DARPA) in Arlington, Va., are asking the Northrop Grumman Mission Systems segment in Linthicum Heights, Md., for the second phase of the Hunter program to develop a payload-delivery system for a large UUV. The Hunter program involves only the payload delivery system and not the extra-large UUV itself.
DARPA Hunter for unmanned submarines payloads is a 45-month program in three phases: the first to design and build the payload delivery device to fit inside a government-provided payload module; and the second and third phases to support integration of the payload delivery device into the big UUV for testing. Technical details of the Hunter program are classified.
Northrop Grumman won a $5.8 million Hunter phase-one contract in December 2017. Northrop Grumman is integrating the XLUUV payload delivery system for persistent-surveillance sensors, weapons, or other unmanned underwater vehicles (UUVs) and unmanned aerial vehicles (UAVs).
Related: DARPA asks industry for large unmanned undersea vehicle advanced payload delivery system
The Boeing Co. Defense, Space & Security segment in Huntington Beach, Calif., won a $43 million order last February from U.S. Naval Sea Systems Command in Washington to build four Orca XLUUVs that could undertake long-endurance missions to deploy sensors or other UUVs.
Extra-large UUVs and their weapons and sensors typically are autonomous mini-submarines that measure about seven feet in diameter -- sometimes larger. They are designed for launch from shore, from large military ships with well decks, or from large civil vessels with moon pools.
Now Northrop Grumman will integrate Hunter payload-delivery systems for large unmanned submarines like the Boeing Orca.
One of the U.S. military research projects that have led to the Boeing Orca XLUUV and the Northrop Grumman Hunter XLUUV payload-delivery system has been the Large Displacement Unmanned Undersea Vehicle (LDUUV) of the U.S. Office of Naval Research (ONR) in Arlington, Va.
Related: Navy asks Boeing to build four long-endurance extra-large UUVs for long-range surveillance missions
Several companies were involved in the LDUUV program, including Metron Inc. in Reston, Va., for machine intelligence; UUV designer Hydroid Inc. in Pocasset, Mass., for an autonomy testing system; and power and propulsion specialists Fuelcell Energy Inc. in Danbury, Conn.; Sierra Lobo Inc. in Fremont, Ohio; the Hamilton Sundstrand Corp. Sea Systems segment in Windsor Locks, Conn.; General Atomics in San Diego; Lynntech Inc. in College Station, Texas; and NexTech Materials Ltd. in Lewis Center, Ohio.
On the Hunter integration contract Northrop Grumman will do the work in Linthicum Heights, Md.; Reston, Va.; and Cambridge, Mass., and should be finished by May 2020.
For more information contact Northrop Grumman Mission Systems online at www.northropgrumman.com, Boeing Defense, Space & Security at www.boeing.com, or DARPA at www.darpa.mil.