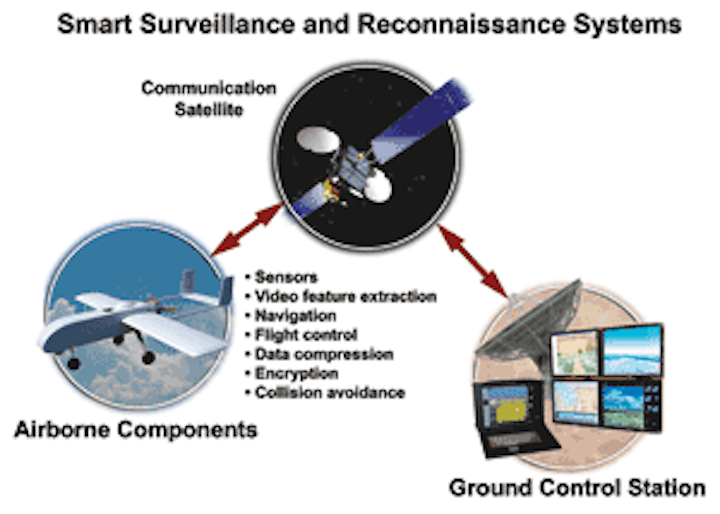 Mercury offers integrated UAV-based reconnaissance system
The VistaNav-SSR integrated unmanned aircraft system from Mercury Computer Systems in Chelmsford, Mass., is composed of a ground station, integrated VistaNav synthetic vision system, a small unmanned aerial vehicle (UAV), and various electronic sensor systems. Designed to improve operational mission capabilities for airborne intelligence applications such as oil and gas pipeline monitoring and forest fire detection, VistaNav-SSR (Smart Surveillance & Reconnaissance) is extending the benefits of 3-D situational awareness to small unmanned aircraft systems. The VistaNav-SSR system enables customers to perform missions while minimizing human error and human fatalities in hazardous applications. The capabilities of small, low-power unmanned aerial systems are growing in popularity for a broad mix of airborne surveillance applications. VistaNav-SSR includes Mercury's ACIP technology that allows plug-and-play integration of payload sensors, avionics, and data-link subsystems into small, light, and low-power UAVs. Because of integration and miniaturization, ACIP enables integration of functions such as video stabilization, compression, metadata generation, collision avoidance, and flight management, as well as anomaly detection, in a flexible configuration package. The VistaNav-SSR is based on the Vector-LRE airframe from IntelliTech Microsystems Inc. in Bowie, Md. As a tactical-class UAV, the Vector-LRE provides a payload-to-weight ratio that allows the integration of multiple payload, navigation, collision-avoidance, and communication subsystems onboard. For more information contact Mercury online at www.mc.com.
Statek crystal oscillators for unmanned vehicles
Statek Corp. in Orange, Calif., is offering two series of oscillators for use in unmanned vehicle applications. The first, the CXOM series of oscillators, is available in voltages from 1.8 volts to 5.0 volts and frequencies from 300 kHz to 120 MHz, as well as 32.768 kHz. This oscillator is available in a high-shock version, which is for use in airborne applications such as unmanned vehicles, in which a high level of shock and vibration can be encountered due to environmental conditions. The second, the CXOX series of oscillators, is available in voltages from 1.8 volts to 5.0 volts and frequencies from 1 MHz to 160 MHz. With its ultraminiature 3.2 by 2.5 by 1.0 millimeter size, this oscillator meets the small space requirements called for in some systems and equipment used in unmanned vehicles. For more information contact Statek online at www.statek.com.
Power-amplifier module from Merrimac Industries drives UAV communications links
Communications and networking between unmanned ground vehicles (UGVs) and unmanned aerial vehicles (UAVs) and control bases require a broadband transmitter capable of supporting secure, error-free video and data links. In support of these ruggedized transmitters, Merrimac Industries Inc. in West Caldwell, N.J. is offering a customizable power-amplifier module (PAM) based on the company's Multi-Mix multilayer circuit technology. In contrast to traveling-wave-tube (TWT) power modules, the Multi-Mix PAM offers superior MTTF performance and the capability of maintaining reliable communications in high-vibration UAV/UGV environments, company officials say. The Multi-Mix PAM can be specified for operating bandwidths in excess of 40 GHz for wideband links and at power-output levels in excess of 100 watts. For small footprints, the customizable module is based on several circuit layers joined by a fusion-bonding process. In this manner, the circuit layers are joined with weld-like strength; the circuitry is in turn bonded to a bottom metal layer for effective heat dissipation. Because these circuit layers exhibit good thermal conductivity, modules can be fabricated with embedded transistor die, rather than packaged devices, for compact UAV and UGV transmit amplifiers. The Multi-Mix PAM can be built with a customer's preferred high-power device technology, including gallium arsenide (GaAs), gallium nitride (GaN), and silicon carbide (SiC) transistors. For higher levels of integration, the Multi-Mix PAM technology also supports additional building-block functions, such as filters, mixers, and power combiners, on the same substrates as the amplifier circuitry. For more information contact Merrimac Industries online at www.merrimacind.com.
Phoenix International offers solid-state VME disk for unmanned-vehicle applications
The Ultra 320 SCSI solid-state Flash disk from Phoenix International in Orange, Calif., works in challenging unmanned-vehicle environments where high altitude, extreme temperatures, shock, vibration, rapid changes in air pressure (explosive decompression), fast sanitization of classified data, and electromagnetic radiation are factors, with 320-megabyte-per-second speed. The VL1-350-SC-SSD model is backward-compatible with existing systems including SCSI-2 and SCSI-3 interfaces. It eliminates seek time, latency, and other electromechanical delays inherent in conventional disk drives. The product also features 320-megabyte-per-second burst read/write rate as well as 50-megabyte-per-second sustained read/writes rates. The Ultra 320SCSI solid-state disk VME module offers an unformatted storage capacity to 128 gigabytes; conduction and convection cooling; burst read/write transfer rate to 320 megabits per second, sustained to 50 megabits per second; access time of less than 0.02 milliseconds; operating altitude to 80,000 feet; shock, operating, and nonoperating: half sine, 1500G, 0.5 milliseconds per MIL-STD-810F; vibration, operating and nonoperating: 16.3 RMS per MIL-STD-810F; operating temperatures to -40 to 85 degrees Celsius; more than 5 million write/erase cycles; fast security erase and sanitize in 10 seconds (typical, capacity-dependent); and available conformal coating. For more information contact Phoenix International online at www.phenxint.com.
High-performance VME RF tuner for unmanned vehicles
Tyco Electronics M/A-COM SIGINT Products in Hunt Valley, Md., is offering a high-performance, lightweight M/A-COM SIGINT microwave tuner, the TU-6401, that covers a frequency range from 0.5 to 18 GHz. The RF downconverter used with the direct digital synthesizer uncouples tuning speed from phase noise creating the fastest and highest performance tuner on the market. These features are implemented into a two-slot 6U VME package weighing less than seven pounds. The TU-6401 provides simultaneous narrowband and wideband IF outputs centered at 160 MHz (100 MHz bandwidth and 1 GHz (500 MHz bandwidth), respectively. The 160 MHz IF is also used to develop a log video output. The IF and log video outputs are suitable for direct input into an external A/D converter for special signal processing, spectral analysis and pulse parameterization. The tuner is also designed for single- and multichannel (frequency and amplitude coherent) systems. A self-contained LO distribution system allows the TU-6401 to be used for beam forming and DF systems, as well as for a wide range of other ELINT and EW applications. The on-board FPGA's allowing for custom operating parameters that can be tailored to mission requirements. Options include RF blanking, low-end frequency coverage to 100 MHz and an 18 to 40 GHz frequency extension through a 2.4 mm connector. For more information contact Tyco SIGINT online at www.macom.com/sigint.
GE Fanuc offers video tracker and image processor for unmanned applications
GE Fanuc Embedded Systems in Charlottesville, Va., is offering the AIM12 video tracker and image processor to enable unmanned vehicles to see and adapt to changing operating conditions. Designed for deployment in vehicles where space and weight are constrained, and where low power consumption and low heat dissipation are prerequisites, the primarily software-based AIM12 is capable of several tracking modes. Preprocessors using advanced image-processing algorithms are followed by tracking algorithms, which include centroid, correlation, edge, multiple target track, phase correlation, combined, and SceneLock. The AIM12 can also provide real-time electronic video stabilization using the SceneLock algorithm. Designed to operate as a stand-alone unit, the AIM12's modes and functions can be controlled via the on-board RS232/422 serial links. Video tracking features include multiple algorithm capability including multiple target detection and multiple object track; intelligent breaklock and reacquisition algorithms; high clutter rejection using statistical target-enhancement preprocessors; programmable two-axis platform drive (PID) filters; and symbology overlay of track window, and boresight. Designed using a hardware architecture similar to the ADEPT family of military image processing boards, the AIM12 is unique in offering an extended environmental capability, including -40 to 70 degrees Celsius operational temperature range. For more information contact GE Fanuc Embedded Systems online at www.gefanucembedded.com.
Stealth computer offers rugged PC the size of a hardcover novel
Stealth Computer Corp. in Toronto has released a Core 2 Duo mini PC small enough to fit in the palm of the hand. The Stealth Model LPC-450 delivers as much as five times the performance of its predecessor and is housed in the same small rugged chassis design. The Stealth LPC-450 Little PC uses Intel's latest Core 2 Duo processor techno inches-or about the size of a hardcover novel. It surpasses the performance of most desktop and notebook PCs available today, company officials say. The LPC-450 mini PC features built-in I/O connectivity such as gigabit LAN, serial, 3-USB 2.0, Firewire, video, audio, PS/2 mouse, and keyboard ports. The LPC-450 has a built-in 2.5-inch high-shock hard drive with as much as 160 gigabytes of storage space for archived data. For applications that require extra high shock, vibration, and wide temperature ranges, an optional solid-state hard drive or Flash drive is available. A slim DVD/CD-RW optical drive comes standard with an optional DVD burner available. Systems are compatible with Microsoft Vista/XP, Linux etc and can be custom configured to meet the exact needs of the OEM or end user. For more information contact Stealth Computer online at www.stealthcomputer.com.
Aitech unveils dual-processor single-board computer for UAV applications
Aitech Defense Systems in Chatsworth, Calif., is offering a 6U VME 64x single-board computer with a large quantity of semiconductor Flash-based mass memory coupled with a dual PowerPC with low power consumption, memory, and I/O density for unmanned aerial vehicle (UAV) applications. The combined C102 SBC processor and M222 Flash memory PMC help solve raw processing power and data throughput problems as well as provide lower power dissipation and large mission data mass storage. Based on Freescale's 7448 RISC microprocessors, the boards are for processing sensor and video feeds, as well as to control engines and maneuvering actuators. The embedded computers have enough memory to locally and reliably store mission-critical variables, processed and compressed mission sensor data, tactical-area moving maps, and mission histories. The subsystem also incorporates internal PCI bus isolation as well as independent and innovative bus distribution techniques. The C102 use an asymmetrical distributed processing memory architecture; each of the processing nodes functions as a self-contained subsystem complete with local memory resources and basic I/O interfaces, eliminating instruction and data memory bottlenecks. The C102/M222 combination is available in commercial temp range air- and rugged or military conduction-cooled models, with operation from -55 to 85 degrees Celsius per IEEE 1101.2 and ANSI/VITA 1-1994 specifications. For more information contact Aitech online at www.rugged.com.
Miniaturized thermal IR technology enhances tactical UAV capabilities
Cedip Infrared Systems in Croissy-Beaubourg, France, will begin delivering miniaturized thermal infrared cameras this year to the European Aeronautic Defense and Space Company (EADS) N.V., for incorporation into its Tracker unmanned aerial vehicle (UAV). The design of the Tracker UAV system (known in France under the name DRAC) is expected to significantly improve reconnaissance capabilities for civil and military authorities. The user-friendly system, which can be prepared for operation in a matter of minutes, operates under extreme operational conditions. Tracker is a tactical drone with hand-launchability for missions at close range. The system meets the highest performance requirements even under complex operational conditions. The Tracker UAV system, developed by EADS, delivers state-of-the-art over-the-hill reconnaissance and surveillance, close-range attack success analysis, and remote location, identification, classification, and tracking of targets. Each system comprises two airborne vehicles, TV-operated from the ground, one of them carrying a novel miniaturized thermal IR camera developed by Cedip. For more information contact Cedip Infrared online at www.cedip-infrared.com.
Microphase offers miniature directional couplers for monitoring RF energy
Microphase Corp. in Norwalk, Conn., is offering miniature three-port directional RF couplers to monitor incident or reflected power within a small package design. The Directional RF couplers offer solid performance over a frequency range of 10 MHz to 3 GHz with a coupling value of 14.2 ± 0.75 dB. The Microphase couplers come in a lightweight aluminum package and can be manufactured in a variety of configurations. Microphase will custom design filters, solid-state switches, switch filters, multiplexers, limiters, detectors, or detector log video amplifiers. Those interested should contact Microphase with their requirements. For more information contact Microphase online at www.Microphase.com.
DRS offers uncooled thermal-imaging cameras for unmanned vehicles
The DRS Sensors & Targeting Systems Inc. Infrared Technologies division in Dallas is offering uncooled-microbolometer-based thermal-imaging camera engines for OEM integration on unmanned vehicles. These engines include a detector, system electronics, housing, and availability with or without a lens. Camera engines from DRS are fielded in a variety of commercial and military systems around the world. The DRS E3500S split electronics configuration camera engine packs plenty of performance in a very compact and flexible interface design. Its low-power requirement and performance includes the DRS 320-by-240-pixel 25-micron-pixel uncooled VOx microbolometer detector. The E3500S employs user programmable DSP technology, providing unsurpassed integrator flexibility and customization. The DRS E6000 is a new camera engine addition to the DRS infrared camera-engine family that brings unsurpassed thermal-imaging performance using the DRS 25-micron pixel pitch 640-by-480-pixel VOx microbolometer detector. The DRS E6000 offers user-programmable DSP technology, rugged housing, sensitivity, and low power requirements. DRS also manufactures a module version of the E6000 camera engine called the M6000 with a detector, system electronics, and with or without a shutter. It weighs less than 5.8 ounces and operates on less three watts of nominal power. For more information contact DRS online at www.drsinfrared.com.
DRS offers inexpensive surveillance system for unmanned vehicles
DRS Optronics in Palm Bay, Fla., is offering the GS207 low-cost surveillance system for unmanned vehicles. It incorporates an advanced infrared camera with a high-performance low-light-level CCD TV. The 7-inch, 15-pound gimbal is two-axis gyroscopically stabilized and is for platforms requiring a lightweight visible and infrared imaging capability. It is environmentally ruggedized, and features a continuous 360-degree azimuth field of regard. Additionally, other sensors, such as eye-safe laser range finders, can be substituted into the gimbal assembly for greater mission flexibility. An internally integrated tracker is also available as an option. At the heart of the GS207 system is a DRS low-power uncooled infrared (LPUIR) sensor. This 640-by-480-pixel vanadium oxide focal plane does not require a complicated, integrated dewar cooler assembly. This enables DRS to package a reliable infrared sensor in a ruggedized turret. The GS207's small size and light weight enable it to be mounted, either upright or inverted, on almost any surveillance platform. The GS207, currently fielded on the U.S. Navy's Neptune UAV, is for security applications, search and rescue, perimeter surveillance and target identification. For more information, contact DRS online at www.drs.com.
L-3 Link offers Predator UAV Mission Aircrew Training System
L-3 Link Simulation & Training in Arlington, Texas, is offering the Predator Mission Aircrew Training System (PMATS), which consists of a form, fit, and function user interface for the pilot and sensor operator stations that uses ground-control-station hardware from General Atomics. Link has integrated this hardware with training-system software to develop a high-fidelity training system. PMATS models all Predator MQ-1 systems, sensors, and weapons (in the future PMATS will support training on the MQ-9 Predator B aircraft). Environmental simulations support both initial qualification and mission training, including emergency and abnormal-procedures training. PMATS is integrated with instructional systems including an Instructor Operator Station, which supports brief and debrief capabilities. To support collective training exercises, multiple PMATS units can be linked over both local and long-haul networks for Distributed Mission Operations (DMO). For students training within a PMATS, the level of realism between simulated exercises and real-world operations is transparent. Use of Predator OEM-production pilot and sensor operator-station hardware helps ensure training exercises have a realistic look and feel. Further enhancing realism, Link has developed a PMATS training environment that accurately simulates real-world conditions that Predator aircrews experience. This training environment, which operates within a high-fidelity database, simulates challenging conditions including variations in thermals, slope winds, wind shear, visibility, icing, and runway conditions. For more information contact L-3 Link online at www.link.com.
L-3 offers mobile video management and exploitation system for use with unmanned vehicles
The L-3 Communications Advanced Products & Design segment in San Diego is offering the VideoScout-MC mobile video exploitation and management system with an integrated receiver designed to easily capture and leverage real-time video and metadata from manned or unmanned surveillance and reconnaissance assets. The VideoScout-MC is a self-contained, portable laptop capable of receiving video and metadata directly from L-, S-, or C-band-based intelligence, surveillance, and reconnaissance (ISR) systems, and enables users to view incoming video, as well as archive, annotate, geo-reference, and disseminate relevant, actionable video to others across the battle space. Accessible from within VideoScout-MC, warfighters can synchronize metadata and video with FalconView maps to create geo-location smart video. Video and metadata can be paused, zoomed, annotated and recorded in real-time to improve situational awareness. Video and metadata are also stored and indexed automatically for subsequent search and retrieval. By highlighting a specific area on a map, VideoScout enables mobile and forward personnel to quickly identify locations of interest and automatically find and display all instances of video for the requested locations. Corresponding latitude/longitude, date/time, and annotations are also displayed, providing geo-referenced video and map information in a single screen format. VideoScout's flexibility, portability, and interoperability accommodate other third-party applications, providing field personnel with the ability to use VideoScout as a remote video exploitation terminal. VideoScout-MC includes video exploitation and management software in a rugged, mobile laptop computer integrated with an L/S or L/C band receiver, antenna, and cables. For more information contact L-3 Advanced Products online at www.L-3Com.com/apd.