EUROPEAN BRIEFS
Sep 1st, 2007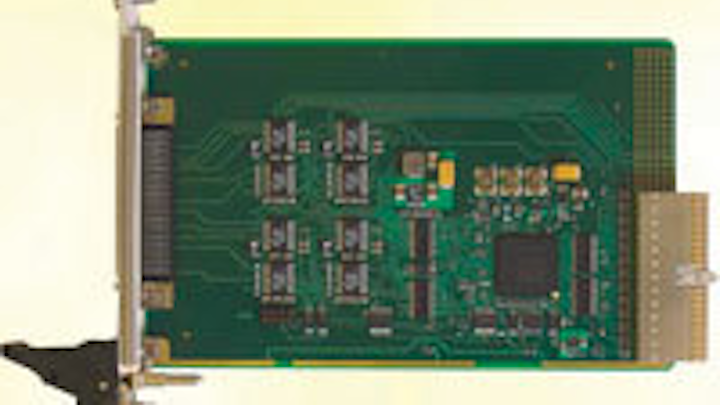 TEWS Technologies offers FPGA-based 3U CompactPCI quad serial communications controller
TEWS Technologies in Halstenbek, Germany, is a synchronous/asynchronous serial 3U CompactPCI Module, the TCP863, for data communications, LAN/WAN networking, military communications, traffic control, simulation, and telecommunications applications. The device is the successor of the discontinued TCP862, and provides similar functionality as well as full connector and pin-out compatibility with the discontinued part. The serial communication controller is in field-programmable gate array (FPGA) logic, combined with the bus master-capable PCI interface. The TCP863 is a standard 3U 32-bit CompactPCI module that has four fast communication channels, programmable for several serial communication protocols, such as asynchronous, isochronous, synchronous, and HDLC mode. In addition, a maximum data rate of 10 megabits per second provides synchronous protocols and 2 megabits per second provides asynchronous protocols. Multiprotocol transceivers are the line interface. The physical interface of each channel can be software selected for EIA-232, EIA-422, EIA-449, EIA-530, EIA-530A, V.35, V.36, or X.21. For more information contact TEWS Technologies online at www.tews.com.
United Kingdom Ministry of Defence selects Raytheon MicroLight radio for Army's FIST program trials
Raytheon Company's MicroLight radio has been selected by the Thales Prime Contracting Management Office, acting on behalf of the United Kingdom Ministry of Defence, as the core communications system for the operational effectiveness trials in the assessment phase of the United Kingdom's Future Integrated Soldier Technology, or FIST, program. FIST is a tri-service program to enhance the combat effectiveness of infantry teams in the 21st century. MicroLight is a family of wideband, software-defined radios that provide voice, data, video, situational awareness, and tracking information. Raytheon is partnering on FIST with Cobham Defence Communications in Wimborne, England. Cobham is providing the battle management system.
Lambda offers 12-volt hot-swap front-end for distributed power
Lambda in Ilfracombe, England, is introducing a new version of the FPS1000 front-end power supply with a nominal output voltage of 12 volts for driving non-isolated point of load DC-DC converters directly in systems with a distributed power architecture without the need for intermediate bus conversion. The model has found favor with manufacturers of non-telecommunications equipment that do not require a 48-volt bus, yet wish to move to a distributed power system. The FPS1000-12 has integrated O-ring MOSFETs and is capable of being hot swapped, and so is suitable for those requiring N+1 redundancy. With opto-isolated signals-such as DC OK, AC, Fail, and over-temperature warning-FPS models offer system monitoring. Remote on-off switching is supported, as is remote voltage sensing to compensate for voltage drop in cables that connect the supply to the load. For more, contact Lambda online at www.lambda-europe.com.