Aided by Electronics
Military forces benefit from lifesaving electronic warfare and signals intelligence technologies.
Oct 1st, 2007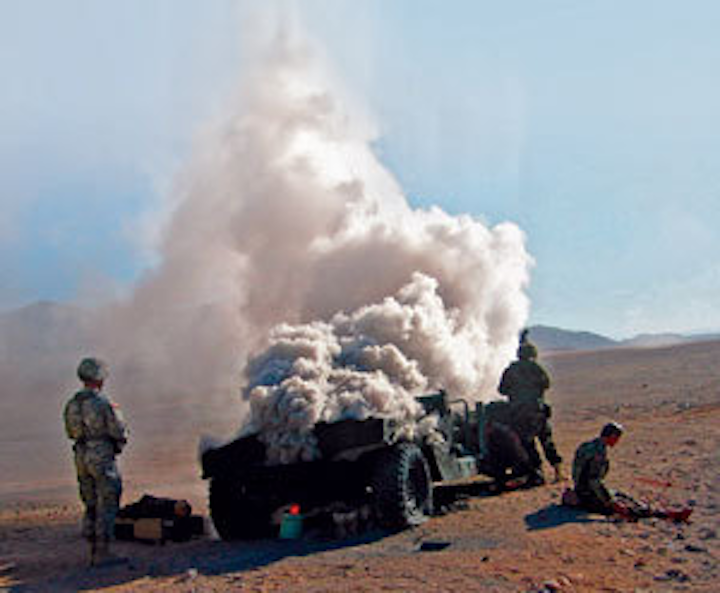 Military forces benefit from lifesaving electronic warfare and signals intelligence technologies.
By Courtney E. Howard
It is a busy time for technology companies and defense organizations in the electronic warfare and signals intelligence industry. Designers feel a sense of urgency to put the most effective technology tools in the hands of warfighters as soon as humanly possible. Engineers and systems integrators are working to provide technologies capable of protecting soldiers-in the air and on the ground-from enemy ballistic and radar-guided missiles, as well as improvised explosive devices (IEDs).
"Improvised explosive devices are the most persistent weapon used against coalition forces, producing a total of 60 percent of our casualty rate," says U.S. Army Brig. Gen. Perry Wiggins, the deputy director for regional operations within the Operations Directorate on the Joint Staff. The United States Department of Defense (DOD) estimates that IEDs are responsible for roughly half the casualties sustained in Iraq and nearly 30 percent in Afghanistan since the start of combat operations, according to Congressional Research Service Report for Congress (RS22330). It is little wonder that defeating IEDs is a top priority of the DOD and its technology partners.
When officials at U.S. Central Command at MacDill Air Force Base, Fla., and the Joint IED Defeat Organization (JIEDDO), seeking support for warfighters engaged in Iraq, issued an urgent need statement for electronic warfare solutions, team members at the Counter Radio-Control Improvised Explosive Device Electronic Warfare (Counter RCIED Electronic Warfare or CREW) Program Office immediately responded.
CREW team members, after securing $19 million during the final month of the fiscal year, delivered 200 vehicle-mounted electronic jamming systems to prevent the enemy's initiation of radio-controlled improvised explosive devices (RCIEDs)-a feat for which they received letters of commendation from Donald C. Winter, Secretary of the Navy and the Department of Defense executive agent for military ground-based CREW technology.
The 200 electronic jamming systems have been delivered to theater for use on military vehicles, but a need still exists for additional countermeasures. This need prompted officers at the Naval Sea Systems Command (NAVSEA) in Washington to contract EDO Communications and Countermeasures Systems in New York to produce more vehicle-mounted jamming systems to counter RCIEDs. The Navy manages the joint CREW program for the Office of the Secretary of Defense's JIEDDO, which leads the effort against the IED threat to U.S. and coalition forces.
NAVSEA personnel, in a $209.8 million modification to a previous contract with EDO Communications & Countermeasures Systems, have exercised options for the production and support of 3,000 vehicle-mounted counter radio-controlled improvised explosive device electronic warfare systems to meet urgent DOD requirements in support of Operation Iraqi Freedom and Operation Enduring Freedom.
The company's Spiral 2.1 CREW, also called CREW 2.1, systems are vehicle-mounted electronic jammers designed to prevent the initiation of RCIEDs. The electronic jammers can be programmed to address different threats.
Work on the contract award will be performed in Thousand Oaks, Calif., and Lancaster, Calif., and is expected to be completed by August 2008.
EDO Corp. executives subsequently turned to Industrial Electronic Engineers Inc. (IEE) in Van Nuys, Calif., to provide more than 4,100 remote-control units for its CREW 2.1 system. IEE's device, variations of which have been used in military systems for more than two decades, is now a part of the EDO system, which will counter one of the biggest threats facing troops in the field, Steven White, vice president and general manager of IEE, explains.
IEE will deliver its commercial-off-the-shelf (COTS) control display units to EDO through the end of the year.
Counter-IED development
Navy personnel, as well as that of the U.S. Marine Corps, also have elicited the help of engineers at Ionatron Inc. in Tucson, Ariz., to thwart IEDs. Officials at the Naval Surface Warfare Center in Crane, Ind., have awarded Ionatron a $1 million contract award for development activities relating to counter-IED technology.
The contract funds engineering development and verification testing of the Dual Effect Standoff IED Neutralization System (DESINS), designed to neutralize IEDs. Ionatron engineers will adapt the company's proprietary IED neutralization technologies to support and protect Marines in the field, as well as continue work with JIEDDO to develop innovative and versatile energetics technologies to counter the challenging threat of roadside bombs and other IEDs, Dana Marshall, Ionatron's president and chief executive officer, states.
Garnering as much attention as IEDs are directed-energy weapons and laser-based systems designed to counter threats to warfighters in the field. Making significant progress of late is the Airborne Laser (ABL), a weapon system that uses a high-energy, chemical oxygen iodine laser mounted on a modified aircraft to shoot down theater ballistic missiles.
The U.S. Missile Defense Agency's ABL team, including engineers and executives from Boeing Integrated Defense Systems, a unit of The Boeing Company in St. Louis, and Lockheed Martin of Bethesda, Md., demonstrated in flight tests that the ABL's battle-management and beam- and fire-control systems can intercept a ballistic missile.
In tests that ended Aug. 23 at Edwards Air Force Base, Calif., a modified Boeing 747-400F aircraft used infrared sensors to find an instrumented target board on a U.S. Air Force NC-135E "Big Crow" test aircraft. ABL's battle-management system, developed by Boeing, issued engagement and target location instructions to the Lockheed Martin-designed beam-control/fire-control system.
The Lockheed Martin-built control system acquired the target and fired two solid-state illuminator lasers to continually track the target and actively measure and compensate for atmospheric conditions, such as turbulence. A low-power surrogate laser took the place of the high-energy laser, which is not yet installed on the aircraft, to simulate a target engagement during the tests.
"The key functions of the beam-control/fire-control system now have been verified in the rigorous environment of flight," Art Napolitano, ABL program director, Lockheed Martin Space Systems Company, explains. "This accomplishment is a testament to the government-industry partnership on ABL and brings this revolutionary capability one step closer to reality."
Industry firsts
The ABL beam-control/fire-control system accomplished several milestones during tests at Edwards this year. The first open-air lasing in flight occurred with the firing of the Raytheon-developed Track Illuminator Laser, which fired multiple times to engage a simulated target on a Big Crow aircraft and calculated the range to the target. The first in-flight firing of the Northrop Grumman-developed Beacon Illuminator Laser illuminated the simulated target, supplying the signal used to measure atmospheric distortion. At the same time, a deformable mirror made compensating corrections to the surrogate laser to maintain maximum energy on the target. Lastly, the first in-flight engagement sequence involved firing both illuminator lasers and controlling a surrogate high-energy laser in a simulated target engagement.
"These tests demonstrate that ABL can engage a threat missile with its battle-management and beam-control/fire-control systems," Pat Shanahan, vice president and general manager of Boeing Missile Defense Systems, says. "We are now ready to install the high-energy laser in the aircraft to prepare for the first intercept test against an in-flight ballistic missile."
The ABL team plans to install the Northrop Grumman-built high-energy laser in the aircraft, after which it will conduct system-level ground and flight tests. An intercept test against an in-flight ballistic missile is anticipated in 2009.
ABL is designed to destroy virtually all classes of ballistic missiles at the speed of light and during their boost phase-while they are accelerating in the Earth's atmosphere, and before they can deploy their warheads. ABL's capabilities-including its speed, precision, and potential lethality-make it suitable for other missions, such as combating air-to-air, cruise, and surface-to-air missiles.
Boeing, as the prime contractor and overall systems integrator, developed the modified aircraft and the battle-management system. Northrop Grumman supplied the high-energy laser and beacon illuminator laser, whereas Lockheed Martin provided the nose-mounted turret and beam-control/fire-control system. The ABL program is managed by the Missile Defense Agency, and executed by the U.S. Air Force from Kirtland Air Force Base, N.M.
Custom signals intelligence
Another rapidly maturing technology in the signals intelligence and electronic warfare industry segment is the Adaptive Joint C4ISR (Command, Control, Communications, Computer, Intelligence, Surveillance, and Reconnaissance) Node.
Five years of work came to fruition this past summer, when BAE Systems in Nashua, N.H., participated in a U.S. government evaluation of its Adaptive Joint C4ISR Node (AJCN) Advanced Concept Technology Demonstration (ACTD) program at the China Lake Naval Air Warfare Center Weapons Division (NAWCWD) in Ridgecrest, Calif.
"The evaluation was part of an experiment sponsored by the National Geospational-Intelligence Agency, Joint Chiefs of Staff, and U.S. Joint Forces Command called Empire Challenge 2007," says Don Petersen, BAE Systems ACJN program director.
During Empire Challenge 2007, says Petersen, "three AJCN payloads were deployed on air and ground vehicles to demonstrate and evaluate communications bridging and relay, intelligence gathering techniques, electronic warfare, information operations, and joint and coalition warfighting operational concepts and procedures."
"AJCN demonstrated significant military utility," notes Larry Rhodes, the ACTD operational manager from U.S. Joint Forces Command (USJFCOM) in Norfolk, Va. "Multimission payloads are the future for all Department of Defense Command and Control, Intelligence, Surveillance, and Reconnaissance networks."
AJCN actualized
In 2002, Defense Advanced Research Projects Agency (DARPA) executives selected BAE Systems Information & Electronic Warfare Systems (IEWS) in Nashua, N.H., to lead the ACTD phase for its AJCN program. DARPA budgeted the program at $60 million over a five-year period.
The goal of AJCN, formerly the Airborne Communications Node, is to provide a scaleable, multifunctional, and multimission communications, signals intelligence, and electronic attack payload capable of being reconfigured to perform various functions while using the same processing hardware.
"AJCN is a unique system that allows a single payload to perform multiple radio-frequency functions for multiple missions," explains Petersen. "The multimission payload will offer the warfighter unique operational capabilities and a decisive edge on future battlefields. The C4ISR node is designed to operate with U.S. and coalition systems and provide real-time network-centric connectivity."
AJCN involves the integration of both new and legacy Joint Tactical Radio System (JTRS) waveforms into an open-architecture multimission system. The AJCN program will deliver such capabilities as secure, robust communications, networking, wideband waveforms, and software-programmable products. The AJCN multimission software architecture combines SIGINT Diamond software from BAE IEWS and the JTRS framework, developed by BAE Systems Communications, Navigation, and Identification (CNI) in Wayne, N.J.
Working with prime contractor BAE on the program are: Northrop Grumman Xetron, Cincinnati, Ohio; Scientific Research Corporation, Atlanta, Ga.; Telecordia Technologies, Morristown, N.J.; and Advanced Power Technology Inc., Washington.
In with the new
An important part of electronic warfare, countermeasures, and signals intelligence on the battlefield involves the disruption or distortion of enemy communications. New solid-state amplifiers will soon effectively disrupt enemy communications and radar signals, while protecting friendly communications.
Engineers at BAE Systems in Merrimack, N.H., are developing new high-power amplifier technology designed to guard U.S. forces against radar-guided missile threats. The solid-state technology will replace older vacuum tubes, called traveling wave tubes, currently used to produce high-power radio frequency signals, says a company representative.
Based on an $8 million contract from the U.S. Army Communications-Electronics Command (CECOM) with funding from DARPA under its Disruptive Manufacturing Technology program, BAE Systems personnel will build a 160-watt solid-state, gallium nitride (GaN) power amplifier for communications, electronic warfare, and radar applications.
"DARPA has identified BAE Systems' GaN technology as an important material for future military applications in electronic warfare, radar, and air-to-ground, air-to-satellite, and ground-to-ground communications systems," Dr. John Evans, DARPA Disruptive Manufacturing Technology program manager, says.
Rohm and Haas of Blacksburg, Va., and the University of Colorado are partnering with BAE Systems on the program. The first prototypes could be deployed by the end of the decade.
It is evident that investments in electronic warfare and signals intelligence technologies will continue into the foreseeable future. Technology companies already are making significant gains, and it is a trend that will only accelerate-to the benefit of the warfighters of today and tomorrow, and those whom they protect.