The importance of military information security
You don't often hear about new innovations in military information security.
Oct 1st, 2007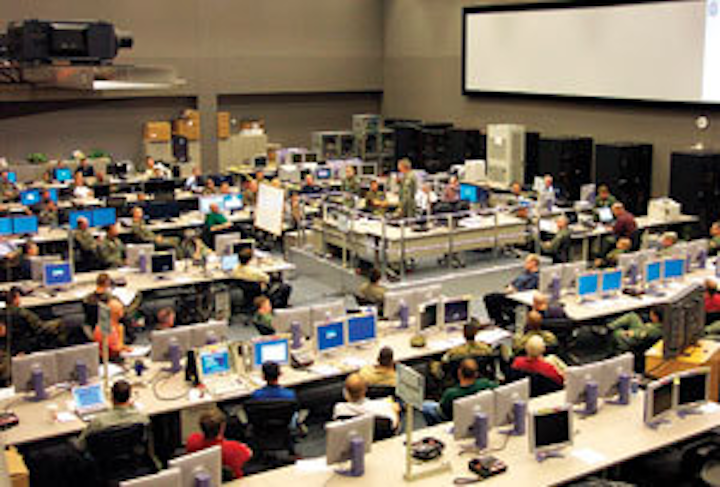 John Keller, Editor in Chief
You don't often hear about new innovations in military information security. That's good news, and it's bad news. On the one hand, much of the technology is best kept secret to keep it out of the hands of U.S. adversaries. On the other hand, however, maintaining a low profile on information security could lead policymakers to underestimate the threat.
Make no mistake; information security is one of the most important military issues of the 21st century. Heavy reliance on computers by the U.S. and its allies for communications, vehicle control, surveillance, and signal processing makes it imperative for U.S. military forces to keep data secure from nations and groups hostile to our national interests.
Just to be clear, information security concerns the ability for the U.S. military to keep its computers and data networks safe from outside attempts to steal, eavesdrop, or corrupt vital defense and security information. It also refers to technologies designed to avoid the accidental corruption of mission-critical data, as well as maintaining U.S. ability to penetrate enemy information technologies in times of war.
Let's put information security in perspective. Almost every era has its defining military systems that help maintain a huge edge over adversaries. Many of the crucial battles of history involve the first or most decisive clashes of these leading-edge military systems.
Two of the defining weapon systems of World War I, for example, were the armored battleship and the machine gun. The battles of Jutland and the Somme chillingly demonstrated the capabilities of these weapon systems and the advantages they brought to those who used them. Later, World War II saw the aircraft carrier and the atomic bomb. The Battle of Midway, and the attack on Hiroshima, Japan, showed the significance of these weapon systems.
Such crucial enabling military technologies and platforms can be traced back through history, and include the rifled musket of the American Civil War era, all the way back to the stirrup of ancient times that enabled humans for the first time to fight from horseback and wreak havoc on the soldiers who still fought only on foot. Today, the precision-guided munition and the unmanned vehicle perhaps are the defining military technologies of this era.
Now let's take a look forward. I believe the computer and the data network will be the aircraft carrier and atomic bomb of the future. If a nation can exploit its enemies' computers and data networks, then it clearly has the upper hand. Conversely, a nation that cannot safeguard its own computers and data networks has little chance of prevailing.
The criticality of U.S. information security was driven home early last month with reports of Chinese military technicians hacking into a Pentagon computer network. These computer incursions, which allegedly happened last June, were called some of the most successful cyber attacks ever on the U.S. Department of Defense.
Pentagon leaders admitted that they had to shut down part of the computer system serving the office of Defense Secretary Robert Gates to contain the damage. Reports place blame for the attack on the Chinese People's Liberation Army.
There is little doubt that China will be among the chief military adversaries to the U.S. and its allies in the early to mid 21st century. U.S. intelligence reports made public last June indicate that China is covertly supplying large quantities of small arms and weapons to U.S. terrorist enemies in Iraq and Afghanistan. China, moreover, repeatedly demonstrates to the world that it is deadly serious about building and perfecting its capabilities in offensive and defense information warfare.
A clear cyber threat exists from a powerful nation that shows itself to be hostile to U.S national interests, and the U.S. has to be ready to meet this threat. This nation, moreover, must be better prepared to wage and defend information warfare with better capability than it has now.
Fortunately, U.S. military leaders are not standing still, and the U.S. Air Force is taking the lead. Sometime this fall Air Force leaders are expected to activate Air Force Cyberspace Command (AFCC), which will be attached to the 8th Air Force at Barksdale Air Force Base, La.
Military leaders define cyberspace as using electronics and the electromagnetic spectrum to store, modify, and exchange data via networked systems and related physical infrastructures. "Cyberspace is a domain that we need to defend, just like the air, land, and sea," says Lt. Gen. Robert J. Elder Jr., who will be the AFCC commander.
The new Cyberspace Command will start with personnel from the 67th Network Warfare Wing, and receive support from the 8th Air Force. The intent is to create a major command that stands alongside Air Force Space Command and Air Combat Command to help preserve freedom of access and commerce where computers and computer networks are concerned.
The new command "is a recognition that what we do in the cyber realm is no longer an enabler for other operations; it actually is an operation itself," Elder says. "We'll be taking roles that are traditionally viewed as support functions, and those people will become the operators in cyberspace."
The Air Force has other information security projects in the works, as well. At Langley Air Force Base, Va., the Air Force has established the Global Cyberspace Integration Center to serve as a test bed to evaluate software and information systems for their vulnerability to cyber attack.
The Air Force's initiatives in information security and information warfare are a solid start, but all the military services need to step up and take cyber security just as seriously as does the Air Force. The next large global conflicts will be unlike anything we've seen before, and information warfare will be a large-perhaps defining-component.
U.S. military forces most likely will not have a second chance to get themselves ready.