European Briefs
Apr 1st, 2007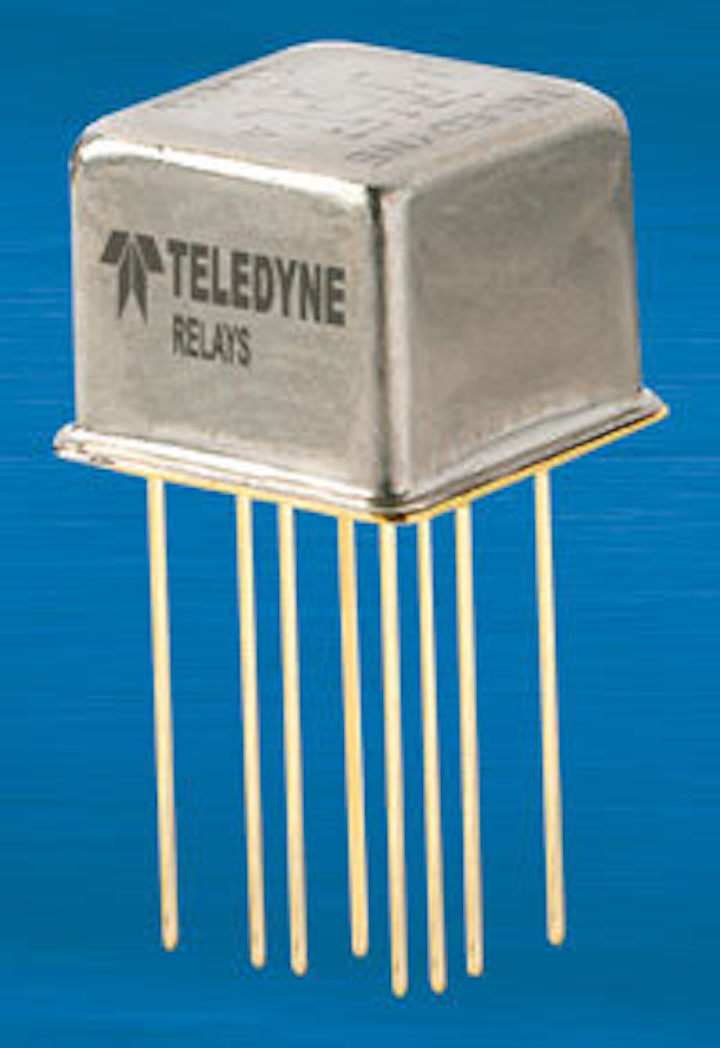 Teledyne offers 3-volt DC coil offers more power
Engineers at Teledyne Electronics and Communications in Quickborn, Germany, are offering a 3-volt coil that is RoHS compliant and hermetically sealed. The 172 relay has DPDT contacts with terminal pins spaced on a 2.5-millimeter grid. The device measures 8.5 by 8.5 by 7.1 millimeters, and has inherently low intercontact capacitance and contact circuit losses. The 172 is for high packaging density applications requiring long life and repeatability, such as ATE, attenuators and test instruments, as well as wireless and mobile communications. For more information contact Teledyne online at www.teledyne-europe.com.
Premier Electronics unveils PCMCIA RoHS SRAM cards
Officials of Premier Electronics in Hoddesdon, England, are introducing a range of PCMCIA RoHS SRAM cards that provide a 3- to 5-volt interface. This wide voltage range makes these cards cross-platform compatible between desktop and portable systems. The SRAM Series (SRV30) memory cards offer a nonvolatile storage solution for code and data storage, disk caching, and write-intensive mobile and embedded applications. Packaged in PCMCIA type I or type II housing (type II for cards with extended battery backup time and 8 MB cards), the SRAM SRV series is based on 1- or 4-megabit SRAM memories, providing densities from 256 kilobytes to 8 megabytes. This series of SRAM memory cards has a universal 3- to 5-volt power supply and operates at speeds as fast as 150 nanoseconds. The cards are based on advanced CMOS technology providing very low power and reliable data retention characteristics. These SRAM cards contain a rechargeable lithium battery and recharge circuitry, eliminating the need for replaceable batteries found in many SRAM cards. For more information contact Premier Electronics online at www.premierelect.com.
Chipidea to acquire data converter business from Nordic Semiconductor
Nordic Semiconductor ASA in Oslo, Norway, and Chipidea in Lisbon, Portugal, have agreed that Chipidea will acquire the assets of Nordic Semiconductor's data converter IP business unit for $6 million in cash. The agreement is subject to a period of limited due diligence and approvals from both companies' boards of directors. The transaction is expected to close by the end of this month. The acquisition of this business further strengthens Chipidea's position in the data-converter market and adds a catalog of IP to the company's analog and mixed-signal portfolio. The data-converter business unit specializes in data-conversion IP products for in-house projects, third-party ASIC designs, and standard products. The designs are analog-to-digital converters and digital-to-analog converters for use in digital photography, wireless networks, and video. The sale will strengthen Nordic Semiconductor's focus on radio-frequency (RF) components for the wireless personal area network, primarily in the 2.4 GHz frequency band including both proprietary and Wibree radios. "Chipidea offers one of the most popular lines of data converters in the industry and we believe that our IP, architecture and technology roadmaps are highly complementary with the data-converter business of Nordic Semiconductor," says José Franca, president and chief executive officer of Chipidea. For more information contact Chipidea at www.chipidea.com, or Nordic Semiconductor at www.wibree.nordicsemi.no.
BAE Systems awarded second phase of Slovak mobile-communications contract
The Slovak Ministry of Defense (MOD) in Bratislava, Slovak Republic, has awarded the BAE Systems Communications, Navigation, Identification and Reconnaissance (CNIR) in Wayne, N.J., the second phase of an interoperable mobile military-communications system known as MOKYS. The $30 million contract is for development and delivery of seven prototype systems to the Slovak armed forces. BAE Systems was selected by the MOD for the first phase of the MOKYS program in December 2005. The Internet Protocol-based communications system combines handheld and manpack radios with integrated security and automated command and control routines. Its U.S.- and NATO-compliant architecture reduces cost and complexity and provides software-defined waveform capability for future growth. MOKYS will come in tailored configurations for command post, support, communications, and relay operations to support battalion brigade-level forces for national and coalition operations. BAE Systems will lead the system development and delivery with support from U.S., German, Swedish, and Slovak companies. The Slovak government will test the system in 2008, after which BAE Systems will initiate a production program. For more information contact BAE Systems online at www.baesystems.com.