RFID market is growing but yet to take off
Industry analysts say that 2006 was a challenging year for the radio-frequency-identification (RFID) industry, as sales fell short of expectations.
Aug 1st, 2007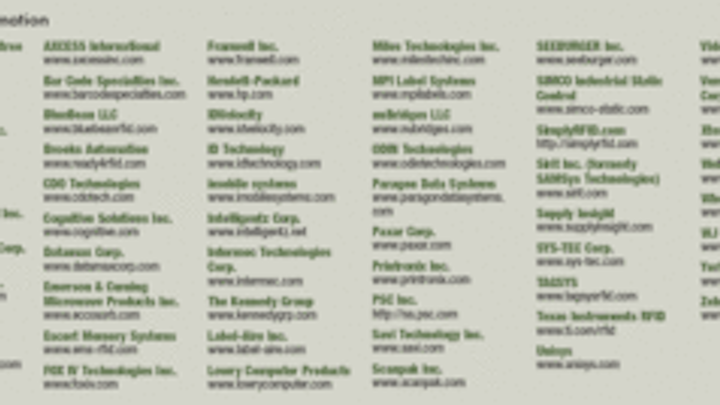 By John McHale
Industry analysts say that 2006 was a challenging year for the radio-frequency-identification (RFID) industry, as sales fell short of expectations. Meanwhile, RFID is being used, tested, and deployed in scores of supply-chain and asset-management applications to solve real-world business problems within aerospace and defense applications.
The market continues to be "commoditized before it is commercialized." Nevertheless, investment in RFID remained strong and the industry made significant strides toward resolving standards-related issues, says Andrew Nathanson, AIDC project director at Venture Development Corp. (VDC) in Natick, Mass.
According to VDC's released 2005-2006 RFID Year-End Overview, the worldwide demand for RFID systems exceeded $2.3 billion in 2006, with hardware accounting for nearly 59 percent of the total market. VDC anticipates nearly 35 percent growth (CAGR) through 2008, with total global revenues projected to exceed $3 billion by the end of this year.
Announcements from the U.S. and allied militaries, Boeing, Airbus, and NASA bear witness to the technology's growing popularity in aerospace and defense circles. These applications are explored in a major study from ABI Research, "The RFID Aerospace and Defense Market."
"RFID has the strategic potential to help aerospace and defense companies improve supply chain visibility as well as asset management and optimization," says the firm's RFID research director, Michael Liard. "However it must be noted that RFID is not a stand-alone panacea for all business problems. ABI Research believes that the integration of bar code, passive and active RFID, GPS, Wi-Fi, cellular, and sensors is increasingly required to provide a holistic view of the sophisticated and dynamic A&D [aerospace and defense] vertical market."
Nathanson and VDC's report claim the industry is ripe for consolidation. Current market conditions-coupled with a fragmented and increasingly competitive market-may encourage several vendors to implement exit strategies. The recent downsizing, "rightsizing," and M&A activities are harbingers of things to come for the next 12 to 18 months.
North America continued to represent the majority of RFID-related activity. However, the Asia-Pacific region maintained its position as a "lead adopter," as seen in its continued integration of the technology for public infrastructure applications (i.e. ticketing, access control, etc.), Nathanson says. As the "manufacturing capital of the world" and one of the largest markets for technology, China will be a major driver for the growth of RFID in this region-as long as it is able to develop a set of interoperable national RFID standards.
The ABI report sums up the current state of RFID in the A&D industry as follows:
Supply-chain mandate-compliance remains a leading industry driver as A&D supply-chain partners work to satisfy the U.S. Department of Defense's RFID requirements.
Boeing, Airbus, and other industry influencers are actively pursuing asset-based RFID applications, including solutions for returnable and reusable asset management and spare parts tracking and authentication.
Standards focus has predominantly been on low-cost passive UHF solutions and off-network RFID data; however, ISO 18000-7 is also garnering increased attention as a technology standard for active-based RFID solutions.
The initial focus for aerospace and defense RFID will be on enhanced visibility but, in the future, it will be used in conjunction with sensor technology to authenticate and monitor objects, assets, or items in real time. Semiactive/semipassive solutions are expected to play a key role here.
Although most of the RFID revenues generated throughout 2006 were derived from the transportation, automotive, and government verticals, significant growth is expected from the pharmaceutical, CPG, and health-care markets, especially when item-level tracking (ILT) applications become more pervasive in 2008/2009. "VDC predicts that the pharmaceutical industry will pave the way for high-volume, item-level tracking applications in regulated industries," Nathanson says.
According to the VDC report "an extremely limited amount of ROI [return on investment] information is currently available to the public, and few suppliers, channel organizations, or end users have been willing to discuss their ROI models or actual ROI data." VDC analysts say that RFID awareness and adoption levels will significantly increase only when enough RFID suppliers, value-adding distribution channels, and end users share their "real-world" ROI data with the industry.
null