Product Application Design Solutions
Navy officers turn to Palm computers for administrative tasks ** Officers of the U.S. Atlantic Fleet are using Palm V handheld computers from Palm Computing Inc., a 3Com company in Santa Clara, Calif., for several administrative tasks.
Apr 1st, 2000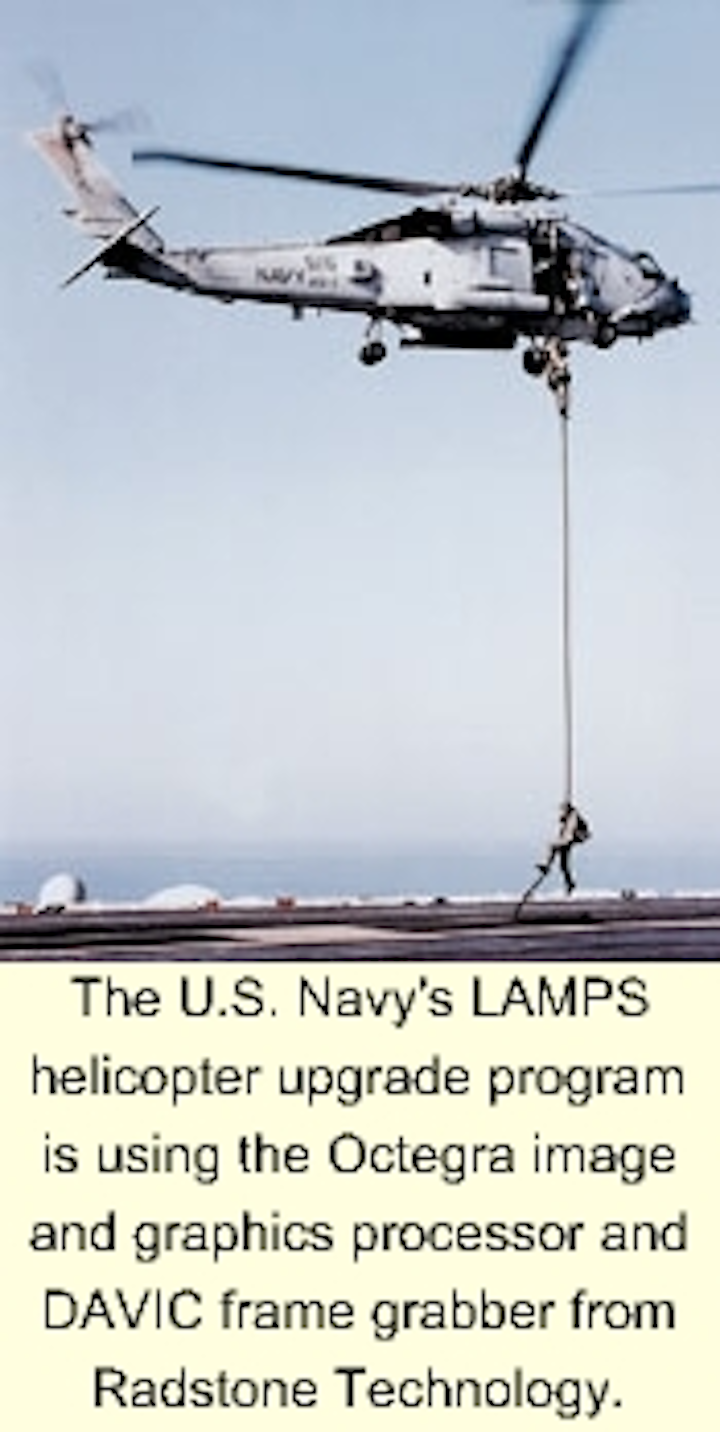 Enabling technologies for military & aerospace electronics engineers

Computers
Navy officers turn to Palm computers for administrative tasks
Officers of the U.S. Atlantic Fleet are using Palm V handheld computers from Palm Computing Inc., a 3Com company in Santa Clara, Calif., for several administrative tasks.
Leaders of the Naval Surface Force U.S. Atlantic Fleet at Norfolk, Va., are buying the Palm 5 handheld computer for distribution to ships under their jurisdiction.
Starting with 2,000 units, the initial contract is the largest government agency purchase of any handheld device, Palm officials claim.
Vice Adm. Henry Giffin III, commander of U.S. Atlantic Surface Forces, was to meet in February with officers aboard the guided missile destroyer USS Laboon (DDG-58) to discuss the new Palm technology and to get a firsthand look at how it can help with administrative jobs.
Navy officers will use the Palm handheld computers to coordinate daily and weekly schedules, and to consolidate and coordinate checklists and databases, which will improve their productivity and efficiency while at sea, Palm officials say.
"We are finding new uses for Palm handheld computers every day," says Lt. Scott MacDonald, chief engineer aboard the Laboon. "We are excited about all the possibilities this new technology will provide for us." - J.K.
For more information contact Palm Computing by phone at 408-326-9000, by fax at 408-326-7565, by post at 5400 Bay Front Plaza, Santa Clara, Calif. 95052, or on the World Wide Web at http://www.palm.com/.
Computer peripherals
DRS devices chosen for Navy program
Designers chose the Near-Term Test Capability (NTTC-V) and Remote Sensor (NTTC-RS) cockpit control units and control recorder units from DRS Technologies Inc. in Parsippany, N.J., for the U.S. Navy Airborne Separation Video System (ASVS) program.
Choosing the DRS peripherals were experts at the Naval Air Warfare Centers Aircraft Division at Patuxent River Naval Air Station, Md.
The devices will deploy with the DRS high-speed digital imaging systems for the test and evaluation of weapons release on the Navy's F/A-18E/F Super Hornet jet fighter-bomber. Also included was a contract to provide enhancements to the Long-Term Test Capability (LTTC-V) camera currently in development.
The systems being produced under the ASVS program are replacing film cameras to photograph how weapons separate from the wing pylons of the F/A-18C/D and -18E/F aircraft during test flights.
Under previous contracts on this program, which initially went to the company in October 1995, DRS developed and has been delivering NTTC-V digital imaging systems. These are strategically mounted on the outside of the aircraft to record images for subsequent evaluation. The systems fit on various military fixed-wing aircraft and helicopters and for ground-based launch systems.
The new NTTC-RS cameras have remotely located sensor heads, which enable users to mount the cameras within the aircraft's wing surface to eliminate aerodynamic drag. These systems will improve the quality of test results, as well as provide a high-speed digital imaging capability that meets the requirements of other advanced military fighter aircraft, such as the Lockheed Martin F-22 Raptor jet fighter.
The LTTC cameras in development will provide images of 1,024-by-1,024-pixel resolution, and transmit images at 400 per second for airborne and ground-based weapons testing.
DRS is developing the Multi-System Controller for the operation of several ASVS cameras deployed in the pod of the AIM-120 Advanced Medium-Range, Air-to-Air Missile - better known as AMRAAM.
The ASVS has electronically-shuttered digital imaging cameras, a high-density digital data storage device, and associated electronics that meet the requirements of the Office of the Secretary of Defense (OSD)-sponsored, tri-service Central Test and Evaluation Investment Program. DRS has incorporated a color capability for the system and miniaturized its high-speed camera to assure compatibility with most air platforms. - J.M.
For more information contact DRS Technologies by phone at 973-898-1500, by fax at 973-898-4730, by mail at DRS Technologies, 5 Sylvan Way, Parsippany, N.J. 07054, or on the World Wide Web at http://www.drs.com.
Board products
Radstone processor boards fly on Navy's LAMPS
Experts at Lockheed Martin in Arlington, Va., chose the Octegra image and graphics processor and DAVIC frame grabber from Radstone Technology in Towcester, England, for the U.S. Navy's LAMPS (Lightweight Airborne Multi-Purpose System) helicopter upgrade program.
LAMPS is an 11-year rolling program to upgrade certain Sikorsky SH-60 Seahawk helicopter variants. Radstone's contract covers the first five-years of this program. Deliveries under the new order will begin early in 2000.
Octegra has been designed for rugged environments, where performance and reliability are key. Based on Texas Instrument's 60 MHz TMS320C80 processor, Octegra combines optimized libraries for image analysis and manipulation with an advanced graphics and imaging capability. Overlaid images can include four inputs of composite, 32 bit, digital or analogue video.
"We have been working very closely with Lockheed Martin to integrate our rugged COTS products into the LAMPS program and we look forward to continuing that successful relationship," says Radstone's Managing Director, Charles Paterson. - J.M.
For more information on Radstone products contact Simon Collins, by phone at 011-44-1327-359444, by fax at 011-44-1327-358111, by e-mail at collins@radstone.co.uk, or on the World Wide Web at http://www.radstone.com.
Integrated circuits
Analog Devices to supply Patriot's new A-D converter
Tactical missile designers from Raytheon Co. in Lexington, Mass., needed high-speed analog-to-digital (A-D) converter modules to help them upgrade electronic subsystems in the Patriot anti-missile system, and in the Advanced Medium-Range Air-to-Air Missile - better known as AMRAAM.
They found their solution in a new development project at Analog Devices Inc. (ADI) of Norwood, Mass.
Integrated circuit designers at Analog Devices are developing a multi-channel A-D converter module for a new fuze in the Patriot. Company engineers are optimizing the A-D converter module for direct intermediate frequency (IF) sampling.
Analog Devices has built a reputation in mixed-signal systems integration, and company designers claim they can significantly reduce the number of components necessary for A-D converters, while increasing their performance.
For the AMRAAM, Analog Devices designers are optimizing an A-D converter for radar receiver in-phase quadrature demodulation, which is capable of direct IF conversion.
Patriot is one of the primary U.S. and allied weapons for destroying incoming enemy ballistic missiles. U.S. Army soldiers used Patriot with some success during the Persian Gulf War to destroy incoming Iraqi Scud ballistic missiles.
AMRAAM is today's front-line air-to-air missile for the most advanced U.S. and allied jet fighters. AMRAAM is a radar-guided medium-range anti-aircraft missile that was the replacement for the venerable Sparrow air-to-air missile.
The experience and track record of Analog Devices chip designers was one of the primary reasons Raytheon experts chose the company, officials say.
"ADI has demonstrated a unique understanding of the critical requirements we have in the mission-critical system," says Steve Corn, a Raytheon project manager on the AMRAAM program. "Teaming with ADI for critical mixed-signal subsystem developments has directly contributed to our success on this program." - J.K.
For more information, contact the Analog Devices Transportation & Industrial Production Division by phone at 781-937-1735, by fax at 781-937-1777, by post at 831 Woburn St., Wilmington, Mass. 01887, or on the World Wide Web at http://www.analog.com/.
Components
Lockheed Martin chooses L-3 data acquisition systems
Engineers at the Lockheed Martin Astronautics division in Denver needed data-acquisition and telemetry systems to support the Atlas V rocket. They found their answer in the Automated Data Acquisition Systems - otherwise known as the ADAS 5000s - from the L-3 Communications Telemetry & Instrumentation division in San Diego.
The Atlas V, which Lockheed Martin developed for the U.S. Air Force Evolved Expendable Launch Vehicle program, is primarily to launch satellites into orbit. Engineers will use the ADAS 5000 for launch vehicle integration and checkout, as well as launch processing.
"We needed reliable, high-density systems able to accommodate space limitations and meet launch processing requirements for the Atlas V rocket," says Tho Nguyen, project engineer for Lockheed Martin Astronautics. "The ADAS 5000 was selected to reduce the recurring calibration and maintenance costs for our instrumentation system." - J.K.
For more information contact L-3 Communications Telemetry & Instrumentation by phone at 800-351-8483 ext. 70, by e-mail at sales-mktg@ti.L-3Com.com, or on the World Wide Web at http://www.ti.l-3com.com/.
Integrated circuits
Analog Devices to provide radar satellite A-D converters
Electronics designers at Matra Marconi Space in Stockport, England, needed an A-D converter for their payload development system they plan to deploy on their Common Radar Elements radar satellite - better known as CORE. They found their solution in the A-D converter technology of Analog Devices Inc. of Wilmington, Mass.
Analog Devices specialists are developing a dual-channel 12-but 65-MSPS converter, a core component to the satellite's radar imager. Furthermore, Analog Devices engineers will radiation harden the A-D converter to tolerate radiation in low-Earth orbit, Analog Devices officials say.
CORE's synthetic aperture radar will observe Earth by producing sophisticated images through cloud cover, darkness, smog, and smoke. The radar takes advantage of the forward motion of the satellite to synthesize the equivalent of a very long, side-looking array.
Fast, high-resolution A-D converters are crucial for the radar to process signals quickly and accurately.
"Analog Devices' core converter products are key elements in meeting our needed processing levels, and their multichip products group has worked closely with us to define this more highly integrated module solution, which more specifically targets the specifications of CORE radar," says Kevin Morgan, radar projects manager for Matra Marconi Space.
Analog Devices chip designers say they will build the A-D converter to withstand 100 kilorads of total-dose radiation to ensure the satellite's survivability in space. - J.K.
For more information, contact Analog Devices by phone at 781-937-1428, by fax at 781-937-1021, by post at 831 Woburn St., Wilmington, Mass. 01887, or on the World Wide Web at http://www.analog.com/.
Design and development tools
Hughes Space selects CIMx and Intercim for MES Project
Experts at Hughes Space and Communications Company in El Segundo, Calif., are using technology from CIMx in Cincinnati and Intercim in Minneapolis to provide a manufacturing execution system to improve shop-floor control and quality management initially for a specific space manufacturing project at Hughes.
The CIMx CS/CAPP, a computer-aided process planning (CAPP) module, will be incorporated by Intercim's component-based software solution suite, FACTORYnet, to manage work instruction authoring and provide real-time tracking and management of process planning.
CS/CAPP will replace "fill-out-the-form" work instruction systems, with a system that creates detailed routings, process plans, and work instructions from reusable, shared objects. It will also include revision control and approval workflow cycles.
"Two factors contributed to our success; the strong Intercim/CIMx partnership, and the leading-edge technology provided by our two companies," says Tony Cuilwik, president of CIMx.
Key functional areas addressed by this solution include electronic web-enabled work instructions, labor management, material management, equipment management, quality management, manufacturing engineering, and communication and support. - J.M.
For more information on CIMx contact the company by phone at 513-248-7700, by fax at 513-248-7711, by mail at 1001 Ford Circle, Cincinnati, Ohio 45150, or on the World Wide Web at http://www.cmix.com. For more information on Intercim contact Scott Bornstein by phone at -800-445-7785, by e-mail at bornsteins@intercim.com, or on the World Wide Web at http://www.intercim.com.
Sensors
Litton Marine chosen to provide shipboard navigational systems
U.S. Navy officials needed a replacement for their aging AN/WSN-2 gyrocompass for submarines and various surface ships. They found their answer in the AN/WSN-7B ring laser gyro navigation (RLGN) system from Litton Marine Inc. in Charlottesville, Va.
Litton Marine engineers recently delivered their first WSN-7B gyrocompass system to the U.S. Navy under a low-rate initial production contract for four systems from the Naval Sea Systems Command in Arlington, Va.
The first four systems are going aboard the nuclear-powered attack submarine USS Jimmy Carter (SSN-23), which is under construction at the General Dynamics Electric Boat Corp. in Groton, Conn. The Jimmy Carter is the third of the new Seawolf-class attack submarines.
The WSN-7B RLGN will enable the migration of four existing inertial systems into one common system. It will help naval systems integrators make the most of commonality and interoperability, maintenance, and life-cycle support, Navy officials say.
The WSN-7B is a form, fit, and function replacement for the AN/WSN-2 gyrocompass, and Navy officials say they plan to backfit the WSN-7B on submarines and surface ships over the next few years. The WSN-7B can also replace the AN/WSN-5 and LSN-500 series of inertial navigation systems widely deployed in international navies, as well as the Sperry MK 19 and MK 29 gyrocompasses, Litton officials say.
"The AN/WSN-7B represents a major improvement in capability and reliability over the AN/WSN-5," says Ron Jenkins, program manager for the WSN-7B at Litton Marine. "The newer technology system requires virtually no regular preventive maintenance, providing a payback period of less than three years for the retrofit in reduced maintenance costs."
The WSN-7B, formerly known as the MK 49 family of ring laser gyro navigators, is the latest incarnation of the NATO Shipboard Inertial Navigator System program.
The WSN-7B features has an embedded navigational processor and software to eliminate paper tape, menu-driven operation, internal system built-in test, individual inertial sensors replaceable at sea, and can be replaced at dockside in less than 30 minutes, company officials say.
The system operates in temperatures between zero and 50 degrees Celsius, in relative humidity as high as 95 percent, and meets shock and vibration standards MIL-S-901C, STANAG 4141, BR3021, and MIL-STD 167-1. The devices also meet MIL-STD 461C and MIL-STD 740B for noise and electromagnetic interference. - J.K.
For more information, contact Litton Marine Systems by phone at 804-974-2000, by fax at 804-974-2259, by post at 1070 Seminole Trail, Charlottesville, Va. 22901-2891, or on the World Wide Web at http://www.sperry-marine.com/.