Key tactical data link systems clear operational testing
U.S. Navy experts are moving ahead with an upgrade to the Tactical Data Link (TDL) system onboard Navy ships after testing the data link earlier this year.
May 1st, 2008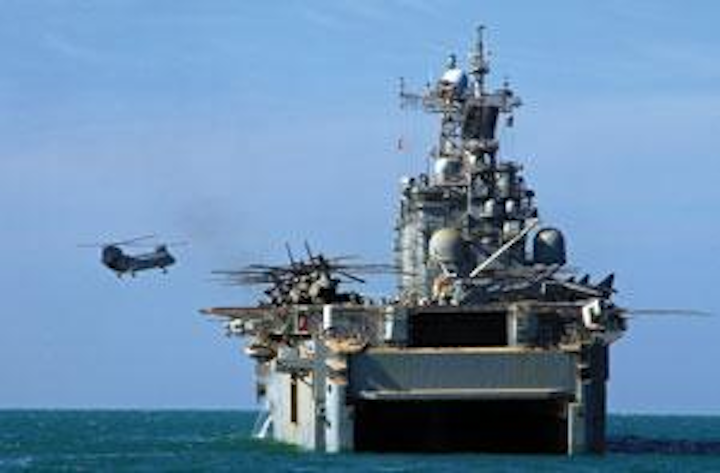 By John McHale
SAN DIEGO—U.S. Navy experts are moving ahead with an upgrade to the Tactical Data Link (TDL) system onboard Navy ships after testing the data link earlier this year. The TDL will transfer information quickly and securely among military assets.
The Navy tested two components of the TDL upgrade—the Next Generation Command and Control System (NGC2P)/Common Data Link Management System (CDLMS) and the Multifunctional Information Distribution System (MIDS) on Ship (MOS) with good results, say officials in the Navy's Program Executive Office for Command, Control, Communications, Computers, and Intelligence (PEO C4I).
Information can be sent via an orbiting satellite, an aircraft operating overhead, or a system of ground links. These systems enable ground troops operating in Afghanistan to transmit near real-time information to a Navy ship operating in the Persian Gulf, PEO C4I officials say.
The tests were conducted over several weeks and involved elements of the Navy, Marine Corps, Air Force, and NATO, Navy officials say. The MOS system accumulated more than 430 operating hours over a 19-day period aboard the amphibious assault ship USS Tarawa (LHA 1) in port and at sea.
The NGC2P/CDLMS system accumulated more than 100 hours over five days aboard the cruiser USS Port Royal (CG 73) and the destroyer USS Hopper (DDG 70). Both systems were effective and suitable.
"The effectiveness of our operating forces is largely determined by their ability to receive and process information, and then use that information to protect themselves and deliver their weapons accurately—put rounds on target," says Chris Miller, head of PEO C4I. "These tests are a major step forward in enhancing that capability for our warfighters."
The existing TDL system is the Joint Tactical Information Distribution System (JTIDS), a network radio system to support data communications in air and missile defense. JTIDS is one of the family of radio equipment that compose the JTIDS/TDL J system, commonly referred to as Link 16, a survivable radio communications data link that provides reliable situational awareness for fast-moving forces.
The MOS system is the next generation Link 16 TDL terminal and will replace old JTIDS terminals on new Navy ships. MOS is based on the MIDS-LVT link 16 receiver-transmitter. The NGC2P/CDLMS system helps warn Navy ships to incoming threats and strike targets over the horizon.
NGC2P exchanges data by satellite link, and uses the Joint Range Extension Application Protocol C (JREAP-C) to improve range ability to operate with joint forces. The JREAP-C capability provided by NGC2P is also used by the Aegis Ballistic Missile Defense system as a mission-critical communication link.
Each system must clear a final hurdle before being introduced to the fleet, PEO C4I officials say. NGC2P is scheduled to receive full-rate production approval this summer and will then be installed aboard all Navy combatant ships by 2012. The final step for the MOS system is the award of a production contract, also scheduled for this summer. The MOS will be installed on new construction ships as well.