Electro-optics Briefs
May 1st, 2008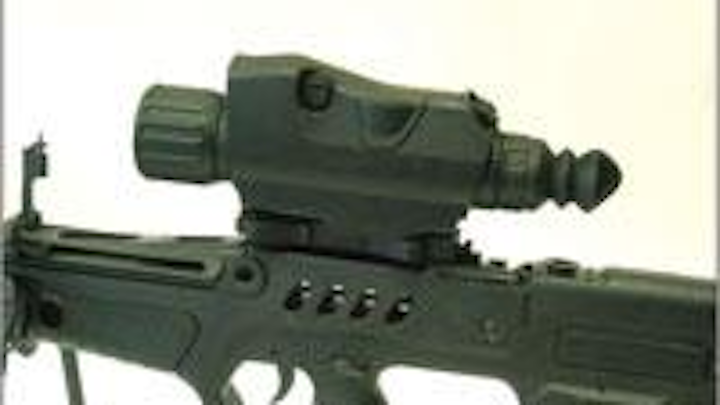 Elop introduces family of thermal weapon sights for infantry soldiers
Elbit Systems Electro-Optics Elop Ltd. in Rehovot, Israel, is introducing LILY, a family of lightweight thermal imaging weapons sights (TWS) for infantry soldiers, as well as the POPEYE low-cost lightweight head/helmet-mounted thermal imaging monocular. The systems operate in total darkness and in difficult environmental conditions. The LILY TWS helps infantry soldiers acquire targets and increase their first-hit capability by helping the soldier discriminate between false and valid targets in dust, smoke, total darkness (such as in caves and/or underground facilities), camouflage, and clutter, Elop officials say. The weapon-mounted TWS also helps soldiers gather intelligence information. LILY devices weigh about 2.2 pounds and operate for more than eight hours on one battery charge. The TWS family has three main products: LILY-S for short-range use for guns and sub-machine guns, LILY-M for medium-range use for machine guns, and the LILY-L cooled thermal imager for snipers. POPEYE is a low-cost, lightweight head/helmet-mounted uncooled thermal imaging monocular for short-range ground-based applications. For more information, contact Elop online at www.el-op.com.
Optical networking component market to grow to nearly $6 billion by 2012
Worldwide demand for optical networking components will grow to nearly $6 billion over the next four years, predict market researchers at Ovum RHK in Boston. The company posted an optical component five-year forecast for wide-area networks (WANs), data communications, and access components. Leading merchant demand are WAN optical components, growing to $3.5 billion in 2012, followed by datacom at $1.5 billion, and access at $0.97 billion. Total demand for 40-gigabit-per-second modules is expected to reach nearly $900 million by 2012, while total demand for 10-gigabit-per-second modules will reach 1.6 billion by 2012, Ovum RHK analysts say. In addition, 8- and 10-gigabit-per-second datacom transceivers will be dominated by the SFP+ form factor, accounting for more than 70 percent in 2012. Reconfigurable optical add/drop multiplexer (ROADM) modules, meanwhile, will grow to more than $300 million in 2012, experts predict. "Bandwidth demand is strong in all segments of the market as carriers deploy new networks to support rapid growth in bandwidth-intensive services," says Daryl Inniss, vice president at Ovum RHK. "The OC suppliers are challenged with managing a torrid market appetite for new products," Inniss says. "Fortunately the demand exists, but OC suppliers must ramp production; manage suppliers, contract manufacturers, and inventory; and introduce new products to maximize revenues and margins." For more information, contact Ovum RHK online at www.ovum.com.
L-3 introduces Thermal-Eye X-150 pocket-sized thermal camera
L-3 Infrared Products in Dallas is introducing the Thermal-Eye X-150 pocket-sized thermal camera with an operating life of six hours and ability to detect activity from as far away as 1,000 feet in total darkness. "Expanding our product portfolio makes advanced thermal imaging technology more available to law-enforcement, government, and military organizations that are working to ensure everyone's safety," says Richard Darlow, president of L-3 Infrared Products. The Thermal-Eye X-150 incorporates an upgraded amorphous silicon engine for improved image clarity and picture definition because it captures more heat sensitivity, which offers enhanced gradations of black and white. For more information, contact L-3 online at www.L-3Com.com.