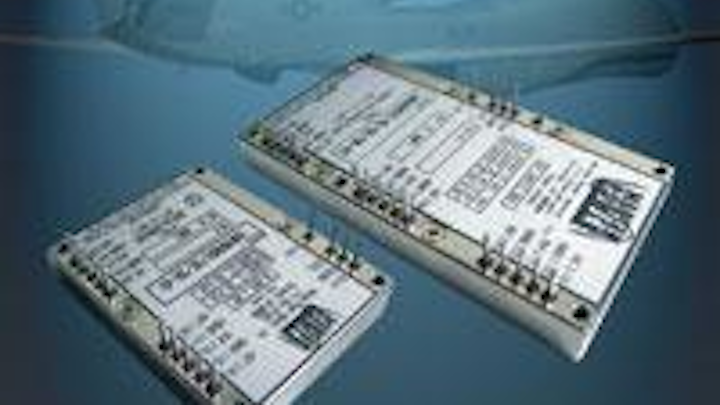 ---
Power electronics
---
Martek Power offers high-power, multichannel power modules
Martek Power Abbott in Torrance, Calif., is offering two high-power, multichannel models to the company's 28-volt Input DC-DC converter family. The models are COTS converters with several independent 75-watt output designed for military and aerospace applications. The models, CB150D and CB225T, are available at 2 Vdc, 3.3Vdc, 5 Vdc, 5.2Vdc, 12Vdc, 15Vdc, 24Vdc, and 28Vdc outputs, expanding the choice of output power of the CB series DC-to-DC power converter to a range of 5 to 225 watts. Measuring 2.28 by 2.9 by 0.5 inches, the CB150D is a 150-watt device with two independent 75-watt output channels. The CB225T measuring 2.28 by 4.35 by 0.5 inches, is a triple output module with three independent 75-watt output channels. For more information, contact Martek Power online at www.martekpowerabbott.com.
Aeroflex offers Battery Electronic Unit family of Li-Ion cell balancing products
Aeroflex Plainview in Plainview, N.Y., is offering the Battery Electronic Unit (BEU) family of Lithium-ion (Li-Ion) cell balancing products, which promote the use of large Li-Ion batteries on spacecraft and aircraft missions longer than 20 years. Employing DC-DC converter technology integrated with Aeroflex's legacy RadHard MIL-STD-1553 databus and ASIC solutions allows Aeroflex to deliver a low-mass, energy-conservative subsystem as the solution for satellite programs that desire the benefits of Li-Ion technology. The four Aeroflex BEU products all offer cell balancing to within ±5.0mV, cell voltage monitoring accuracy ±10mV, total battery voltage monitoring accuracy ±0.3 percent of full scale, MIL-STD-1553B telemetry, and discrete output lines for critical signaling. For more information, contact Aeroflex online at www.aeroflex.com.
Elmo offers board-mounted servo drive with 5 kilowatts continuous power
Elmo Motion Control Inc. in Westford, Mass., is offering a board-mounted servo drive called the Hawk with 5 kilowatts continuous power for extended environmental conditions. HAWK operates in temperatures from -40 to 71 degrees Celsius; in vibration from 20 to 2,000 Hz at 14.6 Gs; in altitudes from -1,000 to 510,000 feet; in mechanical shocks of 20 Gs; and other extreme conditions. Hawk offers networking and intelligent capabilities with high-level programming. It features a sinusoidal full vector control as well as trapezoidal and DC motor commutation methods. The HAWK operates with one DC bus and a built-in "smart" supply for the Control "back-up" capabilities. For more information, contact Elmo online at www.elmomc.com.
Falcon offers rackmount frequency and phase converters
Falcon Electric Inc. in Irwindale, Calif., is offering the ED Series Rackmount Frequency & Phase Converters to solve phase imbalance problems encountered when various pieces of single-phase equipment are connected to the individual phases of a three-phase power source. If the phase imbalance becomes too great, power system harmonics can elevate to a level that can cause the random tripping of circuit breakers and overheating of motors connected to the three-phase power system. The ED Series ranges from 1.5 to 2.4 kilovolt-amperes. Weighing 45 pounds and measuring 3.5 inches high, the ED Series fits into 19-inch racks. These units can also provide on-line UPS protection with optional batteries, giving several minutes to hours of backup time. The ED Series products convert incoming power to a DC voltage, regulates the DC and recreates new, clean single-phase 50, 60, or 400 Hz AC output power with a superior ±3-percent voltage regulation. The ED Series is for challenging power problems in unmanned aircraft, as well as sea and land vehicles. For more information, contact Falcon Electric online at www.falconups.com.
MEGA Electronics offers M78 switching regulators
MEGA Electronics Inc. in New Brunswick, N.J., is offering 0.5 amp and 1.0 amp switching regulators to replace 78xx linear regulators. With efficiencies of as much as 96 percent, little energy is wasted as heat. In addition to wide input voltage ranges, the regulators include a thermal shutdown, short circuit protection with continuous automatic recovery, and low ripple and noise. Normal operating temperatures are from -40C to +85C ambient and +100C case temperatures of the fully encapsulated regulator. It is for use as a stable source of DC output voltage from a wide input DC range such as from batteries. The low weight and space requirement make this a cost-effective alternative to the linear 78xx. As standard stock items the parts are readily available. For more information, contact MEGA Electronics online at www.megaelectronics.com.
Intersil offers ISL8560MREP step-down DC-DC power switching for unmanned vehicles
Intersil Corp. in Milpitas, Calif., has released a power-management product, the ISL8560MREP step-down DC-DC power-switching regulator which accepts 9- to 60-volt input and provides 2 amps of output current. The output voltage can be set in the range between 1.21 to 55 volts. Other notable features of this next generation of DC-DC converter includes pulse-by-pulse current limiting, frequency synchronization, soft-start, and thermal shut-down. An integrated FET reduces part count while high switching frequency to 600 kHz minimizes size of external components such as the output filter capacitor and inductor. This part is available in a 6-by-6-millimeter QFN package, which offers additional space savings over leaded packages. The low thermal resistance facilitates heat removal. For more information, contact Intersil online at www.intersil.com.
SatCon Electronics announces hermetic, 16-amp quad-output switching regulator
SatCon Electronics in Marlborough, Mass., is offering the SAT8566H 4-channel, non-isolated PowerPac module designed for high reliability and full military point of load applications. The SAT8566H is for unmanned vehicles that need to operate in harsh environments. The SAT8566H is for systems using field-programmable gate arrays (FPGAs), application-specific integrated circuits (ASICs), and processors, allowing the designer to supply all required operating voltages by using one component. This device can provide as much as four separate outputs at 4.5 amps each, one output at 16 amps, or other combinations to satisfy voltage and power requirements. The SAT8566H includes buck controllers, inductors, and capacitors in one package. Packaged in a hermetic 42-pin flat-pack, the SAT8566 is available screened to MIL-PRF-38534 (Class-H) and operates in temperatures from -55 to 125 degrees Celsius. For more information, contact SatCon online at www.satcon.com.
---
Chassis and enclosures
---
Macrolink offers Leopard rugged VME chassis
Macrolink Inc. in Anaheim, Calif., is offering the Leopard series customizable commercial off-the-shelf (COTS) enclosure for airborne, naval, and ground-mobile applications. The ruggedized chassis is designed in accordance with MIL-E-5400T, and manufactured from 6061/T6 aluminum. The 19-inch, rack-mountable Leopard offers 1,400 watts of DC power, three 250 CFM fans, thermal management, system health monitoring, and a 20-slot 6U VME or cPCI monolithic backplane, all weighing less than 54 pounds. The chassis has a configurable metering plate with an operational temperature range of -20 to 50 degrees Celsius and operational altitude of 35,000 feet. The Leopard is qualified to the EMI and environmental requirements of MIL-STD-461 and MIL-STD-810E and the power input requirements of MIL-STD-704E. With all internal and external surfaces chromate conversion coated and an external powder-coated finish, the Leopard provides maximum protection against corrosion and meets the fungus and salt atmosphere resistances of MIL-STD-810E. For more information, contact Macrolink online at www.macrolink.com.
AP Labs offers five-slot, conduction-cooled chassis for aircraft
AP Labs Inc. in San Diego is offering the FS-5971 five-slot, conduction-cooled chassis for airborne and vetronics applications. It is capable of maintaining a sealed, dry air environment, while subject to humidity, immersion, and exposure to fluids environments. This enables use in environments with extreme temperatures, shock, and EMI requirements where reliability is important. The base structure of the chassis matches the physical outline limits defined in the ARINC 404ATM specification for a 1/2 ATR, short box. Cooling is achieved utilizing internal conduction to the chassis side plates, whereby the heat is rejected via natural convection. The FS-5971 provides a secure enclosure for conduction-cooled cards over a wide ambient temperature range. For more information, contact AP Labs online at www.aplabs.com.
---
Connectors
---
Amphenol offers increased density MIL-DTL-38999 Series III-type connectors
The Amphenol HD38999 family of connectors has 33 to 53 percent more contacts than standard MIL-DTL-38999 connectors. The family has been designed to work with existing mil-qualified 38999 shells and still performs to the minimum electrical requirements of MIL-DTL-38999. To the end users familiar with the MIL-DTL-38999 Series III connectors, the family of high-density connectors will look, feel, and perform just like the mil-spec qualified connectors. Using existing MIL-C-39029 size 23 pins and sockets and the Amphenol mil-qualified shells, the system will be a drop-in connector to existing mounting sites. This series is available with inserts having a range of contacts from 9 to 187 in the following patterns: 9-9, 11-19, 13-32, 15-55, 17-73, 19-88, 21-121, 23-151, and 25-187. Shell materials are available in aluminum, composite, and stainless steel. Sealed and filtered versions are also available. For more information, contact Amphenol online at www.amphenol-aerospace.com.
Omnetics offers low-mass nano-connectors for UAV applications
Omnetics Connector Corp. in Minneapolis has designed a series of lightweight, low-mass, high-density interconnect systems manned and unmanned, ground and aerial vehicles. These rugged micro (0.050 of an inch on centers) and nano miniature (0.025 of an inch on centers) connectors support the need for longer flights and larger payloads even at high altitudes. They are durable enough to survive the high shock and vibration of aggressive landings. They can be EMI shielded to meet the requirements of the onboard communications optical and data links. Connectors are for the UAV system's cameras, sensors, and detectors. For more information, contact Omnetics online at www.omnetics.com.
IDI offers high-rel spring probe connectors for harsh-environment applications
Interconnect Devices Inc. (IDI) in Kansas City, Kan., is offering high-reliability spring probe connectors for harsh-environment applications such as satellites, military and police radios, night-vision goggles, missile radar systems, firing mechanisms, and unmanned vehicles. Based on spring probe technology, the connectors provide high-performance signal integrity, minimal insertion and return loss for signals up to 10 GHz, consistently low resistance through tens of thousands of connections, continuity in high-shock and vibration environments, pitch as low as 0.4 millimeters, signal paths as short as 2.4 millimeters, blind mate applications, broad temperature ranges, resistance to dust, salt, fog, and a range of chemicals, and stringent ingress requirements. For more information, contact IDI online at www.idinet.com.
---
Optical interconnects
---
Molex offers optical interconnects for military, avionics, and UAV applications
Molex Electronics Ltd. in Markham, Ontario, is offering commercial off-the-shelf (COTS) high-density, high-performance passive optical interconnects intended for use in harsh environments including military, aerospace, and industrial applications. These products are based on Molex's LumaCore optical terminus system. The LumaCore system has integrated hex sector tuning capability and tight angle registration, offering the best solution for multichannel, harsh-environment angle polish (APC) single-mode interconnects. Applications include aerospace, avionics, military, satellites, unmanned aerial vehicles, and sensors. For more information, contact Molex online at www.molex.com.
---
Lasers
---
DILAS introduces high-power diode laser array operating at 1,550 nanometers
DILAS Diode Laser Inc. in Tucson, Ariz., is offering a high-power diode laser array operating at 1,550 nanometers based on the company's single-bar and multibar configuration. These sealed modules are available collimated, or as a fiber-coupled module. The diode laser array delivers 5 to 30 watts output power depending upon the number of diode bars integrated into the module. The collimated modules offer up to 10 watts in a 12-by-4-square millimeter aperture, whereas the fiber-coupled module is available with a 400 microns, NA 0.22 fiber at various power levels up to 30 watts for a 3-bar based multibar module. Defense applications include: range finding, countermeasures, target designation, and high-energy lasers at eye-safe wavelengths. For more information, contact DILAS online at www.Dilas.com.
Coherent introduces 100-watt laser bar at 808 nanometers
Coherent Inc. in Santa Clara, Calif. is introducing a Micro Channel Cooled Package (Onyx) diode laser bar to deliver 100 watts (CW) of output power at 808 nanometers. The specified lifetime is more than 10,000 hours with an electrical to optical conversion efficiency approaching 60 percent. This water-cooled laser bar can be assembled into vertical stacks containing anywhere from one to 45 bars, with a pitch of 1.6 millimeters. This Onyx MCCP 100-watt diode laser bar can also be used to form compact horizontal arrays because each stack is 11 millimeters wide, and can be placed directly next to another stack with less than a 1-millimeter gap. A primary application for the Onyx MCCP 100-watt diode laser bar is as a pump light source for use in high-energy, solid-state lasers. For more information, contact Coherent online at www.Coherent.com.
Nufern offers compact and efficient eye-safe light sources for LIDAR
Nufern in East Granby, Conn., is offering the NuTx line of compact and high-efficiency, eye-safe light sources for LIDAR and LADAR applications. Powered by Nufern's LMA optical fibers, this product is designed with monolithic fiber architecture and is resistant to shock and persistent vibration. Operating at an eye-safe output wavelength of 1.55 microns, NuTx is capable of as much as 30 microjoule pulse energy, 4 kilowatts peak power, and over 1.2 watts average power. The diffraction-limited, collimated output is available with either linear or random polarization, variable pulse durations of 5–15 ns, and repetition rates of 20–200 kHz. Burst mode and lower repetition rates are available. For more information, contact Nufern online at www.nufern.com.
---
Data storage
---
VMETRO offers JBOC data-storage unit for harsh military operating environments
VMETRO in Houston is offering the SANbric high-altitude rugged JBOD (just a bunch of disks) data-storage system that enables commercial Fibre Channel disks to be used for high-speed, streaming data-recording applications in harsh environments including military, aerospace, intelligence, surveillance, and reconnaissance applications such as image/sensor processing, SAR, SDR, MTI, ELINT, and SIGINT. The SANbric provides a rugged storage solution for applications with space and altitude constraints that desire an affordable alternative to solid-state media. The SANbric removable disk module is sealed to protect against humidity, temperature, and altitude (as high as 72,000 feet). This 1.8 terabyte storage unit includes dual 2Gbps Fibre Channel interfaces. A single SANbric provides a sustained transfer rate of 380MB/s. For more information, contact VMETRO online at www.vmetro.com.
---
Automation controllers
---
UEI offers programmable automation controller for unmanned vehicle applications
United Electronic Industries Inc. (UEI) in Walpole, Mass., is offering a programmable automation controller called the UEIPAC with configuration flexibility, high performance, low cost, and compact unit size for measurement and control situations in remote vehicle control applications. By operating "standalone" on a standard Linux (2.6.x) kernel, the UEIPAC can serve as the central nervous system in an unmanned vehicle. The unit is available in two model sizes: the UEIPAC 300 at four cubic inches, and the UEIPAC 600 at 4 by 4 by 5.8 inches. Both models can be configured from time-proven I/O options including: analog input (up to 24-bit resolution), analog output, digital I/O, serial and CAN communications, ARINC 429 avionics networking, counter/timers, quadrature encoder inputs, and more. With more than 25 different I/O boards available, and the ability to have up to 6 I/O boards per unit, there is sure to be a configuration perfect for almost any UAV/ULV application. For more information contact UEI online at www.ueidaq.com.
---
Photonic sensors
---
Princeton Lightwave offers 640-pixel detector for shortwave IR sensors
Princeton Lightwave Inc. in Cranbury, N.J., is offering a 640-pixel detector for shortwave infrared sensors. The product combines a high-performance InGaAs detector array with a high-speed proprietary read-out integrated circuit. Acquisition time can be as fast as 5 MHz, with a dynamic range in excess of 40 dB. The technology serves a growing need for generating high-quality images to complement more traditional visible and infrared products. Applications include low-light imaging, counter-measures, and hyperspectral imaging. For more information, contact Princeton Lightwave online at www.princetonlightwave.com.
Sensors Unlimited announces night vision and laser detection camera
Sensors Unlimited Inc. in Princeton, N.J., launched a night vision and laser detection camera that can see from the near infrared (NIR) to the shortwave infrared (SWIR) portions of the light spectrum, beyond what traditional night-vision goggles can see. The camera, called NIR/SWIR, uses the company's proprietary indium gallium arsenide-night vision (InGaAs-NV) technology to detect and track a broad range of battlefield infrared lasers with heightened night and day time sensitivity. New processing techniques have pushed capabilities of the NIR/SWIR camera to see light wavelengths from 0.7 microns to 1.7 microns, whereas traditional night-vision cameras can detect wavelengths up to roughly 1.0 microns. For more information, contact Sensors Unlimited online at www.sensorsinc.com.
Thermoteknix offers thermal-imaging camera with 25-micron detector
Thermoteknix Systems Ltd, in Waterbeach, England, is introducing the MIRICLE 110K-25, a 384-by-288-pixel miniature infrared camera which uses uncooled microbolometer focal plane array (FPA) detectors that are sensitive in the longwave infrared (7- to 14-micron) band. The MIRICLE 110K-25 is available with optional super-sensitivity mode offering as much as 10–35 mK NEDT for selected applications where small temperature difference or long-range detectivity are needed. The reduced pixel pitch of the MIRICLE 110K-25 enables small, lightweight optics to be used and allows an increased detection range for a given focal length when compared with larger pitch detectors. With an assembled weight of 85 grams (without lens), the MIRICLE 110K-25 is for unmanned aerial vehicles and field-portable applications. For more information, contact Thermoteknix online at www.thermoteknix.com.
Photron offers Fastcam SA3 megapixel high-speed imaging system
Photron Inc. in San Diego is offering the Fastcam SA3 megapixel, high-speed video imaging system to withstand high-G and rugged environments. The camera features a 17-micron pixel size for demanding frame rate or low-light applications, providing exceptional light sensitivity, image quality, and color fidelity. The high-speed, 12-bit CMOS camera system with 2-microsecond global shuttering is available in two configurations and two memory options. Fastcam SA3 Model 60K performs at 1024-by-1024-pixel resolution as fast as 1,000 frames per second (fps), and offers reduced resolution at as much as 60,000 fps. Model 120K operates at 1024-by-1024-pixel resolution as fast as 2,000 fps, and with reduced resolution at as much as 120,000 fps. The SA3 is a stable, affordable, and reliable camera system for the most demanding environments. For more information, contact Photron online at www.photron.com.
---
Embedded computing
---
Parvus offers rugged mission processor system for unmanned vehicles
Parvus Corp. in Salt Lake City is offering the DuraCOR 820 rugged mission processor system for space/weight-constrained military/aerospace ground-mobile and airborne deployments. Targeting manned and unmanned applications, the DuraCOR 820 complies with MIL-STD-810F, MIL-STD-461E, and MIL-STD-704E. Less than three inches high and lighter than 31 pounds, it has a conductively-cooled 1.4 GHz Intel Pentium-M processor and a solid-state disk pre-loaded with a Linux or Windows XP Embedded operating system. Mil-spec connectors bring out power, USB, RS-232, DIO, keyboard, mouse, and dual Ethernet connections. For more information, contact Parvus online at www.parvus.com.
GE Fanuc offers DSP230 system blade for embedded multiprocessor applications
GE Fanuc Intelligent Platforms in Charlottesville, Va., is offering the DSP230 quad Freescale MPC8641D dual-fabric 6U VPX rugged multiprocessor with four or eight e600 cores. The processor is for demanding applications where several processors are required. It does this by offering four single- or dual-core processing nodes on a 6U VPX board in which all four nodes are interconnected via Serial RapidIO, PCIe, and Gigabit Ethernet. It is capable of being integrated within an AXIS multiComputer, providing developers with access to a rich, integrated, and intuitive development environment that can reduce development time, reduce project costs, and accelerate time to market. For more information, contact GE Fanuc online at www.gefanucembedded.com.
Curtiss-Wright offers Global Hawk sensor management unit
The sensor management unit (SMU) network-centric computer from Curtiss-Wright Controls Embedded Computing in Santa Clarita, Calif., is deployed on the Global Hawk unmanned aerial vehicle (UAV). It facilitates data management from all of Global Hawk's airborne payload sensors via a wide range of interface I/O, including Fibre Channel, Gigabit Ethernet, ECL, 1553, RS-422/485/232, and RS-170 Video packaged with multinode processing units in an air-cooled, rugged chassis. The SMU system comprises advanced multinode processor boards, various relatively old and high-speed interfaces, onboard solid-state storage, an optional video compression board and a backplane that supports CompactPCI and VME 6U boards. The SMU system's backplane features a fabric interconnect between the different bus architectures and high-speed processing nodes that enable flexible and optimized data transfer for parallel processing to meet high-bandwidth requirements. For more information, contact Curtiss-Wright online at www.cwcembedded.com.
Aitech offers CompactPCI PowerPC-based single-board computers
Aitech Defense Systems Inc. in Chatsworth, Calif., is offering two rugged 3U CompactPCI single-board computers (SBCs) with improved processing performance of as much as 1.4 GHz and broad memory and I/O options. Available in commercial, rugged, and military levels of ruggedization, the SBCs are for applications ranging from mission computers and mission control subsystems, to fire-control processing, platform stabilization, and remotely piloted vehicles. The Aitech C901 SBC and its low-power version, the C901L, feature Freescale 7448 PowerPC processors with on-chip L1 and enhanced L2 caches and AltiVec technology. Both models are CompactPCI subsystems as system controllers or as CompactPCI peripheral boards capable of supporting as many as six additional cards on the cPCI backplane, while providing clock, arbitration, and interrupt functions. Both board configurations provide as much as one megabyte on-chip cache memory, 200 MHz memory buses, and 2 GB Flash memory. For more information, contact Aitech online at www.rugged.com.
---
Sensor gimbals
---
Cloud Cap offers inertially stabilized gimbal for airborne and unmanned applications
Cloud Cap Technology Inc. in Hood River, Ore., is offering the TASE Duo electro-optical and infrared inertially stabilized gimbal for airborne and unmanned applications with an onboard GPS and IMU for standalone operation. At 5 inches in diameter and 1060 grams, the TASE Duo is for Tier II unmanned aircraft integrators. The TASE Duo comes with a Sony block FCB-980 and a FLIR Photon Core II, yet custom payload options are available. Software includes ground-control interface providing, video/telemetry recording and playback, and ground-based object tracking and video stabilization. Two video connections allow the EO and IR imagery to be viewed simultaneously or alternately through the Gimbal User Interface (UI) toggled feature, which allows the user to alternately view EO and IR video over one video link. For more information, contact Cloud Cap Technology online at www.cloudcaptech.com.
---
Thermal management
---
SprayCool introduces liquid-cooled enclosure for military applications
SprayCool in Liberty Lake, Wash. (formerly ISR), is introducing the Multi-Platform Enclosure (MPE) for mission-critical military applications. The MPE chassis employs two-phase cooling technology, and has already been selected by prime integrators Lockheed Martin and Northrop Grumman for U.S. military programs involving radar, image processing, and electronic warfare applications. The MPE also accepts electronics cards designed for air or conduction cooling with minimal modifications. The MPE enclosure can scale from four to 21 slots and is designed to industry standards for 6U-by-160 millimeter VME-64X, VPX, VXS, cPCI, and CPCIe (EXP.0) and proprietary electronics boards. The operating environment can range from -65 to 71 degrees Celsius, and altitudes as high as 100,000 feet in unpressurized compartments. SprayCool's MPE meets or exceeds MIL-STD-810 and MIL-STD-461 requirements for harsh environments. For more information, contact SprayCool online at www.spraycool.com.
---
Communications
---
Thales offers software-upgradeable tactical radio
Thales Communications Inc. in Clarksburg, Md., is offering the Thales Lightweight Multiband Airborne Radio (LMAR), which provides a software-upgradeable, tactical communications capability for combat environments. The LMAR, which was developed for unmanned aerial vehicle (UAV) applications, is a repackaged AN/PRC-148 Multiband Inter/Intra Team Radio (MBITR) with power conditioning and filtering for the airborne environment. The LMAR supports the AN/PRC-148 handheld radio, remote control operation, several modulation waveforms, encryption, and interfaces for communications interoperability. It provides: contiguous coverage in the 30–512 MHz frequency range; a programmable INFOSEC module; voice up to 16 kilobits per second; data up to 56 kilobits per second; 5, 12.5, and 25 kHz channel bandwidth; selectable power output as much as 5 watts; simplex and half duplex operation; 256 programmable channels; and an embedded power filtering. For more information, contact Thales Communications online at www.thalescomminc.com.
---
I/O boards
---
North Atlantic offers 75C3 CompactPCI multifunction I/O card
North Atlantic Industries in Bohemia, N.Y., is offering the 75C2 CompactPCI multifunction card that provides an assortment of I/O and communication functions on one card. The motherboard contains two independent module slots, each of which can be populated with a function-specific module. The 75C2 can include the functions of Synchro/Resolver Measurement (4-channels), LVDT Measurement (4-channels), A-D (10-channels), D-A (10-channels), Function Generator (4-channels), Discrete I/O (16-channels), TTL I/O (16-channels), Transceiver I/O (11-channels), and RTD (6-channels). Each of the functions of the 75C2 is programmable at the channel level. Continuous background (BIT) testing is performed on all functions and channels. The 75C2 is for military and commercial programs, including airborne, shipboard, ground mobile, and C3I applications. The 75C2 is available in both commercial temperature range and severe environment, industrial temperature range. For more information, contact North Atlantic Industries online at www.naii.com.
Smartronix Payload Control and Messaging Module
Smartronix Inc. in California, Md., is offering the Payload Control and Messaging (PC&M) module, a MIL-STD 461E- and RTCA/DO0160E-compliant device developed to provide command and control for several unmanned aerial vehicles (UAV) communications devices and ancillaries. The PC&M can be preprogrammed with audio or video messages for autonomous flight using GPS signals or uploaded through a ground station while in flight for expanded mission capability. The CS stores all mission events and status messages in a log during the mission. These logs can be used to analyze the success of a mission on its completion. The CS resides on the PC&M solid-state hard drive and controls/monitors the ancillary devices through the interfaces provided by the PC&M. The CS also uses an interface on the PC&M to provide a connection with a Payload Ground Control System (PGCS) via the aircraft communication link and direct hardware interface. For more information, contact Smartronix online at www.smartronix.com.
---
Data conversion
---
Pentek offers FPGA-based processor board for data conversion
Pentek Inc. in Upper Saddle River, N.J., is offering the Model 7150 high-speed data converter for detecting very small signals across a wide range of frequencies. The Model 7150 has four 200 MHz, 16-bit A-D converters and a pair of Xilinx Virtex-5 field-programmable gate arrays (FPGAs.) It connects to the RF or IF inputs of a communications system in a PMC/XMC module. The device has sampling rates as fast as 200 MHz and 16 bits of resolution. The dual FPGA architecture of the 7150 simplifies task assignments and boosts efficiency for each device. The processing FPGA handles data flow and data routing, controls all clock and synchronization functions, and manages memory resources. For more information, contact Pentek online at www.pentek.com.
---
Sensor processing
---
SRC Computers offers reconfigurable computer-based Portable MAPstation
SRC Computers Inc. in Colorado Springs, Colo., is offering the Portable MAPstation, a miniaturized reconfigurable computer system for real-time processing. Its Series F Compact MAP processor has a 36x speedup on the DARPA backhoe synthetic aperture radar backprojection benchmark as compared to a 2.8 GHz Xeon microprocessor. The Portable MAPstation can be deployed in unmanned aerial vehicles (UAVs), unmanned ground vehicles (UGVs), traditional military aircraft, and helicopters. The standard version can also be hand-carried. For more information, contact SRC Computers online at www.srccomputers.com.
BittWare offers ruggedizable hybrid signal processing 6U VME/VXS board
BittWare in Concord, N.H., is offering the GT-6U-VME (GTV6) board with two Altera Stratix II GX field-programmable gate arrays (FPGAs) (2SGX90 or 130), two processing clusters consisting of two ADSP-TS201S TigerSHARC digital signal processors (DSPs) from Analog Devices, and as much as 3 gigabytes of DDR2 SDRAM memory. At the heart of the GTV6 are two Altera Stratix II GX FPGAs, each containing as much as 132,540 equivalent LEs, 6.7 megabits of RAM, 252 embedded 18x18 multipliers, 63 DSP blocks, and 8 PLLs. Each FPGA provides pre-, post-, or co-processing to complement one TigerSHARC processing cluster, while also enabling routing of the TigerSHARC I/O at a rate of more than 2 gigabytes per second via BittWare's ATLANTiS framework. For more information, contact BittWare online at www.bittware.com.
---
Sensors
---
Rockwell Collins teams with Sandia on synthetic aperture radar for unmanned aerial vehicles
Rockwell Collins in Cedar Rapids, Iowa, and Sandia National Laboratories in Albuquerque, N.M., have joined together to develop a high-performance synthetic aperture radar (SAR) system to enable tactical battlefield reconnaissance and surveillance from manned or unmanned aircraft. The team combines Sandia's radar experience and Rockwell Collins's ability to manufacture field-grade reliable products for use in harsh environments. The SAR offers all-weather surveillance and reconnaissance capability; SAR/MTI capability in a small tactical package; weight of less than 50 pounds; a need for 300 watts of prime power; total volume smaller than 1 cubic foot; Ku band (16.8 GHz); 4-inch resolution imagery from 10 kilometers, or 1-meter from 23 kilometers; and six SAR submodes that include spotlight mode, stripmap mode, circle mode, tracking mode, spot dwell mode, and wide area surveillance (WAS) mode. For more information, contact Rockwell Collins online at www.rockwellcollins.com.
General Atomics offers synthetic aperture radar system for unmanned aircraft
General Atomics Aeronautical Systems Inc. in San Diego is offering the Lynx II lightweight synthetic aperture radar/ground moving target indicator (SAR/GMTI) radar in the 80-pound weight class. It is an intelligence, surveillance, and reconnaissance (ISR) radar for unmanned aircraft systems as well as manned ISR aircraft. The radar offers SAR spotlight and two strip map search modes in addition to the GMTI tracking mode. Lynx II is a Ku-band system with a depression angle of between 5 to 60 degrees. It features a 320-watt traveling wave tube transmitter and a dedicated GPS/IMU system for high-resolution SAR imaging. Lynx II can be operated at speeds between 35 and 135 knots, with a maximum SAR range of 47 nautical miles. Exploitation of radar data is performed by GA-ASI's CLAW sensor control/data exploitation software. CLAW facilitates exploitation modes such as Coherent Change Detection and Amplitude Change Detection (CCD/ACD) and Aided Man Made Object Detection (AMMOD) radar modes. For more information, contact General Atomics online at www.ga-asi.com.
---
Simulation and training
---
L-3 Link offers MQ-1 Predator simulation and training system
L-3 Link Simulation & Training in Arlington, Texas, delivered high-fidelity MQ-1 Predator Mission Aircrew Training System (PMATS) units to the U.S. Air Force. PMATS devices have enabled MQ-1 Predator pilots and sensor operators to undergo fully immersive, mission-based simulated training exercises, enabling the U.S. Air Force to reduce its dependency on live flight training of the unmanned platform. To support collective training exercises, several PMATS units can be linked over either a local or long-haul network to conduct Distributed Mission Operations (DMO) training. In addition, PMATS provides instructors the capability to introduce system malfunctions, enabling students to develop key competencies required to effectively respond to abnormal and emergency situations. Brief/debrief systems provide real-time training feedback through the capability to monitor, record, and playback training events. For more information, contact L-3 Link online at www.link.com.
---
Data buses and networking
---
DDC offers ruggedized multi I/O cards for avionics and vetronics
Data Device Corp. (DDC) in Bohemia, N.Y., is offering the BU-65590F/M ruggedized Multi-I/O PMC and BU-65590C PC/104-PLUS and PCI-104 cards for embedded vetronics and avionic applications. By combining MIL-STD-1553 and ARINC 429 on one interface, Multi-I/O cards reduce size, weight, and power. The BU-65590F/M PMC card provides four channels of MIL-STD-1553 BC, RT, or Monitor operation, along with 16 receive and six transmit ARINC 429 channels, two each RS-232 and RS-422 serial channels, and six user-programmable discrete I/Os. The card features highly autonomous operation for all three 1553 modes, comprehensive built-in self-test, and operates over a thermal rail temperature of -40 to 85 degrees Celsius. The cards provide as many as two dual-redundant MIL-STD-1553 channels, 16 ARINC 429 receive channels, eight ARINC 429 transmit channels, eight user-programmable Digital Discrete I/Os, eight user-programmable Avionics level (+35V) Discrete I/Os, an IRIG-B time-synchronization input, and an IRIG-B time generator. For more information, contact DDC online at www.ddc-web.com.
---
Unmanned aerial vehicles
---
Honeywell offers Micro Air Vehicle for tactical battlefield applications
The Honeywell Inc. Micro Air Vehicle (MAV) provides battlespace awareness for the modern warfighter. The MAV is a vertical takeoff and landing (VTOL) device enabling "hover and stare" mission profiles. The man-portable MAV is wingless and capable of VTOL with transition to sustained high-speed flight. Honeywell's MAV system, which consists of two air vehicles and a ground station, was developed as part of a DARPA Advanced Concept Technology Demonstration program. It completed a tour of duty in Iraq with the U.S. Navy by identifying improvised explosive devices (IEDs) from the air. The system is scheduled for further deployment as part of additional U.S. military programs. Each MAV is small enough to be carried in a backpack and is equipped with video cameras that relay information back to the operator using a portable, handheld controller. The vehicle operates similar to a small remote-controlled helicopter and is easily controlled to survey hazardous areas for threats without exposing soldiers to enemy fire. For more information, contact Honeywell online at www.honeywell.com/mav.
---
Wiring assemblies
---
Tensolite offers HDRFI wiring assemblies for UAV and avionics applications
Tensolite in St. Augustine, Fla., is offering HDRFI assemblies that use high-frequency, low-loss coax and a unique patented interconnect system to transfer data at high frequencies through a planar connection system, using a z-axis elastomer. This allows for high frequencies to transfer with minimal loss through the connector interface. The HDRFI Circular connector family is comprised of insert arrangements that make the most of the number of size 16 RF contacts available in a standard circular connector arrangement. The product line encompasses shell sizes 15 to 25 and is based on the D38999 Series III specification. The HDRFI RF contacts are press-in style and the connectors can accommodate standard D38999 back shells and hardware. Fully loaded, the RF Circular connector system contains as many as thirty-four 40 GHz RF contacts. The RF Circular-Mixed Signal connector family combines power and high-frequency RF contacts in the same connector body. Also based on the D38999 specification, shell sizes range from 15 to 25. For more information, contact Tensolite online at www.tensolite.com.
Aonix offers PERC Ultra virtual machine and software toolset
PERC Ultra from Aonix North America Inc. in San Diego is a virtual machine and toolset created for embedded and real-time systems requiring Java Standard Edition (JSE) support. PERC Ultra offers ahead-of-time (AOT) and just-in-time (JIT) compilation, remote debugging, deterministic garbage collection, and standard graphics. The PERC product line also features PERC Pico, a virtual machine and developer toolset designed for hard real-time applications requiring fast execution, small footprint, hard real-time response, and access to low-level devices. PERC Ultra has recently been selected by QinetiQ to provision the reasoning layer of an autonomy mission system for the Taranis unmanned aerial vehicle. The Taranis reasoning layer will run complex decision-making and optimization algorithms on an embedded processor. For more information, contact Aonix online at www.aonix.com.
---
Displays
---
Barco offers ThinLITE displays for unmanned systems applications
Barco Inc. in Duluth, Ga., is offering a ruggedized liquid crystal display for military platforms called ThinLITE, which offers military performance and reliability. The ThinLITE series is available in sizes from 19 to 24 inches and is suited for unmanned shelters, consoles, and rack-mounted systems. The thin footprint allows integration into systems where space is limited, its low weight provides savings for weight critical applications, and the image quality, brightness, contrast, viewing angle, and ruggedization meet many applications. For more information, visit Barco online at www.barco.com.
---
Passive components
---
Hybrid capacitors with stud mounting
Evans Capacitor in East Providence, R.I., is offering energy-dense Hybrid supercapacitors for aviation and aerospace for laser targeting, communications modules, controls, cockpit displays, phased array radars, and fire-control systems. The Evans Hybrids have more than four times the energy density of tantalum wet slug capacitors and more than 10 times the energy density of aluminum capacitors. Threaded mounting studs for THQ series of Hybrid capacitors are available, welded to the leaded end of the case. These studs, suitable for insertion into a pre-drilled circuit board, provide rigid support and stability for Hybrid capacitor assembly. For more information, contact Evans Capacitor online at www.evanscap.com.
Federal Mogul offers EMI protection for aircraft connectors and cables
Federal Mogul Systems Protection in Southfield, Mich., launched the ROUNDIT 2000 NX EMI (specified EN6049-008) flexible, textile-based electromagnetic interference (EMI) shielding of electrical interconnect systems and cable assemblies in commercial, defense, and space applications. It is a self-wrapping solution in a multilayered design that includes an outer layer constructed of ROUNDIT 2000 NX (specified EN6049-006/Operating temperature from -60 to 200∞ degrees Celsius), which ensures mechanical protection, and an inner layer composed of flat, braided nickel-plated copper used for EMI insulation. ROUNDIT 2000 NX EMI is also available with an optional PTFE layer to prevent the cables from abrasion, as they are in contact with the metal layer. For more information, contact Federal Mogul online at www.federal-mogul.com/sp.
---
Test and measurement
---
RCAT offers lightweight probe for attitude measurements on slow-speed UAVs
RCAT Systems in Santa Clara, Calif., is offering a lightweight, low-moment-of-inertia Alpha Beta Probe for angle of attack and sideslip measurements for low-speed unmanned aerial systems (UAS). Constructed primarily of carbon-fiber composites, this probe is for research applications and vehicle development. Because each vane's shaft is entirely free floating (not tied to a potentiometer), the vanes are light and respond well to low-speed applications. Vane size is therefore reduced and moment of inertia is low. The probe is of lightweight carbon-fiber construction, has a dual ball bearing-supported metal shaft, ±1-degree accuracy, weight of three ounces with cable, and 5-volt nominal operation. For more information, contact RCAT online at http://rcatsystems.com.
Kaman Measuring Systems offers differential impedance measuring for laser systems
The Kaman Aerospace Corp. Measuring Systems Group in Colorado Springs, Colo., is offering differential impedance measuring systems for detecting the position of optics in laser pointing and tracking applications. The model KD-5100 is manufactured to MIL-H-38534. The KD-5100 features rugged construction with a mean time between failure (MTBF) of better than 55,000 hours in a tactical environment and 238,000 hours in a space flight environment. The small package size (2 by 2.12 by 0.75 inches thick) makes this system ideal for applications where space is a limiting factor. Kaman builds an alternate version of the 20N sensor specifically for cryogenic applications. This sensor has internal expansion joints. Kaman also offers the DIT-5200, a commercial off-the-shelf (COTS) version of the KD-5100. For more information, contact Kaman Measuring Systems online at www.kamansensors.com.