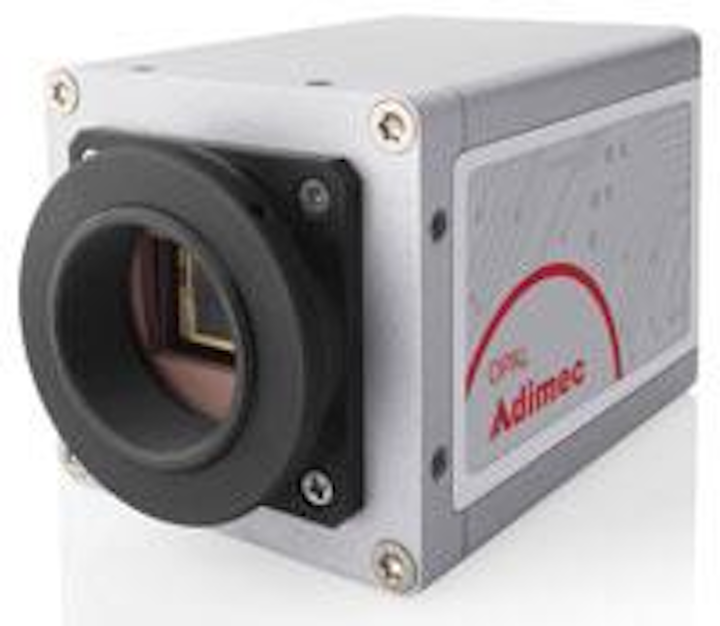 Adimec introduces OPAL-1000m, fast 1-megapixel cameras
Adimec Electronic Imaging Inc. in Stoneham, Mass., is introducing the OPAL-1000 high-speed CCD camera for fast machine vision applications. This camera can deliver as many as 120 full-frame quality images per second with a high signal-to-noise ratio. The OPAL-1000 uses sensors that offer spatial resolution at high speeds. This technology, combined with Adimec's electronics, provide linearity over the dynamic range of 63 dB. Other parameters include global shutter, channel matching to below noise level, automatic black and shading, and defect pixel correction. The OPAL-1000m optimizes a one-half-inch CCD area array sensor with 1024 by 1024 5.5-micron square pixels. For more information, visit Adimec online at www.adimec.com.
Impulse adds two members to the Titan range of connectors
Impulse Enterprise Inc. in San Diego is introducing the MKS(W)-3L10 10-contact wet-mateable connector only slightly larger than the existing MKS-310. The MKS(W)-400 series falls between the MKS(W)-300 and MKS(W)-500 in size. At the present time, it is available as either a 12- or 19-contact wet mateable connector, although further configurations are planned for the future. Both series use rugged stainless-steel bodies and keys for positive alignment. Other materials such as aluminum or titanium are also available upon request. Bulkhead connectors have a 5,000PSI open face rating and are available as either a threaded or flanged version. For additional security, the bulkheads use a waterblocked internal epoxy puck with O-ring seal. The mated pressure rating for both series is 10,000 PSI. For more information, visit Impulse online at www.impulse-ent.com.
Cedip offers thermal surveillance system for military applications
Cedip Infrared Systems in Croissy-Beaubourg, France, is offering the ADAMANT infrared camera, a compact yet powerful thermal surveillance system for fixed position surveillance, passive observation, detection and recognition of targets by day and nights—even in bad weather. The new system features a 40-by-512 MCT 15-micron pitch focal plane array and three-field-of-view (FOV) optic packaged in a mil-spec, marine-qualified enclosure weighing about 20 pounds. The lens features a 21.7-by-17.5-degree FOV, a 6.9-by-5.5-degree FOV, and a 1.7-by-1.4-degree FOV—enabling detection of a tank-sized target at 10 miles. Applications include waterway surveillance, long-range reconnaissance, homeland security monitoring of large area public infrastructure, and military range tracking applications. ADAMANT can be delivered with Ethernet or Optical fiber output allowing remote control and video display over long distances. For OEM integrators, ADAMANT is also available as a core engine package, without the enclosure and the front window. For more information, visit Cedip Infrared online at www.cedip-infrared.com.
Sensor fusion in a HUD
Engineers at Sensor Technology Systems (STS), an O'Gara Company, in Beavercreek, Ohio, offer the AN/PVS-21 Low Profile Night Vision Goggle, which through sensor fusion capability enhances situational awareness with multiple sensor integration including thermal, navigational, vehicle systems, weapon sight systems, and others. Integrated HUD technology provides operators with overlay color or monochromatic images directly into the field of view. The display is a color SVGA (800x600) and the video is Analog SVGA in 16.7 million colors NTSC or PAL in 256 grey shades monochrome. The angular field of view area through the goggle is 31.7 degrees. For more information, visit STS Sensor Technology Systems online at www.sensor-tech.com.
Vectronix offers Vector Nite rangefinder binoculars
Designers at Vectronix in Heerbrugg, Switzerland, have added night-vision capability to their Vector IV and Vector 21 Rangefinder Binoculars. The new Vector Nite products retain all the features and performance of its corresponding standard model. At night, the built-in image intensifier can be activated to operate in night-vision mode, with 4.5x magnification and a 142mils field of view. The Vector line is an eye-safe laser range finder. It measures from 5 meters to 25 kilometers—depending on model, visibility, and nature of target. A digital compass determines magnetic or grid azimuth in degrees, gon, or mils. A clinometer measures vertical angles from –45 to +45 degrees. The Vector has a weight of 1.6 kilograms (60oz) and a volume of 1.9 l. The device would float should it accidentally be dropped into water, company officials say. Vector Nite is waterproof, weighs less than 2 kilograms, and has a volume of just below 2 l. For more information, visit Vectronix online at www.vectronix.ch.
Trident Systems offers rugged, sunlight-readable color wearable display
Trident Systems in Fairfax, Va., is offering the WD 1.0, a rugged, compact wearable display for mobile applications. The display measures 4.5 by 2.6 by 1 inch, and is designed to MIL-STD-810F and MIL-STD-461E compliance. It can be operated right-handed or left-handed. The QVGA resolution AMLCD is daylight readable, NVG-friendly, has an operator-controlled LED backlight, and a recessed LCD "kill" switch for instantaneous zero light emission. The operator interface consists of a four-way joystick with integral press-to-select capability and two additional buttons. All buttons are environmentally sealed and provide outstanding tactile feedback, are programmable via the included host application. The display includes a programmable vibration capability, providing operator-defined alerts with adjustable cadences without the need to focus on the display. For more information, visit Trident Systems online at www.tridsys.com.
Amphenol offers MT cylindrical fiber-optic connectors
Amphenol Military/Aerospace Industrial Operations in Sidney, N.Y., is offering MIL-DTL-38999 type connectors with a special insert to accommodate IEC Standard 1754-5 MT fiber-optic ferrules. Amphenol has integrated MT fiber-optic ferrules with the harsh military environmental performance of the MIL-DTL-38999 connector series, which is tooled in straight plug, jam nut receptacles, and wall-mount receptacles in shell size 21 with four ferrules and size 11 with one ferrule. Each ferrule can accommodate 4 to 24 channels for single and multimode fibers. Typical insertion Loss is 0.20 dB for multimode fiber and 0.25 dB for single-mode fiber. Shell materials are the mil-qualified articles and are available in military base materials including aluminum, stainless steel, and lightweight composite. Standard military platings include OD Cadmium and Electroless nickel. Typical applications include radar, ground, and airborne radios, avionics, shipboard communications, weapons systems, unmanned aerial vehicles, IFE aboard commercial aircraft, and telecommunications. For more information, visit Amphenol online at www.amphenol-aerospace.com.
Scientech introduces calorimeter laser measurement systems
Scientech Inc. in Boulder, Colo., is introducing a line of calorimeter laser-measurement systems using intelligent detector technology. These systems consist of a handheld meter and a choice of thermal detectors including 8-, 16-, 25-, 50-, 100-, and 200-millimeter aperture models. A field calibration tool is optional, which helps calibrate systems without sending them back to the factory for annual calibrations. The Astral Series S AI310 or AI310D indicators are compact, portable, handheld devices in rugged, metal cases. The AI310 marries a 4-digit liquid crystal display along with an analog needle meter movement for laser tuning with no possible misinterpretation of digits. The AI51D is the digital-only version of the AI51. Either meter can be powered by the standard wall-mounted power supply/battery charger, the optional USB data interface, or the optional battery. Optional meter accessories include a lithium-poly battery, a non-skid weighted base mounting system, a soft case, a hard-sided carrying case, and a USB data interface with drivers. The Astral Series S detectors are available in either surface- or volume-absorbing models that sport apertures from 8 to 200 millimeters. The surface-absorbing models are for measuring CW lasers, while the volume-absorbing models are for pulsed lasers using either the Watts mode or single-pulse energy mode. Some large aperture models will measure single-pulse energy as strong as 1000 joules. For more information, visit Scientech Inc. online at www.scientech-inc.com.
DILAS offers fiber-coupled laser modules for defense applications
DILAS Diode Laser Inc. in Tucson, Ariz., is offering conduction-cooled, fiber-coupled laser modules based on single- and multibar configurations. The fiber modules are available with 400-micron, NA 0.22, SMA fibers that deliver 5 to 25 watts output powers in the range of 1550 nanometers, depending on the integrated number of diode bars. The module is for defense applications, such as eye-safe illumination, targeting, range finding, LIDAR, and others. All modules are available with an optional pilot beam, fiber detection sensor, and blast shield. For more information, visit DILAS Diode Laser online at www.dilas.com.
Discover offers 40 gigabit-per-second multimode fiber-optic receivers
Discovery Semiconductors Inc. in Ewing, N.J., is offering high-speed photodiodes and fiber-optic receivers coupled to multimode fiber that transmit 40 gigabit-per-second optical signals at 1550 nanometers over 700 meters with low attenuation at power levels as strong as +10 dBm with linear response. The devices are available in small form factor hermetic microwave packages that are Bellcore GR-468 qualified. Applications include antenna remoting, analog and digital communication, free-space optical communications, and LIDAR. The devices offer broad optical wavelength response from 850 to 1600 nanometers. Multimode fiber collects more light and is more robust in harsh environments compared to single mode 9-micron core fiber. The 50-micron or 62.5-micron core graded index fiber pigtailed devices with bandwidths from 10 to 40 GHz are available as standard COTS devices. For more information, visit Discovery Semiconductors online at www.chipsat.com.
Edmund Optics offers Techspec UV-fused silica precision aspheric lenses
Edmund Optics in Barrington, N.J., is introducing the Techspec precision aspheric lenses of UV fused silica that combine an aspheric element with proprietary grinding and polishing equipment. The lenses feature low f-numbers for light-gathering and focusing, as well as several coating options. They are for collecting and focusing low-intensity UV sources, including fluorescent dyes, fluorophores, and mercury light sources. The lenses are computer optimized to eliminate spherical aberration and minimize higher order aberrations. The UV fused silica substrate offers a low coefficient of thermal expansion and a high operating temperature, for tightly toleranced applications in the visible as well as in the infrared. The lenses provide a clear aperture of 90 percent, and are manufactured to a 60-40 surface quality with a surface accuracy as low as 0.75-micron RMS and a diameter tolerance of +0.0/-0.1 millimeters. The lenses are available with a 25-millimeter diameter, at focal lengths of 25 and 30 millimeters. Additional diameters, focal lengths, and coating options are to be released in early 2008. Techspec UV Precision Aspheric Lenses are RoHS compliant. For additional information, visit Edmund Optics online at www.edmundoptics.com.
Elma introduces flexible LED tubes for electronic equipment lighting
Elma Electronic in Fremont, Calif., is introducing flexible light-emitting diode (LED) tubes for lighting up instrumentation or diagnostic equipment, the inside of chassis, or cabinet enclosures. The M-tube LED light system is for medical, industrial, defense, communications, or other applications in which efficient lighting is needed in various tube configurations. The Elma light guides enable many diverse applications with standard diameters 5, 6, 8, and 10 millimeters, as well as in lengths of 100 and 300 millimeters. Lengths as long as 2 meters are possible providing a wide sphere of activity in architecture, with edge illumination, as danger indication/alarm system, for indirect illumination, and also as bright signal sources. For signal purposes and illumination or lighting, Elma offers the standard colors red and white, with other colors available up request. This includes Duo LEDs and RGB variant types, so that a variation of colors is possible. The thermal management of the LED ensures it operates under extreme environmental conditions. The light guide bar remains cool even when brightly lit. The range of applications includes industrial, defense, or medical electronics (switchgear, cabinet or instrument illumination, service light, failure indication/alarm condition etc.), buildings/offices (step and edge illumination, emergency lighting, emphasis of design etc.), household goods and furniture, and motor vehicles. The M-tubes' multicolor light design, low current, and a long service life cannot be matched with conventional lights. For more information, visit Elma online at www.elma.com.
W.L. Gore offers variety of fiber-optic cable assemblies
W.L. Gore & Associates in Elkton, Md., is offering high-performance fiber-optic cables, assemblies, and custom packaging for military and aerospace applications. Gore offers a variety of fiber-optic cable options that address the requirements of military and aerospace designers. Gore also can help meet installation challenges with pre-formed assemblies that operate in extreme temperatures and environments. Gore Pre-Formed Fiber Optic Assemblies are for installations with limited space to route assemblies without complex clamping systems. When assemblies are exposed to extreme temperature large micro-bending optical loss can be experienced. Because of the materials used in Gore Pre-Formed Fiber Optic Assemblies, the optical loss is negated and the assembly is stable across all environmental conditions. For more information, visit W.L. Gore online at www.gore.com.
Optek offers axial fiber-optic isolators in isolation distances from 18 to 80 millimeters
TT electronics Optek Technology in Dallas is offering axial optical isolators with plastic optical fiber to help power-electronics engineers isolate high-voltage input/output circuits over varying distances. The OPI1270 series axial fiber-optic isolator has a visible red LED emitter and a phototransistor detector in separate opaque molded-plastic modules, linked by a shrouded optical cable that shields the optical signal from dust and other contaminations. The devices are for applications "that require high-voltage isolation—as strong as 15 kilovolts—especially in dirty or contaminated industrial environments," says Alan Bennett, Optek Technology's vice president of sales and marketing. The isolators are connected by a flexible optical cable in standard isolation distances of 18, 26, 32, 40, 66, or 80 millimeters. Custom cable lengths are available and the emitter's design does not require the sensor housings to be in precise optical alignment. The isolator series conforms to UL Standard 1577 (File #E58730). Applications include industrial, medical, and office equipment, as well as electrical isolation circuits in harsh environments. The OPI1270 series are rated for 15 kilovolts and carry a power dissipation rating of 100 milliwatts. The AlInGaP LED (emits red light with a peak wavelength of 645 nanometers, with on-state collector current ranging from 1.2 to 2.3 volts and maximum collector dark current of 80 amps. The phototransistor exhibits a maximum collector current of 50 milliamps. Collector-emitter breakdown voltage is 33 volts, and emitter-collector breakdown voltage is 5.5 volts. The operating temperature range is -20 to 75 degrees Celsius, and the device is also compatible with high-temperature soldering processes of 260 degrees Celsius. The isolators are RoHS-compliant. For more information, visit Optek online at www.optekinc.com.
Torrey Pines Logic offers Mirage 1200 optical systems detector
Torrey Pines Logic in San Diego is offering the Mirage 1200 optical systems detector, which helps operators detect optical systems that are targeting them. The Mirage 1200 detects optical systems as far away as 1,200 meters, has more than a 4-degree field of view, and weighs 2.2 kilograms. It is for VIP security, sniper detection, video and photography detection, border protection, and security of important locations. For more information, visit Torrey Pines Logic online at www.tplogic.com.
Coherent introduces air-cooled solid-state lasers in 1- and 2-watt strengths
Coherent Inc. in Santa Clara, Calif., is offering the Matrix 355 series air-cooled solid-state lasers that combine consistent operation with high beam quality, low noise and long lifetime. The Matrix 355-1-60 delivers more than 1 watt of average power at a 60 kHz pulse repetition rate, while the Matrix 355-2-20 delivers 2 watts at 20 kHz. Both lasers are RoHS compliant. Matrix lasers feature PermAlign (soldered) component-mounting technology, robotic assembly methods, and long-lived components such as AAA (Aluminum-free Active Area) pump diodes. Before the launch of these 355-nanometer lasers, Matrix technology was available only with infrared output. Now, these lasers use UV-compatible materials in the laser head, plus multipass harmonics. The output characteristics of Matrix 355 lasers make them suitable for precision applications in materials processing and microelectronics, such as stereolithography (rapid prototyping), LCD/FPD titling, memory repair, thin film processing, precision marking, and semiconductor scribing. In all these applications, they provide greater control than pulse energy and timing, including the ability to hold the pulse energy constant as the repetition rate is varied. For more information, visit Coherent online at www.Coherent.com.
Tactical Display Group offers Tac-Eye goggle-mounted display for military use
Tactical Display Group, a division of Vuzix in Rochester, N.Y., is offering the Tac-Eye display for users that need access to high-resolution computer and video data, in environments that demand durability, such as military operations. It was created to be tough and lightweight. The Tac-Eye goggle-mounted approach has been used in military and commercial applications. The display works by being positioned below the user's eye. Tac-Eye enables the user to store the computer in a backpack or other carrier while continuing to see and interact with the computer or video source. This increases battery life with the computer screen off by as much as 60 percent. In addition, Tac-Eye is not affected by direct sunlight, and will not illuminate the user during nighttime conditions. For more information, visit Tactical Display Group online at www.vuzix.com.
Nauticomp offers Glass Bridge Displays with 10 source inputs
Nauticomp Inc. in Lindsay, Ontario, is offering Glass Bridge Displays, which are multifunctional and offer as many as 10 source inputs. These displays are flush-mount with a small chassis frame. Each source input is selectable through an external commander controller. The user can choose inputs manually, or set the controller for auto selection. The user can view any input in the picture-in-picture (PIP) window. Users also can dim to red at any level in all sources, which is particularly useful to military forces during nighttime operations. The display has optically enhanced bonded glass, rugged baked-on powder-coated chassis, and a three-year warranty. For more information, visit Nauticomp online at www.nauticomp.com.