Wearable computers and the military: The smaller the better
Designers of small, embedded electronics for wearable computer applications for the military see their market growing and the government allocating more dollars.
Nov 1st, 2005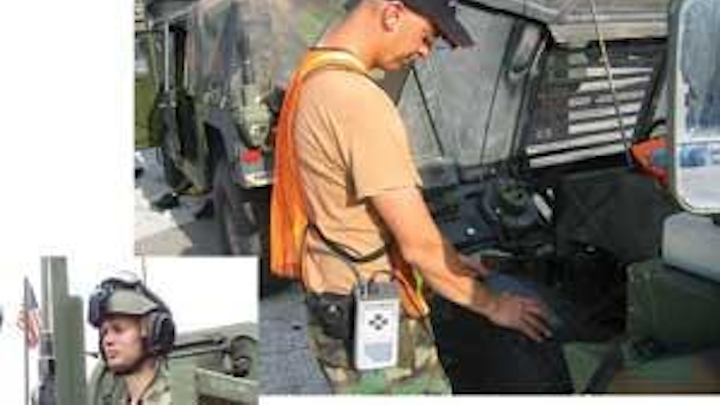 Designers of small, embedded electronics for wearable computer applications for the military see their market growing and the government allocating more dollars.
By John McHale
Wearable computing is much more sophisticated today than was Dick Tracy's T.V. wristwatch; the requirements military designers want from a wearable device make that same wristwatch seem like a 6-year-old's toy.
The U.S. Army's Future Force Warrior Program (FFW) will help garb soldiers of the future in science-fiction-like uniforms that will function as computers. Currently the work is still in the research and development phase.
However wearable computers are a part of military life today and are ruggedized for harsh environments, unlike many of the wearable devices most familiar to consumers such as personal data assistants (PDAs), and cell phones.
"The wearable market is expected to grow from $134 million in 2004 to $272 million in 2007, 26.7 percent compound annual growth," says Matt Nichols, director of public relations at Microvision in Bothell, Wash. "While this growth is solid, what is also significant is that research suggests that 'awareness' is the number-one obstacle to even faster growth. Basically, overall awareness of wearable systems is still low. Not surprising since the market is just emerging.
Nichols says his definition of "wearables" is small, portable computers or advanced electronics worn on the body to free the user's hands. Wearable computers can be integrated into the user's clothing or attached to the body through means such as a wristband, belt, or head-mounted unit. Wearables, he says, also can be integrated into everyday objects that are constantly worn on the body, like wristwatches or eyeglasses.
Demand for wearable computers in the military appears to be growing, says Ross Smith, cofounder and president of Quantum3D in San Jose, Calif. Large-volume orders, he adds, are not far away; pilot production exercises are occuring, which should precede full deployment.
Military demands are similar to consumer demand: low power, lightweight, high performance, and long battery life, Smith says.
Military wearable demand is going through a sort of renaissance, says Andrew Girson, chief technology officer of InHand Electronics in Rockville, Md. Military leaders, he says, want to take advantage of the wireless technology that is so prevalent in the consumer world. The wireless market upsurge, he points out, is similar to what happened with Internet technology in the 1990s.
While many in the military wearable market are "still kicking the tires," the fastest growing demand seems to be in maintenance and repair applications, Nichols says.
U.S. military personnel use Microvision's Nomad wearable computer worldwide for maintenance applications, Nichols says. Nomad is currently engaged in a trial on ground-vehicle maintenance for the U.S. Army, he adds. Fleets of military vehicles stateside require repair. Most of the experts are overseas, however, so the Nomad will help them improve repair times and more easily and effectively train new maintenance personnel, Nichols says.
Video technology
A large push is under way to improve video capability on wearable displays to better take advantage of sensor fusion and provide situational awareness not only to battlefield commanders, but also down to individual soldiers, says Quantum3D's Smith.
An example of this is sending images taken from unmanned-aerial-vehicle surveillance directly to the wearable devices in special-operations units and reconnaissance forces. This approach would let them see what the UAV sees, Ross explains.
The type of display is important as well, Nichols says. There is an expression that goes something like "a soldier looking down at a laptop screen equals a dead soldier" in Iraq and Afghanistan, Nichols says.
Small handheld wearable computers enable a soldier to free one or both hands, which means a more alert soldier than one sitting at a laptop, Nichols says.
Microvision experts deployed 160 Nomads to a brigade in Iraq for situational awareness applications. Company technicians found the soldiers most wanted a color display, Nichols says. Microvision provides color capability, but it is expensive, he adds.
"We use highly luminescent laser-backed light sources and that are more efficient than OLEDs (organic light-emitting diodes)," he adds. They have a direct-view display with see-through capability. In other words the image appears before the user but it does not block his vision of the outside world, Nichols says.
This is not a hologram, which is 3-D, but more of a two-dimensional image with the feel of 3-D, Nichols says.
Form factors and software
Quantum3D engineers designed the form factor of their Thermite tactical visual computer (TVC) to fit special size requirements; no standard form factors exist for wearable computers because requirements dictate small sizes and differ from application to application, Smith says. Companies build wearable computers modularly for efficient technology insertion.
Thermite's form factor is closest to PMC, Smith says. Bus-based form factors are mostly general utility and not ideal for small, embedded spaces, he adds.
Thermite is a multirole, real-time 2-D/3-D embedded visual computer. It is a lightweight (2 pounds), ruggedized, sealed computer that is in use today by the U.S. Army, Air Force, and Navy for deployed command, control, communications, computers, intelligence, surveillance, and reconnaissance (C4ISR), unmanned-aerial-vehicle (UAV) operator control units, and real-time embedded training applications.
The most popular operating system is Linux, Smith says, because "believe it or not they just hate Microsoft. Nobody can tell Microsoft what to do, not even the government, but with Linux they own the source code" and can customize their own operating system in many respects.
Linux is also more deterministic than Windows for real-time applications, Smith says. One of the companies leading the way in real-time Linux applications is LynuxWorks in San Jose, Calif.
Power management
If any real technological breakthroughs are necessary in wearable computing they include extending battery life. Battery life is like mileage on a car; it depends on highway or city driving, Smith says. With batteries it is a matter of how much power your application requires-some require more, some less.
A lot of intellectual property goes into improving battery life. Devices typically run four to five hours on a charge, and some can run 12 to 15 hours. "Soldiers want them to run for a month" and you cannot blame them, Smith adds.
The real challenge involves battery technology that does not keep up with the demands of the user, InHand's Girson says. Take a basic x/y axis chart, for example, with x marking the battery life and y representing demands for longer battery life, Girson says. The x line is moving slowly upward, while y is almost a straight line upward.
Military designers want high energy density in small designs that are low weight, but battery life technology is not moving fast enough. This lag is the reason for so much interest in fuel cells and other alternate forms of energy generation, he explains.
Power is a big concern in the Future Force Warrior program, Girson says. InHand has a contract with the General Dynamics Eagle Enterprise unit (GDEE) to incorporate the InHand BatterySmart dynamic power-management software and hardware technologies into the FFW program, on which GDEE is the lead technology integrator.
InHand's contract touches on two critical areas for future warfighters: the soldier's main computing platform hardware and embedded software design and overall soldier-based power- management capabilities.
"The next generation of soldiers will carry significantly more computational power into the battlefield, yet to achieve maximum effectiveness, the size and weight of the electronics and power sources must be kept to an absolute minimum," notes Carol Fitzgerald, technology program manager for the FFW program at Natick Soldier Center in Natick, Mass. "As a result, soldier-based power management is one of the most critical areas of the FFW effort."
As part of the FFW team, InHand is working with FFW's Soldier Borne Systems team to help design and implement the soldier's main computer and to ensure a smooth integration of our BatterySmart real-time power-management technologies into this computer and other soldier-based systems," Girson says.
The current phase of the FFW program runs through 2007. InHand is providing the following products and services to GDEE: a customized version of its BatterySmart dynamic power-management software; a customized version of its upcoming next-generation low-power computing platform electronics; and system consulting and services focused on soldier power management and battery life extension.
---
Aonix selected for French military wearable-computer program
Software from Aonix in Paris is playing a role in the FELIN armament system that will optimize the communications, defense, and strategic capabilities of foot soldiers in the field for the French military.
The FELIN system, a French acronym for Foot Soldier with Integrated Equipment and Connections, uses Aonix PERC virtual machine as a runtime environment for parts of the application written in Java language requiring high reliability and determinism. The system includes an armament system focused on the foot soldier that will improve the infantryman's capability and ability to react in the field, Aonix officials say.
Operating within a larger communications network, FELIN enables the infantry soldier to transmit data and video images in addition to communicating via radiotelegraphy. The system will optimize ballistic protection of the soldiers with specific protection against nuclear, biological, and chemical attacks. The wearability of equipment has been tailored to ensure that it will not decrease operational performance of soldiers.
The French defense department initiated the FELIN project in March 2004. At that time, the Integrated Program Management team notified industrial firm SAGEM that they had been chosen for development, industrialization, and manufacturing of FELIN project equipment, which will become standard fare for French infantry units in 2006.
PERC is a clean-room virtual machine created for demanding embedded and real-time systems requiring J2SE support, Aonix officials say. It delivers the ease and efficiency of Java Standard Edition support without sacrificing integrity, performance, or real-time behavior. It offers AOT and JIT compilation, remote debug support, deterministic garbage collection, standard graphics, and extended commercial real-time operating-system support.
---
U.S. Army Reserve uses Nomad computer for maintenance support
Officials at the U.S. Army Reserve Area Maintenance Support Activities (AMSA) are facing manning shortfalls and need to be more productive to accomplish their mission of providing day-to-day maintenance support for Army Reserve equipment. They found a solution with the Nomad Expert Technician System wearable computer from Microvision in Bothell, Wash., which gives maintenance personnel needed electronic technical manuals at the point of maintenance.
Having information at the point of task enables the AMSA technician to complete vehicle repairs effectively and efficiently. With manuals for operator, unit maintenance, and the repair parts available where they are working, mechanics will increase their capability to repair and return the maximum number of combat vehicles possible to their units whether at the facility or away.
Today, most AMSA employees are frequently members of local Army Reserve units and are subject to mobilization with their unit, causing those remaining to perform the required tasks. Despite access to the electronic tech manuals, most technicians must access the operating, servicing, and repair information away from the vehicle bay, delaying the servicing or repair action, Microvision officials say.
In addition, AMSA personnel must travel to remote locations to provide direct support to their supporting unit. Today's solutions range from performing a preventive maintenance check and service from memory, to leaving the task to locate and read various tech manuals and/or focusing between various maintenance support devices (MSD) located in the general area and a precision maintenance task.
The Nomad Expert Technician System is a wireless, wearable information tool that provides soldiers and maintenance support personnel with electronic technical manuals right where they work by augmenting the soldier's vision, but not affecting the view of the task, Microvision officials say.
With the ability to provide information that is see-through and visible under all lighting conditions, the Nomad system enables operators and mechanics to work head-up, hands-free, and completely focused on each task at all times. With preventive maintenance checking and servicing, troubleshooting, repair information, and repair parts lists immediately available, soldiers and technicians will save trips back and forth to printed manuals or computer screens. Additionally, more-accurate repairs are possible since mechanics will not have to guess on the maintenance task. Technician productivity gains of as much as 39 percent have been documented in automotive repair environments, company officials say.
The Microvision computer can operate in three different modes-as a thin client, as a thick client, or as a stand-alone tool.
As a thin client, Nomad communicates with any server via a wireless (for example MIL-STD 802.11b) or secure network. The server, which can be a fixed or mobile system, provides all the content to be displayed on Nomad.
When used as a thick client, Nomad can communicate via the wireless network directly to the Internet, to retrieve the needed Web-based data or information.
Operating in the stand-alone mode, Nomad possesses the capability to store and use data from USB Flash Drive, so that the soldier/mechanic can view all required tech manuals and parts lists.
Nomad Expert Technician System provides for easy two-way operations by using the multi-function keypad and a USB connectable keyboard. Personnel can scroll through the tech manuals and fill-out and send various maintenance-automated forms such as DA Form 5988-E Equipment Inspection and Maintenance Worksheet, DA Form 5986-E Preventive Maintenance Schedule and Record, and DA Form 5990-E Maintenance Record.
As vehicles become more complex and support-maintenance personnel numbers continue to draw down, technicians must spend all their time fixing vehicles rather than searching for needed information. Devices such as the Nomad Expert Technician System enables increased mechanic productivity that yields direct benefits in increased readiness, mobility, containment at all levels of maintenance-from the unit level to direct and general support to depot support, Microvision officials say.
---
Cross Match Technologies introduces first human-wearable biometric solution
Engineers at Cross Match Technologies Inc. in Palm Beach Gardens, Fla., have released their newest Global Rapid Identification System (GRIDS), which is to be worn in combat zones, border operations, or by any individual operating in a mobile, harsh environment. The system has applications in the national security and public safety arenas.
In developing the GRIDS Jump Kit, Cross Match partnered with Quantum3D-the developer of the Thermite tactical visual computer (TVC), the human-wearable, multirole, real-time 2-D/3-D embedded visual computer. The Thermite TVC is used in the U.S. Army, Air Force, and Navy.
The GRIDS Jump Kit fits in a small vest pouch or backpack and weighs roughly four to seven pounds, depending on options. It is battery operated for sustained in-field operational use. The human-wearable kit contains the Thermite computer with Cross Match software, a Cross Match MV5X handheld forensic-quality fingerprint scanner, an iris camera, a digital camera, and global-positioning-satellite (GPS) software to capture the latitude and longitude of the place at which an individual is being enrolled.
Cross Match's earlier versions of the multibiometric GRIDS Jump Kit are in use today in Iraq, Afghanistan, Cuba, the Hurricane Katrina-impacted areas, and other places for the enrollment and identification of military and government personnel, police, security forces, detainees, and casualties. The new GRIDS human-wearable system was developed with specific input from multiple government organizations, Cross Match officials say.
---
null