Product Applications
Dec 1st, 2003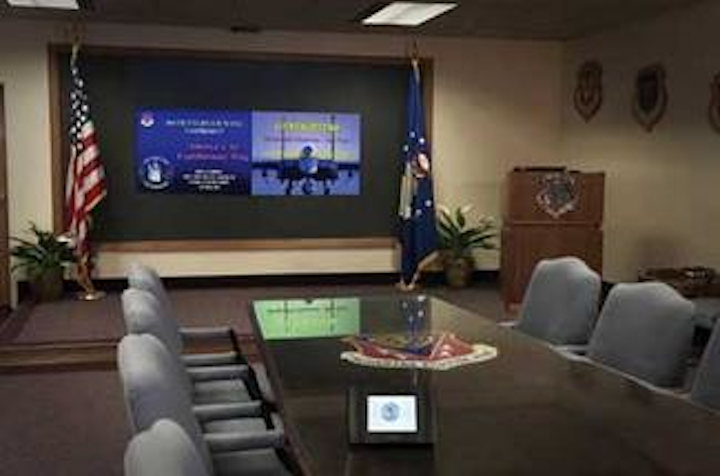 Display technology
RGB Spectrum provides multi-image display capability at U.S. fighter base
Fighter pilots at Mountain Home Air Force Base, Idaho, needed a graphical display system to help them streamline tactical planning and improve mission analysis in a command-level briefing room. The DualView processor from RGB Spectrum in Alameda, Calif., met their needs.
DualView simultaneously displays two images from different sources on one screen in Mountain Home Air Force Base's command-level briefing room. For the briefing room upgrade, Mountain Home officials hired Nimbus360 in Boise, Idaho.
"Base command wanted dramatic improvements in the briefing room's display system — better image quality, and support for video and computer signals. The ability to display two images from multiple sources at the same time," explains Nimbus360 President Bernie Kattner.
"The main challenge was that the room could not physically support two large display screens," Kattner says. "As we developed the A/V system design, the solution came down to one product — RGB Spectrum's DualView display processor. We chose the DualView because it supports both computer and video input signals and displays two images simultaneously on one screen. The DualView also provided the boost in image quality that the project required."
Mountain Home is the base of the 366th Tactical Fighter Wing, which is considered the U.S. Air Force's premier "air intervention" composite wing. The five-squadron 366th consists of the F-16C jet fighter, as well as the F-15E fighter-bomber.
The DualView processor receives input from four computers linked via secure intranet and several different video signals, which are upconverted to improve image quality. The various computer and video signals route to a matrix switcher from which two inputs — one video and one computer, or two computers — are selected and fed to the DualView processor.
Computer content consists of maps, satellite images, weather information, classified tactical data, live internet links, bomb damage assessment figures, PowerPoint presentations consisting of mission details and reports, fleet aircraft maintenance data, logistics and personnel status, as well as statistics transmitted from other departments throughout the base. Video inputs include cable and satellite television broadcasts, a DVD player, and a VCR.
The DualView processor combines these video and computer signals and outputs them to a Christie Digital Systems LX20 rear-screen projector in its native 1024-by-768-pixel resolution. During briefings, images typically display in side-by-side and full-screen modes. The DualView also offers the flexibility to position and size each signal's display window independently. Input source selection and DualView display configurations are operated with an easy-to-use Crestron touch screen controller.
For more information contact RGB Spectrum by phone at 510-814-7000, or online at www.rgb.com.
Communications equipment
Secure communications integrator chooses encryption modules from Harris
Engineers from Mykotronx of Torrance, Calif., a division of Rainbow Technologies, needed encryption modules for the company's new family of KIV-7 communications security (COMSEC) devices. The Presidio encryption modules from the Harris RF Communications division in Rochester, N.Y., met their needs.
The KIV-7 family protects classified and sensitive digital data transmissions in the U.S. Government marketplace. A previous Presidio contract worth $6.4 million was signed between the two companies earlier this year.
Harris is working under terms of a $9.6 million contract from Mykotronx, in which engineers will embed the Presidio modules to help safeguard data that flows over the KIV-7 communications security devices.
The increasing market demand for data encryption is the result of the U.S. military's expanding use of data to achieve its missions. The need to share that data broadly causes an increased demand for interconnected networks that must be secured to prevent the data from being compromised, Harris officials say.
Presidio is a high-speed, full/half-duplex, embedable communications-security (COMSEC) module to secure digital voice or data traffic over radio, wireline, or other telecommunications media. Presidio can encrypt and decrypt data at rates as fast as 2.048 megabits per second, and provides cryptographic interoperability with most currently fielded U.S. Government Type 1-certified equipment, Harris officials say.
The KIV-7HSB is a compact COMSEC device specifically designed for secure data communications. It is the latest edition of the KIV-7 family and accommodates the time division multiple access (TDMA) architectures that provide secure high-bandwidth, wide-area, networked data exchange via MILSTAR satellites over a broad range of data rates.
For more information contact Harris RF Communications by phone at 585-244-5830, or online at www.rfcomm.harris.com.
Design and development tools
Boeing chooses Telelogic DOORS 7.0 requirements-management tool
Experts at the Requirements Management Support Services segment of the Boeing Shared Services Group in Seattle needed an up-to-date requirements-management software tool. The DOORS 7.0 dynamic requirements-management suite from Telelogic North America Inc. in Irvine, Calif., met their needs.
DOORS 7.0 is the latest release of Telelogic's requirements-management tool, which captures, tracks, and manages user needs and their changes throughout a project's lifecycle to provide a process and structure to ensure that requirements flow through the entire project.
"I had really been looking forward to the user dictionary in the spell-check tool. The intelligent traceability feature is something else that I had asked for, but I had never envisioned the level of functionality which DOORS 7 provides," says Patrick Roach of the Boeing Shared Services Group.
DOORS helps integrators of large technology projects follow an incremental design approach when customers call for very aggressive development schedules. The tool helps developers deal with limited resources, distributed or global development organizations, large and complex projects, constantly changing requirements, and last-minute changes, Telelogic officials say.
For more information, contact Telelogic by phone at 949-830-8022, by fax at 949-830-8023, by post at 9401 Jeronimo Road, Irvine, CA 92618, or online at www.telelogic.com.
Components
Canadian research satellite uses retroreflectors from PLX
Satellite designers at ABB Bomem of Quebec City needed retroreflectors for the Atmospheric Chemistry Experiment Fourier Transform Spectrometer (ACE-FTS) that ABB built for the Canadian Space Agency. They found their solution from PLX Inc. of Deer Park, N.Y.
PLX officials are providing their space-qualified hollow retroreflectors for satellite-borne Fourier transform spectrometers to ABB Bomem for the ACE-FTS, as well as for future space research satellites. The ACE-FTS launched into space from Vandenberg Air Force Base, Calif., in early August.
The ACE-FTS is part of the scientific payload of the Canadian Scientific Satellite Mission — the first new Canadian scientific satellite since 1971. The Canadian space research is to measure the chemical processes that control the distribution of ozone in Earth's atmosphere.
PLX retroreflectors provide modulation in the ACE-FTS, which is a Michelson inferometer. PLX-designed mounts enable these retroreflectors to withstand launch vibration, temperature extremes, and high acceleration.
For more information contact PLX by phone at 631-586-4190, by fax at 631-586-4196, by e-mail at info@plxinc.com, by post at 40 West Jefryn Blvd., Deer Park, NY 11729, or online at www.plxinc.com.
Software
NASA chooses Strategic Thought software to manage risk
Officials of the U.S. National Aeronautics and Space Administration (NASA) needed special software to help them manage risk in safety, performance, costs, and scheduling.
The Active Risk Manager Web-based software from Strategic Thought Ltd. in London met their needs.
NASA officials will use Active Risk Manager initially on several programs and projects in a bid to standardize and improve communication and collaboration of risk information leading to successful missions, company officials say.
The first installation of Active Risk Manager will be at the Stennis Space Center, Miss., which is responsible for rocket propulsion testing for all space shuttles. The subsequent rollout will include projects such as the mission to Mars project and Global Precipitation Measurement based at the Goddard Space Flight Center, Md. Use of the software at the NASA comptroller's office will help with financial distributions and funding models.
"Active Risk Manager appears to be a very comprehensive risk-management system supporting the entire life cycle, and we are looking forward to testing its many capabilities to the full," says Phil Napala of NASA Code Q, which is responsible for safety and mission assurance.
Strategic Thought engineers developed Active Risk Manager as a Web-based enterprise risk-management software solution to enable companies to track, identify, assess, mitigate, and communicate risks associated with several different projects and activities.
For more information contact Strategic Thought by phone at 011-44-20-8410-4000, or online at www.strategicthought.com.
Sensors
Crane Aerospace to provide proximity sensors for Airbus A380 thrust reversers
Systems designers at Honeywell Engines, Systems and Services, Tempe, Ariz., needed sensors to determine the positions of thrust reversers on the future Airbus A380 super jumbo jet. They found their solution from Crane Aerospace & Electronics in Lynwood, Wash.
Honeywell chose Crane to provide the proximity switches for the A380 electric thrust reverser lock system. The proximity switches, designed and manufactured by Crane subsidiary ELDEC France in Bron, France, will sense whether the thrust reversers are in a "lock" or "unlock" position.
Each A380 will have 24 thrust-reverser proximity switches, bringing the total number of ELDEC sensors on the aircraft to approximately 300, company officials say. Crane Aerospace & Electronics also provides the A380's landing-gear proximity sensing system and door-system proximity sensors.
The A380 will be able to use the Trent 900 engine from Rolls-Royce, or the GP7200 engine from The Engine Alliance — a joint venture of General Electric Co. in Cincinnati and Pratt & Whitney in East Hartford, Conn.
The Airbus A380, which is to enter service in 2006, is a two-deck super jumbo jetliner that can seat 550 passengers in three classes. The four-engine aerospace behemoth, which is nearly 240 feet long with a wingspan of almost 262 feet, is for routes as long as 8,000 nautical miles.
ELDEC designs and manufactures electronic and electromechanical products for demanding aerospace and defense applications, including proximity sensing and control systems, true-mass fuel-flow meters, battery systems, and power supplies.
For more information contact Crane Aerospace & Electronics by phone at 425.743.8321, or online at www.craneaerospace.com.
Board products
Spectrum Signal chosen to provide processors for countermeasures system
Systems designers at Advanced CounterMeasure Systems (ACM) in Rancho Cordova, Calif., needed software reconfigurable signal processing platforms for high-speed signal processing. The HCDR-1001 product family from Spectrum Signal Processing Inc. in Burnaby, British Columbia, met their needs.
"ACM Systems requires a high-performance field-programmable gate array (FPGA)-based signal processing platform," explains Tim Black, president and chief operating officer at ACM Systems. "Spectrum's HCDR platform provides an ideal technical solution on the basis of flexibility, scalability, and processing power. In addition, Spectrum's technical integration support has allowed us to start development faster and will also help to ease our development effort." ACM is a wholly owned subsidiary of Sierra Nevada Corp. in Sparks, Nev.
The flexComm HCDR-1001 configuration for ACM Systems is VME-based and uses FPGAs from Xilinx Inc. in San Jose, Calif., and PowerPC processors from Motorola Semiconductor Products Sector in Austin, Texas.
A dual Race++ interface and Spectrum's Solano-based communications fabric enable high-speed communications between the boards and processors. Spectrum's Race++-to-Solano bridge provides fast bandwidth over conventional Race++ bridging architectures.
For more information contact Spectrum Signal Processing by phone at 604-421-5422, or online at www. spectrumsignal.com.