Optoelectronics Watch
Dec 1st, 2003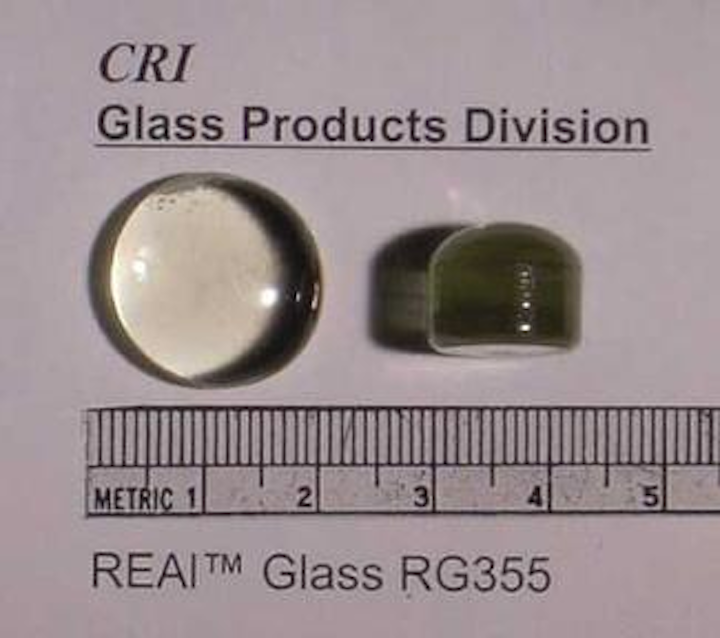 NASA research propels development of new glass
By John McHale
HUNTSVILLE, Ala. — Engineers at Containerless Research in Evanston, Ill., and at the NASA Marshall Space Flight Center (MSFC) in Huntsville, Ala., have pioneered a new type of glass that will improve the effectiveness of lasers and optical devices used in remote-sensing applications.
As part of a NASA research grant for a proposed International Space Station flight experiment, Containerless Research engineers created the glass with the help of a unique MSFC facility — the Electrostatic Levitator in Huntsville, Ala. — where molten spheres of glowing material float with no visible means of containment, NASA officials say.
Inside the levitator, researchers melt materials without using contaminating containers. Containerless Research produces REAl Glass for use in applications such as lasers used for surgery.
"We have patented a family of new glasses and have established processes for making and using them in practical applications," says Dr. Richard (Rick) Weber, director of the Glass Products Division of Containerless Research. "We're already making commercial quantities of glass rods and plates for use in lasers."
REAl Glass — made from rare-earth oxides, aluminum oxide, and small amounts of silicon dioxide — has unique properties that experts identified using the company's containerless processing techniques and the Electrostatic Levitator facility.
"This shows how basic NASA research can lead to innovative materials and new products that can benefit everybody," says Dr. Michael Wargo, enterprise scientist for materials science in NASA's Office of Biological and Physical Research in Washington.
"We've taken many of the best qualities of the current materials and created a new glass that can be produced inexpensively," Weber says.
It has flexibility in its composition of ions that crystalline structures do not, Weber says. The higher concentration of ions enables the glass devices to be smaller than crystal structures, while generating the same if not greater energy and greater bandwidth, he explains.
REAl Glass is also a castable material, which makes it cheaper to produce than crystal, Weber adds.
One of the most promising uses of the glass is lasers. Whether it is a power laser for cutting metal for car bodies or a medical laser used for surgery, the heart of lasers is the gain medium, which is where REAl Glass can be used. This critical component increases or amplifies light, resulting in an intense, highly concentrated beam capable of precisely cutting metal parts or surgically removing or repairing human tissue, NASA officials say.
"Most surgical lasers now use expensive single crystals, which limit the range of operating wavelength to very narrow bands," Weber explains. "REAl Glass would provide tunability, which can give more control over surgical procedures, an important factor in different types of surgery and for different skin types. Our glass can provide efficient power lasers and expand coverage to new wavelengths."
Weber says the military has not yet expressed interest in applying his technology for use in laser weapons and adds that the glass was not designed with that application in mind. However, he says the glass is ideal for remote-sensing applications because of the novel laser wavelengths that can be used with REAl Glass.
REAl Glass also provides a medium for next-generation optical communications devices that need to be small, low-cost and powerful to provide fiber for home connections for broadband Internet. Containerless Research engineers can customize the glass composition for these uses.
Currently, these types of devices are about $25,000 and not available to the average desktop consumer, but REAl Glass should make it possible to reach these customers once the market turns around in a year or two, Weber says.
Containerless Research's development of applications and new products for lasers, optical communications, and surgical lasers is supported by grants from the National Science Foundation and the Air Force Office of Scientific Research.
The family of REAl Glass materials is patented under U.S. Patent No. 6,482,758 issued Nov. 19, 2002, and is only available from Containerless Research Inc., or under license.
For more information on REAl Glass and Containerless Research go to www.containerless.com/realglass.
Global war on terrorism spawns rush to develop nonlethal technologies
By Ben Ames
DURHAM, N.H. — American soldiers must decide every day whether to use lethal force to stop threats, whether it is controlling crowds of looters in Baghdad or keeping cars away from embassies in the U.S.
Now researchers are designing new ways for soldiers to use decisive force to stop a threatening person without killing him. In July, a federal lab offered grants from $25,000 to $270,000 for university scientists to study innovative ideas.
By the time the contest closed a month later, 61 designers had suggested ideas for non-lethal technologies in 22 categories. That compares to just 13 designers who applied for similar grants in 2001.
"There's some unbelievable competition this year," said Glenn Shwaery, director of the Non-lethal Technology Innovation Center (NTIC) in Durham, N.H. "Some top-of-the-line people have submitted proposals. And they're in competition with each other because they're focusing on the same topics."
NTIC is a government research center based at the University of New Hampshire. It supports research in the academic community for topics determined by the U.S. Joint Non-Lethal Weapons Directorate in Quantico, Va.
One of the most competitive areas was number 20 on the list: finding a way to activate a person's nerves by applying electrical or electromagnetic energy from a distance. If soldiers could do this without physically touching a person, they could deliver — and then stop — pain instantly, with no lasting injuries.
"If you're interested in changing peoples' behavior, peripheral pain is what we're looking for," he says. "If you're stimulating nerves, you're creating pain but doing no tissue damage, so it's instantly reversible."
Another area that's sparking research was number 12: nonchemical personnel incapacitation. Soldiers need a more effective way to stop people than tear gas or pepper spray — solutions that are difficult to control and illegal outside the U.S., he says. Yet more novel methods like electromagnetic beams are still too expensive. That leaves only one option — kinetic energy blunt projectiles, better known as rubber bullets.
"When you talk about high-energy radiation, police will never be able to afford that, pulling around a heavy thing that needs a huge battery or power outlet. Instead, they need a solution that's portable and cheap, such as bean bags, sock rounds, or wooden batons," he says.
Researchers also submitted other creative techniques to NTIC planners. But many were unwieldy or illegal, he says.
Some scientists suggested methods to change the temperature of cells in a laboratory, but they could not do it remotely. Soldiers need a tool that will work at a distance of 100 meters or more.
Other researchers found ways to affect cells by manipulating the amount of carbon dioxide around them. "But that's called a chemical weapon," Shwaery says. "Ethics and international law haven't changed since people were using mustard gas in World War I."
Despite the large number of replies, NTIC funders awarded grants to only a few researchers to have the greatest affect. The winning proposals are posted online at www.unh.edu/ntic/granteeabstracts.htm.
The winners included a fast-curing foam that can seal off doorways or jam guns, tiny capsules of slippery material to trip up a pedestrian or vehicle, a flashlight so bright it can daze a potential hijacker, and holograms that can make an army look larger or camouflage it completely.
NTIC funders listed 22 areas for potential research in this year's request for proposals (RFP) list, posted at www.unh.edu/ntic/RFP03.htm. For more information contact the Joint Non-Lethal Weapons Directorate online at www.jnlwd.usmc.mil for more details.
Optoelectronics in Brief
Northrop Grumman introduces fiber-optic gyrocompass for shipboard use
The Northrop Grumman Corp. Sperry Marine business unit in Charlottesville, Va., is unveiling the MK27F fiber-optic attitude and heading reference system for naval vessels. The MK27F is a commercial off-the-shelf (COTS) form, fit, and function replacement for the MK27 and other marine gyrocompasses. It provides digital and analog outputs of heading, roll, and pitch for electronic chart display and information systems, as well as for racking and steering systems. The MK27F is based on Sperry Marine fiber-optic technology for commercial ships. It eliminates the moving parts found in traditional spinning-mass gyrocompasses and meets MIL-S-901D for shock, MIL-STD-167-1 for vibration, and MIL-STD-461 for electromagnetic interference. The device also has a proven mean time between failures of over 9,000 hours.
PerkinElmer inks military optoelectronics deals
PerkinElmer Optoelectronics in Fremont, Calif., has won more than $16 million in new military and aerospace electronics contracts, company officials say. PerkinElmer received new orders for a broad array of optoelectronics solutions, including charged-coupled device (CCD) cameras that provide images for airborne reconnaissance and night vision applications, ruggedized fluorescent interior lights for the International Space Station, optical assemblies that provide navigation functions for missile guidance systems, and logistical support for the electronic assemblies in strategic weapons systems. In addition, PerkinElmer delivered the first shipment of power supplies for the U.S. Navy's fiber-optic data multiplex system (FODMS), which controls the flow of information from computer to computer on surface ships. PerkinElmer also has delivered integrated infrared (IR) illuminator subsystems, high-intensity hand-held solutions with IR light engines, radiant sources, power regulation, battery charging, optical filters, reflectors and other efficient optics technologies for active reconnaissance and remote security surveillance, company officials say. For more information contact PerkinElmer online at optoelectronics.perkinelmer.com.
Northrop Grumman will support optoelectronic space system
The Northrop Grumman Corp. Information Technology sector in Herndon, Va., won a $5.7 million contract to continue supporting the U.S. Air Force Space Command's Ground-Based Electro-Optical Deep-Space Surveillance System (GEODSS) with Web-based technology in training and information management, and implementing quality program improvements. Northrop Grumman IT will provide operations, maintenance, and support services to the Air Force Space Command, 21st Space Wing, for the three geographically dispersed GEODSS sites: White Sands Missile Range, N.M.; Diego Garcia, British Indian Ocean Territory; and Maui, Hawaii. These sites are part of Air Force Space Command's optical space surveillance network and conduct deep-space surveillance of orbiting space objects in support of U.S. Strategic Command and Air Force Space Command's space control mission. Every night, telescopes operating at these sites search for, track and identify man-made objects that are orbiting Earth. Northrop Grumman IT will provide communications-electronics and electro-optical equipment, preventive and corrective maintenance, and civil engineering support. For more information contact Northrop Grumman online at www.northropgrumman.com.
L-3 starts deliveries of new displays for Navy E-2C aircraft
L-3 Communications Display Systems in Alpharetta, Ga., delivered the first 17-inch color flat panel displays for the U.S. Navy E-2C Group II Enhanced Main Display Unit (EMDU) upgrade program. L-3's active-matrix liquid crystal displays will replace the cathode ray tube (CRT) displays used on earlier versions of the EMDU. L-3 is to deliver more than 150 EMDUs during the life of the upgrade program. Compared to the CRTs they replace, the new EMDUs are 180 pounds lighter, use less power, are more reliable, have higher resolution and brightness, and cost less to operate, L-3 officials say. On the aircraft, the EMDUs provide radar, identification-friend-or-foe, and other tactical information. For more information contact L-3 online at www.L-3Com.com/displays.
Universal Displays recognized for display backlighting
U.S. Army leaders are recognizing Universal Display Corp. in Ewing, N.J., for the quality of Universal's Transparent Organic Phosphorescent Backlights research project. Universal experts are doing the research under terms of an Army 2003 Small Business Innovative Research (SBIR) phase II contract, which focused on developing high-efficiency, stacked, color, transparent, and white backlights for proprietary display systems. Universal specializes in phosphorescent and transparent organic light-emitting diode technology, which company officials call PHOLED and TOLED. The company's project was among the six winners selected this year through the quality awards competition. Each of the projects selected represents the best of class among 27 nominations submitted from the Army Laboratories and Centers. For more information contact Universal Displays online at www.universaldisplay.com.