Anti-terrorism pushes the bounds of radio interoperability
One of the most far-reaching initiatives to come out of the 9/11 terrorist attacks is the Wireless Public SAFEty Interoperable COMmunications Program (Project SAFECOM), initially begun by the U.S. Office of Management and Budget (OMB) in early 2002.
Feb 1st, 2003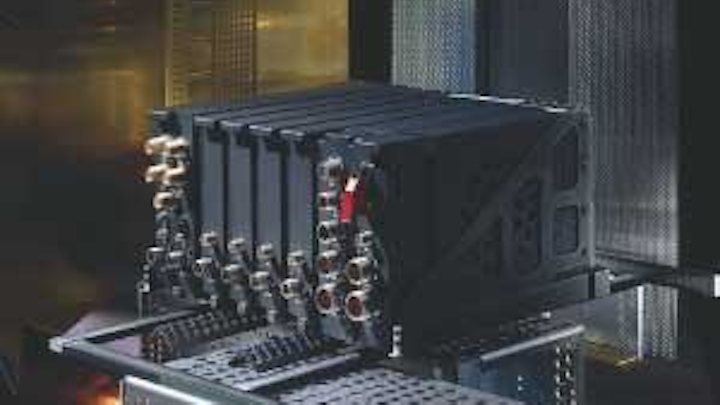 By J.R. Wilson
The new mandates of homeland security are forcing communications experts from federal, state, and local government entities to find new ways of sharing wireless information so they can respond quickly and efficiently in the event of a major domestic attack.
One of the most far-reaching initiatives to come out of the 9/11 terrorist attacks is the Wireless Public SAFEty Interoperable COMmunications Program (Project SAFECOM), initially begun by the U.S. Office of Management and Budget (OMB) in early 2002.
The project launched after the President's Management Council declared wireless interoperability for public safety to be a national priority. That, in turn, led to an eGov Task Force specification that Project SAFECOM create an environment in which public safety personnel will be able to communicate with other local, state, and federal agencies in the event of an emergency.
As the U.S. military discovered 20 years ago in Grenada, however, that is easier said than done, not only from a technology standpoint — and nearly two decades of U.S. military effort there will be used to aid the civil emergency services side — but also from a budget standpoint, which may prove the more difficult to resolve. The task also is massive, seeking to integrate communications among some 44,000 state and local public safety agencies and more than 100 federal law enforcement and public safety organizations.
Even so, SAFECOM is only one of three major federal efforts to improve wireless communications to support the domestic side of the war on terrorism. The Justice/Treasury Department Wireless Network will replace often-antiquated land mobile radio systems in use with 70,000 Justice and Treasury law enforcement officers. At the same time, the National Wireless Communications Infrastructure Program — placed on a fast track after 9/11 — seeks to enhance communications among first responders by providing interoperability to the land mobile radio systems currently used by local, state, and federal law enforcement agencies and the U.S. Department of Defense (DOD).
SAFECOM transferred from OMB to the Federal Emergency Management Agency (FEMA) for implementation and then to the new Department of Homeland Security, which has absorbed FEMA.
null
Given the communications imbroglio in which first responders from dozens of city, state, federal, and even foreign agencies found themselves in New York City, it quickly became apparent that emergency communications interoperability would be a serious problem in combating any future event.
"If the hometown is secure, then the homeland is secure," was the focus of DHS Secretary-designate Tom Ridge when he was appointed director of the Office of Homeland Security. Securing the hometown, in Ridge's eyes, included the ability of all emergency agencies to communicate.
"In this new environment we're facing, we have issues in the public safety community that were only of concern previously to the military," notes Bruce Eickhoff, director of government business development for Rockwell Collins Corp. in Arlington, Va. "And the technologies the military has developed are generally far more expensive than local communities can afford or have been able to afford in the past. So it becomes an issue of cost on how to get the maximum level of your requirements and still have affordability. DOD has very robust capabilities, but not at a cost point attractive to the civil community."
According to FEMA, 54 percent of public safety agencies have limited confidence in their ability to perform in regional-response situations requiring mutual aid. In addition 66 percent of these agencies have limited confidence in their ability to communicate effectively with fellow agencies. Published reports from the Public Safety Wireless Network show 56 percent of local agencies doubt their ability to communicate with state agencies — and 81 percent question interface capabilities with federal agencies.
Billed as "a unique opportunity to do the right thing," FEMA officials describe SAFECOM as "a prudent solution, given other alternatives," taking into account the network of old incompatible equipment in place, and the costs of replacing it. The problem, from the federal perspective, is too many information initiatives and not enough integration. This problem requires a "one-stop gateway" wherever possible.
Toward that end, the stated goals of SAFECOM are to:
coordinate federal narrowband implementation efforts;
require input and ownership from across the federal government;
ensure a right-sized set of shared networks emerges;
set the stage for federal interoperability; and
establish interoperability links between federal and state/local networks.
At the same time, agency officials also sought to clarify that the project is not:
the continuation of standalone systems;
undue duplication of network infrastructures;
limited coordination of federal interoperability;
limited federal-to-state/local interoperability;
a single federal network serving local, state and federal governments;
a stop to ongoing narrowband efforts; or
a controlling entity that dictates or mandates build-out of federal, state, or local networks.
Communications standardization
State and local agencies, along with industry, were invited to join federal agencies likely to be involved — most of which are now being brought under the DHS umbrella — to help create an effective, interoperable and integrated communications network across all levels of government that could quickly coordinate the response to any civil emergency. The federal mandate to coordinate narrowband implementation at the federal-to-federal level, experts say, is an enabler to the effort to improve interoperability significantly at all levels. While SAFECOM does not require a single federal network to serve federal, state, and local governments, experts quickly identified communications standardization as a linchpin to the overall effort.
Three needs are always at the top of the list, says Deborah Phillips, director of global safety and security solutions at Motorola Commercial, Government & Industrial Solutions Sector in Schaumburg, Ill.:
radio spectrum;
communications standards; and
funding.
In some ways, these needs have created a Catch 22, with local officials waiting for the federal government to move on all three.
"There are a lot of people looking at the short-, medium-, and long-term solutions, as well as the associated costs," says Mike Barney, business development manager for homeland security at General Dynamics Decision Systems in Scottsdale, Ariz. "Funding clearly is a very big issue, but I have to believe most state and local agencies are waiting to see what the federal government is going to do. That includes defining interoperability standards, endorsing particular techniques and options, having loaner equipment available, or providing funding. Where all that will go will be interesting to watch."
It is impossible to separate the three, especially when the obvious answer — from a pure technology standpoint — might be to adopt the military solution developed to enable interoperable inter-service as well as coalition communications on the battlefield.
Military experience
That solution evolved from an Air Force-led effort that began in 1996 by looking at all the interoperability problems that U.S. fighting forces experienced in the 1991 Persian Gulf War, where scores of people tried to communicate on the same networks with disparate radios, telephone, and satellite systems. The solutions they evolved also included high levels of encryption and security, something the civil community did not need before. Today, however, post-incident recovery efforts are working into the equation to prevent terrorists from monitoring — and possibly disrupting — communications.
However, that also adds concerns for the security of the equipment and codes when dealing with a civilian environment in which many first responders are volunteers who may have little training and less security screening than the military.
"First responders have shied away from encryption due to security issues, but we are responding with a programmable encryption so DOD can use a very high level of encryption and a much more benign type of security for civil first responders," says Dave Stephenson, vice president of marketing and new business initiatives at the Harris RF Communications Division in Rochester, N.Y. "The original thinking was this could be used with coalition forces, but now it is being looked at for homeland security scenarios, as well.
null
"If you look at the current military radio marketplace, the multiband radios cover the public safety bands," Stephenson says. "Even though the waveform would essentially be a clear voice capability, it can be used to provide a quick means for the military to interoperate with the first responders. Classically, this type of radio is too expensive for first responders, but DOD and DHS may want to preposition some units with National Guard units."
The prime candidate for that role is the still-in-development Joint Tactical Radio System (JTRS), an open systems architecture family of multi-band, multi-mode, software-defined high-capacity tactical radios covering an operating spectrum from 2 MHz to 2 GHz and capable of transmitting voice, video, and data.
Joint Tactical Radio
A software-defined radio (SDR) defines waveform modulation/demodulation functions in software. The SDR generates transmitter waveforms as sampled digital signals, converted from digital to analog via a wideband digital-to-analog converter, then upconverted to RF. Conversely, SDR receivers use a wideband analog-to-digital converter to capture all channels of the software radio node.
In this fashion, JTRS can function as a "universal translator" for otherwise incompatible military communications systems. If anything, public safety represents an even wider array of communications equipment, from aging analog systems to cutting-edge digital components. Such systems require an adaptable "interpreter" to communicate. This interpreter identifies incoming signals and deal with them accordingly. That requires intensive digital signal processing (DSP), with software-configurable logic rather than hardware-based dedicated logic.
The APCO 25 waveform is the federal interoperability standard for federal, state, and local civilian law enforcement and emergency services radios "In the JTRS situation, the APCO 25 waveform can be injected to provide complete interoperability with just about any radio first responders might have," Stephenson says. "So they could move to an APCO-based network and the military could come in with JTRS and have immediate interoperability. As the military continues development of the JTRS system, this is one of their clear objectives."
There are serious problems on both sides of that equation, however. JTRS is still some years away from fielding and, despite their advantages, SDRs are still too expensive for most public safety agencies to consider as replacements for existing fixed-function radios. A possible solution would be the creation of a hub concept for emergency services — one or more SDRs on the infrastructure side to communicate with the legacy systems, with SDR handsets being incorporated as budgets and pricing permit.
"The changeover from legacy to secured systems is a huge problem. JTRS should solve that — except for responder-to-responder communications, if they don't already have interoperable radios — but it won't be ready for some years," Stephenson says, "probably 2006 by the time it gets into major production and even then most units will be going to the military and probably would be far too expensive for first responders.
"Police and fire departments want an inexpensive commercial radio that can simply be thrown away if it breaks; the military has significantly different requirements, so trying to produce one radio for everybody probably wouldn't work."
He says other options in the short-term include using radio repeaters to channel a military VHF radio through to access civilian frequencies or using a telephony interface between the radio and the public switched network, so a military radio could communicate to a civil responder on a cell phone. Another track is expanding the use of HF networks.
"The U.S. government has recognized and FEMA has installed a number of HF systems to be able to handle civil emergencies, which traditionally have involved natural disasters. But with FEMA becoming part of Homeland Security, a national HF network that can provide both assured and secured communications and survive an infrastructure attack is now needed," Stephenson says. "Even though first responders traditionally have not used HF, there is a growing interest in both DHS for an upgrade but also at the state level and even at the local level."
Given the nature and tactics of the enemy in the war on terrorism at home, the complex communications infrastructure that has evolved throughout the U.S. has become especially vulnerable.
"The problem is not only interoperability of devices but how to route messages via available systems. In New York City, for example the communications infrastructure disintegrated," says Rockwell Collins's Eickhoff. "The Internet may need to be worked into the systems architecture when cellular or land mobile radios are not available."
But the more varied the systems, the more complex the security issue becomes.
"There are secure media available commercially, including cellular, and the military has communications media that are very difficult to intercept or jam. You would need that kind of equipment to ensure communications security, but network management also is needed to make certain the right people have the right clearances to access those communications. So how to properly orchestrate all those communications with proper security is another problem that has to be sorted out," Eickhoff adds.
"If the only equipment they have is an unsecured VHF radio, it would be a different problem to solve — and if you go to cellular, you would probably have an overload. That is a problem until people get equipped with technology that can ensure security and privacy of messaging, which will remain so long as legacy equipment is in place."
That cities and facilities in the continental United States have become targets of foreign attack for the first time in nearly two centuries is forcing civil public safety into alien territory.
"There is clearly an element of the unknown" that would be involved in responding to an attack with weapons of mass destruction, Phillips notes. "The traditional concerns of law enforcement and first responders would be in the area of notification; in this case, the needs post-September 11 have heightened the needs for detection and deterrence, as well.
"When you go from a localized- to a wider-area incident, based on the number and type of responding agencies, you have different levels of communications needs," Phillips continues. "We've defined levels of interoperability that stress the need for states to plan what their emergency capabilities are, the training required, and the communications solutions needed at a state and local basis. Going forward, any community should leverage the equipment they already have."
Local agencies, however, tend to have specialized needs that have fostered the current state of incompatible legacy systems. Firefighters going into tall city buildings have different frequency and technology requirements than police working in suburban and rural areas or even firefighters in mountainous forest regions or emergency medical services serving all of those. And when an event of the scope of 9/11 — or, worse, a weapons-of-mass-destruction attack — occurs, it almost certainly will involve a multi-national response, as was the case in New York City, bringing even more exotic systems into the mix.
"One solution in the 9/11 scenario to provide the security you need as well as the ability to show up without knowing who you will have to interface with is a TDC/ICAP (Theater Deployable Communications/Integrated Communications Access Package), which acts like glue," says Barney of General Dynamics. "You can tie in whatever communications you have and reach back by satellite or terrestrial line or over the Internet — it doesn't matter."
null
TDC is a state-of-the-art ground-to-ground communications infrastructure designed for the U.S. Air Force to transmit and receive voice, data, and video communications securely to or from wireless, satellite or hard-wired sources. Both mobile and modular, it can be tailored to specific needs and carried anywhere. ICAP incorporates the base communications infrastructure in a light and adaptable package that requires minimal assembly.
The General Dynamics commercial version, called ReadySET, is an integrated system of modules to provide a multimedia communications network for disaster management, contingency communications, and remote communications operations. First deployed during the Taiwanese earthquake in 1999, it can integrate telephone, digital imagery, data, two-way radio, cellular (including secure GSM), paging and switched messaging services.
"There are a large number of systems out there and that is not likely to change. But there also are some solid ways, such as ReadySET, that enable you to tie all these together," Barney says. "There are a wide variety of interface cards that can be configured to what you need. If you are going to be radio-centric, we would have generic plug-and-play interfaces for a dozen radios. Or we can plug in a telephone interface card, T-1, or E-1 trunk circuits. Once the information is in a common format, it can be switched and routed wherever it needs to go.
"There's a fair amount of custom circuitry, but we're really using DSP and signal conditioning," Barney continues. "There is a pretty generic interface card that allows us to go from one radio to another; audio in and audio out are pretty well defined these days. The hard part is when you start coming up with effective programs for the switch that say when party A keys, then parties A-to-Z need to hear, but when party G keys down, only a few are interested."
Such a system also can be used to isolate specific cell phones onto their own microcell, communicating through the ReadySET rather than over the commercial wireless network. That would reduce the load on the public system while assuring capacity to emergency workers and offering increased levels of security to communications.
"We can take a call from the cell phone through the microcell and into the ReadySET, although not with end-to-end security because the phone itself must be secure. And that really is the right answer — you need the end-to-end security capability. I can secure the trunk end very easily, but the vulnerable part is the over-the-air component," Barney explains.
"There are secure cell phones available, but there aren't many and most are fairly bulky," Barney says. "GD has a product called TalkSecure — a very small, handheld secure GSM phone from Motorola with an applique that replaces the battery on the back and allows communications in just about any security mode for which the user is authorized, including top secret."
The systems described here can handle not only the traditional and immediate needs for voice communications, but also network-based information from intranets and the Internet. By offering a portable, remote interface for data as well as voice, they make it possible to relocate the resources of an emergency services office rapidly to a disaster site — or move a corporate office or even headquarters out of the area to a safe location for the continuation of business. Given one intent of terrorist attacks is to disrupt the nation's service and financial sectors, that becomes an important capability under the broad umbrella of "homeland security".
Such capabilities also can increase the effectiveness and safety of first responders as it enables them to have real-time access to everything from street maps to building layouts to materials storage, which may require the use of hazardous materials suits.
Leaders of the Phoenix Fire Department in Arizona, for example, have equipped their trucks with computers containing the layouts of every building to which they might be called, including daily updates on what materials are located in those buildings. That provides firefighters with true situational awareness and the ability to tailor their response to specific calls.
The same approach could greatly aid those responding to a terrorist attack and is one of the areas of concern facing the newly established U.S. Northern Command. Headquartered at Peterson Air Force Base in Colorado Springs, Colo., the command is in charge of consolidating the military's homeland defense and civil-support missions and building crucial lines of communication with federal, state, and local homeland security agencies. That includes restructuring the military's traditionally tight information classification system and finding the best ways to transmit information to those who need it in an emergency.
"My mantra is that I need to change from a 'need to know' to a 'need to share' foundation," Maj. Gen. Dale Meyerrose, the Command's chief information officer, told reporters at a homeland security summit in late November. "That is fundamentally a different level of information-exchanging requirement."
The domestic role of the Northern Command is another consequence of the war on terrorism — modifying federal prohibitions against direct military involvement in domestic law enforcement to provide civil support when a terrorist attack strains the assets of civilian agencies. To accomplish that, the Northern Command will require the means to communicate quickly and efficiently with all levels of civilian government by radio, computer, and other means, as well as assess what information at what level of classification should be transmitted, to whom and at what level of security.
"I'm not advocating that we undo the 'need to know' associated with national security information, but my requirements are going to be driven by a need to share, not a need to know," Meyerrose says.
The intensity and scope of the interoperable communications efforts at all levels of government reflect a host of obstacles facing the emergency services community: the difficulty of integrating highly disparate legacy systems, decades of programs and policies that deliberately isolated those systems to avoid interference, information and security requirements never before addressed at local levels, and administrative and operational changes ranging from the creation of DHS to the new domestic role imposed on the military.
"The military has thought through the problem because they have been on the battlefield, but if the U.S. homeland is becoming the new battlefield, then U.S. civil safety agencies need to look at that military technology and find an affordable way to apply it," Eickhoff says.
"The bottom line is, all of the answers really aren't here yet and we have to work together collectively — DOD, DHS, the local and state agencies — to understand the problem, the tools and technologies available and work together for a systems solution that enables all those agencies to work together and have assured communications."