Product Applications
Indigo Systems to provide infrared detectors for F-35 Joint Strike Fighter
May 1st, 2003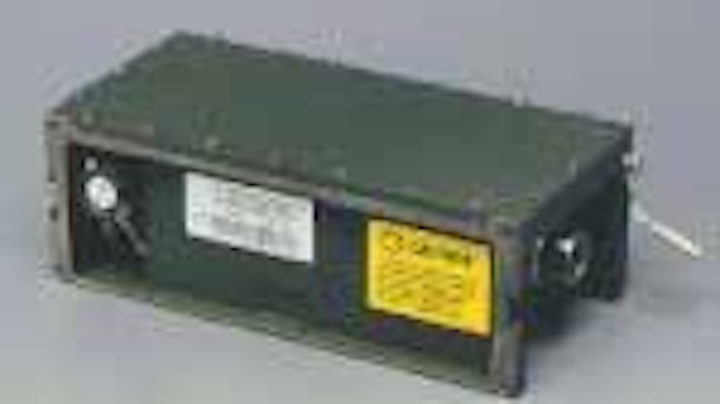 Power electronics
Vista to provide power interfaces for Army and Marine Corps combat vehicles
Officials of Lockheed Martin Corp. in Bethesda, Md., needed power devices for the U.S. Army and Marine Corps combat vehicles. They found their solution from Vista Controls Corp., a Curtiss-Wright company in Littleton, Mass.
null
Vista won a $1.6 million contract from Lockheed Martin to provide enhanced power adapters and enhanced dual-power adapters for Bradley Fighting Vehicles and Hum-Vee utility vehicles.
Lockheed Martin officials chose Vista for this job under provisions of the Rapid Response to Critical Systems Requirements Program — otherwise known as R2CSR.
The R2CSR program is in place to provide a flexible contractual vehicle for specific engineering and logistics capabilities to accomplish a quick response capability. It establishes requirements and means for delivery of parts, subassemblies, and assemblies that are difficult to procure because of outdated technologies, lack of engineering data, or limited quantities to be manufactured.
The power devices from Vista Controls are the physical interface between the Enhanced Position Locating and Reporting System, or EPLRS, aboard the combat vehicles, and the vehicle power sources.
Vista will deliver about 1,500 power devices over the next year from the company's operations center in Littleton, Mass. For more information contact Vista's Patrick Lyness, by phone at 978-952-2032, by fax at 978-952-2001, by e-mail at plyness@itn.curtisswright.com, or on the World Wide Web at http://www.vistacontrols.com/.
---
Sensors
Indigo Systems to provide infrared detectors for F-35 Joint Strike Fighter
Systems integrators at the Northrop Grumman Corp. Electronic Systems division in Baltimore needed infrared sensors for the future U.S. F-35 Joint Strike Fighter. Infrared integrated detective assemblies (ISAs) from Indigo systems in Goleta, Calif., met their needs.
Northrop Grumman, a key member of the Lockheed Martin F-35 team, awarded a major contract for the detectors. Lockheed Martin is to build more than 3,000 of the new jet fighters and fighter-bombers to the U.S. Air Force, Navy, and Marine Corps, as well as the United Kingdom Royal Air Force and Royal Navy.
Indigo Systems will design and develop the mega-pixel-class infrared integrated detected assemblies for the distributed aperture system on the F-35. This system will use several sensors, each containing IDAs, mounted on the F-35 to support various mission functions.
Distributed Aperture Array System sensors will capture real-time imagery for an image processor that will create streaming video for display on the pilot's helmet-mounted video monitor.
Indigo Systems designs infrared cameras and related components for near-, midwave-, and longwave-infrared sensors.
For more information contact Indigo Systems by phone at 805-964-9797, by fax at 805-685-2711, by e-mail at awrench@indigosystems.com, by post at 50 Castilian Drive, Goleta, Calif. 93117, or on the World Wide Web at http://www.indigosystems.com/.
---
Displays
BarcoView displays to go on British minesweeping ships
The European division of DRS Rugged Systems in Farnham, England, needed color displays for planned electronic upgrades to the sonar systems aboard Royal Navy Hunt-class mine-countermeasures vessels. They found their solution from BarcoView in Kortrijk, Belgium.
Barco officials will deliver their 21-inch modular rugged flat-panel displays (MRFD354) for the Sonar 2193 and command system aboard the Hunt-class vessels. The Barco displays will be integrated in the DRS RSE OPUS 2 multifunction consoles as part of the Hunt-class mid-life upgrade, Barco officials say.
Sonar 2193 is the upgrade for the mine-hunting system on the Hunt-class vessels, and will use wideband sonar arrays and processing.
The Barco displays have liquid crystal display flicker compensation and automatic phase adjust, which offers flicker-free free images. Barco officials designed their 21-inch flat panels for demanding command-and-control applications, and the displays comply with standards for magnetic signature, noise, electromagnetic interference, shock, and vibration.
These displays have modular architectures that enable users to choose display size, resolution, and functionality necessary for the application and environment, Barco officials say.
For more information contact Barco on the World Wide Web at http://www .barcoview.com/.
---
Power electronics
Analytic Systems to build power supplies for new Army field stoves
Systems designers at the Proheat Division of Teleflex Canada in Richmond, British Columbia, needed power supplies for the U.S. Army's Modern Burner Unit (MBU), which is a modern field stove for deployed soldiers. They found their solution from Analytic Systems in Surrey, British Columbia.
Teleflex Proheat officials chose Analytic Systems to take over manufacture of power supplies for the MBU after an exhaustive evaluation of power supply manufacturers in the United States and Canada, Analytic Systems officials say.
Army cooks use the MBU in mobile kitchen trailers to prepare meals in the field. The MBU, which inserts beneath cooking racks in mobile kitchen trailers to prepare meals, will replace the older M2 burner.
With the MBU, the Army also will be one step closer to having one standard fuel on the battlefield. The M2 burner traditionally has used gasoline as its fuel source. The Modern Burner Unit will use JP8, a kerosene-based fuel that burns cleaner and is less volatile than gasoline. JP8 is the Army's preferred fuel of choice, which may be used from aircraft to main battle tanks in the 21st century.
After the 1991 Persian Gulf War, Army leaders changed the feeding policy from one prepared hot meal every three days to one per day. It is not clear if soldiers in the field were always able to follow this policy during their most recent fast marches on Baghdad.
Traditionally, even before the old M2 burner could be used, cooks had to follow an exact 28-step procedure to light the burner at a minimum of 50 feet away from a mobile kitchen trailer. These 28 steps were very time consuming. Then it would take two cooks to carry the lit burner to the trailer for use.
When finished cooking, the burner had to be shut down and carried away from the trailer once cooled. The same 28 steps had to be followed again to re-light the burner for use again. The MBU, however, can be lit in place inside a mobile kitchen trailer.
The MBU has an integral pump that draws fuel through a quick disconnect fitting located on the front of the unit. It is self-priming and can fill its two-gallon tank in two minutes. The unit ignites with the touch of button, and shuts down just as easily, with a firing range comparable to the M2, Army officials say.
For more information on the MBU's new power supplies, contact Analytic Systems by phone at 604-543-7378, by fax at 604-543-7354, by e-mail at thane@analyticasystems.com, by post at #207-12448 82nd Ave., Surrey, British Columbia V3W 3E9, Canada.
---
Computers
CMC Electronics to provide flight-management system for Black Hawk helicopter
Helicopter avionics designers at Sikorsky Aircraft Corp. in Stratford, Conn., needed electronic flight management systems for upgraded UH-60M Black Hawk helicopters. They found their solution from CMC Electronics Inc. of Ville Saint-Laurent, Quebec.
null
CMC will provide two CMA-2082M flight management systems per aircraft for more than 1,200 helicopters that will be upgraded.
CMC supplies the CMA-2082A avionics management system and CMA-2088 emergency control panel for U.S. Army UH-60Q and HH60L medical evacuation helicopters. These were the first Army medical helicopters to have their communications and navigation equipment integrated via a MIL-STD-1553 databus, CMC officials say.
Sikorsky engineers determined as a result of these programs to use CMC avionics as the baseline for the UH-60M electronics upgrade.
For more information contact CMC Electronics by phone at 514-748-3148, by fax at 514-748-3100, by post at 600 Frederik Philips Blvd., Ville Saint-Laurent, Quebec, H4M 2S9, Canada, or on the World Wide Web at http://www.cmcelectronics.ca.
---
Design & development tools
Fakespace to provide immersive simulator for Army developers
U.S. Army researchers needed a reconfigurable visualization system as part of an immersive environment simulator, used to study how soldiers use equipment in combat zones. The Rave II visualization system from Fakespace Systems Inc. in Kitchener, Ontario, met their needs.
Fakespace officials have delivered a Rave II visualization system to experts at the Army Research Laboratory (ARL) at Aberdeen Proving Ground, Md. The Rave II has three detachable, large-scale stereoscopic display units that ARL experts use to project realistic imagery of simulated combat environments.
null
The Rave II is one part of the Tactical Environment Simulation Facility at ARL, which includes two adjoining simulation environments. One is a stereoscopic projection-based hostile environment simulator that includes a 155-decibel sound system. The second part, called the immersive environment simulator, integrates the Rave II with motion tracking and an omni-directional treadmill to allow soldiers to literally run and move in any direction within virtual hostile terrain and combat conditions.
"We selected the Rave II for the immersive simulator because of its large size and flexible configuration," says Bruce Amrein, Chief of the Visual and Auditory Processing Branch at ARL. "Fakespace was able to provide a custom-designed system that met our very particular requirements."
Army scientists are using the new facility for human-factors studies on pre-prototype hardware and software, such as new helmet designs and target-acquisition systems.
As part of the laboratory's Objective Force Warrior program, the immersive systems will also help scientists evaluate how increased information and different ways of accessing and presenting information might affect soldiers' performance. One experiment will help determine if soldiers on foot could control battlefield robots.
For more information contact Fakespace by phone at 519-749-3339, by fax at 519-749-3151, by post at 809 Wellington St. North, Kitchener, Ontario, Canada N2G 4J6, or on the World Wide Web at http://www.fakespacesystems.com/.
---
Software
OSE real-time software to run smart-transportation system
Onboard computer maker Industrial Control Systems (ICS) of Hardinxveld, the Netherlands, needed a software operating system for the company's Nexus onboard computer for fleet logistics and management. The real-time operating system (RTOS) from OSE Systems in San Diego met their needs.
The ICS Nexus computer is part of a transport telematics system, which blends information and telecommunications technologies into "intelligent" transportation systems. Telematics helps freight distributors and transport operators avoid delays, traffic congestion, and unnecessary trips.
ICS chose the OSE RTOS because it offered the needed reliability and scalability required for wireless networks, OSE officials say. The OSE RTOS is integrated in the Nexus black box that is the central part of the onboard computer.
"We were highly confident that OSE was the right product for our next-generation onboard control system," says ICS Director Anton Rosier. "After evaluating other RTOS, it was apparent that OSE provided the most robust, reliable and maintainable operating system. The added bonus was reducing our development time considerably."
The OSE RTOS is designed for distributed, multiprocessor, multicore applications, which was a deciding factor for ICS, says Vance Hilderman, vice president of U.S. operations, OSE Systems Inc., North America. "Telematics, a system consisting of putting a computer and a wireless connection together with an operator or data services, like the Internet and a global positioning system (GPS), into a vehicle is a very complex process," he says.
Experts say they expect worldwide demand for telematics applications to grow to as much as $40 billion in 2005. Typical applications will include safety and emergency systems, traffic and navigation support, and smart and safe communication and information.
The Nexus onboard data acquisition and control system is for real-time fleet logistics, cargo routing, driver tracking and vehicle analysis. Nexus consists of a black box and terminal, with an ARM7 processor running the OSE RTOS and embedded open database. The black box automatically gathers all vehicle data such as speed and fuel consumption.
For more information contact OSE Systems by phone at 408-392-9300, by fax at 858-720-0150, by e-mail at info@enea.com, by post at 12760 High Bluff Drive, San Diego, Calif. 92130, or on the World Wide Web at http://www.ose.com/.