Product Applications
Aug 1st, 2003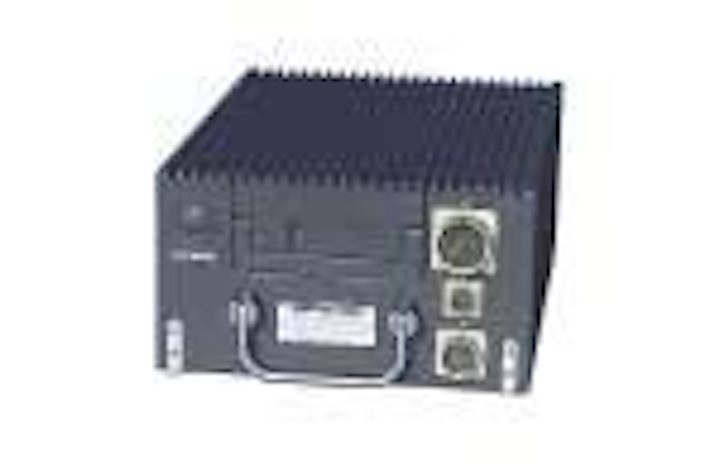 SOFTWARE
Chilean air force to use Teac mission software
Officials of the Chilean air force needed mission software and data recorders for their Lockheed Martin F-16 C/D jet fighters. They found their solution from Teac America in Montebello, Calif.
Teac is providing the company's MDR-87 mission data recorders and mission data debriefing software for the Chilean F-16 aircraft.
The Teac mission data debriefing software — otherwise known as MDDS — is a digital debriefing system that provides synchronized playback control of digital MPEG video files, as well as high-fidelity 3-D views for mission analysis.
The mission data debriefing software runs on standard PCs, and helps experts analyze missions using Teac's PC plug-and-play digital removable memory modules.
The Teac MDR-87, meanwhile, is an extension of the company's MDR-80 mission data recorder that features removable solid-state memory modules. The MDR-87 can handle as many as six video channels while recording three data channels simultaneously.
"Our MDR-809 and MDR-87 mission recorders are already on contract for a variety of different aircraft. This is the first integration of the MDR-87 in the F-16, replacing our V-83AB-F Hi-8mm recorder, which has been the F-16 standard for some time now," says David Husted, executive vice president at Teac.
For more information contact Teac's Ron Burnett by phone at 323-727-4866, by e-mail at rburnett@teac.com, by fax at 323-727-7656, by post at 7733 Telegraph Road, Montebello, Calif. 90640, or on the World Wide Web at http://www.teac.com/.
COMPUTERS
Futuristic infantry gear features Argon wearable computers
Combat systems designers in Israel needed rugged wearable computers for future infantry soldiers in the Israeli army. They found their solution at Argon Corp. in Great Neck, N.Y.
"I am using the Argon Wearable Ruggedized PC, which is a low-power, miniature PC, and is a very powerful tool," says Giora Kutz, chief executive officer and general manager for special programs at a new subsidiary of International Technologies Lasers Ltd. (ITLasers) in Rishon-Le-Zion, Israel.
ITLasers experts are designing the Advanced Integrated Soldier System — similar to the U.S. Land Warrior program — that Israeli army officials are evaluating for future field deployment, Kutz explains.
The system has three parts: a weapon-mounted system; combat vest; and display system that could be either a helmet- or chest-mounted computer screen. Together, these parts help the infantry soldier understand his battlefield situation, navigate with global positioning system receiver or laser rangefinder, acquire targets, and conduct personal surveillance.
"The Wearable PC from Argon is the brain of the system, and the map library is inside, so the soldier can know where he is," Kutz says. The system presents situational awareness as graphic map overlays.
"The Israeli army is not committed to deploy this system, but they are committed to deploying a system like this, and we are the most ready company," Kutz explains.
Designed to fit in a pocket, the Wearable PC weighs 1.25 pounds, has an 800 MHz x86 compatible processor, and runs Windows or Linux applications. It has a solid-state flash hard drive as large as 3 gigabytes, built-in 10/100baseT Ethernet, optional modem, and capability to connect external devices over RS422/485, RS232, and USB ports.
For more information contact Argon Corp. by phone at 516-487-5314, by fax at 516-487-5121, by post at 343 Great Neck Road, Great Neck, N.Y. 11021, or on the World Wide Web at http://www.argoncorp.com/
DESIGN AND DEVELOPMENT TOOLS
Lord to provide prognostics and health management system for JSF program
Hamilton Sundstrand's Engine Control Systems needed diagnostic tools for Prognostics and Health Management (PHM) Torque and Alignment hardware of the Lift Fan Shaft Monitor for the Joint Strike Fighter (JSF) F-35 program. So they chose Lord Corp.'s Mechanical Products Division in Cary, N.C.
The contract with Hamilton Sundstrand — providers of the engine control and integrated lift fan propulsion monitoring system — includes System Design and Development of prototypes during the next six years, as well as the potential production of the PHM system Hardware for the Short Take-Off/Vertical Landing aircraft variant targeted for the U.S. Marine Corp and Allies. Pratt & Whitney is leading the team with their integrated propulsion system.
Hamilton Sundstrand's PHM System employs diagnostic hardware and software to electronically monitor the health of rotating components in order to identify upcoming service issues before the equipment actually needs to be repaired. In addition to obtaining valuable data, the system serves as a key tool in predictive maintenance.
Steve Meyer, defense market leader of Lord Corp., says Lord's approach integrates the PHM System with the Rolls-Royce LiftFan TM shaft, which provides drive torque for the Rolls-Royce LiftFanTM driven by the P&W F135 Engine.
"The PHM Hardware is a flight safety critical component because it sends torque information about the fan shaft to the Full Authority Digital Engine Control, or FADEC, which controls the lift fan," Meyer says. "Additionally, the LiftFan™ shaft and coupling(s) are critical single-point failure systems on the aircraft. The Hamilton Sundstrand PHM system will monitor health by gathering and pre-processing sensor data including torque, shaft alignment, and temperature. The system also will be used for predictive and preventative LiftFan Shaft/Coupling maintenance."
Benefits of the PHM technology include state-of-the-art design, integration simplicity, minimal shaft (rotor dynamic) impact, low total cost of ownership, reduction in maintenance manpower, increase in sortie rates, condition-based support and maintenance, as well as a streamlined system to reduce complexity and weight, Lord officials claim.
For more information on Lord Corp. contact the company on the World Wide Web at http://www.lordmpd.com.
COMPUTERS
Mercury Computer Systems Multicomputers deployed in U.S. Navy SHARP System
Officials at Recon/Optical in Barrington, Ill., recently chose RACE++ Series conduction-cooled multicomputers from Mercury Computer Systems in Chelmsford, Mass., to be designed into the digital reconnaissance camera component of the U.S. Navy's SHAred Reconnaissance Pod (SHARP) system.
Recon/Optical is a principal supplier of sophisticated reconnaissance imaging systems for industrial and military applications. The SHARP system, which has entered a new round of low-rate initial production, is an all-weather medium- and high-altitude electro-optical and infrared digital reconnaissance capability currently utilized by the F/A-18F Super Hornet fighter jets, Mercury officials say.
Mercury's RACE++ conduction-cooled multicomputers have been integrated into the design of Recon/Optical's dual spectral band aerial reconnaissance camera, a key component of the SHARP system. The RACE++ VME multicomputers will perform image and data processing on the sensor platform, enabling near real-time reconnaissance, Mercury officials say. The digital camera has the ability to produce infrared and visible spectrum images simultaneously. Mercury's conduction-cooled systems enable the camera to be deployed in the extremely harsh environments often encountered during reconnaissance missions, company officials claim.
For more information on multicomputer systems from Mercury contact the company on the World Wide Web at http://www.mc.com.