Videoconferencing: COTS tool for defense
Videoconferencing is on the short list of commercial off-the-shelf (COTS) technologies receiving increased attention in today's turbulent environment of terrorist threats and military operations in the Middle East.
Aug 1st, 2003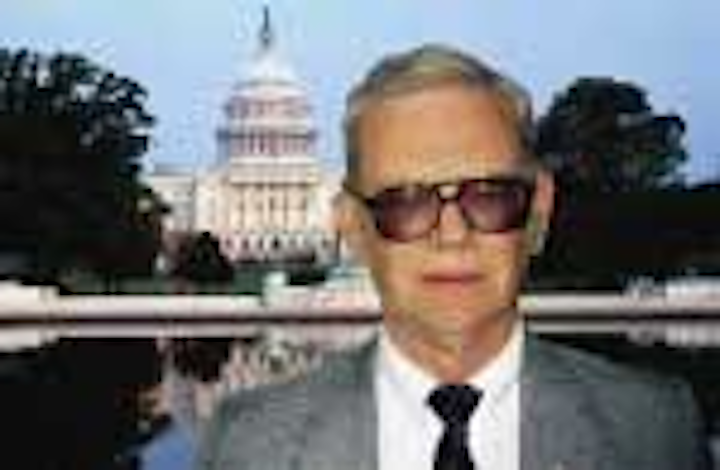 WASHINGTON — Videoconferencing is on the short list of commercial off-the-shelf (COTS) technologies receiving increased attention in today's turbulent environment of terrorist threats and military operations in the Middle East.
The underlying reason is compelling — moving more information in real time. The technology base is already there, thanks to the telecommunications industry, and this is one COTS technology that needs little modification to serve military and homeland security users.
Even before the terrorist attacks of Sept. 11, 2001, businesses and government agencies had stepped up their use of videoconferencing, according to Barry Walker, vice president for marketing at the Austin, Texas-based Video Communications Division of Polycom Inc., of Milpitas, Calif.
p--The rationale at that time was to trim travel costs — down by 20 percent before the attacks, Walker says — in an unraveling economy. What the attacks did, in his words, was "to shine a light on existing reality" and accelerate a trend already under way based on better tools for interconnection and improved video quality and price-performance.
Interoperability of videoconferencing hardware is not guaranteed, Walker maintains, particularly due to the use of increasingly robust networks that need gateways and firewalls. This necessitates a systems integration approach in which the boxes and architectures have to share common software.
Piecing together products from multiple vendors today is the responsibility of the customer or the value-added retailer (VAR), Walker says, and users are increasingly seeking a total package solution.
Polycom has begun doing that with what it calls its Polycom Accelerated Communications, or PAC, architecture. This connects such diverse terminals as ViewStation, ViaVideo, SoundStation, SoundPoint, and Voice Station, the Global Management System and WebCommander management systems, and the MGC-100, MCU, and Gateway networks.
VARs or third party firms specializing in this work usually install these total package systems while Polycom supplies the hardware to integrate the systems. A company in Thailand known as Celestic produced this hardware, which is either drop-shipped to the user or installed by a VAR.
As evidence of this trend, on Sept. 11 the Federal Emergency Management Agency (FEMA), a long-time videoconferencing user, effectively used the technology to coordinate the government response.
Using a secure, dedicated system, the equipment linked FEMA to the White House and other cognizant federal agencies. Vice President Cheney said after the experience that the system was so important for coordinating the response that it was one of the reasons why he initially chose to remain at the White House rather than lose this capability.
"We were online and communicating with the White House and other departments within minutes after the second aircraft struck in New York and before the hit in Washington," recalls FEMA electronics maintenance manager John Hempe. Following the attacks, FEMA deployed a mobile videoconferencing unit in New York to relay twice-daily press briefings via satellite.
Perhaps the most futuristic application of video within the federal establishment is the U.S. Air Force's use of color video displays in its Airborne Laser, or ABL, in which lasers are mounted in a commercial Boeing 747 aircraft to knock down enemy missiles at launch.
This is strictly a research program at this point, although the Sept. 11 attacks may give it increased urgency. The video equipment has to operate in a more severe environment than the typical office, but not quite as severe as combat vehicles since the 747 aircraft does not have to meet full military specifications.
Nonetheless, this application involves many complex functions that strain video capability to the limit: infrared surveillance, detection, and tracking of multiple targets, target typing and prioritization, mission planning, interface with the crew, and interoperability with other anti-missile forces.
The U.S. Navy, meanwhile, is using unmanned aerial vehicles (UAVs) to take video images of a beachhead before the arrival of troops. Countermine forces currently use a six-segment filter that spins in front of the camera lens aboard the UAV. Each segment is a different color, enabling different optical frequencies to pass through. Because there are six filters, the camera produces six different images of the same scene. For example, one filter may cause vegetation to show up more prominently because of the way chlorophyll reflects light.
A prototype system has detected above-ground mines in an aerial picture in less than a minute and achieved a 95 percent success rate, according to Navy officials. The work was supported by the Office of Naval Research and used mine field video images supplied by the Coastal Systems Station of the Naval Surface Warfare Center in Panama City, Fla.
What all these applications have in common is ever increasing bandwidth to move vital information, according to Lt. Gen. Harry Raduege Jr., director of the Defense Information Systems Agency (DISA) in Arlington, Va. "DOD needs more bandwidth to support anti-terrorist activities," Raduege told this year's Armed Forces Communications Association (AFCEA) conference in Washington.
Since Sept. 11, DISA has added 18 federal agencies to its Defense Switched Network (DSN), according to Raduege. His agency is creating a new network known as the Defense Message System (DMS), which is currently interoperable with the 1960s Autodin system but which is expected to be the sole military communications medium after Autodin is cut off next month — at estimated annual savings of $140 million.
They may not be as glamorous as the UAVs and precision munitions employed in Iraq, but these videoconferencing systems are giving the defenders a much-needed edge in an increasingly dangerous world.